Best desserts for kids in NYC, from sundaes to soufflés
Cake pops, crack pie and churros, oh my! See Time Out Kids' ten definitive (and delicious!) picks for the best desserts for kids in New York City.
Got a little one with a sweet tooth? (Yeah, we thought so.) Following a series of super-scientific taste tests and hours of number crunching, we came up with the sequel to our roundup of the best kids' menus in NYC: Our top ten best desserts for kids, including colorful confections, classic treats and even a kid-friendly soufflé. Click through our slide show to see the full list of the best desserts for kids—otherwise known as your ultimate after-dinner guide to NYC.

RECOMMENDED: National Dessert Day 2013 coverage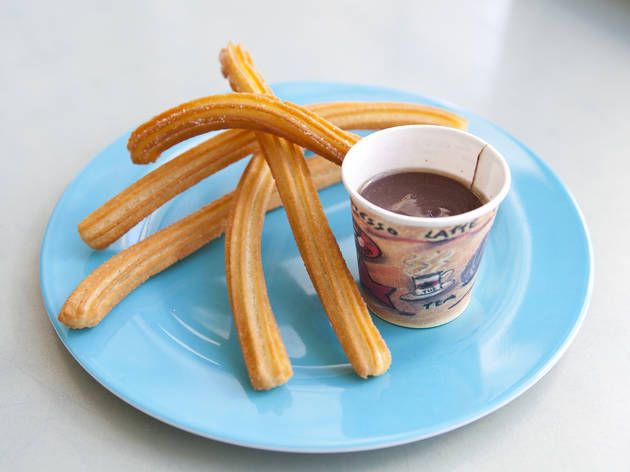 Best chocolate (but not-too-chocolate) dessert: La Churreria churros
Unlike the ones that are sometimes peddled in the subway, churros at this Nolita bakery are created with a machine shipped straight from Spain, and can be stuffed with little ones' choice of dulce de leche, crema or chocolate. Dip them into a cup of warm dark chocolate sauce for a (potential) mess that's totally worth the cleanup. Six churros with chocolate dipping sauce $6. 284 Mulberry St between E Houston and Prince Sts (212-219-0400, soccaratrestaurants.com).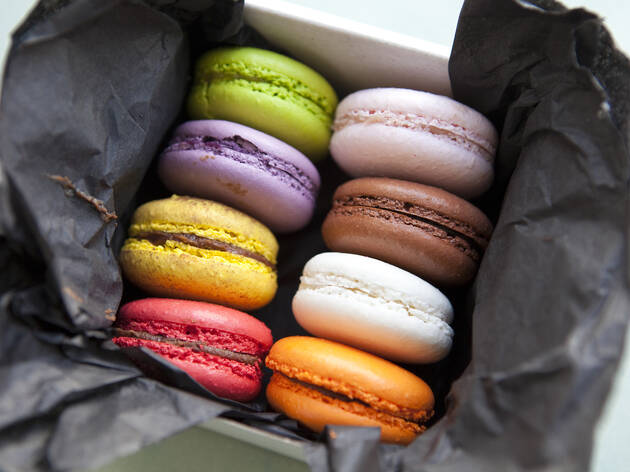 Best dessert to make you feel like a princess: Vendôme macarons
Not only are these made-in-NYC confections flaky, cakey and fluffy in all the right places, but they're just about the primmest and prettiest sweets we've ever seen. Little princesses can pick from frilly flavors like strawberry, Agrimontana pistachio and decadent dark chocolate. $2.50–$3 per macaron, box of six $14. 409-411 Atlantic Ave between Bond and Nevins Sts, Boerum Hill, Brooklyn (718-852-1572). • Saks Fifth Ave, 611 Fifth Ave between 49th and 50th Sts (212-940-5477, vendomemaracon.squarespace.com).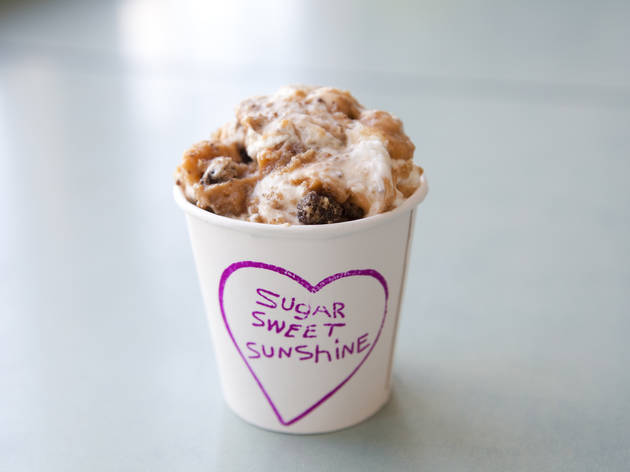 Most happy accident: Sugar Sweet Sunshine "chocolate chip deliciousness" pudding
Earlier this year, Debbie Weiner, the co-owner of East Village bakery Sugar Sweet Sunshine, overbaked some chocolate chip cookies. Being thrifty and waste-averse, she mixed them into a vat of butterscotch pudding. The result? A pudding that fans insisted she make again when it sold out in a mere 24 hours. Once you try this whipped-cream-topped, immensely kid-friendly dessert, you'll get why it found a permanent place on the menu. $2.50–$6.50 per cup, depending on size. 126 Rivington St between Essex and Norfolk Sts (212-995-1960, sugarsweetsunshine.com).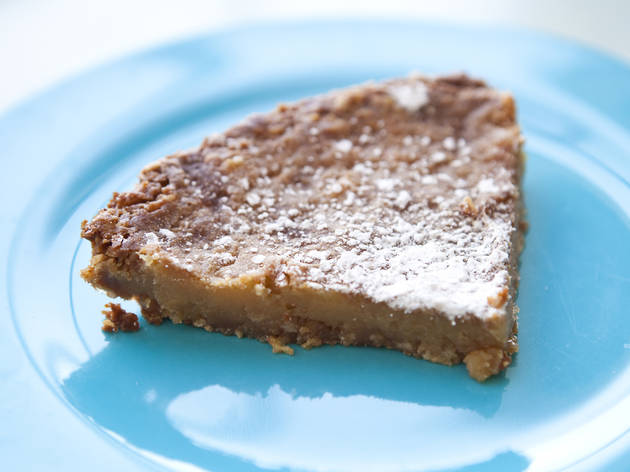 Most destined to be a classic: Momofuku Milk Bar crack pie
Nothing about the appearance of Momofuku's signature pie—brown filling in a brown shell, with a dusting of confectionary sugar—suggests how decadent it actually tastes. The first ingredients on the label, though—butter, sugar, brown sugar, cream—give it away. Crack pie bears some resemblance to a pecan pie without the pecans, only it's firmer and, thanks to the custom crust, even sweeter. And we can't help but warn you that it is, if not addictive, truly hard to resist. One slice $5.25, whole pie $44. Various locations; see website for details.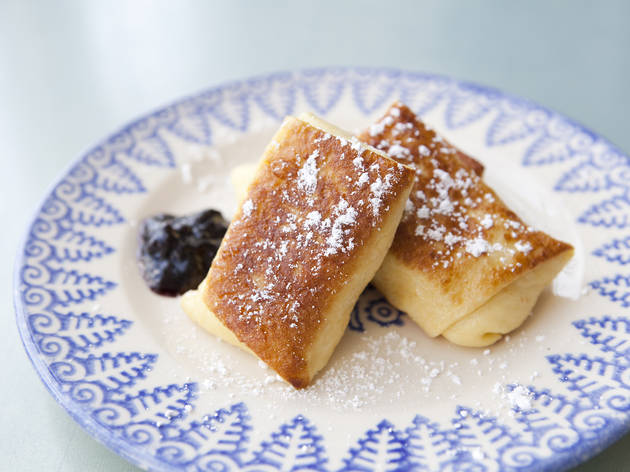 Best dessert from old New York: Barney Greengrass blintzes
Feeling nostalgic? The nearly hundred-year-old Upper West Side market is known for its traditional Jewish breakfast fare, like smoked salmon with bagels, matzo brei and challah French toast, but we're partial to the just-sweet-enough cheese blintzes. Top 'em with blueberry jam and a bit of powdered sugar to start your day on the sweet side. $13. 541 Amsterdam Ave between 86th and 87th Sts (212-724-4707, barneygreengrass.com).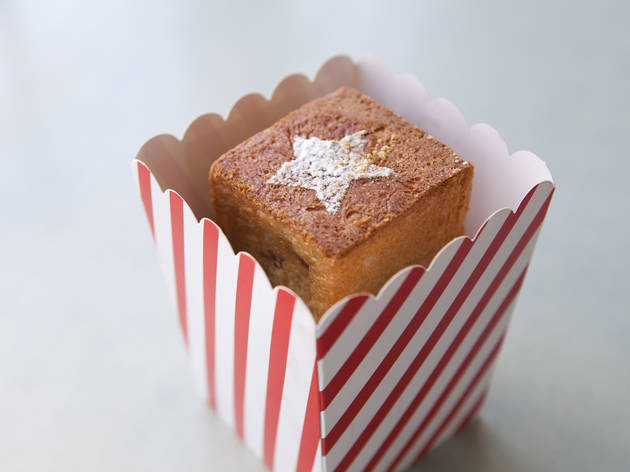 Best follow-up hit: Dominique Ansel Bakery magic soufflé
Famous for inventing the most famous hybrid confection in history (yes: the cronut), Dominique Ansel is moving on, as befits only the most creative of inventors. The magic soufflé may not be a hybrid, but the star-topped, molten chocolate–filled rhomboid in the red-and-white striped container has, in our book, even more kid appeal than its older sibling. $7. 189 Spring St between Sullivan and Thompson Sts (212-219-2773, dominiqueansel.com).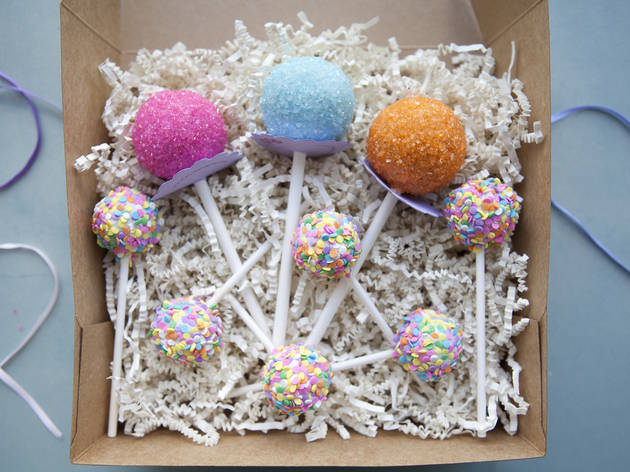 Cutest way to eat cake: Stick&Pop cake pops
These mess-proof bites come in astonishingly adorable varieties, with the added bonus of equally adorable names. Here, kids can pick pops such as the rainbow-sprinkled Teddy Bear and carrot cake Nutty Bunny, as well as custom seasonal bonbons, like Ghouls' Boogers for Halloween. Three cake pops or six mini-size pops $9. 233 W 19th St between Seventh and Eighth Aves (646-481-4767, stick-pop.myshopify.com).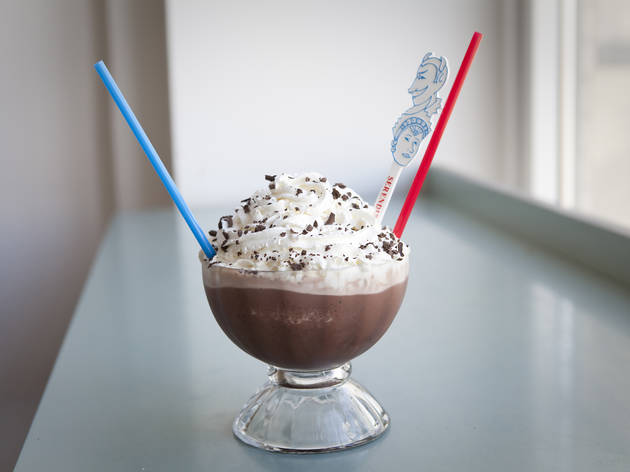 Most sharable-by-BFFs: Serendipity 3 frrrozen hot chocolate
Okay, how can hot chocolate be frozen? Well, it can't. This liquid dessert, made of whole milk, crushed ice and a secret blend of 14 types of chocolate, is anything but hot. But it is chocolatey, frothy, topped with house-made whipped cream, and really fun to drink-slash-eat with a spoon and a straw. You don't even need to go to the UES bistro to get it, either, as the shop now sells a kit online. 225 E 60th St between Second and Third Aves (212-838-3531, serendipity3.com).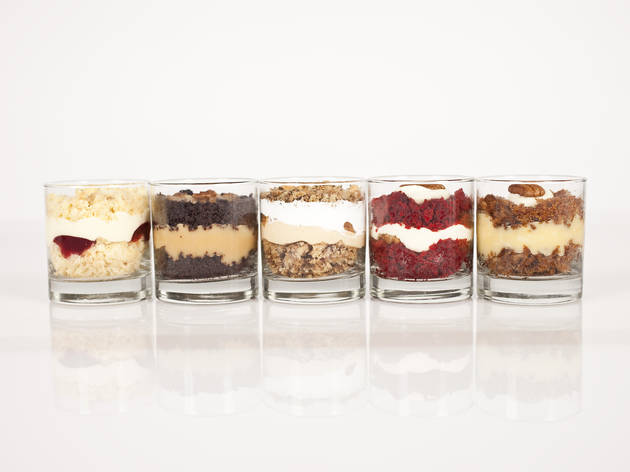 Most refreshingly new twist: Bee's Knees cake cups
We are so over cupcakes that when we discovered this shop down the block, we knew its concept would take off. Each creation is a gooey layering of cake and assorted, complementary toppings, such as red velvet with cream-cheese frosting and roasted pecans, or vanilla cake with white-chocolate mousse and raspberry jam. The best part? They not only come in elegant glass cups for parties (pictured) but also small plastic cups that are portable and perfect for small hands. $4. 113 W 10th St between Greenwich and Sixth Aves (212-989-6400, beeskneesbakingco.com).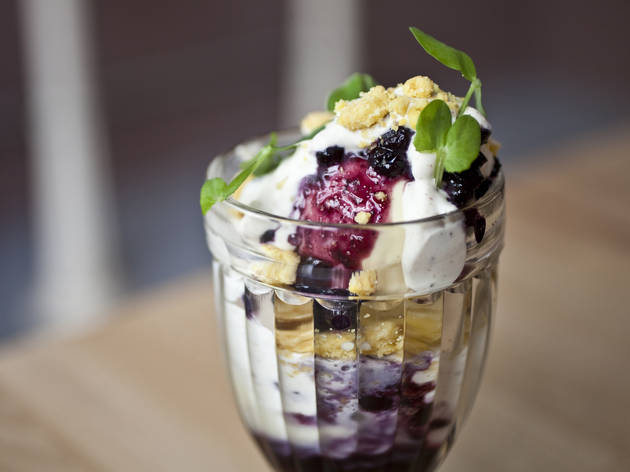 Best flavor mash-up: OddFellows Ice Cream Co. cornbread sundae
Kids who just can't decide on a favorite topping, meet the recently opened Williamsburg parlor, where kooky concoctions like the cornbread sundae pull inspiration from who knows where. This all-seasons companion combines blueberry compote, maple syrup and bacon-scented whipped cream with cornbread ice cream topped with crumble. $8. 175 Kent Ave between North 3rd and North 4th Sts, Williamsburg, Brooklyn (347-599-0556, oddfellowsnyc.com).