Chinese restaurants for NYC kids
Get a tasty fix, whether at a humble dumpling spot or a dim sum palace.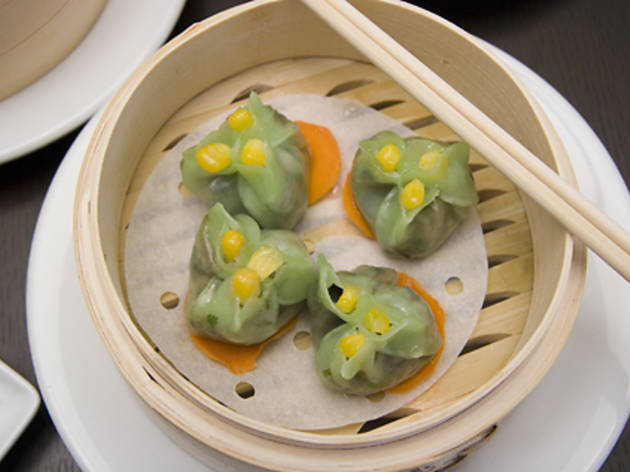 1/8
Chinatown Brasserie Dim Sum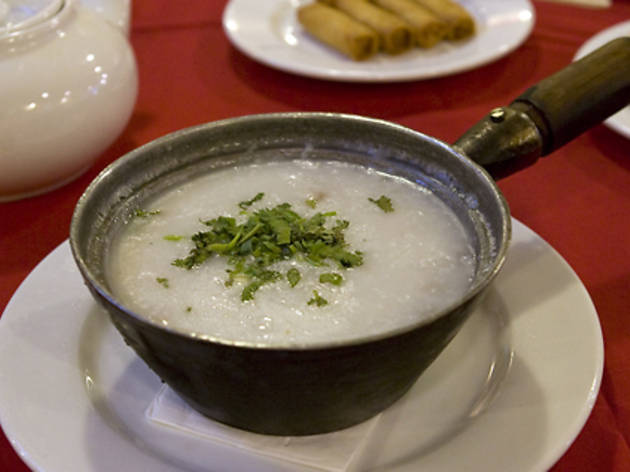 2/8
Congee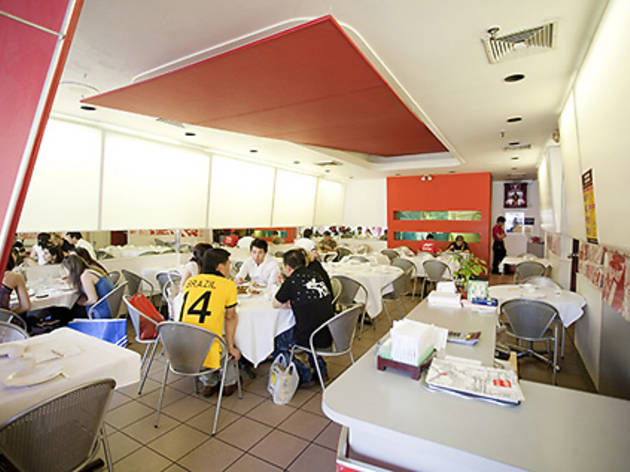 3/8
Dim Sum Go-Go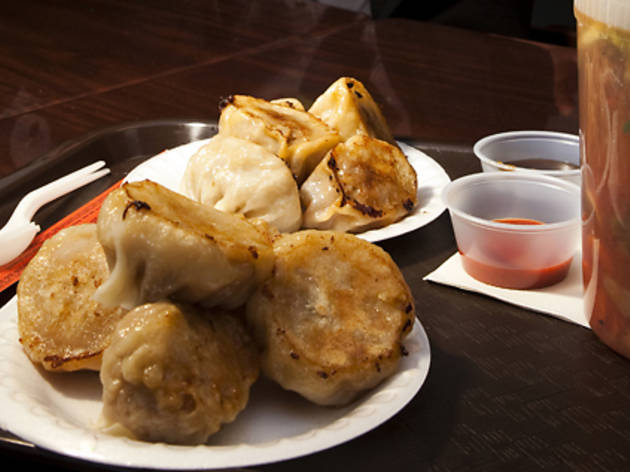 4/8
Eton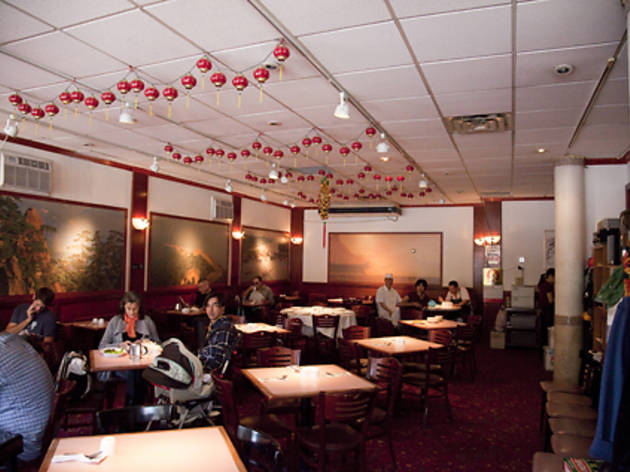 5/8
Grand Sichuan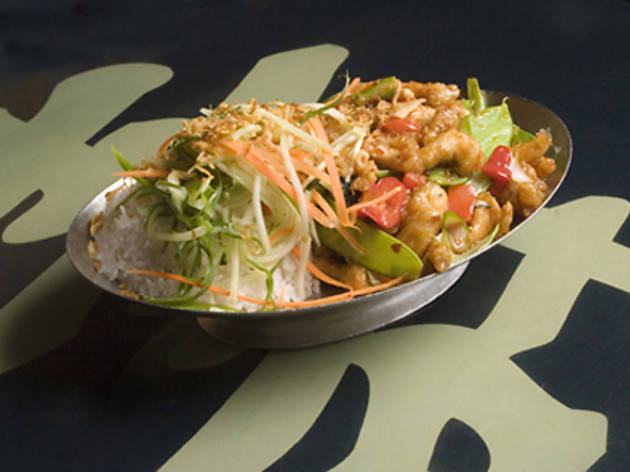 6/8
Ruby Foo's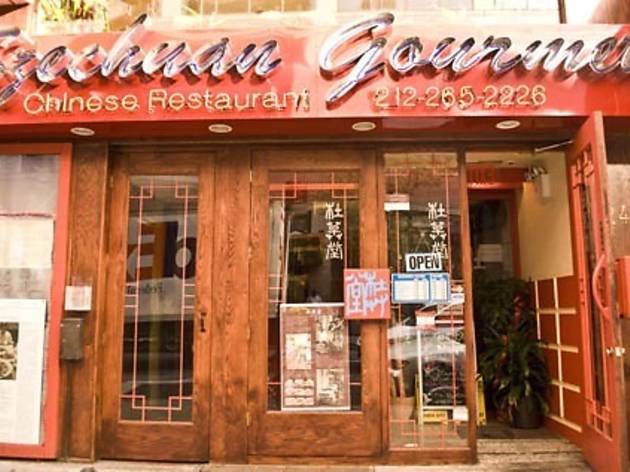 7/8
Szechuan Gourmet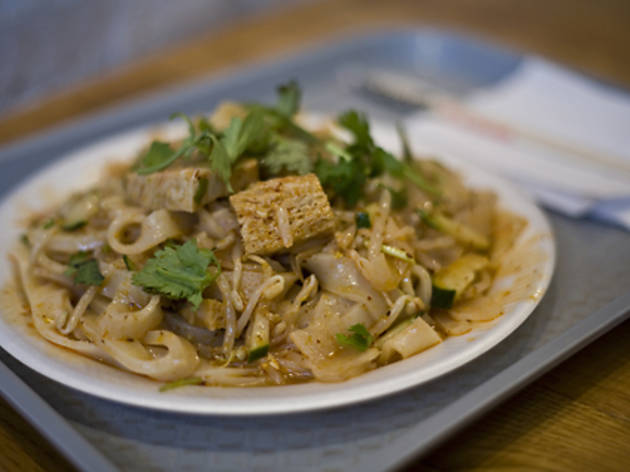 8/8
Xi'an Famous Foods
All restaurant information is correct as of press time. However, since prices and other details are subject to change, it's wise to call ahead.
Chinatown Brasserie
380 Lafayette St at Great Jones St (212-533-7000, chinatownbrasserie.com). Subway: 6 to Bleecker St. Average main course: $19. High chairs, booster seats.
A corner takeout joint this is not. When an evening of people-watching is in order, bring the well-behaved brood to this dramatically designed hot spot. They'll make dinner out of finger foods like shrimp-and-snow-pea-leaf dumplings and veggie potstickers while you dig into wok-fried beef with gingko nuts and asparagus, all at decidedly un-Chinatown-like prices.
Congee Village
*100 Allen St between Broome and Delancey Sts (212-941-1818, congeevillagerestaurants.com). Subway: F to Delancey St; J, Z, M to Delancey--Essex Sts.
*207 Bowery between Rivington and Spring Sts (212-766-2828, congeevillagerestaurants.com). Subway: J to Bowery. Average main course: $15. High chairs, booster seats.
Even though it boasts an extensive menu of Chinese favorites served family-style, the namesake rice porridge, a Cantonese specialty strewn with the likes of squid, veggies or sliced pork, is the real reason to eat here. As kids slurp up tasty spoonfuls, they'll be equally charmed by the festive decor (Polynesian bamboo on Allen Street, and more-traditional Chinese style on the Bowery).
Dim Sum Go Go
5 East Broadway at Chatham Sq (212-732-0797). Subway: F to East Broadway. Average dim sum: $4. Booster seats. Unlike neighboring small-plate eateries, Go Go relies on DIY order slips rather than pointing at bun-laden carts as a means for making selections. Sip a cup of tea and make sure to tick off sesame balls and Chinese parsley dumplings. The ordering pencils at the table also double as a kid diversion until your food arrives.
Eton
*359 Sackett St between Hoyt and Smith Sts, Carroll Gardens, Brooklyn (718-222-2999). Subway: F, G to Carroll St.
The Carroll Gardens outpost is mostly takeout, with just a handful of stools; Prospect Heights boasts more seating and a more extensive menu. But at either location, plump, juicy dumplings—chicken and shiitake, lentils and tofu, or pork, beef and cabbage—are the stars. A colorful lychee shaved ice makes for a sweet ending.
Golden Unicorn
18 East Broadway between Catherine and Market Sts (212-941-0911, goldenunicornrestaurant.com). Subway: F to East Broadway. Average main course: $15--$17 prix fixe. High chairs, booster seats.
Ride the elevator up to Golden Unicorn, and you'll find a ballroom filled with large tables of boisterous families. While you could come here for dinner and tuck into Peking duck and lo mein, the real fun lies in an afternoon visit, when tykes can select steamed taro cakes and baked egg custards from rolling dim sum carts.
Grand Sichuan
19-23 St. Marks Pl between Second and Third Aves (212-529-4800, thegrandsichuan.com). Subway: 6 to Astor Pl. Average main course: $17. See website for other locations. High chairs.
Encourage adventurous youngsters to fill up on spicy red-oil wontons, cumin beef and vinegar-tinged shredded potatoes—we're sure they'll be able to find room for fortune cookies, too.
Grand Sichuan House
87-01 Fifth Ave at 87th St, Bay Ridge, Brooklyn (718-680-8887, grandsichuanhouse.com). Subway: R to 86th St. Average main course: $10. High chairs, booster seats.
No relation to the mini-chain of a similar name (see prior entry), Grand Sichuan House is a great spot to convene for a family supper, especially if your tot's got a penchant for fiery foods. Begin with slippery dandan noodles before tackling one of the Sichuan specialties, like double-cooked pork and silky ma po tofu. Can't handle the heat? Familiar entres like sesame chicken are on the menu, too.
Nancy's Pig Heaven
1540 Second Ave between 80th and 81st Sts (212-744-4887). Subway: 6 to 77th St. Average main course: $12.50. High chairs.
Despite its whimsical name, not everything on the menu is of the porcine variety—crispy orange chicken and broccoli with garlic sauce are part of the repertoire as well. But beyond the approachable menu, it's the convivial atmosphere that keeps loyalists visiting this mainstay. When elegant owner Nancy Lee glides from table to table, you truly feel like you're one of the family.
Ruby Foo's
1626 Broadway at 49th St (212-489-5600, rubyfoos.com). Subway: N, Q, R to 49th St. Average main course: $20.50. Average kids' meal: $13. Kids' menu, high chairs, booster seats.
When dim sum cravings strike in the midst of midtown, visit the kitschy Asian palace for Peking duck nachos with wasabi crme frache or scallion pancakes dipped in sesame sauce. Children get a menu of their own, enlivened by Asian-accented dishes like shrimp dumplings.
Szechuan Gourmet
*135-15 37th Ave between Main and Prince Sts, Flushing, Queens (718-888-9388). Subway: 7 to Main St.
*21 W 39th St between Fifth and Sixth Aves (212-921-0233). Average main course: $11. High chairs, booster seats.
At the red-lantern-festooned oasis just off Flushing's Main Street, visitors feast on addictive strips of crispy lamb and braised fish filet swathed in sinus-clearing amounts of chili pepper. Tots will be content with veggie fried rice—and a gander at the massive fish tank. Cubicle denizens flock to the eatery's equally delicious midtown outpost.
Vanessa's Dumpling House
118 Eldridge St between Broome and Grand Sts (212-625-8008). Subway: B, D to Grand St. Average dumpling order: $2.
After a morning at the Lower East Side Tenement Museum, walk south to this dumpling shrine for a plate of chive-and-pork fried beauties. The place gets busy, so if you can't find a seat, get your kids' sesame pancake sandwich to go.
Xi'an Famous Foods
41-28 Main St between 41st Rd and Sanford Ave, Flushing, Queens (xianfoods.com). Subway: 7 to Main St. Average main course: $5.50. See website for other locations.
The mini-chain specializes in the cuisine of China's little-known western region, churning out hand-pulled noodles and stewed pork burgers nestled in crispy buns.