Restaurants near Lincoln Center
Great spots for brunch—or any meal.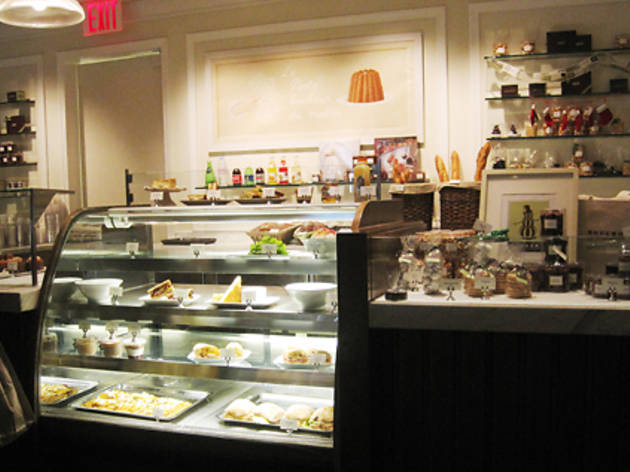 1/3
Bouchon Bakery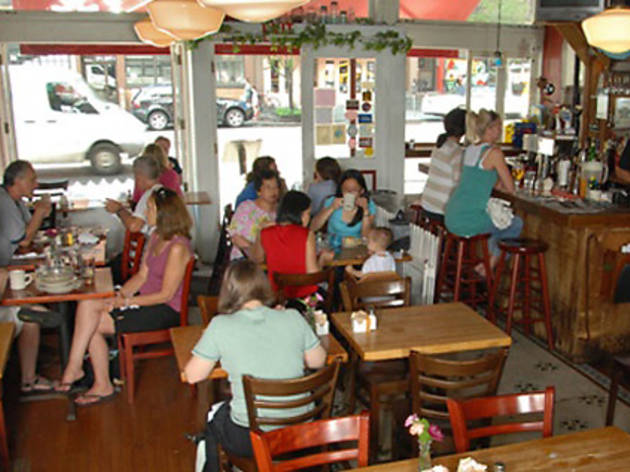 2/3
Good Enough to Eat
3/3
Landmarc at the Time Warner Center
1. Alice's Tea Cup
102 W 73rd St at Columbus Ave (212-799-3006, alicesteacup.com). Weekends at the Lewis Carroll--inspired eatery bring treats like design-your-own crpes (think marshmallow fluff and blackberries or bananas and caramel sauce). Don't worry, afternoon cuppa lovers—you can still get your favorite tea service, too.
2. Bouchon Bakery
Time Warner Center, 10 Columbus Circle at Broadway, third floor (212-823-9363, bouchonbakery.com). The caf menu is packed with brunch-suitable light bites like quiche, cashew butter and jam on a brioche, and plenty of pastries.
3. Ed's Chowder House
Empire Hotel, 44 W 63rd St at Broadway (212-956-1288, chinagrillmgt.com). At conveniently located Ed's, parents can sample the raw bar or dig into poached eggs with spinach and crabmeat while kids enjoy yogurt parfait with berries and granola.
4. EJ's Luncheonette
447 Amsterdam Ave between 81st and 82nd Sts (212-873-3444). Scores of families head to the bustling throwback diner for old-school favorites like eggs any style and challah French toast with butter and syrup.
5. Fatty Crab
2170 Broadway at 76th St (212-496-2722, fattycrab.com). The uptown branch of this Malaysian-inspired restaurant has a children's menu with tempting items like "fish fry in a box," lightly battered strips of fish propped up in a red takeout container, with ailoi and tamarind ketchup on the side. Other standouts for tots include crispy chicken and perfect pork dumplings.
6. Good Enough to Eat
483 Amsterdam Ave between 83rd and 84th Sts (212-496-0163, goodenoughtoeat.com). Chef-owner Carrie Levin's dishes, based on family recipes, are served in grizzly-bear portions. Brunchers pack the farmhouse-style space for fluffy eggs and plump buttermilk biscuits.
7. Kefi
505 Columbus Ave between 84th and 85th Sts (212-873-0200, kefirestaurant.com). The kids' menu at this Hellenic taverna features standards plus a few Greek-accented dishes, like grilled chicken skewers with chips, and Yiayia's (Grandma's) pizza, a pita with tomato and Greek cheeses graviera and manouri. Two brunchtime additions: silver dollar pancakes and scrambled eggs with fries.
8. Landmarc at the Time Warner Center
Time Warner Center, 10 Columbus Circle at Broadway, third floor (212-823-6123, landmarc-restaurant.com). Kids are bound to find something they like on the 18-item children's menu here. Options range from the sophisticated (petite filet mignon) and the tried-and-true (English-muffin pizza or PB&J,) to the classic-with-a-twist (PB & Nutella) and the downright whimsical (green eggs and ham).
9. Rosa Mexicano
61 Columbus Ave at 62nd St (212-977-7700, rosamexicano.com). On the "young amigos" menu, kids will find tasty bites like corn-crusted chicken fingers, and cheese, chicken or shredded-beef tortillas served with sweet potato fries and buttered corn. The festive, two-level restaurant has plenty to keep kids entertained, like the blue-tiled waterfall on one wall.
10. Route 66
858 Ninth Ave between 55th and 56th Sts (212-977-7600). Like the famed highway that inspired its name and decor, this diner is all-American, with a menu to match: The California omelet is made with mushrooms, avocado, tomato and onion, while the Denver incorporates ham, onions and peppers. (Make that all--North American, as Canadian bacon is a popular side order.)
11. Sarabeth's West
423 Amsterdam Ave between 80th and 81st Sts (212-496-6280, sarabethswest.com). Charming Sarabeth's serves a homestyle brunch, with little-house-in-the-woods menu items to match: Try the Baby Bear—porridge with milk and honey—or the Goldie Lox, a plate of scrambled eggs, smoked salmon and cream cheese.
12. Vynl
754 Ninth Ave between 50th and 51st Sts (212-974-2003, vynl-nyc.com). Once you turn the kids' attention away from the glittery music-themed decor, choose from all-day brekkie favorites like brioche French toast or a Latin scramble (eggs, crispy tortilla chips, jack cheese and pico de gallo), or select something from the weekend brunch menu: buttermilk pancakes, or homemade granola with coconut, pecans, raisins, cranberries and honey.