Six best lemonade spots in NYC
Visit a variety of lemonade stands on the first annual Lemonade Day---or enjoy a cool drink at one of these NYC outposts.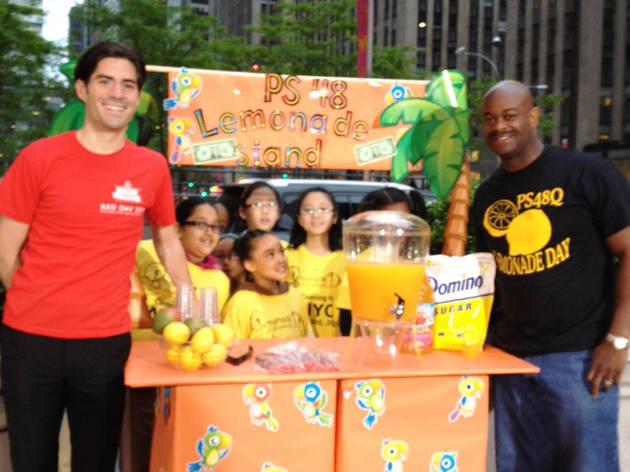 Families can celebrate the (almost) start of summer with the first ever Lemonade Day on Sunday, June 3. Hoping to help kids understand the value of starting, owning and operating a business, Lemonade Day, sponsored by the John & Amy Phelan Foundation and presented by Keller Williams NYC, invites kids to run their own lemonade stands at several spots around the city, including inside of a Fairway supermarket and outside of the Vinegar Factory on the Upper East Side (click here for a full list of locations). Kids and their parched parents can also stop by one of the stands to purchase a beverage and support our city's future entrepreneurs. While Lemonade Day may only lasts for a few hours, there are plenty of places around the city to enjoy a citrusy drink all summer long. Read on for some of our favorites.
Astor Bake Shop
Local families have flocked to this friendly, white-tiled corner caf since its June 2010 opening. In addition to a short savory menu and fresh-baked pastries (owner George McKirdy honed his skills at Tribeca Grill and Caf Boulud, among other spots), you'll find one of the most thirst-quenching bevvies around—the gingerade, an iced brew of lemon, ginger and anise, sweetened with honey. Astor Bake Shop, 12-23 Astoria Blvd at 14th St, Astoria, Queens (718-606-8439, astorbakeshop.com). Small gingerade: $2.50.
BabyCakes
Besides organic baked goods and sweets, BabyCakes offers agave-sweetened lemonade, a simple recipe of fresh lemons, agave nectar, cool water and ice (plus a friendly lemon wedge for garnish). Babycakes NYC, 248 Broome St between Ludlow and Orchard Sts (855-462-2292, babycakesnyc.com). Agave lemonade: $4.
Burgers & Cupcakes
At this Hell's Kitchen resto whose name is the stuff of kids' dreams, the slightly sweeter-than-usual lemonade is a big hit among thirsty youngsters. Kids also flip for Burgers & Cupcakes' fresh-squeezed lemon fizz, which comes in berry flavor, too. Burgers & Cupcakes, 458 Ninth Ave between 35th and 36th Sts (212-643-1200, burgersandcupcakesnyc.com). Lemonade and lemon or berry fizz: $3.50.
Kitchenette
Kitchenette's pitcher-perfect pink lemonade recipe comes from co-owner Ann Nickinson's grandmother and gets its fun tint from a combination of blackberries and raspberries. Served in mason jars, a fitting match with the restaurant's country-kitsch decor, Kitchenette sells about four to five gallons of the stuff on the average weekday and much more on the weekend, all year long. Plus: The drinks are made with fruit that's fresh, not frozen. *Kitchenette, 156 Chambers St between Greenwich St and West Broadway (212-267-6740, kitchenetterestaurant.com). *1272 Amsterdam Ave at 123rd St (212-531-7600). Pink lemonade: $3.50.
Vynl
Served in a pint glass, Vynl's watermelon lemonade—whose pink and pulpy watermelon juice makes its way to the top—is so summery and old-timey, you'd think it came from a 1950s county fair. Your kid will love plunging her straw into the drink and mixing the brightly colored juices together. Vynl, 754 Ninth Ave between 50th and 51st Sts (212-974-2003, vynl-nyc.com). Watermelon lemonade: $4.

Westville
This all-American, quality-ingredients restaurant and bakery offers its official refreshment of the summer—frozen mint lemonade—at all three locations. The green-colored slushy is made fresh with the house lemonade, plus plenty of mint to balance out any excessive sweetness and crushed ice; it's guaranteed to keep the kids energized on a hot summer day. For the grown-ups, there's also a boozy version of the frozen mint lemonade with Prosecco. *Westville, 210 W 10th St between Bleecker and West 4th Sts (212-741-7971, westvillenyc.com). *Westville East, 173 Ave A at 11th St (212-677-2933). *Westville Chelsea, 246 W 18th St between Seventh and Eighth Aves (212-924-2223). Frozen mint lemonade: $5.