Kids' fitness centers in NYC
Get ready to score goals, scale boulders and bounce off the walls at these kid-friendly fitness centers and studios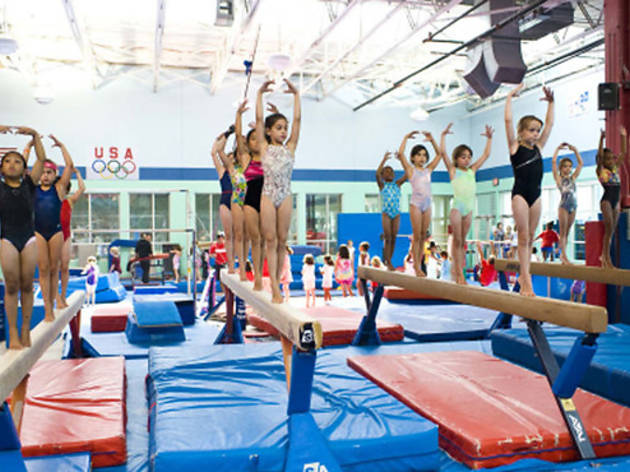 Forget P.E. class. Families, it's time to adventure out to these amazing fitness and sports centers. They'll keep your kids in shape—and having a totally awesome time—with the opportunity for you to jump in on the fun or just let little ones do their thing. Check out our favorite picks below, and don't miss favorites like Chelsea Piers, 92Y and Brooklyn Boulders.
RECOMMENDED: 60 things to do with kids in NYC this winter
Kids' fitness centers and studios
The venerable athletics center gives kids plenty of opportunities to embrace their favorite sports. Tweens can brush up on their basketball skills before the season starts in jump-start clinics, while preschoolers can learn the game from the ground up in a new Little Dribblers program. Teen Parkour is another new offering this year, giving kids a chance to learn running, jumping, climbing and acrobatic movements associated with the noncompetitive sport. Ages 3 to 16.
Read more
The iconic institution, which was founded in 1874, hosts all manner of events for families, including live music, dance performances and more. Expect special programming during Jewish holidays like Passover and Hanukkah.
Book now
Read more
The not-for-profit megacenter features pools (with aquatics classes and water polo), community programs, a summer camp, a soccer field, pilates and yoga sessions, martial arts and (yes, actually, somehow) more.
Read more
This year-long program includes classes in all forms of dance, from creative movement and jazz to African and contemporary, and includes a year-end recital in a city theater. Mini workshops are also available for kids (and parents) who want a shorter-term commitment. Ages 3 and up.
Read more
Tots take off their shoes and climb all over this inflated wonderland. Supervised by the experienced staff, kids can bounce in a soft boxing ring, play indoor dodgeball or kick back with a cheesy slice of pizza at the café (just $4.99 for two slices and a drink). Arcade games such as Pac-Man keep fingers busy when tired legs need a break. And parents, don't be shy: Adults are encouraged to jump and exercise alongside their young ones. Weekly theme parties, including Family Bounce Night, Preschool Playdate and Cosmic Bounce, add to the friendly local vibe, despite this being part of a large national chain. Reservations required. Ages 2 and up.
Read more
Every week, LIC Kids offers a menu of classes that will work out your kid's brain and brawn. Programs include gymnastics, martial arts, dance, yoga, as well as chess, music, movement-based theatre and after-school tutoring programs. The gym is also accessible for daily open play sessions.
Read more
Kids can swing through the air on the flying trapeze or jump to their heart's delight on giant trampolines at this Williamsburg performance spot, which hosts birthday parties and classes for kids. Little ones will love Kid Action + Kid Fly, where they'll try daredevil stunts, acrobatics and aerial arts.
Read more
Children as young as six weeks can align their chakras with classes ranging from mom-and-baby stretch sessions to teen workshops. The studio helps kids find their mental and physical balance by imitating animals, playing games and listening to stories. Ages 6 weeks and up.
Read more
This UES Studio teaches kids about meditation, focus and breathing techniques while moving through various yoga poses. At Siblings Yoga (ages 3–9), kids quit bickering and learn about cooperation and communication through asanas, games, song and even foot massage. You can also try Family Yoga class, in which parents can practice with their little ones. If your baby is battling teething and thinks sleep is for losers, then you could probably use some downard-dog time yourself; new moms can take a Bye-Bye Bump class ($45 for drop-ins), while babysitters mind the children nearby. Ages 6 weeks to 16 years.
Read more
Show more