38 fun and free things to do in NYC in October 2012
There's nothing we love more than free things to do in NYC; behold, our list of 38 gratis October events that won't cost your family a dime.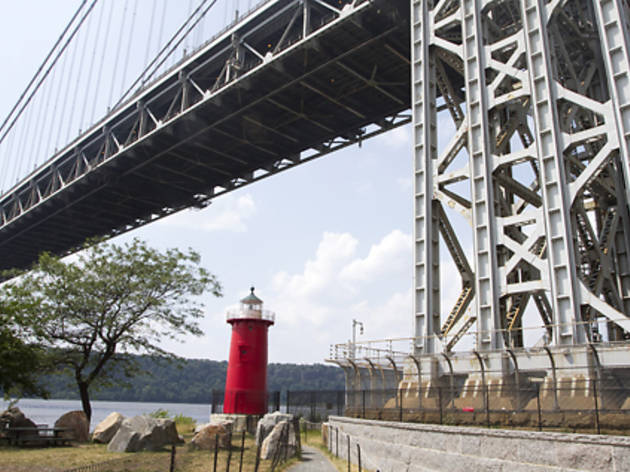 1/14
Photograph: Virginia Rollison
The Little Red Lighthouse and the GWB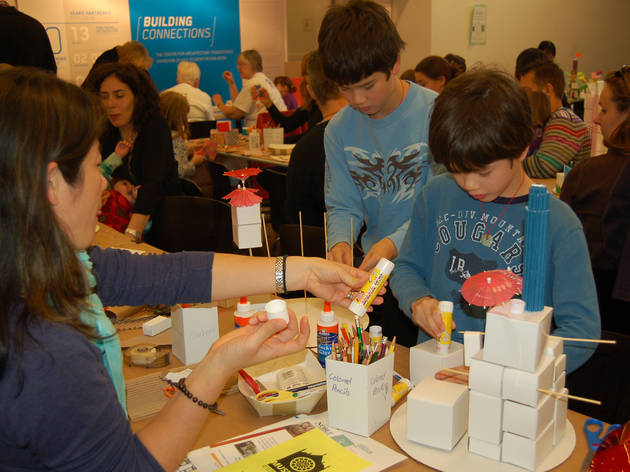 2/14
Open House NY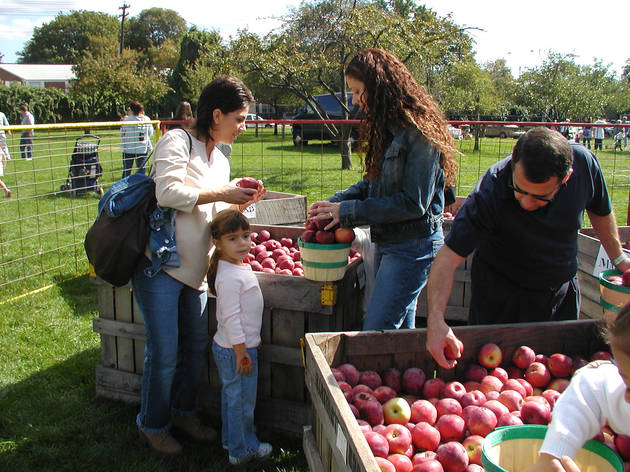 3/14
Photograph: QCFM staff photographer
Queens County Farm Museum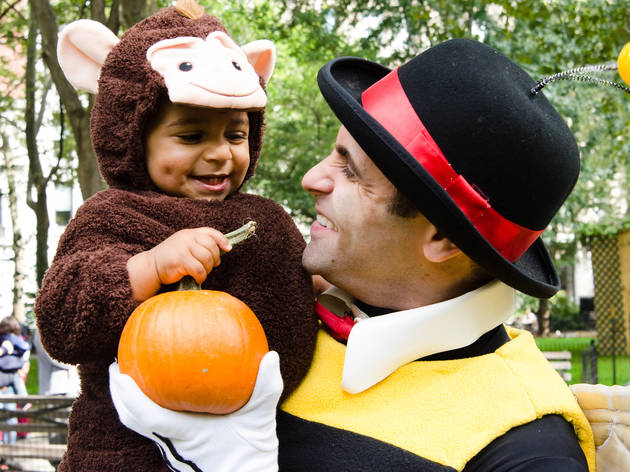 4/14
Photograph: Marielle Solan
Fall Kids Fest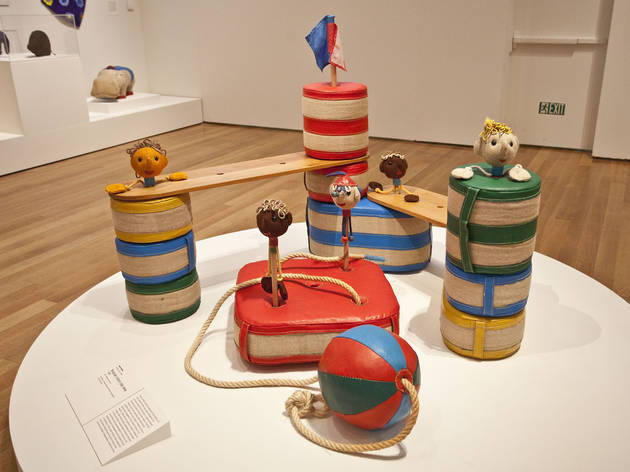 5/14
Photograph: Virginia Rollison
Century of the Child at MoMA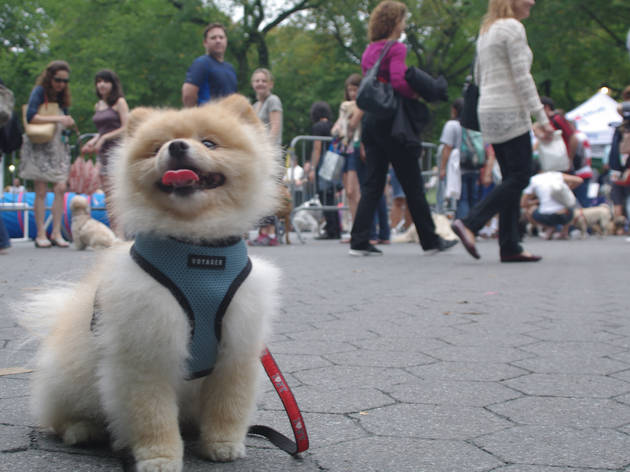 6/14
My Dog Loves Central Park Country Fair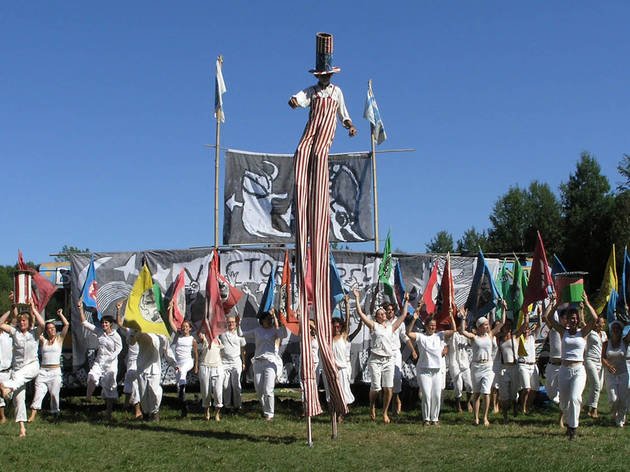 7/14
Harmony on the Hudson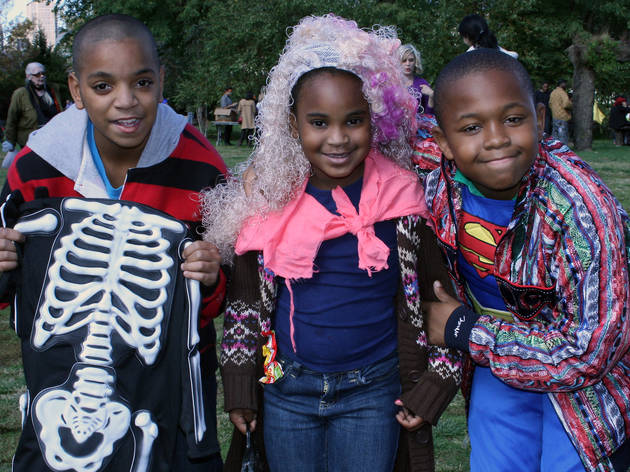 8/14
GrowNYC's Halloween Costume Swap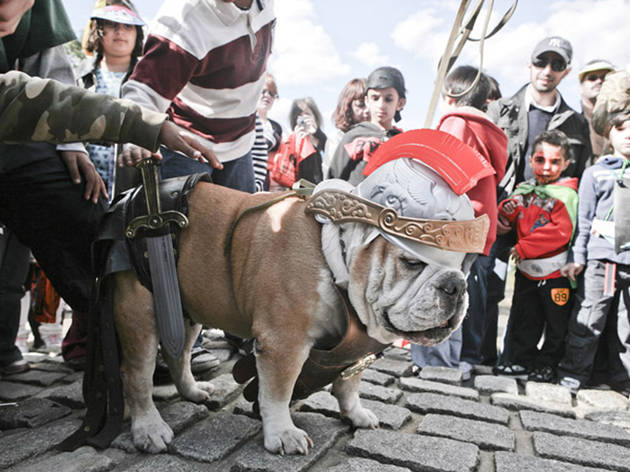 9/14
Halloween Harvest Festival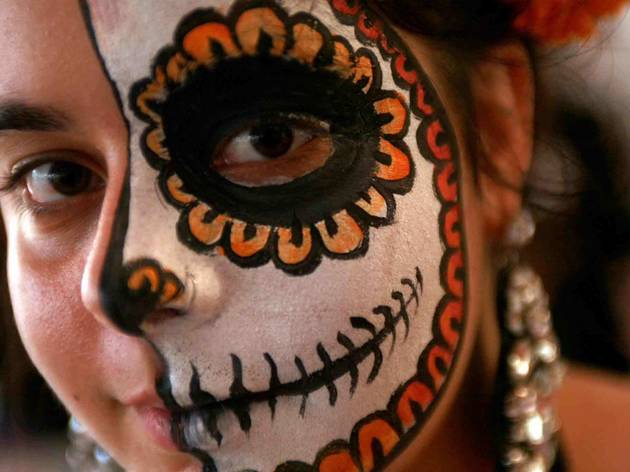 10/14
Dia de los Muertos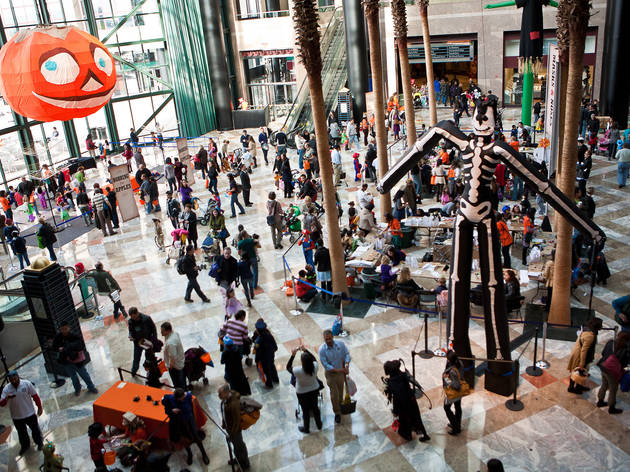 11/14
World Financial Center Screamin' Green Halloween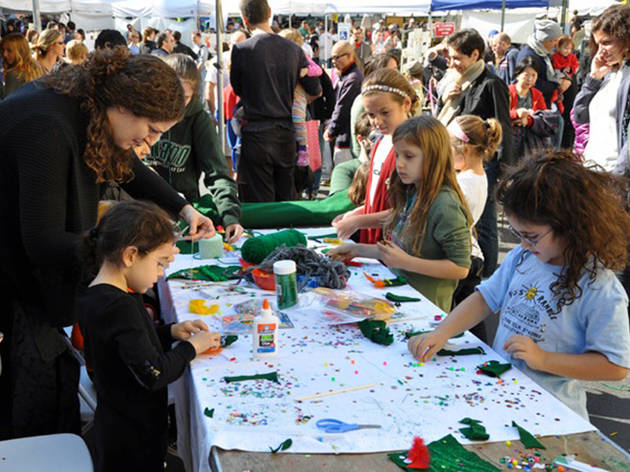 12/14
LES Pickle Day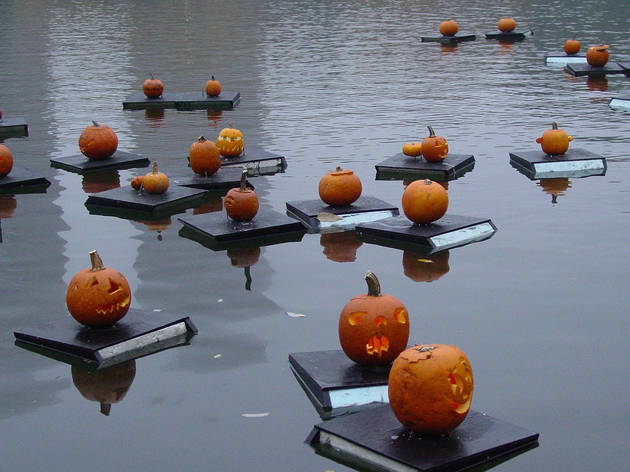 13/14
Central Park Pumpkin Sail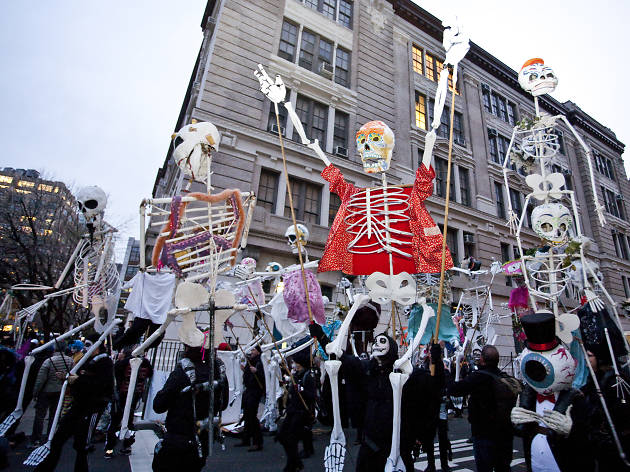 14/14
Photograph: Virginia Rollison
39th Annual Village Halloween Parade
RECOMMENDED: More things to do in the fall with kids
Who says living in the city has to be expensive? In honor of one of favorite months, we've put together a list of the best free things to do in NYC—everything from movie nights at children's stores to harvest festivals and Halloween events. We're especially excited about our Fall Kids Fest presented by World Class Learning Academy—stop by Madison Square Park on Saturday, October 13, for free concerts, art activities, story sessions and treats.
Meet the Author: Lois Lowry
Incontestably one of the most revered children's book (and YA) authors of our time, Lois Lowry—the winner of two Newbery Awards, for Number the Stars and The Giver—is in town to launch her sequel to The Giver (1994), a dystopian novel that's found its way onto many a middle-school and high-school reading list. In Son, Lowry picks up where she left off, concluding the story of Jonas and Gabriel, the baby whose life Jonas saves when he learns the boy has been chosen for "release" by the Orwell-esque society that surrounds them. Tue Oct 2 at 7pm. Barnes and Noble. Ages 9 and up.

First Saturday for Families: How to Create a History
This New Museum First Saturday focuses on New York City's artistic past. In conjunction with the exhibit "Come Closer: Art Around the Bowery 1969-1989," kids can see how artists during that time documented and changed the neighborhood they lived in. Then, young historians can start an archive of their own past. Participation is first-come, first-served and includes museum admission. Sat Oct 6 at 10am. New Museum. Ages 4 and up.
Pumpkin Day
Can't make it to a real pumpkin patch? No worries: At this annual Brooklyn event, kids can pluck pumpkins from a man-made "patch," then decorate their gourds in spooky styles. Before helping your babe carry his find home, stick around to enjoy live music, sample yummy treats and help your darling make other kiddie crafts. Sat Oct 6 11am—1pm. McCarren Park. All ages.

Czech Street Festival
Celebrate Czech Independence Day at this annual street festival, where families can check out authentic food, marionettes and games while rocking to the beats of live Czech bands. Sat Oct 6 noon—5pm. W 73rd St between First and Second Aves. Ages 3 to 12.
Little Red Lighthouse Festival
Celebrate the last remaining lighthouse in Manhattan, and the subject of the 1942 children's book The Little Red Lighthouse and the Great Gray Bridge, at the 20th anniversary of this festival. Kids can take a tour of the lighthouse, engage in craft activities, and take in music and dance performances. Sat Oct 6 noon—4pm. Fort Washington Park. All ages.

MoMA Family Films: Lessons Learned
Check out MOMA's free screenings of classic family films throughout the fall, each followed by a discussion with a museum educator. This month, view shorts with morals, like "The Emperor's New Clothes" and "Miriam's Broken Picture." Pick up your gratis tickets between 10 and 10:30am or 11:30am and noon on the day of the program at the information desk in the Museum's main lobby or at the reception desk at the Education and Research Building. Tickets are good for a family of two parents and three children and are distributed on a first-come, first-served basis. Sat Oct 6 noon—1pm. Ages 5 and up.

Pumpkin Patch and October Fest
Step into the members-only green space; it's open to the public one day a year as a pumpkin patch. Once inside, your kids can make sand art, hang out in the storytime tent, participate in a sidewalk chalk-art contest, get their faces painted, nosh on German food, listen to live music by kids' performer Richard Younger and, of course, pick out the perfect pumpkin. Rain date is October 7. Sat Oct 6 noon—5pm. Sunnyside Gardens Park. All ages.
J&R Jr. Kids' Night Out
Keep your family's Saturday night low-key with free pizza and an animated film. Each week, downtown store J&R Jr. will screen a different movie, including Wallace and Gromit: Curse of the Were-Rabbit (Sat Oct 6), Monster High: Ghouls Rule (Sat Oct 13), Madagascar 3: Europe's Most Wanted (Sat Oct 20) and It's the Great Pumpkin, Charlie Brown (Sat Oct 27). Sat Oct 6, 13, 20, 27 at 5pm J and R Junior. Ages 5 to 10.

Target First Saturday: Mickalene Thomas
In conjunction with the exhibition "Mickalene Thomas: Origin of the Universe," the Brooklyn Museum hosts a jam-packed night of music, performance art, lectures and hands-on fun. Brooklyn-based Mickalene Thomas explores topics like feminine identity and beauty through a colorful visual medium. Kids can create plush collages inspired by the artist, have their photo taken against a backdrop of Thomas's work, or check out '70s-inspired threads at the fashion show. Sat Oct 6 5—10pm. Brooklyn Museum. All ages.

Open House New York Weekend Family Festival
This annual festival held in conjunction with Open House New York offers families a slew of hands-on activities celebrating the city's architecture. Past offerings have included workshops in which kids built a mini city, created architectural masks, played with Lego robotics and made stained glass windows. No preregistration required. Sat Oct 6, Sun Oct 7 noon—4pm. . All ages.

Origamic Architecture
In celebration of Open House New York, the Japan Society is offering free admission, and a free drop-in workshop on "origami architecture." Kids ages five and up and accompanying adults will use the Japanese art of paper folding and elements of modern architecture to create fanciful art they can take home. Space is limited, and available on a first-come, first-served basis. Sun Oct 7 10am—5pm. Japan Society. Ages 5 and up.

Ecofest
Budding environmentalists can get their fill of earth-friendly entertainment with games, performances, an eco-fashion show and plenty of facts about going green. Kids can also participate in the recycling olympics and compete for the title of top recycler. Sun Oct 7 11am—6pm. Solar One. All ages.
Queens County Farm Museum Apple Festival
Youngsters can munch on apples and sip freshly pressed cider, then go for a hayride and play games at this autumn extravaganza. Plus, after learning all about the fruit, kids can check out the nation's largest apple cobbler as it's baked on-site. Sun Oct 7 11am—4pm. Queens County Farm Museum. All ages.

Meet the Illustrator: Sophie Blackall
Drop by Word for a storytime with Sophie Blackall, one of our very favorite children's book author-illustrators. Today she'll be reading from the latest Ivy and Bean book (written by Annie Barrows), Ivy and Bean Make the Rules. Sun Oct 7 at 1:30pm. WORD. Ages 6 to 12.
Meet the Author-Illustrator: Stephen Savage
Help author-illustrator Stephen Savage (Where's Walrus?) celebrate the release of his latest picture book, Little Tug, with powerHouse Arena. The book's titular protagonist may lack attributes like speed and power, but what he does offer in the way of steadfast reliability and a willingness to help more than makes up for any shortcomings. Sun Oct 7 4—5pm. The powerHouse Arena. Ages 2 to 6.

New Green City
Learn how to reduce your carbon footprint with this annual environmental fair that boasts tons of interactive exhibits for kids and adults. While parents improve their DIY skills with home weatherization tutorials, the little ones can visit Kids Korner for environmental-themed games and art projects. Stay for the Iron Chef competition using locally grown produce, and don't forget to bring old cell phones and textiles to drop off at the fest's on-site compost and recycling bins. Wed Oct 10 10am—5pm. Union Square. All ages.

Target Design Kids: Kids Made Modern with Todd Oldham
As part of National Design Week, kids can use household objects and recycled goods to create modern design pieces. The best part: They get to work with fashion and interior designer Todd Oldham and his crew. Sat Oct 13 10—11:30am, noon—1:30pm, 2—3:30pm, 4—5:30pm. Cooper-Hewitt Design Center. Ages 5 to 12.

Growing By Design: Designing for Kids
In conjunction with the exhibition "Century of the Child: Growing by Design, 1900--2000," which presents a hundred years' worth of toys, games and playground designs, MoMA offers you and your tween the chance to participate in a hands-on design workshop. Join forces with your child as you learn what needs to be considered when designing for kids and how creative the most functional objects can be. Preregistration recommended. Sat Oct 13 10:30am—12:30pm, 2—4pm. Museum of Modern Art. Ages 10 to 14.

Fall Kids Fest presented by World Class Learning Academy
Madison Square Park and Time Out Kids partner up for this annual free fall festival. Little ones can bound through the park, stopping for seasonal craft sessions with the Rubin Museum, apple seeds and the Museum of Mathematics, or enjoying concerts by KBC Kids and the Pop Ups. Families will get a sneak peek at the upcoming Bunnicula: A Rabbit Tale of Musical Mystery and hear book readings courtesy of the DiMenna Children's History Museum. After parading around in their adorable costumes in a clown-led procession, kids can pose for pictures in the Time Out Kids photo booth and pick a pumpkin to take home. Sat Oct 13 11am—2pm. Madison Square Park. All ages.

My Dog Loves Central Park Country Fair
Bring your young doggie devotees to this fest at the Naumburg Bandshell celebrating NYC pups. Highlights include the popular Best in Park Competition, games like Musical Chairs, where your dog must sit before you can, a Children's Corner for kids' games, and free goodies and giveaways. Sat Oct 13 11am—3pm. Central Park. All ages.

Stillspotting NYC: Bronx
The fifth and final edition of the Guggenheim's supercreative Stillspotting series—an audio-based interactive project in all five borough—takes place for one weekend in the Bronx's Joyce Kilmer Park (with the initial meeting place at the Bronx Museum of the Arts). Participants will use ipods and mp3 players to download a narrated audio tour called Audiogram, which the Guggenheim calls "a theatrical group hearing test designed for the South Bronx" and "a unique interpretation of a conventional audiogram through an experience that connects science with humor and the element of surprise." If all this sounds confusing, not to worry: A special family orientation complete with instruction, listening practice and refreshments at the Bronx Museum of the Arts (Sun Oct 14 at 10:30am) will demystify the project for kids and surely get them excited to embark on the experiential adventure. Sat Oct 13, Sun Oct 14 at noon, 1:30pm, 3pm, 4:30pm, 6pm. Bronx Museum of the Arts. Ages 7 and up.
Birding at Wave Hill
Brush up on your birding knowledge on a walk let by naturalist Gabriel Willow and learn about the native and migrating birds that call the garden home. Sun Oct 14 at 9:30am. Wave Hill. Free with grounds admission, which is waived Sunday mornings. Ages 10 and up.

Harmony on the Hudson Music Festival
Bread & Puppet Theater performs its unique show The Complete Everything Everywhere Dance Circus at this gratis downtown festival. Keep an eye out for double-Dutch jump-roping, arts and crafts, and games, too. Sun Oct 14 1—4pm. Robert F. Wagner Park. All ages.
Harvest Fest at Gansevoort Plaza
Embrace the coming of fall with games, face painting, a dress-up photo booth and pumpkin painting. Plus, kids can take apple-picking to the next logical step by making their own applesauce. Sat Oct 20 10am—4pm. Gansevoort Plaza. All ages.
Brooklyn Bridge Park Harvest Festival
Head down to Brooklyn for an afternoon of harvest-themed fun. Families can prepare for Halloween by perusing the pumpkin patch, making masks and leaf rubbings, or visiting the face-painting booth. Make sure to stick around for performances by kid-friendly acts like the Pop Ups. Sat Oct 20 10:30am—1pm. Brooklyn Bridge Park. All ages.

"Space Invaders" Family Workshop
Families will tour the installations on exhibit in "Space Invaders," the cheekily named exhibition whose works take over the interior and exterior spaces of the Lehman College Gallery. Afterward, families will take part in an art-making activity inspired by the exhibit. Sat Oct 20 at 10:30am. Lehman College Art Gallery. Ages 6 to 10.

GrowNYC's Halloween Costume Swap
Still looking for a Halloween costume? Check out GrowNYC's costume swap. Come find a new-to-you costume, or donate your clean, gently used costumes to the swap. Items to bring are limited to clothing, costumes, accessories, decorations and other Halloween-related items. Swapping is free, and you can take or give as much as you like. Sat Oct 20 11am—3pm. Free. All ages.
Halloween Harvest Festival
Kids are invited to craft costumes with park artists, participate in art-making workshops, listen to live music and sample local harvest foods from area restaurants. Plus, creative pet owners can enter Fido in a canine costume contest. Sat Oct 20 11am—3pm. Socrates Sculpture Park. All ages.

Jefferson Market Garden Harvest Festival for Children
After scooping up free mini pumpkins, little ones head to a decorating table to adorn their finds with stickers and crafting supplies. Rain date is October 21. Sat Oct 20 11am—2pm. Jefferson Market Garden. Ages 3 to 8.
Super Sbado: Da de los Muertos
The museum opens its doors for a day of free programming, including concerts, exhibition tours and workshops. Families can check out the ambitious new exhibition "Caribbean: Crossroads of the World," an exploration of the Caribbean's diversity and cultural history, then take part in the 3,000-year-old Mexican tradition of the Day of the Dead. Celebrate the far-from-morbid holiday with the Calaveras Callejeras procession through Central Park, skull face painting, pan de muerto and champurrado tastings, and more. Sat Oct 20 11am—6pm. El Museo del Barrio. All ages.

Woodland Discovery Day
Awaiting families at the Discovery Center are tours of the center's new Woodlands exhibit, plus North Woods discovery kits that they can take out to that special part of Central Park to explore its fauna and flora. Activities are ongoing, with gallery tours starting every 30 minutes. Sat Oct 20 11am—2pm. Central Park, Charles A. Dana Discovery Center. All ages.

Wonderween
Kids watch monster-themed TV shows (screenings include Elmo Says Boo, Go, Diego, Go and Dora the Explorer), make ghoulish crafts and stuff their pockets with sweets. Sat Oct 27 10am—4pm. Sony Wonder Technology Lab. Ages 2 to 6.

World Financial Center Screamin' Green Halloween
For the first time ever, this annual Halloween extravaganza is moving outside! The Plaza will be transformed into Halloween Village, complete with a 30-foot-high scarecrow, roaming characters and game booths. Eco-minded tykes can craft costumes from repurposed materials and snack on organic and fair trade goodies. Costumed kids can also take part in a Ghosts and Goblins parade through Battery Park City. Sat Oct 27 noon—3pm. World Financial Center Plaza. All ages.
Day of the Dead Celebration
Celebrate the Day of the Dead at the National Museum of the American Indian. The festivities include music and dance performances and lots of hands-on workshops for the kids. Sat Oct 27 1—4pm. National Museum of the American Indian. All ages.
Gateway 40th Anniversary Campfire Program
Learn the history of the 25,000-acre-plus national park while making s'mores and singing songs around the campfire. Sat Oct 27 6—8pm. . All ages.

DayLife Featuring Lower East Side Pickle Day
An area rich in history with more unique traditions than can be documented, the Lower East Side smiles back on the past today. In the heart of the old Pickle District, this Orchard Street fair features samples of the green delicacy from India and Haiti to Malaysia, Brooklyn and, of course, those good old-fashioned kosher dills from the LES. Plus, in keeping with the spirit of Halloween, kids will get their faces painted and compete in a costume contest. Sun Oct 28 noon—5pm. Orchard St between E Houston and Delancey Sts. Free. All ages.
Central Park Halloween Parade and Pumpkin Sail
Your family can bring its finest jack-o'-lantern (5 to 10 lbs) and watch as it sets sail in Harlem Meer with tons of other carved masterpieces. Kids can also parade through the park in the annual Halloween procession to show off their dashing costumes. See website for decoration restrictions. Sun Oct 28 4—6:30pm. Central Park, Charles A. Dana Discovery Center. All ages.

39th Annual Village Halloween Parade
With a different spooky theme every year, the city's largest Halloween extravaganza runs up Sixth Avenue from Spring Street to 16th Street. This year's theme is "Tick! Tock!"—the parade will feature physical symbols of the passage of time and will be led by Alice in Wonderland's White Rabbit (he's late, he's late, for a very important date!) and a fleet of winged alarm clocks. Make sure your tots are comfortable with crowds before setting out: Typical attendance tops 2 million revelers. Wed Oct 31 7—10:30pm. Sixth Ave from Spring St to 16th St. All ages.