50 things to do in New York City with kids: Fall 2012
Our must-read guide to the season's best things to do in New York City with kids—festivals, shows, museum exhibits and more—is here.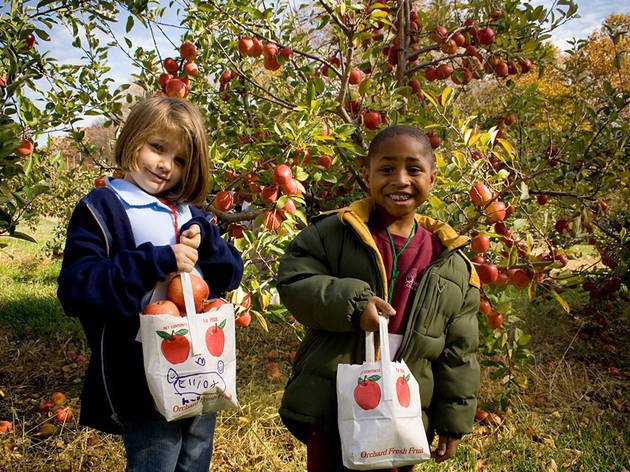 1/10
Apple Picking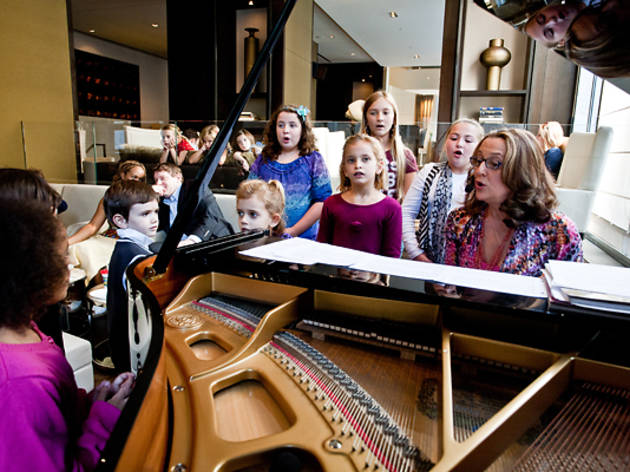 2/10
Photograph: Jakob N. Layman
Tunes with Tina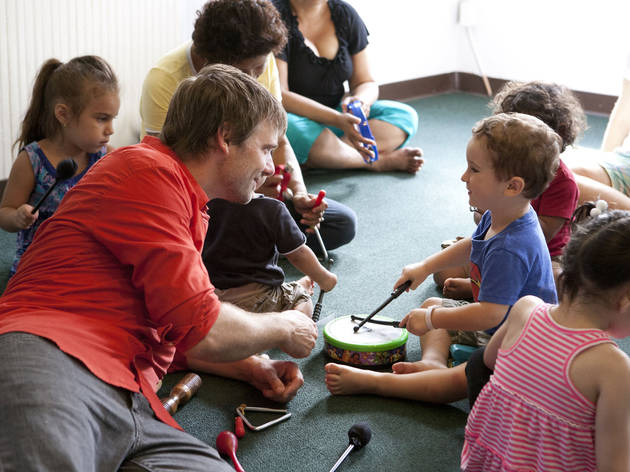 3/10
Photograph: Dennis Kleiman
City Stomp Live!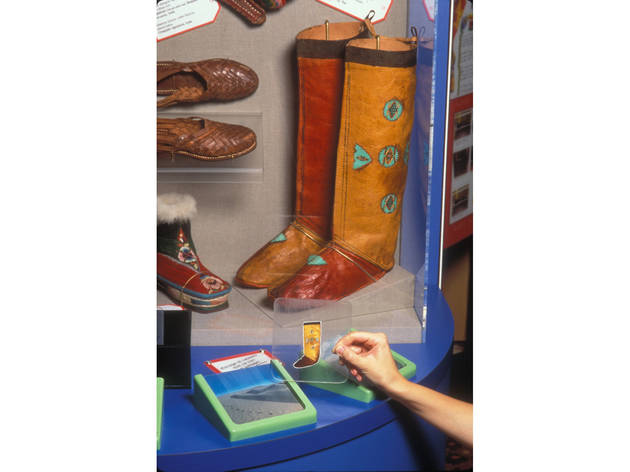 4/10
"Global Shoes" at Brooklyn Children's Museum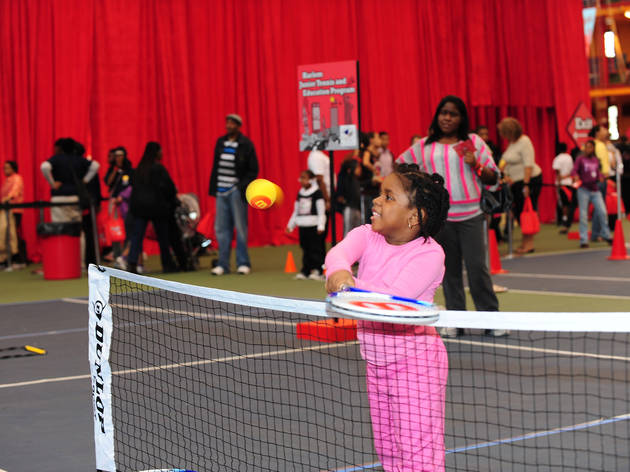 5/10
Photograph: Diana Eliazov/BFAnyc.com
NYCWFF presents Fun and Fit in the City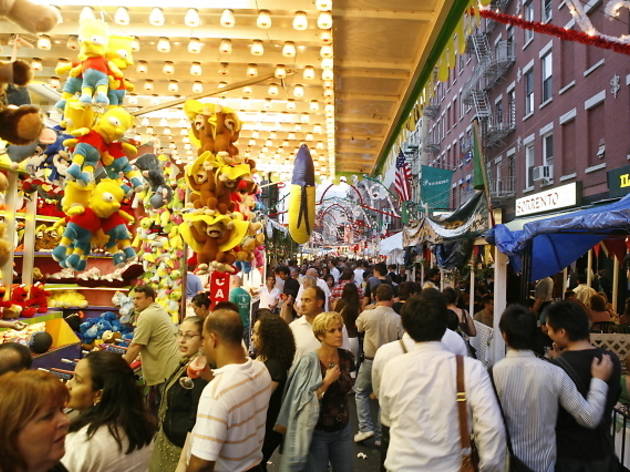 6/10
Feast of San Gennaro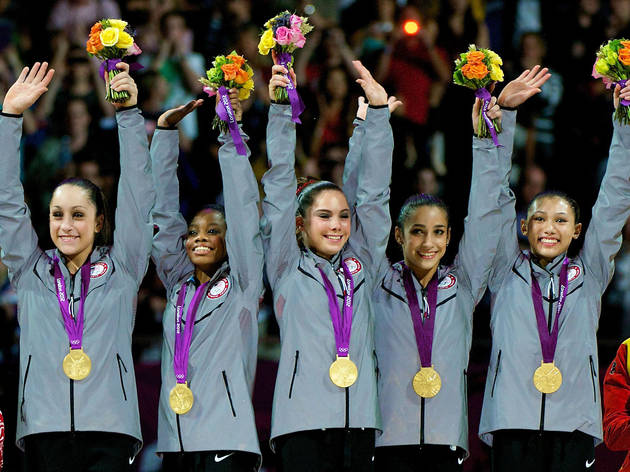 7/10
2012 U.S. Olympic Team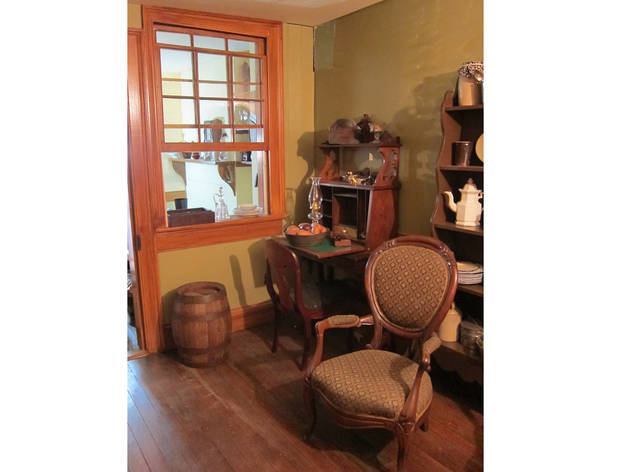 8/10
Photograph: Courtesy the Lower East Side Tenement Museum
"Shop Life" at the Lower East Side Tenement Museum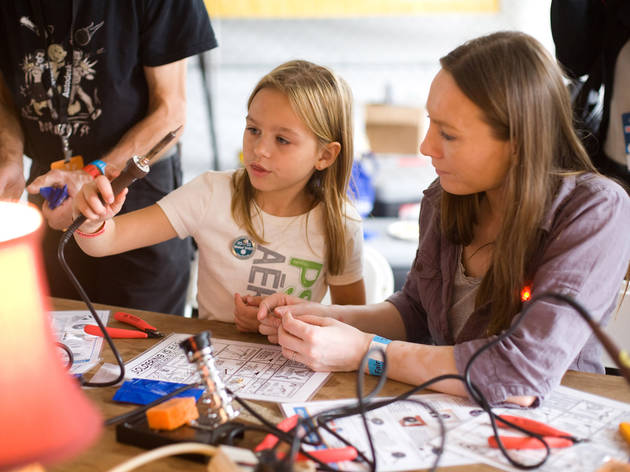 9/10
Photograph: World Maker Faire
World Maker Faire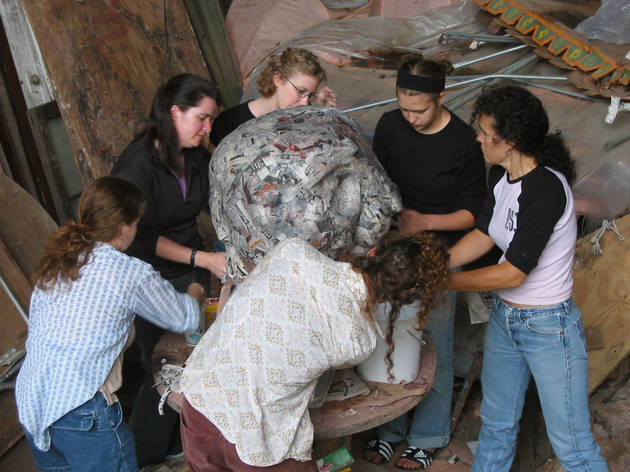 10/10
Morningside Lights Workshop
It's that time of year: The kids have gone back to school, the weather is getting cooler and the city is abuzz with new festivals, museums exhibits and shows. To help you plan your next three months, we've put together an essential list of things to do in New York City with kids this fall. We have the scoop on tons of new events, from a puppet parade in Morningside Heights to a revival of Annie on Broadway and a CMA-run tent at the Dumbo Arts Festival. So grab a cup of cider and start marking your family's calendar—consider your next three months planned!
1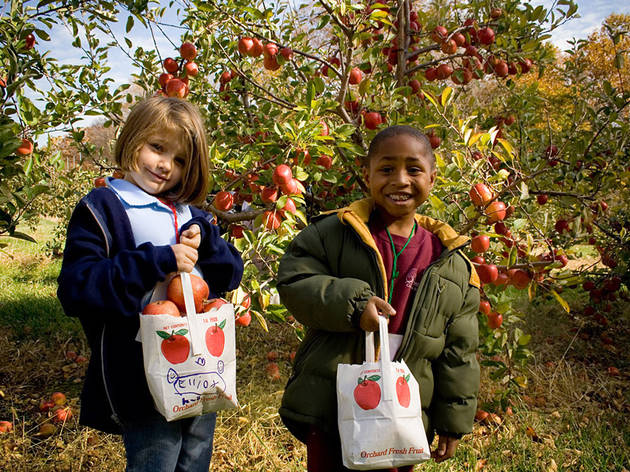 Get in the autumn spirit by taking a day trip to one of our favorite orchards in the tristate area and filling your barrel with Cortland, Granny Smith, Gala and Fuji apples. Many of the farms also have special activities for families—hayrides, petting zoos, pumpkin patches and cider tasting—as well as an outdoor picnic area for enjoying lunch.
2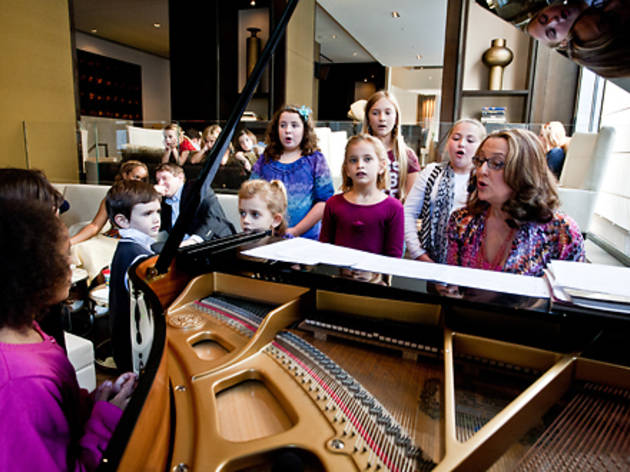 Photograph: Jakob N. Layman
Attend an interactive musical brunch
Start off your family's Sunday at Tunes with Tina, an interactive musical prix-fixe brunch in midtown. Chanteuse Tina deVaron, a jazz pianist who spent six years entertaining kids at the Carlyle Hotel's Tea with Madeline, hosts different themed shows each month, including "Back to Broadway" in September and "Here Come the Holidays" in December. Sweet treats from the London Candy Company are included in the price. Ongoing. Sun 11am–1pm. Bar on 5th. $40, children ages 3 and under $20.
3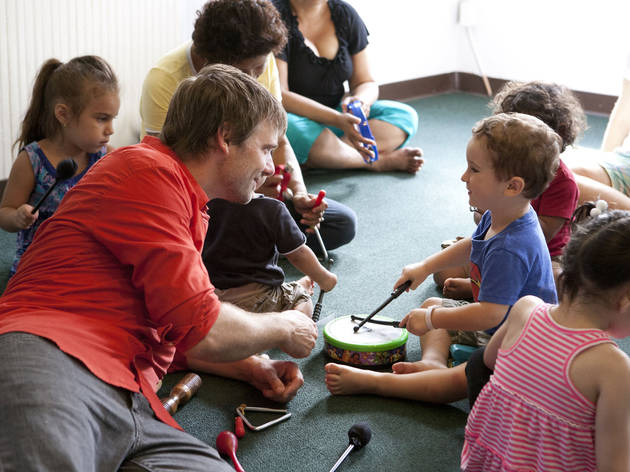 Photograph: Dennis Kleiman
...or an interactive musical dinner
Rock out to urban-inspired tunes about the subway, garbage trucks and Coney Island, as well as songs that pay tribute to the cultures of the Caribbean, Africa and Ireland, during the City Stomp Live! family band's weekly concert series at Dizzy's on 5th. The show is free, but dinner reservations are essential. Wed Sept 5–Wed Dec 26 6 and 7pm. Dizzy's on 5th.
4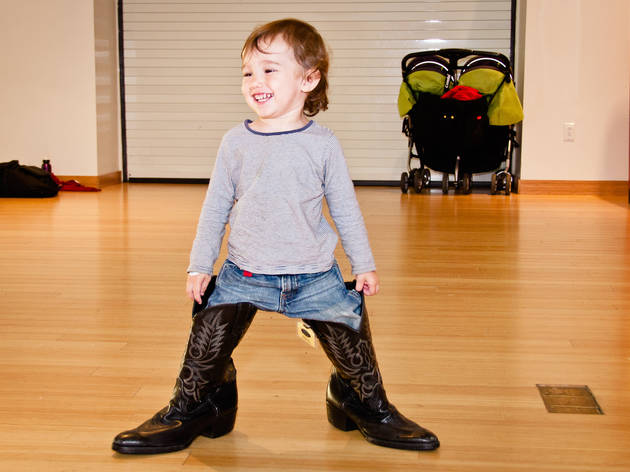 Photograph: Marielle Solan
Learn about other cultures at "Global Shoes"
The Brooklyn Children's Museum has constructed a magical shoe store and factory designed to teach kids about the world's diverse cultures and traditions. In this interactive, bilingual exhibit, shoes are used as portals to different people and places: Role-playing, try-ons and investigative activities allow children to understand other people by (almost literally) walking a mile in their shoes. Opens Sat Sept 22. Brooklyn Children's Museum.
5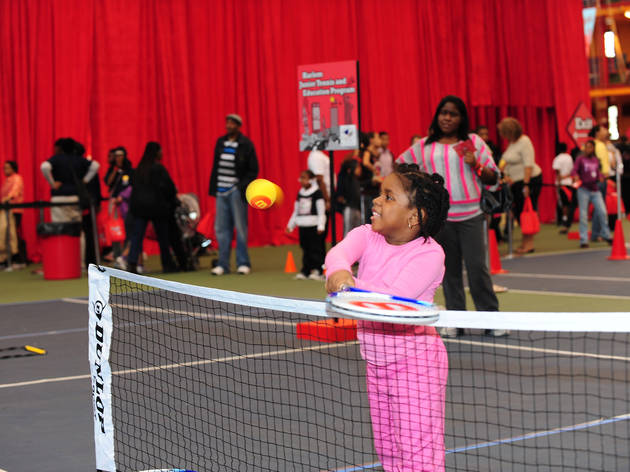 Photograph: Diana Eliazov/BFAnyc.com
Hang out with famous chefs at Fun and Fit in the City
One of the NYC Wine and Food Festival's few kid-friendly offerings, this celebration of healthy living boasts physical fitness activities, puppet shows, educational games and lots of samples of yummy (and nutritious) food. Host Guy Fieri will run the show, joining his fellow celebrity-chef guests onstage for cooking demos. Sat Oct 13 10am–5pm. Basketball City New York. $22, kids under 2 free.
6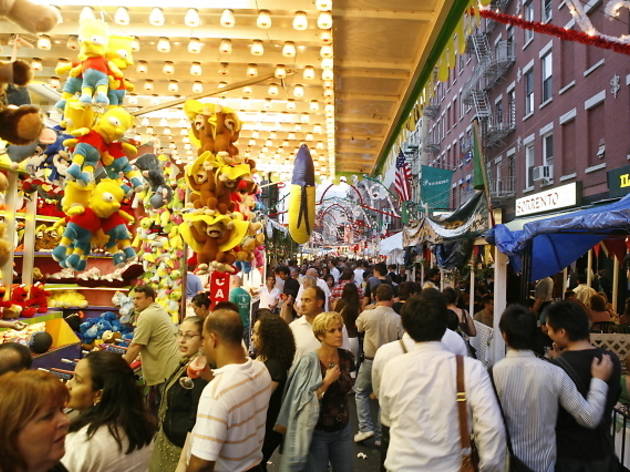 Pig out at the Feast of San Gennaro
Little Italy's 86th annual fest is a series of raucous celebrations that salute the patron saint of Naples. The event kicks off with a cannoli-eating competition (Sept 13 at 2pm), and for the next ten days, Mulberry Street succumbs to food vendors, kiddie carnival rides and Frank Sinatra impersonators. On September 19, the official feast day, a procession carries the statue of San Gennaro through the streets. But the main parade, complete with floats and marching bands and headed by legendary Italian-American songstress Connie Francis, happens toward the start of the fest (Sept 15 at 2pm). Check the website for the most up-to-date schedule information. Thu Sept 13–Sun Sept 23; various times. Mulberry St between Canal and Houston Sts. Free.
7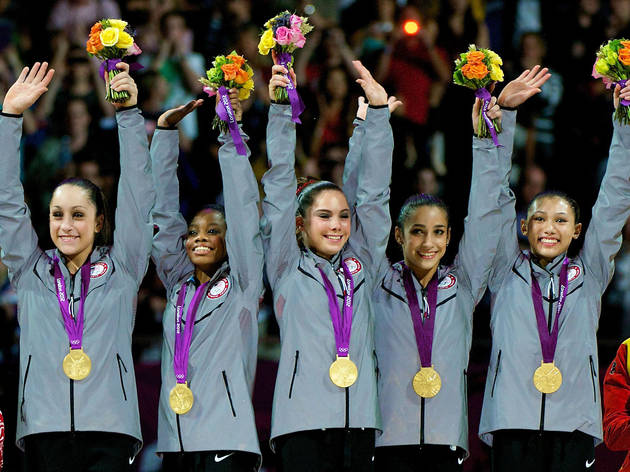 Marvel at the 2012 U.S. Women's Olympic team
There's a good chance your family oohhed and aahhed over the 2012 U.S. Women's Olympic Gymnastics team as they took home the gold in London. Now you can see the Fabulous Five live, including all-around champion Gabby Douglas, team captain Aly Raisman and "unimpressed" McKayla Maroney, during stops in New Jersey and Brooklyn on their multicity Kellogg's Tour of Gymnastics Champions. Joining the girls will be select members of the 2012 men's team plus 2008 Olympic all-around champion Nastia Liukin. Sat Nov 10 at 7pm. Prudential Center. $28.50–$78.50 and up; Sun Nov 18 at 3pm. Barclays Center. $52.50–$79.50.
8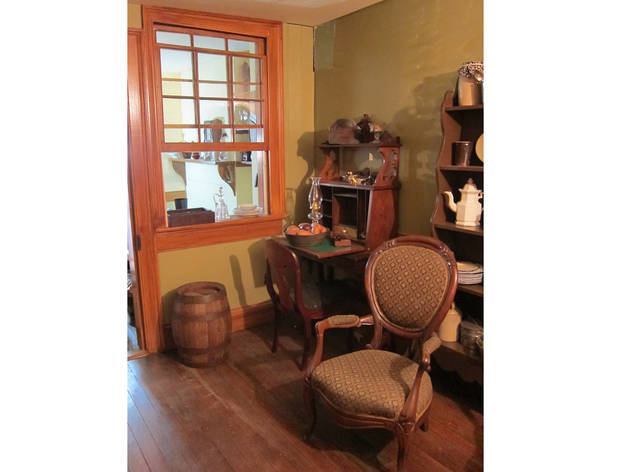 Photograph: Courtesy the Lower East Side Tenement Museum
Take a trip back in time at "Shop Life"
"Shop Life," the first new permanent exhibition to open at the Tenement Museum since 2008 will showcase the array of local businesses that have occupied the historic tenement at 97 Orchard Street. Visitors will be led through re-creations of those shops, including a kosher butcher shop from the 1890s and an undergarment shop from the 1970s. The boon for kids is that exhibit features the museum's first interactive technology, allowing them to choose a piece of merchandise that, when set on the counter, initiates a multimedia presentation—audio clips played on vintage telephone receivers, projections of newspaper clippings and historic images—on the item's significance and historical context. Opens Mon Oct 1. The Tenement Museum.
9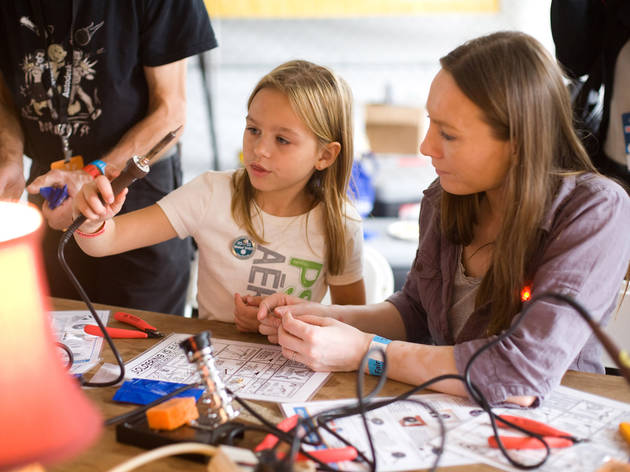 Photograph: World Maker Faire
Be an inventor at the World Maker Faire
This West Coast transplant displays kooky experiments that are sure to have little mad scientists in awe. Hands-on booths let visitors interact with the inventions on offer: They can ride DIY carnival rides, sell their creations at the Maker Kids Market and solder circuit boards. Another big highlight is the Life-Size Mousetrap. There, kids can climb their way through the tricky maze—trying not to get trapped—at the Rube Goldberg–inspired exhibit. Sat Sept 29 10am–7pm, Sun Sept 30 10am–6pm. New York Hall of Science. $27.50, children ages 2–17 $12, children under 2 free
10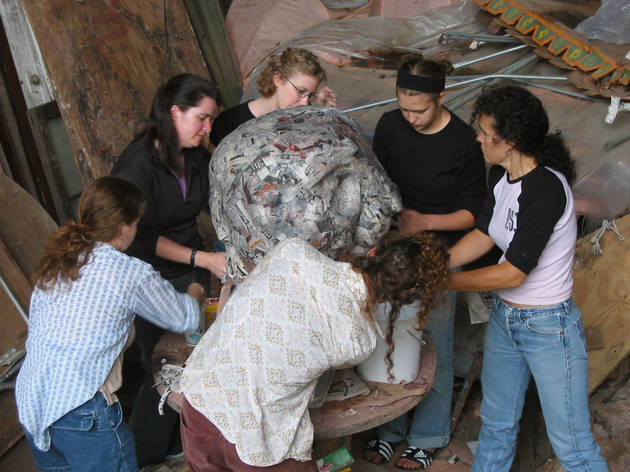 Make a puppet for the Morningside Lights parade
Families can light up the streets with their own unique illuminated puppets and lanterns at this evening parade in Morningside Park. The September 29 parade, whose theme is Imagined City, will be the culmination of a weeklong series of workshops at the Miller Theatre (Sept 22–28), where creative types of all ages can use paint, papier mch and other crafts to create the illuminated sculptures featured in the parade. The coolest part: Artists from the Processional Arts Workshop (PAW)—the team whose creations lead the annual Village Halloween Parade—will be on hand to help out. Workshops: Sat Sept 22, Sun 23 noon–6pm; Mon Sept 24–Fri Sept 28 2–8pm. Miller Theatre. Parade: Sat Sept 29 at 8pm (7pm to join the procession). Morningside Park. Free.
Show more