Back-to-school parties for NYC kids
Celebrate the start of the new academic year at one of these back-to-school parties.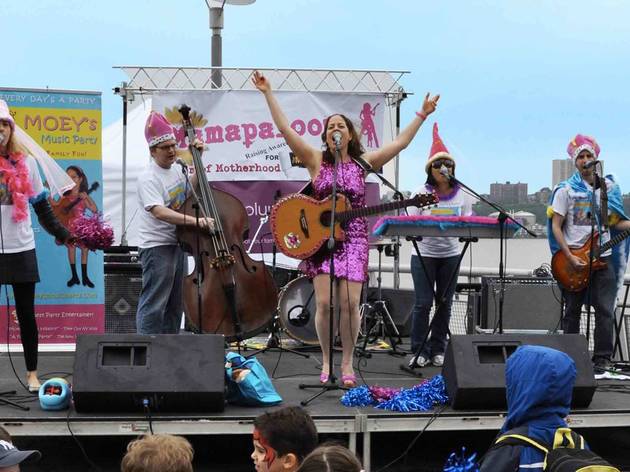 Fall is just around the corner, which means it's time to prepare kids for the classroom. Besides shopping for new school supplies and clothes, you can get the whole family back into school mode with an end-of-summer celebration. Check out our list of back-to-school festivities to get the kids excited about returning to school.

Mini Jake's Back-to-School Food Frenzy
For once, tots are allowed to play with their food by learning how to make edible jewelry. Kids can also get creative with a coloring project while munching on healthy snacks from Plum Organics. Sun Aug 26 noon--6pm. Mini Jake. Free. All ages.
Back-to-School Jam
Crafts, games, snacks, music and giveaways are all part of this back-to-school bash. There will also be a children's fashion show sponsored by Stork and a performance from Brooklyn-based band Rolie Polie Guacamole. Fri Aug 31 at 11am. Brooklyn Children's Museum. Free with admission. All ages.

Back-to-School Festival at Forest Park
In honor of the first day of public school, families can head to the wooded Queens park for games, crafts and music. Thu Sept 6 3:30--5:30pm. Forest Park. Free. All ages.
Free Soft-Serve Yogurt at Chelsea's Table
Beat those back-to-school blues with the ideal after-school snack—a free cup of tart, organic soft-serve yogurt at this Chelsea Piers restaurant, founded by Gary Hirshberg of Stonyfield Farm. Fri Sept 7 2--6pm. Chelsea's Table. Free. All ages.

Back-to-School Circle Line Cruise
Enjoy one final summer getaway on this cruise dedicated to the back-to-school theme. Kids can visit the Books of Wonder--hosted storytelling corner, take an interactive tour or rock out to a live performance by Moey's Music Party. Child-friendly refreshments are available for purchase on board. Sat Sept 8 9:30--11:15am. Circle Line Sightseeing Cruises. $28, children ages 3--12 $20, children under 2 free. All ages.

Back-to-School Festival at Little Bay Park
Round up the kids and their friends for some activities in the park fronting Queens' Little Bay. Children can enjoy inflatable rides, arts and crafts, and free giveaways. Sat Sept 8 noon--3pm. Little Bay Park Free. All ages.
Back to Skool Show
The LIC Bar offers the perfect opportunity for kids (and their grownups) to unwind after surviving their first week of school. Grab a beer (er, soda for the little ones), head to the outdoor garden and chill out with an all-star lineup of kindie rockers: Erin Lee and the Up Past Bedtime Band, the Rockdoves and Andy, Suzanna & Pauline. Following the kids' acts is more parent-friendly music from Richard Julian and the Xavier Cardriche Band. Sun Sept 9 2--8pm. LIC Bar. Free. All ages.