Heads up! We're working hard to be accurate – but these are unusual times, so please always check before heading out.
Best doughnut shops for kids in New York City
The best doughnut shops in NYC for families, offering everything from crullers to Cronuts, make the ideal stop for a pick-me-up—morning, noon or night.
While cupcakes have been the dessert du jour in NYC for longer than most little ones have been alive, there's just one problem: You can't eat them in the morning. Doughnuts, on the other hand, are both delicious and acceptable to eat all hours of the day. Fortunately for city kids, doughnut shops in NYC go beyond the big national chains—here, you'll find everything from cereal-topped and PB&J-inspired varieties to some made with mashed potatoes—plus that croissant-doughnut hybrid we've been hearing so much about. So are doughnuts the new cupcakes? See for yourself: We rounded up the best doughnut shops in the five boroughs for maximum morning sweetness.
Click the right arrow on the image below to see the city's best doughnuts.
RECOMMENDED: National Doughnut Day coverage
What does a butcher shop in Easthampton have to do with the trio of classic, ring-shaped doughnuts (plain cake, powdered sugar and cinnamon sugar) found at 606 R&D in Prospect Heights? Well, just about everything. Co-owner Ilene Rosen first tried the doughnuts at Dreesen's about 20 years ago while visiting friends, and after researching what she wanted of her and partner Sara Dima's new restaurant, bought the franchise—machine, mix and all—from the shop's owners, the DeSanti family. The recipe itself might be a secret, but the homemade taste is not; they're a perfect cross between a yeast and a cake doughnut. Fresh batches are made at least twice daily, and more or less nonstop on weekends. Three for $4, one dozen $15. 606 Vanderbilt Ave between Prospect Pl and St. Marks Ave (717-230-0125, 606vanderbiltbklyn.com).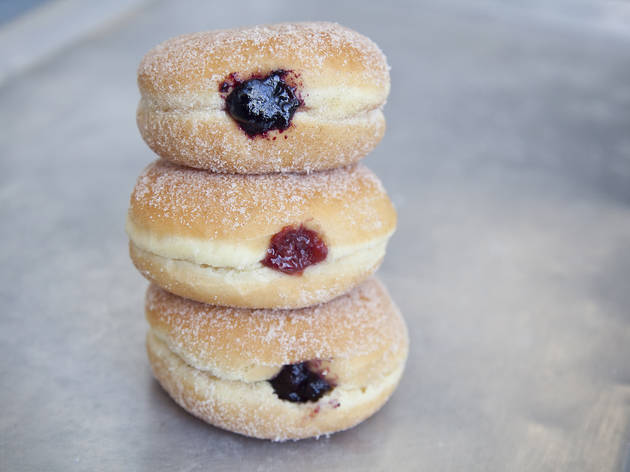 Photograph: Melissa Sinclair
Best doughnut shops for jam lovers: Orwasher's Bakery
These fluffy doughnuts are fortified with jam courtesy of a Hudson Valley farm and come in a multitude of seasonal flavors. You won't find any of that processed nonsense here—the jam contains whole pieces of fruit, from fresh blueberries, seedy raspberries and strawberry chunks (try the sour cherry or the black raspberry, an Orwasher's staff favorite). Plus, the pastry gurus will fill them right before your eyes. Fans of pie, meet your new favorite breakfast. $4.25, one dozen $44. 308 E 78th St between First and Second Aves (212-288-6569, orwashers.com).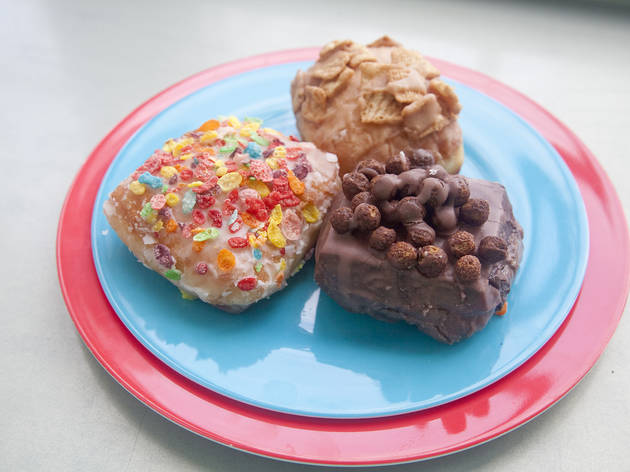 Photograph: Melissa Sinclair
Best doughnut shops for the breakfast obsessed: The General Bakery
What happens when two of the best breakfast foods collide (and no, we're not talking about the Cronut)? You get crunchy, gooey cereal-topped doughnuts. These colorful delights are available at the otherwise adult-oriented hotspot The General, which opened up a bakery in March 2013. Little ones will flock to the chocolatey Coco Puffs and the sweet milk–filled Fruity Pebbles varieties, but parents should take note of the Cinnamon Toast Crunch, which is topped with a fall spice cream (it tastes like French toast). Another parent-friendly favorite: the Yogurt Parfait, which oozes with a creamier version of the Greek stuff (so it's at least a little healthy!) and is covered in crunchy granola. $3, three $8. 199 Bowery at Spring St (212-271-7101, emmgrp.com).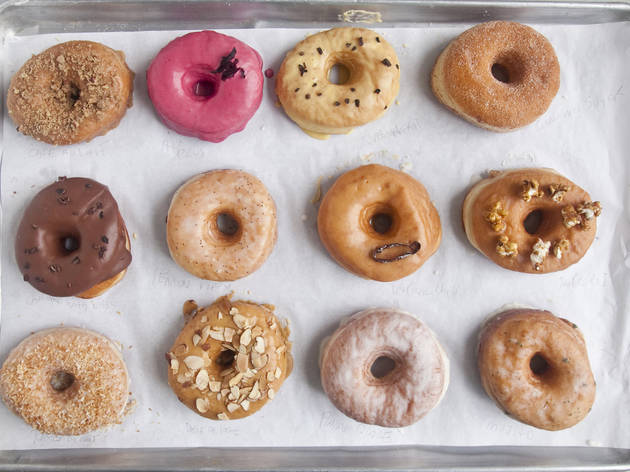 Photograph: Melissa Sinclair
Best doughnut shops for freshness freaks: Dough
Doughnuts do not get any fresher than those at Clinton Hill's Dough. The colorful yeast doughnuts are made throughout the day completely from scratch using seasonal ingredients (the staff even steeps the hibiscus it uses for its deep-pink hibiscus doughnut). In addition to eight varieties available daily—cinnamon sugar, plain, chocolate with cacao nibs, salted caramel, dulce de leche, cafe au lait, lemon poppy and coconut—you're bound to come across one or more new varieties each week, based on new market finds, like blackberries. Standard doughnuts $2.25, filled doughnuts $3.75. 448 Lafayette Ave at Franklin Ave, Clinton Hill, Brooklyn (347-533-7544).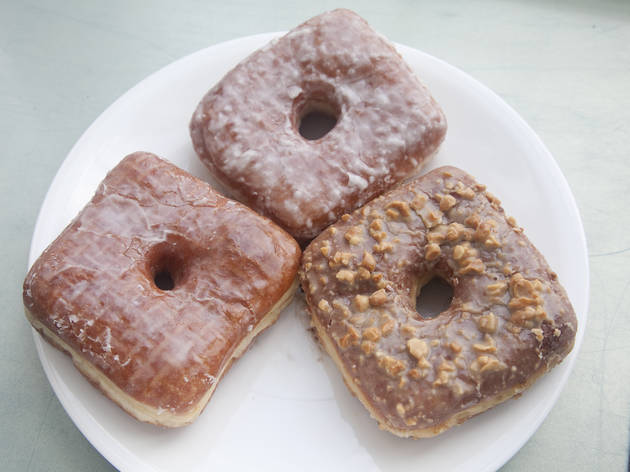 Photograph: Melissa Sinclair
Best doughnut shops for adventurous eaters: Doughnut Plant
Even the Vanilla Bean flavor is delicious at this doughnut mecca, but Mark Israel has gone on to dream up so many more. In addition to kid-friendly picks like Peanut Butter & blackberry jam (pictured above), chocolate chip cookie and strawberry, they've got the devilishly delectable blackout cake, which is made super moist by its rich pudding filling, and the famous tres leches doughnut. Renowned for their quirky square shape, the yeast varieties here are some of their best, and include the pleasantly subtle coconut cream (the filling is lime-flavored!) and the vanilla bean & blackberry jam. The one thing they all have in common? They're worth the trip. $2.25–$3.25. 379 Grand St between Essex and Norfolk Sts (212-505-3700, doughnutplant.com) • 220 W 23rd St between Seventh and Eighth Aves.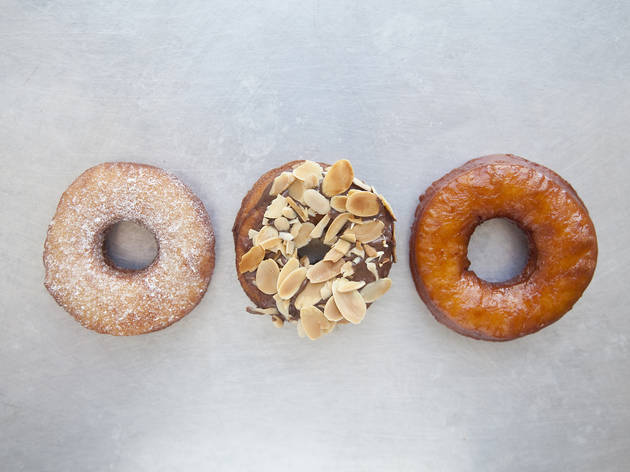 Photograph: Melissa Sinclair
Best doughnut shops for comfort-food experimentalists: Wonder City at the Brindle Room
Lauded New American eatery the Brindle Room has a kid-friendly alter ego: Wonder City. The concept: ultra-fresh, warm doughnuts in three varieties—powdered sugar, chocolate-hazelnut (topped with sliced almonds) and deliciously sticky caramel—and (for parents) filter-brewed coffee, served in a special corner of the space. The lovely rings, which have a delicate crunch to them and are made light and fluffy by the addition of mashed potatoes (!), are served daily from 11am (11:30am weekdays) on until they run out. $1.75. 277 E 10th St at Second Ave (212-529-9702, brindleroom.com).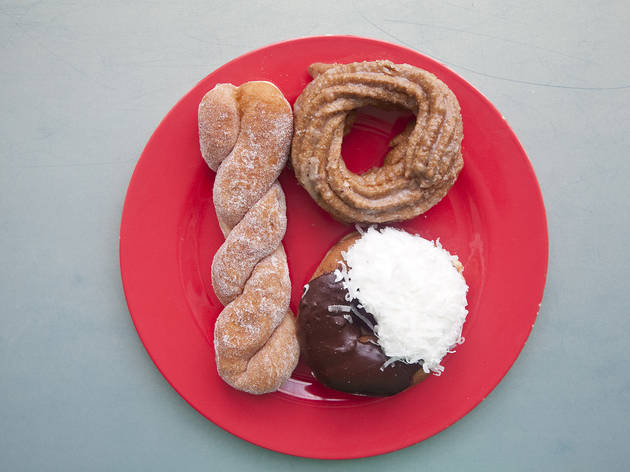 Photograph: Melissa Sinclair
Best doughnut shops for topping aficionados: Peter Pan Donut & Pastry Shop
The Greenpoint standby serves up old-fashioned doughnuts with astonishing variety—here, you'll find everything from crispy crullers, long braided doughnuts, red velvet cake, holiday-specific doughnuts and many kinds of jelly-filled varieties. Direct sweet–toothed little ones to the white cream coconuts or the apple pie–filled doughnuts, dusted in a cinnamon sugar crumble, to make kids feel like it's Thanksgiving all year round. $1, one dozen $10.50. 727 Manhattan Ave between Meserole and Norman Aves (718-389-3676, peterpan-donuts.com).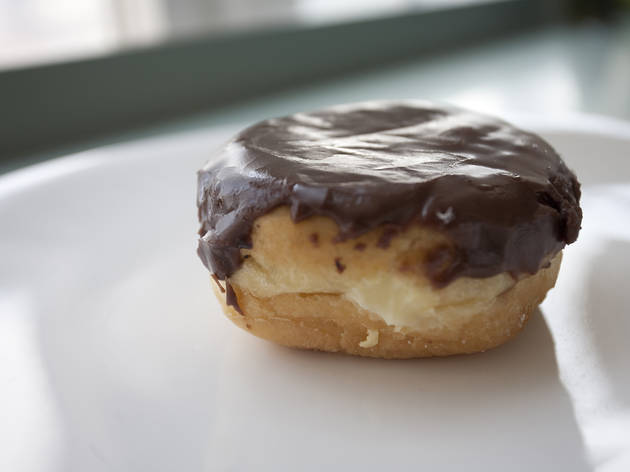 Photograph: Alvina Lai
Best doughnut shops for the crème obsessed: The Donut Pub
One thing doughnuts have that cupcakes don't: rich, creamy fillings. This mom-and-pop icon from the 1960s, with retro neon signage and a throwback long marble counter lined with swivel stools, excels in the genre, so seek out crème, chocolate crème, vanilla crème and, especially, Boston crème (pictured above). Another strong suit of the Donut Pub: They're open 24/7. $1.15–$2.35. 203 W 14th St between Seventh and Eighth Aves (212-929-0126, donutpub.com).
The Soho bakery offers a long list of crafty and innovative pastries, but none have the mass appeal nor the nickname-readiness of the Cronut: a croissant-slash-doughnut. Lines were spilling out of the shop's doors for weeks following the creation's debut in May, and Cronut mania doesn't seem to be dying down a bit. So just how genius are these feats of French pastry chef Dominique Ansel's imagination? Pretty darn good: They're filled with a light cream center and fried in grapeseed oil, and the accoutrements tend to change up (so far there's been a rose-vanilla and a lemon-maple iteration) for maximum buzz. $5. 189 Spring St at Thompson St (212-219-2773, dominiqueansel.com).