Best places for breastfeeding in NYC
Celebrate National Breastfeeding Month (yes, it's a thing) by trying out one of these mommy-friendly NYC spots.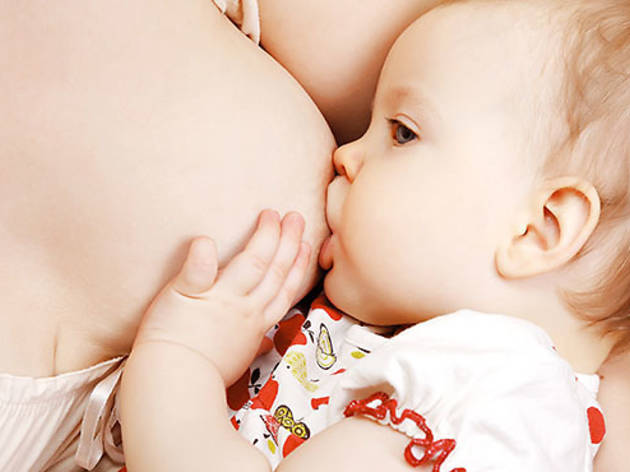 While New York breastfeeding laws state that moms can breastfeed absolutely anywhere (something we may forget), some moms, especially brand new moms, might appreciate a little bit of privacy. Here are a few places they might find some:
Caribou Baby Williamsburg/Greenpoint
Caribou Baby's Breastfeeding Support Group for local moms, Evening Prenatal Yoga and La Leche League Meetups make them one of the most mom-friendly places in town. Further, the store offers comfortable seats that are perfect for nursing moms, and while you hang out, you might meet some knowledgeable staff that can give you a pointer or two on baby supplies. 272 Driggs Ave, Brooklyn (347-460-2229, cariboubaby.com)
Bedford-Stuyvesant Lactation Center
We've written in depth about Bed Stuy's new Lactation Station, and hopefully a few more of these are in the works around the city. At the Station (a room located inside Councilman Robert Cornegy's Fulton St. offices), moms can breastfeed, pump milk and lounge in comfy leather armchairs. 1360 Fulton St., Suite 500, Brooklyn (718-919-0740)
Javits Center
Moms can drop by the Javits Center for more than just the latest exhibitions. The venue's First Aid Station by TransCare, located on Level 1 (southwest corner), open during regular business hours (9am-5pm), offers a safe area for breastfeeding moms in the nurse's station. 55 W 34th St. (212-216-2000, javitscenter.com)
Toys R Us in Times Square
According to Toys "R" Us' official policy, a mother may breastfeed her child in the place of her choice within any of the chain's stores. Additionally, all Babies "R" Us stores have dedicated rooms for breastfeeding moms, and the Toys "R" Us in Times Square has a dedicated mother's room on the 3rd floor. 1514 Broadway (646-366-8800, toysrus.com)
Pottery Barn Kids
Pottery Barn Kids may be one of the comfiest places for moms in NYC, and Laura Alber, President of Williams-Sonoma, Inc (West Elm, Williams Sonoma Home, Pottery Barn), is reportedly all in favor of moms breastfeeding in-store. Visit the 69th and 2nd St location and ask if you can set up camp at one of the store's rockers or gliders. 1311 2nd Ave (800-993-4923, potterybarnkids.com)
RECOMMENDED: 15 things you should never say to a brand new mom
Buy Buy Baby
On the lower level, Buy Buy Baby offers a baby nursing and changing room with at least three armchairs and a changing table for new moms. The space is secluded, quiet and impeccably clean. 270 7th Ave (917-344-1555, buybuybaby.com)
NYC's Kids' Playgrounds
While the weather's warm, it's a great opportunity to make use of NYC's numerous kids' playgrounds for breastfeeding. Though these destinations may not be the most comfortable places to settle in and they're definitely not hidden away, you'll find a sense of anonymity amidst the crowds of other moms and kids. Even better, most playgrounds are fenced in and require that adults be accompanied by children, so you know you're in the company of other families.
Tea Lounge
The Tea Lounge welcomes breastfeeding moms with open arms. Your toddlers and children can munch on Toasties while you park yourself on a bench and feed the baby in a judgment-free zone (likely in the company of other breastfeeding moms just like you). 837 Union St, Brooklyn (718-789-2762, tealoungeny.com)
Books of Wonder
As one of NYC's premier children's bookstores, we're glad to hear Books of Wonder welcomes all family members (even teeny-tiny ones). Moms can breastfeed here in peace at any one of the benches throughout the store, and as an added bonus, older kids in tow can entertain themselves with books and toys while they wait. 18 W 18th St. (212-989-3270, booksofwonder.com)
Housing Works Bookstore Café
Dimly lit and filled with comfy lounge chairs, this SoHo bookstore is an ideal place to breastfeed. You can shop the best books in town before and after your little one eats, and then you can grab your own snack at Housing Works' café. 126 Crosby St. (212-334-3324, housingworks.org/bookstore)