The Big Apple Circus guide for families
Step right up to the family-friendly the Big Apple Circus with help from our guide to show dates and tickets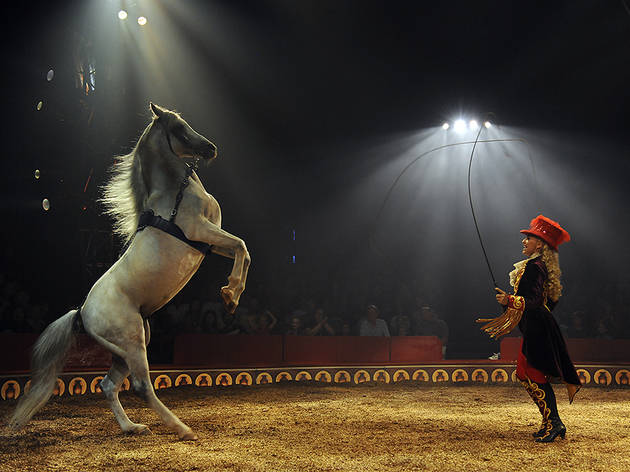 Ladies and gentlemen, boys and girls, children of all ages! The world-renowned Big Apple Circus is performing in New York City and you won't want to miss it! The company regularly wows local audiences with fearless trapeze flyers, gravity-defying acrobats, funny clowns and more impressive feats. Reference this guide to learn about new show dates and times, upcoming Big Apple Circus appearances and tips for getting cheap seats for the whole family. Don't forget to hit up one of the 50 best family restaurants in NYC or one of our favorite NYC pizza places to grab a bite before the show!
What is the Big Apple Circus?
An enthusiastic ringmaster leads a cast of extraordinary performers, plus talented creatures like dogs and horses under the big top. Each production has a special theme that comes through in the acts, costumes and live soundtrack, played by The Big Apple Circus Band. The show typically runs two hours with intermission, though select discounted shows run 75 minutes with no intermission.
When is the Big Apple Circus?
Big Apple Circus: The Grand Tour runs October 21, 2015 through January 10, 2016.
Where is Big Apple Circus?
The Big Apple Circus takes up residence in Damrosch Park at Lincoln Center (W 62nd St between Amsterdam and Columbus Aves) each year. Catch other small-scale performances by the troupe at various venues throughout NYC (listed below).
How do I get tickets to the Big Apple Circus?
Tickets go on sale a few months prior to upcoming Big Apple Circus shows. Check out our listings below to see New York area show dates and times. To purchase tickets, visit
bigapplecircus.org
or call the box office at 800-922-3772. Tickets start at $25.