Celebrate National Ice Cream Day 2013 in New York City
New Yorkers can fete everyone's favorite frozen treat on or around Sunday, July 21, National Ice Cream Day 2013, with freebies and our favorite ice cream.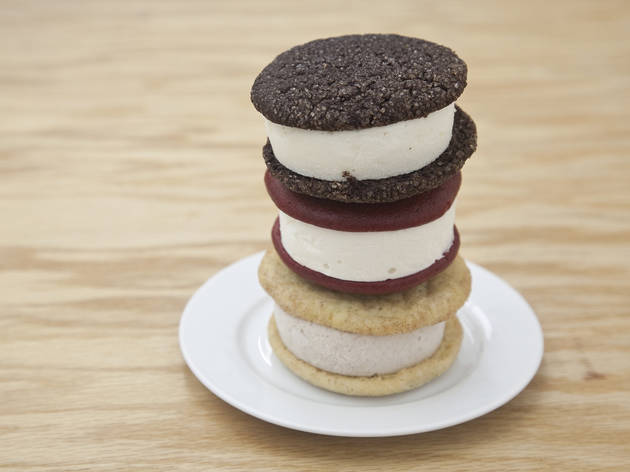 National Ice Cream Day is Sunday, July 21, 2013, and we've found some great ways to celebrate the wonderful icy goodness. Read on to find out where to taste the cold stuff.

RECOMMENDED: National Ice Cream Day coverage

Ben & Jerry's
All month long (and through Tuesday, August 6), the Ben & Jerry's Scoop Truck will be roving around the city to give New Yorkers a taste of their newest Greek flavors: Liz Lemon, Raspberry Fudge Chunk and Banana Peanut Butter. You can follow the truck's location on Twitter at @BenJerrysTruck, or try convincing the ice cream–mobile to stop by your neighborhood (get the rest of the sweet details at the City Churned website).

Melt Bakery
On Sunday, July 21 stop by one of our favorite spots on the Lower East Side, Melt Bakery, where the first 200 little ones (must be 12 or under—sorry, Mom and Dad) can snag mini versions of those to-die-for sandwiches. You can also scope out one of our other favorite ice cream shops for kids in the city, whose wares range from mini ice cream cups made of all organic products to goats' milk soft serve and decadent ice cream sandwiches.

Sugartooth Tours
Sugartooth Tours, famous for their cupcake crawls around the city (check out this adorable video of our kid correspondents Tristin and Tyler on a Sugartooth tour), debut their newest offering, a guided tour of downtown's best ice cream parlors on Sunday, July 21—sign up here.

Ripley's Believe it or Not!
The tourist-friendly fun continues at the Ripley's Believe It or Not! Odditorium, where from noon to 6pm on Sunday, Juyl 21, guests can spin the Wheel of Ice Screams and get a free sample cone of wacky flavors (think hummus, pizza or mustard) and a chance to score half-price admission to the museum by completing (or valiantly attempting) a designated "dare".

Baskin Robbins
Delight in a free waffle cone with any two-scoop purchase at Baskin Robbins (of which NYC has many) from July 1 through August 31.
Happy National Ice Cream Day to all!