Celebrate New Year's Eve 2010 with NYC kids
Turn December 31 into a family affair.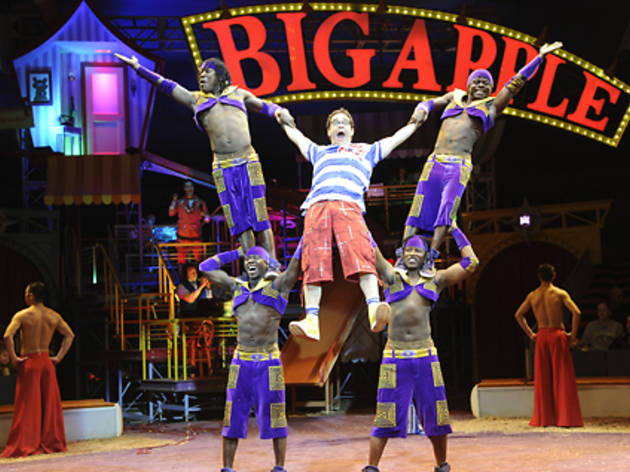 1/11
Dance On! at Big Apple Circus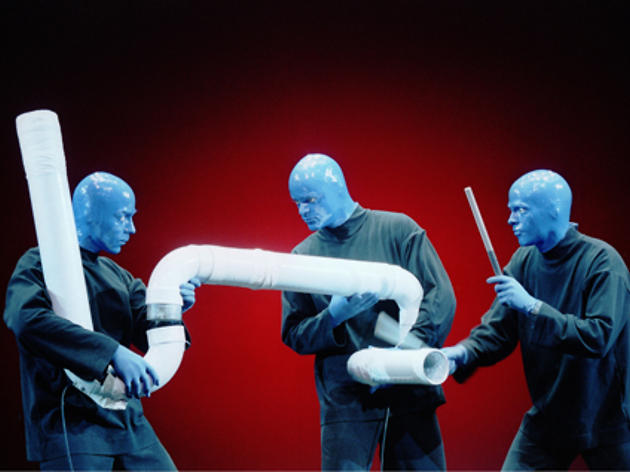 2/11
Blue Man Group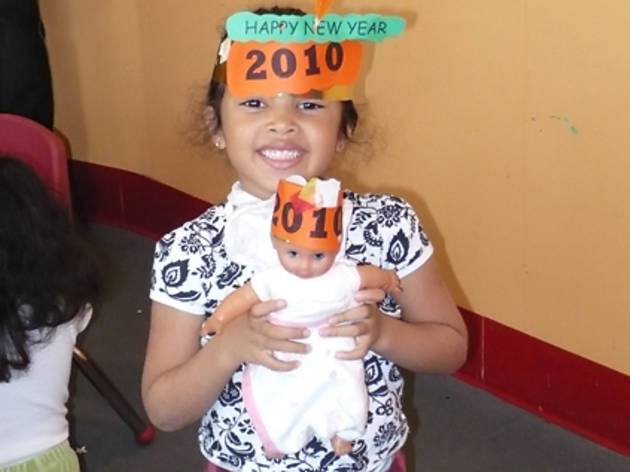 3/11
Brooklyn Childrens Museum holiday hat workshop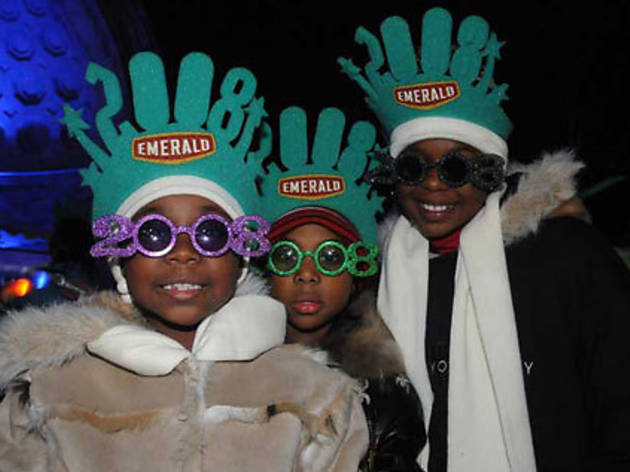 4/11
Emerald Nuts Midnight Run
5/11
Barrio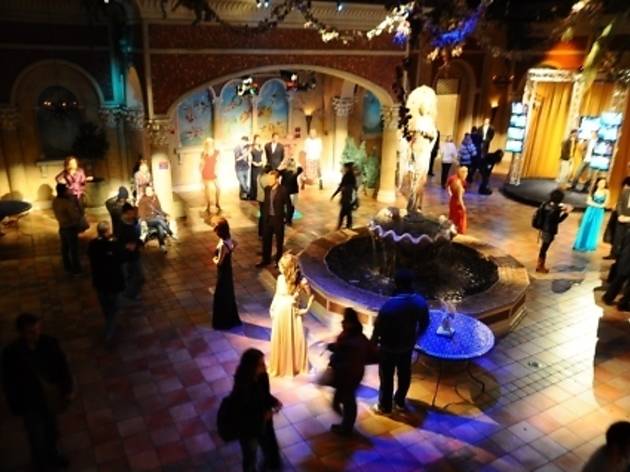 6/11
Madame Tussauds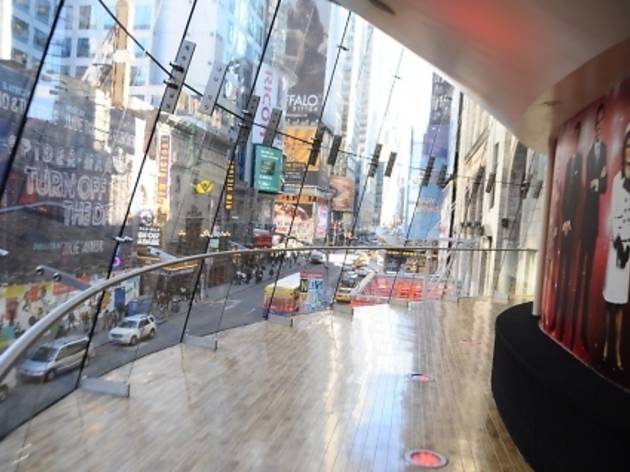 7/11
Madame Tussauds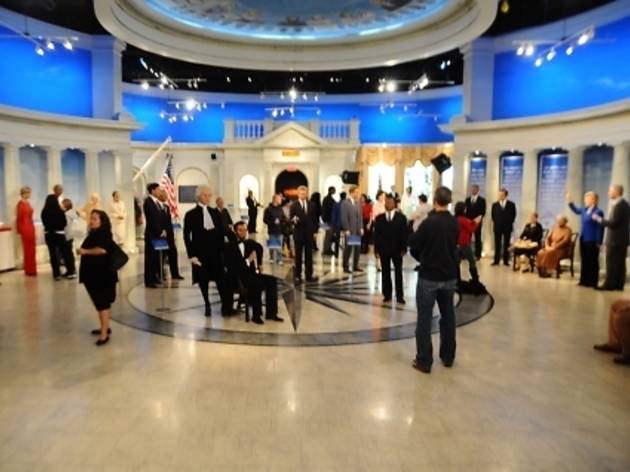 8/11
Madame Tussauds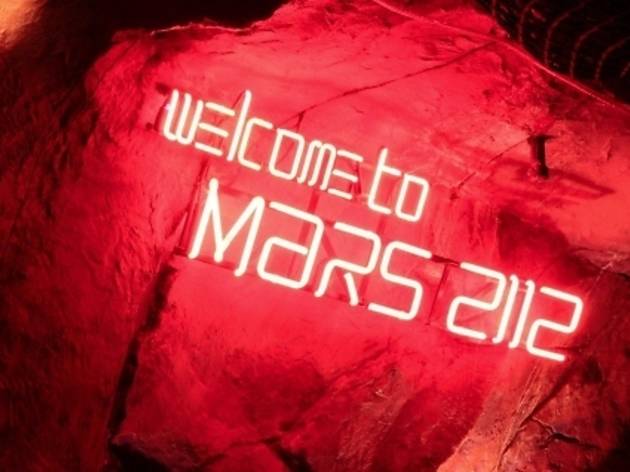 9/11
Mars 2112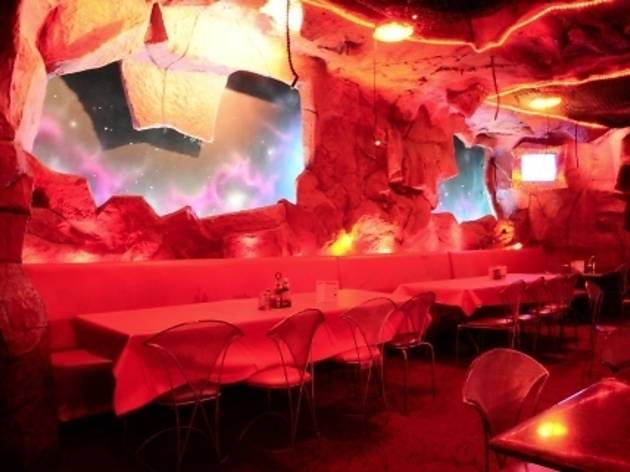 10/11
Mars 2112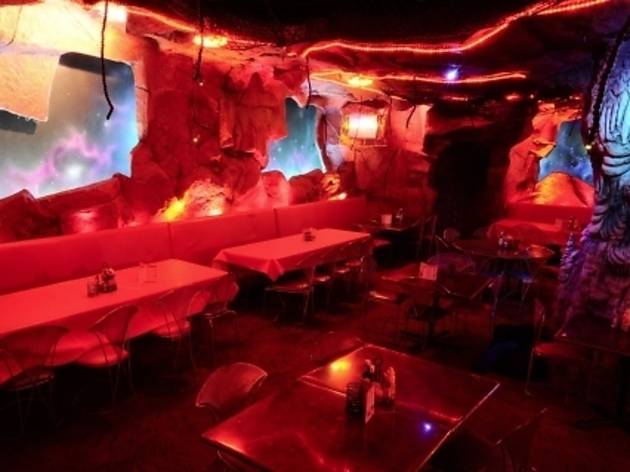 11/11
Mars 2112
Unlike Halloween, Thanksgiving and Christmas, New Year's Eve is a tricky holiday for parents. Do you hire a sitter and head out for the night? (If so, be sure to read our tips for hiring a sitter on December 31!) Or do you change into your jammies and watch the ball drop on TV with the whole family? Fortunately, there's a third option: Ring in 2010 with the brood in tow at one of these kid-friendly New Year's Eve events.
Nighttime celebrations
The Big Apple Circus: Dance On!
Fri Dec 31 at 9:30pm. Lincoln Center, Damrosch Park, Amsterdam Ave at 62nd St (212-962-5471, bigapplecircus.org). Subway: 1 to 66th St--Lincoln Ctr. $25--$175.
We loved this year's dance-heavy edition of the Big Apple Circus and we know your kids will too. Catch the show on December 31 and get an extra bang for your buck at the postshow party, during which ringmaster Kevin Venardos invites guests into the ring to count down to midnight. All ages.
Black, White and Pink New Year's Eve at the Plaza
Dec 31; dinner seating at 5:30 or 6:30pm. The Palm Court, Fifth Ave at Central Park South (212-546-5300, theplaza.com/dining/palmcourt). Subway: N, R to Fifth Ave. $120, children under 13 $85.Overnight packages are also offered for an additional fee.
Plaza-dwelling kid-lit character Eloise may be the most pampered tyke in town, but tonight your kids can get a taste of her lavish lifestyle at this swanky family fete. Guests join Eloise, her pets and her nanny for a three-course dinner in the Palm Court, followed by fun, games and tea in the hostess's namesake shop. Next up: a screening of the holiday flick Home Alone 2: Lost in New York, which takes place—you guessed it—at the Plaza, followed by sinful desserts. Now that's a sweet way to ring in the New Year. All ages.
Blue Man Group
Fri Dec 31 at 4, 7 and 10pm. 434 Lafayette St between Astor Pl and E 4th St (800-258-3626, blueman.com). Subway: N, R to 8th St--NYU; 6 to Astor Pl. $85--$95.
While most Off Broadway acts are dark on New Year's Eve, the cobalt-faced dudes of Blue Man Group are doing three shows in a row. Free drinks are served at the 7pm performance; those who attend the 10pm edition also get a postshow countdown. Ages 5 and up.
Dave & Buster's New Year's Eve Party
Fri Dec 31 7pm--1am. 234 W 42nd St between Seventh and Eighth Aves (646-495-2015, newyearsevecentral.com). Subway: N, Q, R, 1, 2, 3, 7 to 42nd St--Times Sq. $85, ages 20 and under $75; seated VIP $175, ages 20 and under $165.
The grownup eatery-arcade in Times Square is usually verboten to the under-21 crowd, but on December 31, kids 14 and older can join you for games, a buffet dinner, DJ dancing and a five-hour open bar—provided they stick to soda pop, of course. Keep in mind that the neighborhood is a madhouse on New Year's, so have an escape plan ready. Ages 10 and up.
Dr. Phil's Brooklyn Bridge Walk into the New Year
Fri Dec 31, multiple walks start between 10:15 and 11:15pm. Meet outside McDonald's, 160 Broadway between Cortlandt and Liberty Sts (718-591-4741, nycwalks.com). Subway: A, C to Broadway--Nassau St; J, Z, 2, 3, 4, 5 to Fulton St. In advance: $40, ages 6 to 18 $20; night of $60, ages 6 to 18 $25 (cash only); children under 6 free.
Greet 2011 from one of the marvels of the 19th century as Dr. Phil (Big Apple expert Philip E. Schoenberg, Ph.D., not the touchy-feely TV host) marks the 16thyear he and his crew have led annual New Year's Eve treks across the Brooklyn Bridge.Attendees will get a short lesson in NYC history and the chance to snag giveaways such as T-shirts, postcards and snacks (hint: Arrive early). All ages.
Emerald Nuts Midnight Run
Fri Dec 31; dancing at 10pm, costume competition and parade at 11pm, fireworks and run at midnight. Course to be determined. Central Park Bandshell, enter park from Fifth Ave at 72nd St (212-860-4455, nyrr.org). Subway: 6 to 68th St--Hunter College. For race participants only: Before Dec 17 $40, $10 for ages 12 to 17; Dec 17--28 $50, $20 for ages 12 to 17; day of $55, $25 ages 12 to 17; other activities free.
Making a New Year's resolution to get in shape? Get a jump on your workout plans at this invigorating four-mile race and party. Participants are encouraged to come in costume and the warm-up for the main event includes dancing, a costume competition and a parade. Midnight fireworks signal the race's start. Advance registration is required. Ages 12 and up for the race; all ages for other activities.
FREE Fireworks in Prospect Park
Fri Dec 31 at midnight. Prospect Park West, Brooklyn (718-965-8999, prospectpark.org). Subway: B, Q to Seventh Ave; 2, 3 to Grand Army Plaza.
Take the clan to Prospect Park for free hot chocolate and snacks at 11pm, and a bombastic coup de grce at midnight, thanks to Borough Pres Marty Markowitz. The best viewing locations include anywhere in Grand Army Plaza, inside the park on the West Drive, and along Prospect Park West between Grand Army Plaza and 9th Street. All ages.
Gilbert & Sullivan Fest: The Mikado
Fri Dec 31 at 7pm. Symphony Space, Peter Jay Sharp Theatre, 2537 Broadway between 94th and 95th Sts (212-864-5400, symphonyspace.org). Subway: 1, 2, 3 to 96th St. $42--$92.
Sneak your kids some (light) culture as the New York Gilbert & Sullivan Players present their updated take on G&S's famed operetta. There's a champagne toast for grownups at intermission, and everyone's invited to meet the cast at the end of the show. Ages 6 and up.
Madame Tussauds
Fri Dec 31 8pm--4am. 234 W 42nd St between Seventh and Eighth Aves (347-612-3520, nycnewyears.com). $95, under 21 $85. Prices increase as more tickets are sold, so buy as early as you can. Higher-priced VIP packages are available as well.
For New Year's Eve the famed wax museum will transform into an upscale, faux-star-studded venue for dancing and drinks at the open bar (nonalcoholic beverages are available for minors). We're sure your tweenage daughter will love spending the special night rubbing shoulders with Robert Pattinson...even if he is just a statue. Bonus: Use code timeoutkids and save $10 per ticket. Ages 10 and up.
Mars 2112
Fri Dec 31 8pm--4am. 1633 Broadway at 51st St (347-612-3520, nycnewyears.com). $85, under 21 $75. Prices increase as more tickets are sold, so buy as early as you can. Higher-priced VIP packages are available as well.
Earth is so blas. Ring in 2011 on Mars at this galaxy-themed 35,000-square-foot eatery. When you've satisfied your hunger you can dance, sip alien concoctions at the open bar (nonalcoholic ones are provided for the little humans), nosh on hors d'oeuvres and get your game on with unlimited access to the arcade. Bonus: Use code timeoutkids and save $10 per ticket. Ages 10 and up.
FREE New Year's Eve Party Ride
Fri Dec 31 at 10:30pm. Meet under the arch at Washington Square Park, Fifth Ave at Washington Sq North (212-802-8222, times-up.org). Subway: A, C, E, D, F, M to W 4th St. Alternative starting points noted on website.
Grassroots environmental organization Time's Up organizes this under-the-stars bike ride, which begins in Washington Square Park and ends at Central Park's Belvedere Castle. Participants are encouraged to wear festive outfits and bring treats for the outdoor after-party. Ages 10 and up for children riding on their own bikes; all ages if on a parent's bike.
FREENew Year's Eve Concert for Peace
Fri Dec 31 at 7pm. The Cathedral Church of St. John the Divine, 1047 Amsterdam Ave at 112th St (212-316-7490, stjohndivine.org). Subway: 1 to 110th St--Cathedral Pkwy. Reserved tickets $60, general admission free on a first-come, first-served basis.
Legendary singer-songwriter Judy Collins joins Harry Smith, Lauren Flanigan and others in a night of readings, meditations and festive music—including the traditional passing of candle flames while singing "This Little Light of Mine." Although the 90-minute program ends long before midnight, it's a positive way to ring in 2011. Ages 6 and up.
Daytime celebrations
Barrio
Fri Dec 31 2--8pm. 210 Seventh Ave at 3rd St, Park Slope, Brooklyn (718-965-4000, barriofoods.com). Reservations suggested.
For a true New Year's fiesta, head to this balloon-filled Mexican eatery, which will hold hourly countdowns to 2011 until 8pm (after which the party turns into an adults-only affair). Best of all is the $10 buffet for kids—we hear there are enough tacos and chicken nuggets to take youngsters all the way to 2012.
Blooming Babies: Snow Friends
Fri Dec 31 at 11:30am. Brooklyn Childrens Museum, 145 Brooklyn Ave at St. Marks Ave, Crown Heights, Brooklyn (718-735-4400, brooklynkids.org). Subway: 3 to Kingston Ave. Free with museum admission.
The Kings County institution hosts a storytime at 11:30am, where toddlers will hear all about Frosty the Snowman, then craft their own New Year's hats. Ages 5 and under.
Moomah
Fri Dec 31 noon--3pm. 161 Hudson St between Hubert and Laight Sts (212-226-0345, moomah.com). Subway: A, C, E, 1 to Canal St. Prices vary.
The Tribeca's tot spot hosts a noisemaker-building workshop ($15--$20), followed by a glow-in-the-dark freeze-dance party and hourly countdowns to "midnight"; parents can toast with free prosecco. Ages 3 and up.
NYE Matinee
Fri Dec 31 3--6pm. 300 New York at Chelsea Piers, Eleventh Ave at 23rd St (212-835-2695, threehundred.com). $150 and up per lane.
Families can reserve a lane at the swanky bowling alley's second annual New Year's Eve fete. Pizza, favors, a sparkling cider toast, shoe rental and bowling are included, and balloons drop well before midnight. All ages.
New Year's Party Shades
Fri Dec 31 11am--5pm. Children's Museum of Manhattan, 212 W 83rd St between Amsterdam Ave and Broadway (212-721-1223, cmom.org). Subway: B, C to 81st St--Museum of Natural History; 1 to 86th St. Free with museum admission.
Little party animals get ready for the evening's festivities by fashioning a pair of funky party glasses. Ages 5 and up.