Circus classes for NYC kids
Is your child itching to run away with the elephants? Make sure you school her first.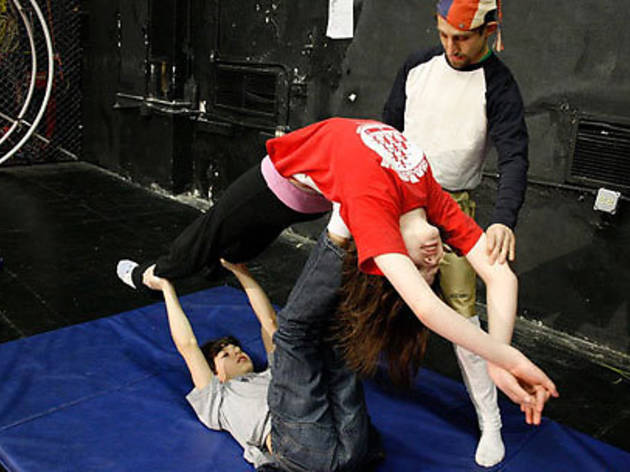 Circus Arts at Manhattan Movement and Arts Center
248 W 60th St between Amsterdam and West End Aves (212-787-1178, manhattanmovement.com). $585 for 13 weeks (semester signup only).
Got a kid who loves clowning around? Help her channel that energy with this introduction to the circus arts. Instructors guide tykes through warm-up stretches and cardio exercises before showing them big-top basics, like aerial silks, plate spinning, juggling and stilt walking. But the class teaches more than just showy acrobatics—it helps little ones build trust in each other and conquer their fears in a noncompetitive setting. Ages 5 to 12.

CircusYoga
Karma Kids Yoga, 104 W 14th St between Sixth and Seventh Aves (646-638-1444, circusyoga.com). $25, children under 13 $10.
Kevin O'Keefe, the multitalented performer behind the one-man act Circus Minimus, and his wife, Erin Maile O'Keefe, founded this traveling education program, which uses the West Village Karma Kids studio as its NYC home base. In mixed-age sessions, students practice traditional yoga techniques as well as acrobatics, juggling, slapstick and tightrope walking. Ages 7 and up.

Juggling Classes
Sat 3--4pm, 4-5pm. Theaterlab Studio, 137 W 14th St between Sixth and Seventh Aves, third floor (347-987-1311, jugglingclasses.com).Tue 6--7pm. Big Sky Works, 29 Wythe Ave at North 14th St, Williamsburg, Brooklyn (347-987-1311, jugglingclasses.com). $20.
Founded by Rod Kimball (a.k.a. the really cute Flying Karamazov Brother), these one-off sessions are open to jugglers (and fumblers) of all skill levels. Newbies learn to toss around three beanbags (buying your own is recommended); more advanced students manage four or more balls or pins, and tackle patterns and gravity-defying tricks. Ages 8 and up.

LAVA Studio
524 Bergen St between Carlton and Sixth Aves (718-399-3161, lavalove.org). Prices vary; semester signup only.
Award-winning choreographer-performer Sarah East Johnson founded this Prospect Heights--based company back in 2000. In addition to mounting shows at venues like P.S. 122, the Kitchen and the New Victory, the studio offers classes in acrobatics, tumbling, trapeze and other circus disciplines for kids and adults. On Wednesday nights from 5 to 6pm, children ages 5 to 12 can be dropped off for a free trial class. Ages 3 and up.

New Victory Studio Workshops
New Victory Theater, 209 W 42nd St between Seventh and Eighth Aves (646-223-3010, newvictory.org).
In conjunction with its eclectic lineup, New York's premiere family theater runs performance workshops related to its stage shows. There's usually at least one circus-themed offering every season. This spring, kids ages 6 and up can enjoy physical comedy classes (Mar 27 at 2:30pm, Apr 16 at noon; $17 apiece) inspired by Cirque Mechanics' Boom Town, or weeklong circus camps (ages 8 to 11, $400 per session, schedule at newvictory.org) featuring clowning, theater games, juggling and more.

Streb at SLAM -- Kids
51 North 1st St between Kent and Wythe Aves, Williamsburg, Brooklyn (718-384-6491, streb.org). Prices vary; semester signup only.
Elizabeth Streb's Brooklyn-based company performs high-energy routines that meld movement, acrobatics and aerial stunts. Kids can get in on the action too by learning trapeze or studying the studio's "Pop Action" technique, which involves tumbling, running and "flying." Ages 5 and up.

Youth Circus Arts
Trapeze School New York, 518 W 30th St between Tenth and Eleventh Aves (917-797-1872, newyork.trapezeschool.com). $35.
Little daredevils try out ground and aerial acrobatics, as well as juggling and other circus skills. Although there's lots of twisting, turning and tumbling, parents need not worry: With only six participants per class and no "flying," veteran instructor Eric Gorsuch makes sure students stay safe. Ages 6 to 12.