Classes for NYC kids: Academic and other
1/8
Hit the Decks at DubSpot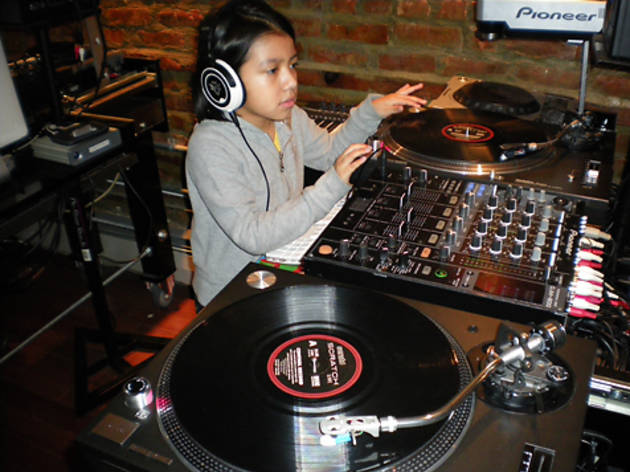 2/8
Hit the Decks at DubSpot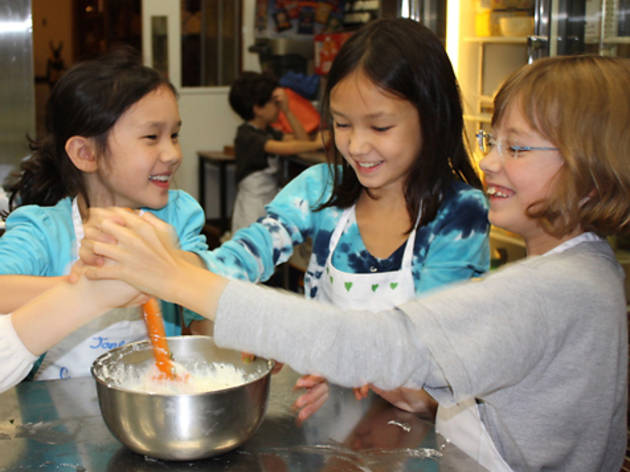 3/8
After-School Cooking Class at Taste Buds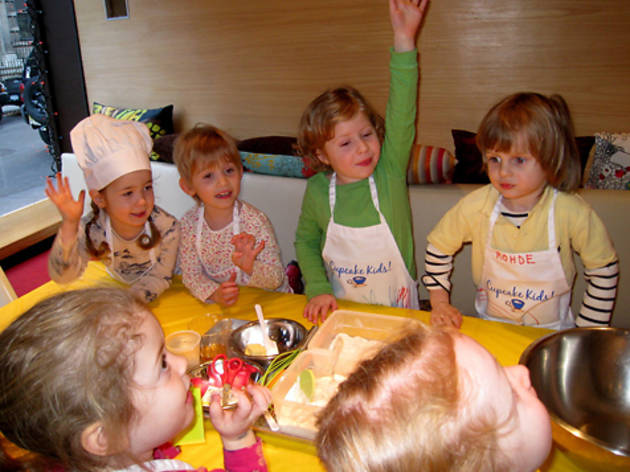 4/8
After-School Cooking Class at Taste Buds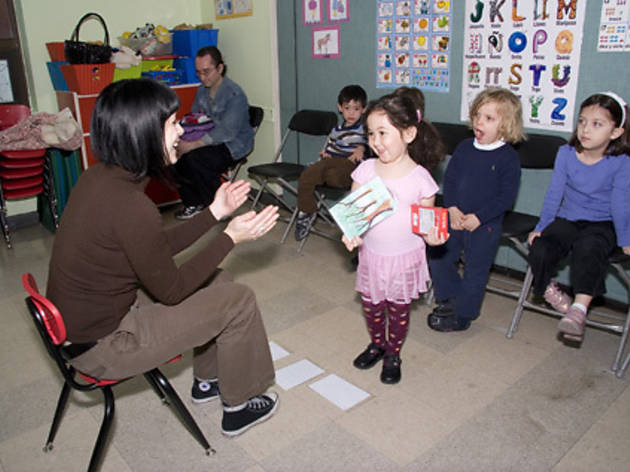 5/8
Mandarin Chinese at Language Workshop for Children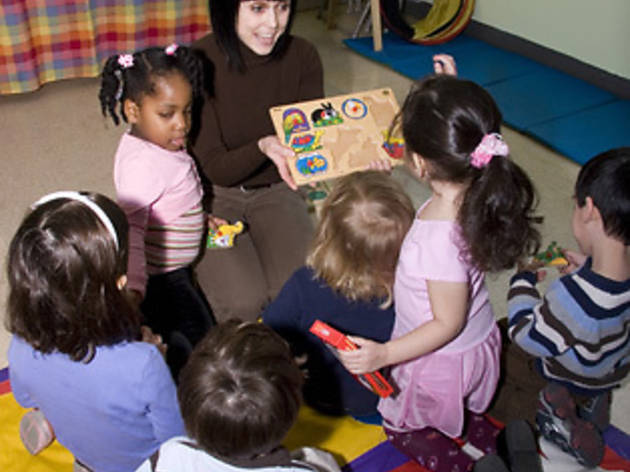 6/8
Mandarin Chinese at Language Workshop for Children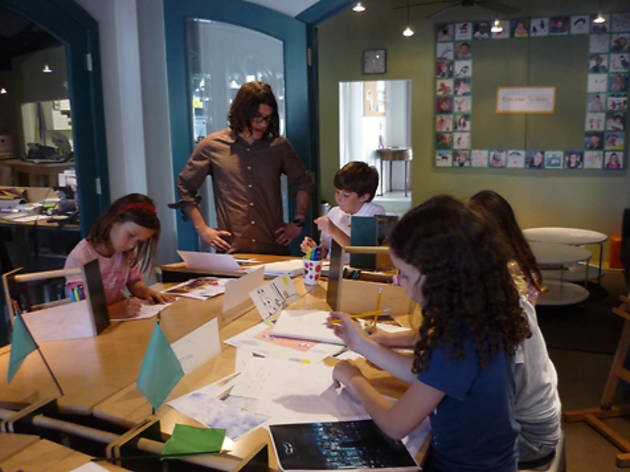 7/8
"The Case of the Missing Miss Terious" at Scribble Press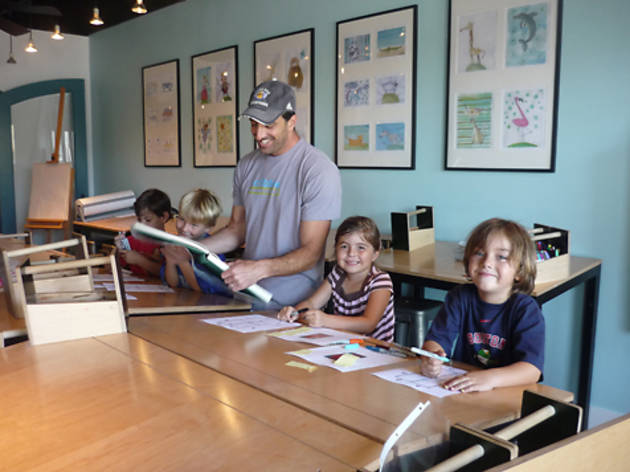 8/8
"The Case of the Missing Miss Terious" at Scribble Press
Computers and Technology
Hit the Decks at DubSpot
If your daughter was programming your iPod before she could walk, she's a shoo-in for a five-week class at this chill Chelsea DJ studio. Students are set up with Mac computers, and are schooled in mixing beats and scratching records with Serato Scratch Live before recording their own demo. Instructor DJ Reborn says learning how to count beats per minute can help kids with math and hand-eye coordination. And we're betting it won't hurt their coolness factor either. DubSpot, 348 W 14th St between Eighth and Ninth Aves (212-242-2100, dubspot.com). Sept 18--Oct 16, Sat 10--11:45am. $395 for five weeks. Ages 6 to 11.
RoboFun Studio
Over the course of nine weeks, kids work on three main projects in this high-tech class. First, they use prepared blueprints to build a Lego robot with RoboLab software; the process teaches basic computer programming, robotics and automation skills. Students are then taught how to incorporate sensors, gears and pulleys to create a stationary robotic project. For their final assignment of the semester they take what they've learned and create an original automaton of their own design. Can world domination be far off? We think not! RoboFun Studio, 38 E 23rd St between Broadway and Park Ave South (212-245-0444, robofun.org). Sept 28--Nov 30, Tue 4--5:30pm; or Sept 29--Dec 1, Wed 4--5:30pm. $345 for nine weeks. Ages 6 to 8.
Cooking
After-School Cooking Class at Taste Buds
We are by no means suggesting that you turn your offspring into your personal chef, but after this top-level cooking class, he probably could whip up dinner and dessert once or twice a week. Wall Street maven--turned-baker Jessi Walter—who recently changed the name of her company from Cupcake Kids! to Taste Buds—focuses on holiday favorites this fall, from spider pretzels for Halloween to sweet potato dishes for Thanksgiving. Taste Buds, 109 W 27th St between Sixth and Seventh Aves (212-242-2248, tastebudscook.co). Sept 14--Jan 7, times vary by age group. $560 for 14 weeks. Ages 2 to 10.
General
YMCA at the Park Slope Armory
When this new, 140,000-square-foot center first opened, we were impressed with its kids' classes (puppet making, playwriting, guitar, sports and more). Even better: The courses cost a fraction of what similar offerings fetch elsewhere. 361 15th St between Seventh and Eighth Aves, Park Slope, Brooklyn (212-912-2580, ymcanyc.org). Prices for an eight-week session begin at $85 for nonmembers and $125 for members. Fall classes start Sept 7; see schedule online.
Language
Mandarin Chinese at Language Workshop for Children
When LWFC founder Franois Thibaut realized there weren't foreign-language methods that addressed the unique sensibilities of children, he devised his own—which the school has used for almost 40 years. In classes that last between one and two hours, students learn Mandarin phrases, sentences and full dialogue while engaged in fun activities like singing and dancing. All students receive workbooks and CD sets. Language Workshop for Children, 869 Lexington Ave at 65th St (800-731-0830, languageworkshopforchildren.com). Sept 13--Dec 20, Mon 4:30--6pm. $725 for ten sessions. Ages 4 to 9.
Nature
Gardening and Explorers' Club at Battery Park City Parks Conservancy
Not all after-school activities have to be inside a stuffy studio. Children get their hands dirty weeding, planting and watering at BPC's Gardening Club, or make their own compasses in the Explorer's Club. (bpcparks.org). Gardening Club $80 for two months; Explorers' Club $70 for six weeks. Gardening Club starts Sept 7; Explorers' Club Sept 13--Oct 25. Ages 6 to 10.
Writing
826NYC
Founded by literary superstar Dave Eggers and located at the back of the Brooklyn Superhero Supply Co., this nonprofit offers free writing workshops (classes have catchy names like "Applied Time Travel"). The program is so popular that enrollment is now done by lottery. 372 Fifth Ave between 5th and 6th Sts, Park Slope, Brooklyn (718-499-9884, 826nyc.org). Free. Fall classes start Sept 13; call for schedule. Ages 6 to 18.
"The Case of the Missing Miss Terious" at Scribble Press
Students in the young authors' workshop at this new Upper East Side store pick up critical-thinking and literary skills as they explore the spooky side of fiction. They'll read passages from a number of kid-friendly mysteries, then get to work writing, designing and publishing their own professionally bound whodunit. At the end of the semester, they'll get to take their finished product home. Scribble Press, 1624 First Ave at 84th St (212-288-2928, scribblepress.com). Sept 20--Dec 6, Mon 3:30--5:30pm (ages 7 and 8); or Sept 21--Dec 11, Tue 3:30--5:30pm (ages 9 to 11). $72 for 12 weeks. Ages 7 to 11.
Reporting at Children's PressLine
Budding newshounds get a taste of the bullpen in this free, 12-week after-school workshop in Manhattan. Tweens and teens serve as cub reporters for the 101-year-old New York Amsterdam News and meet with editors (actually, high-school students enrolled in their own workshop). They also get valuable tips from veteran News staffers on the editing process, including brainstorming story ideas and writing headlines. Children's PressLine, 163 Amsterdam Ave between 67th and 68th Sts (646-789-4432, cplmedia.org). Twelve-week sessions begin in September. Call for schedule. Free. Ages 8 to 13.
Writopia Lab
Aspiring poets, novelists and screenwriters ages eight and up hone their craft in small groups—and then read their work in public—at this UWS writing workshop founded by teacher and journalist Rebecca Wallace-Segall. 155 W 81st St between Amsterdam and Columbus Aves (212-222-4088, writopialab.org) $525 for ten sessions, but sliding-scale pricing is available. Fall classes start Sept 12; call for schedule. Ages 8 and up.