Eleven new birthday party spots for NYC kids
We've rounded up the city's hottest birthday experiences for 2010.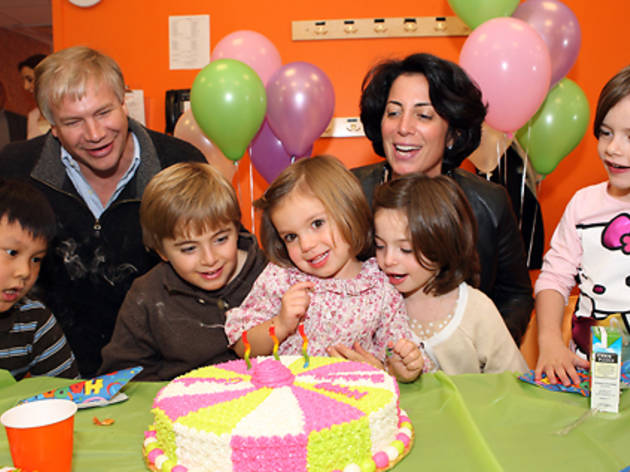 1/9
Kidville birthday parties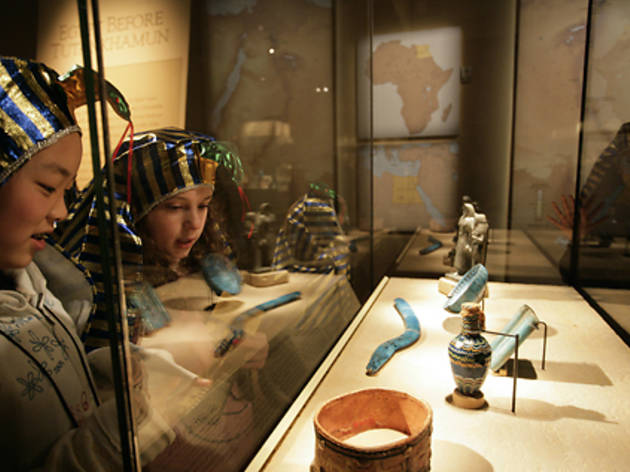 2/9
Birthday party at Tutankhamun exhibit at Discover Times Square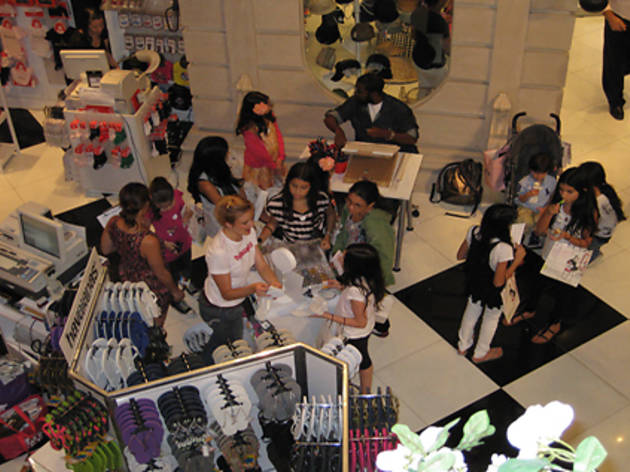 3/9
Guests in enjoy Baci Gelato and customizing Havaianas at Limelight Marketplace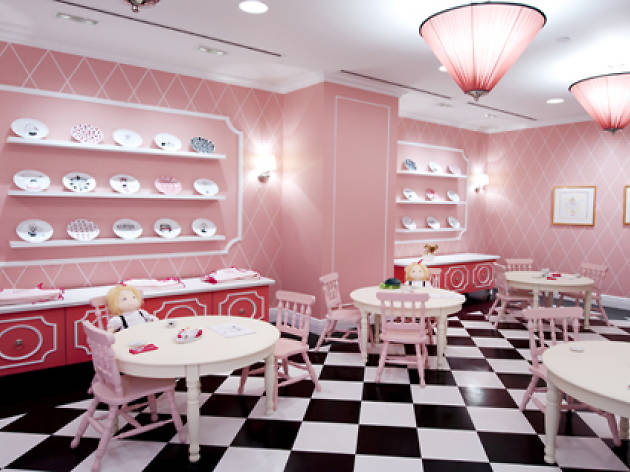 4/9
Eloise store at The Plaza Hotel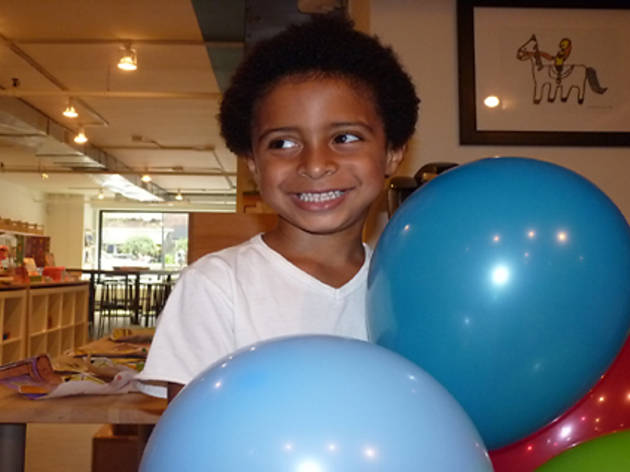 5/9
Birthday party at Scribble Press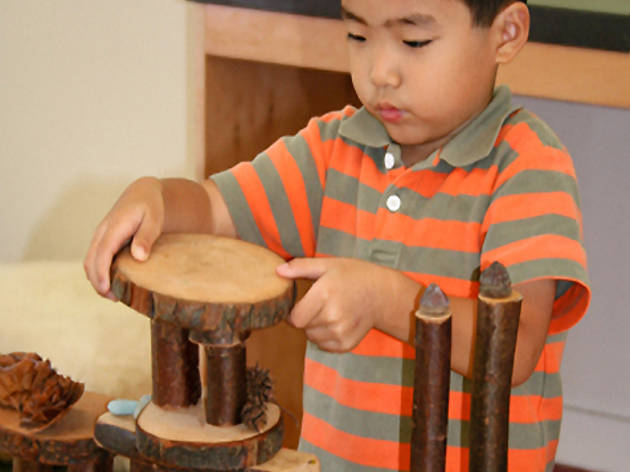 6/9
"Out on a Limb" exhibit at Brooklyn Children's Museum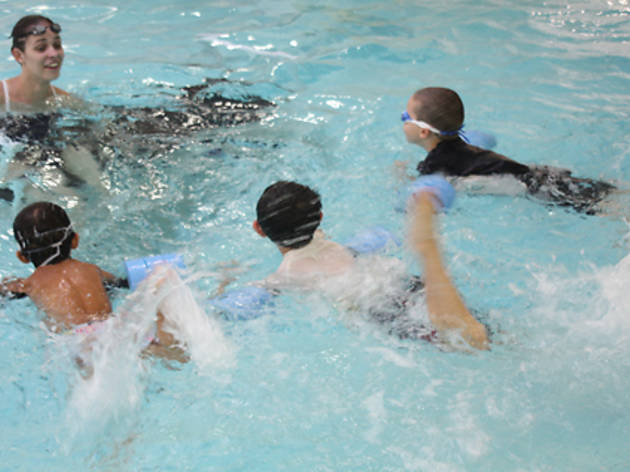 7/9
Birthday party at Imagine Swimming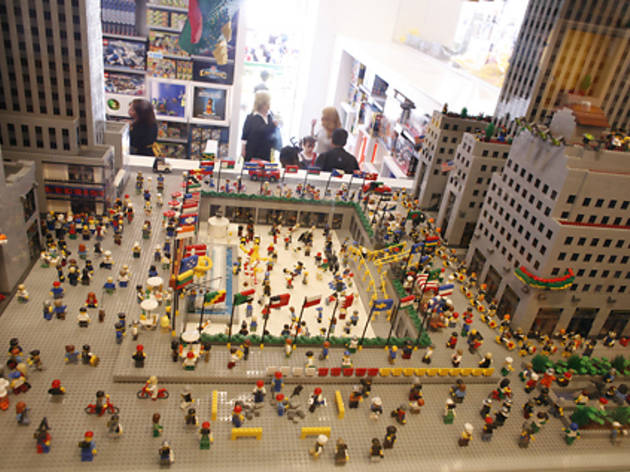 8/9
Lego Store, Rockefeller Center NY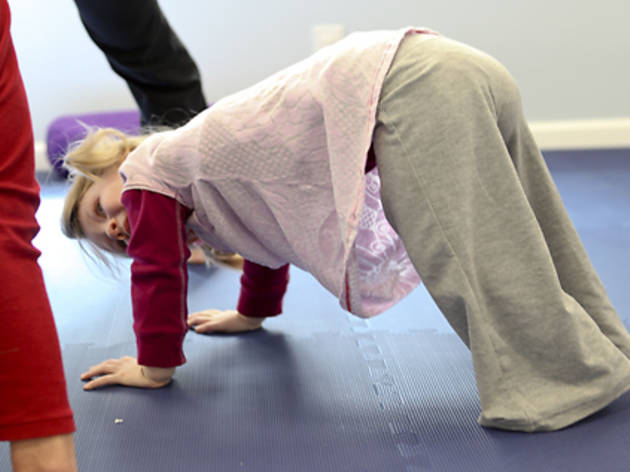 9/9
Yoga Village kids parties
Imagine Swimming
Even a winter baby can celebrate with a birthday pool party. The guest of honor and up to 24 friends get 45 minutes in the water at this indoor facility, where the child-to-instructor ratio is just four to one—so the swimming games are safely supervised. The package includes a separate playroom for after-swim treats and games. Cake and food aren't included, but Imagine's party planner can recommend area bakeries like Bubby's, Billy's or Tribeca Treats for a stress-free celebration. 40 Harrison St between Greenwich and West Sts (212-253-9650, imagineswimming.com). $900 for ten children, each additional child $20; up to 25 kids.
ImaginOcean
Avenue Q cocreator John Tartaglia has received much acclaim for this glow-in-the-dark musical about a trio of fish friends. Hour-long pre- and post-show birthday gatherings are held in a private party space; rates include decorations, a puppeteer or other party entertainer, and staffers to help with setting up, facilitating and cleaning up. An autographed ImaginOcean poster signed by Tartaglia for the birthday boy or girl and undersea goody bags for everyone seal the deal. Deluxe party packages throw in pizza and cupcakes, plus a meet-and-greet with the show's cast. Unfortunately, tickets to the show aren't included, but they're available at a discount. New World Stages, 340 W 50th St between Eighth and Ninth Aves(866-642-9849, imaginoceanthemusical.com). $400 for up to 12 people; $500 for up to 25 people. Deluxe party: $600 for up to 12 people; $750 for up to 25 people.
Kidville Midtown West
Mega play space Kidville, with five locations in Brooklyn and Manhattan and more than a dozen party packages—including Boogie Down Dance Party, Superhero Birthday Bash and Fairy Princess Party (where guests make wands and tiaras)—is a legend among birthday destinations. In September, a sixth space opened on West 51st Street, so Hell's Kitchen denizens no longer have to herd the brood out of the 'hood to celebrate. Basic 90-minute party packages come with invitations and balloons, an art table activity, pizza and juice, birthday cake and party favors—plus two party leaders to make sure it all goes smoothly. A seventh Kidville location at Union Square opens in mid-October; book now for parties in December and beyond. 515 W 51st St between Tenth and Eleventh Aves (646-775-2797, kidville.com/midtownwest). From $695 for the birthday child plus up to ten guests under age 10.
The LEGO Store
Little bricklayers will have a blast at the toy company's Rockefeller Center flagship store, where they can construct their own imaginative sets in the Master Builder Bar or devise virtual simulations on a computer there. (Generous parents can then purchase the necessary blocks to make their buildings a reality at home.) A staff member oversees the hour-long celebration, and each child gets a goody bag complete with a mini-kit and memento birthday brick. The store doesn't allow treats—what, no LEGO-shaped birthday cake?—but Magnolia Bakery (1240 Sixth Ave at 49th St; 212-767-1123, magnoliabakery.com) is a mere Manolo's throw away. 620 Fifth Ave between 49th and 50th Sts (212-245-5973, stores.lego.com). $690 for ten children, each additional child $50.
Limelight Marketplace
The birthday offerings at the former nightclub--turned--boutique mecca are la carte, varying greatly depending on how much Mom and Dad are willing to shell out. Parents devise "coupon books" that allow tweens to wander around the marketplace and redeem vouchers for anything from a scoop at Baci Gelato or caramel-and-sea-salt brownies at Mari's New York to foaming bubble bath at Soapology and make-your-own flip-flops at Havaianas. Afterward (except in the dead of winter) take the kids to the Shake Shack--style Limelight Grill in the courtyard for burgers and sliders, and let them sort their loot. 656 Sixth Ave at 20th St (212-359-5600, limelightmarketplace.com). Prices vary. Contact Jessica Shrier at 212-359-5621 or Jessica@limelightmarketplace.com for details.
LIMITED TIME"Out on a Limb" at the Brooklyn Children's Museum
Tying into the museum's new arbor-themed experience, this birthday package offers an hour of exclusive access to the hands-on exhibit, where children can climb a tree tower, help build a bird's nest, make woven sculptures and a willow-log chair, and enjoy a live puppet show. Three party hosts (four for bigger fetes) guide kids through the exhibit and lead games; food, drink and a birthday cake are included. 145 Brooklyn Ave at St. Marks Ave, Crown Heights, Brooklyn (718-735-4400, brooklynkids.org). $750 for up to 20 people for two hours; Fantasia package $1,050 for up to 30 people for two hours. Parties available Oct 2--Jan 2, 2011. Contact the party coordinator (718-735-4400, ext 164, or birthdays@brooklynkids.org).
The Plaza
Little girls have been infatuated with the Plaza since Kay Thompson published her first Eloise book in 1955. In the hotel's Eloise at the Plaza shop, young partygoers can pretend to be the precocious six-year-old. During the Think Pink party, kids play dress up, decorate a tote bag or jewelry box, and enjoy an Eloise cupcake tower. For an additional cost, a party planner can help you organize an appropriately elegant luncheon or tea on-site. 1 W 58th St at Fifth Ave (212-546-5460, theplaza.com). Essential Eloise Package: $650 for eight children, each additional child $50; up to 18 guests. Rawther Fancy Package: $900 for eight children, each additional child $65; up to 18 guests. Ages 3 and up.
Scribble Press
At this Upper East Side bookmaking shop—we're talking actual books, not bets—kids get crafty with age-appropriate party activities. Tots up to age five work on place mats and themed crafts (i.e., princess capes and crowns). The six-and-up crowd may devise their own Mad Libs--style books (called Scriblibs), or make notebooks, mini cards or calendars. In addition, the guest of honor gets a keepsake filled with pages the other guests have designed, plus two pages he creates himself. The cover has a snapshot of the birthday child and the back, a picture of the entire party. Pizza, juice and cake are all on the menu; the in-house party manager will work with you to plan games and music, order any additional food and put together goody bags. 1624 First Ave at 84th St (212-288-2928, scribblepress.com). $855 for up to ten kids, each additional child $30.
LIMITED TIME Tutankhamun and the Golden Age of the Pharaohs
Throw the birthday kid a regal celebration inside this amazing exhibition devoted to the Egyptian boy king, who took the throne at the tender age of nine. During a special introduction to the exhibit, guests learn about King Tut's family tree, view his crown and chariot, explore a re-created burial chamber and look at relics used by other Egyptian royals (suitable tour headgear is available at the gift shop). Afterward, children play games based on items buried in Tut's tomb, craft special "gifts for the Pharaoh" keepsakes to take home and devour boxed lunches (sandwiches, chips, drinks and a cookie or brownie) in the Pharaoh's Palace. Discovery Times Square Exposition, 226 W 44th St between Seventh and Eighth Aves (888-988-8692, discoverytsx.com). $55 per person (minimum eight guests). At least three weeks' notice is needed for reservations. Parties available through January 2, 2011.
LIMITED TIME "The Wizard of Oz" at the Children's Museum of Manhattan
In conjunction with its new Wizard of Oz exhibit (running through January 9), the Upper West Side institution has created a birthday package complete with Emerald City and Yellow Brick Road decorations, an Oz-themed art project and a movie soundtrack sing-along. Each 90-minute party also comes with pizza and juice, a personalized Cupcake Caf cake and theme goody bags—plus free admission to the museum for the whole day, so kids can create a tornado in Dorothy's bedroom or capture the Wicked Witch's broom from winged monkeys again and again. 212 W 83rd St between Broadway and Amsterdam Ave (212-721-1223, cmom.org). $925 for 12 children. For more information, contact Katie Hartman at 212-721-1223, ext 219, or khartman@cmom.org. Parties available through Jan 9, 2011.
Yoga Village
Children's birthday parties don't have to be hectic, stressful affairs: You can have a moment of inner peace while the kids romp around during one of the yoga studio's 90-minute get-togethers. Parties include yoga games, music, organic juice and snacks, and exclusive use of the studio and mats. With a full-service package, the birthday kid chooses a theme (say, ballet or dinosaurs), and birthday cake, gift bags and decorations are included. 22 E 21st St between Broadway and Park Ave South, seventh floor (212-228-2227, yogavillagenyc.com). Basic: $450 for up to 12 children. Full-service: $895 for up to 12 children. Contact Cassandra or Lisa at party@yogavillagenyc.com for details.