Fitness centers in NYC that are great for kids and their parents
We've found the choicest spots in the city for kids and their parents to get their fitness fix, from a dream trampoline center and city-run gym to boutique climbing-centric fitness centers.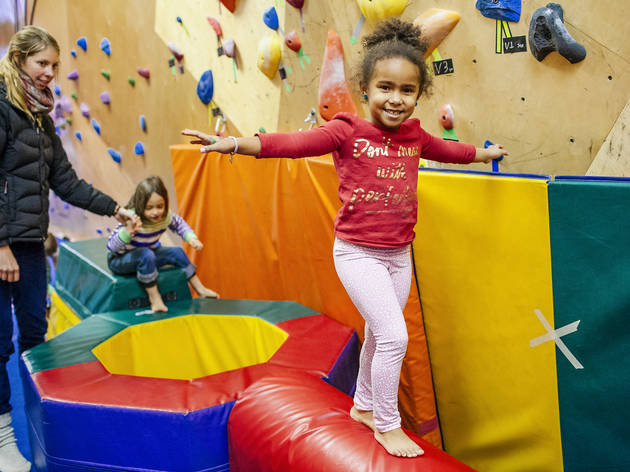 1/10
Photograph: Erica Gannett
Best spots for adventurous kids Everyday Athlete Why go: If the tallest bouldering wall in Brooklyn isn't enough of a draw for your little climbers, how about obstacle courses, tumbling lessons and skateboarding? This spot boasts well-rounded kids' programs like EA Play, EA Kids and EA Ninja, which offer developmentally appropriate activities for each age group. Grown-ups can receive personal or small-group training while kids are in classes, or the whole family can drop in on weekends for Family Open Climb. Ages 1 and up. Cost: Children's single class $35–$50, 20 classes $500–$750, 23 classes $402­–$1,150; adults' single class $35, 20­–24 classes $600–$1,599. Worth it?: Great for the price. For only $17.50 per class when you get a 23-visit pass, EA Kids is the best deal at this establishment. A 15 percent sibling discount and free after-school pickup from local schools are also offered for several kids' programs, making this a convenient option for the price tag. 136 Union St at Hicks St, Carroll Gardens, Brooklyn (718-852-6300, everydayathlete.com). 130 Clinton St between Joralemon and Livingston Sts, Brooklyn Heights (718-852-6300).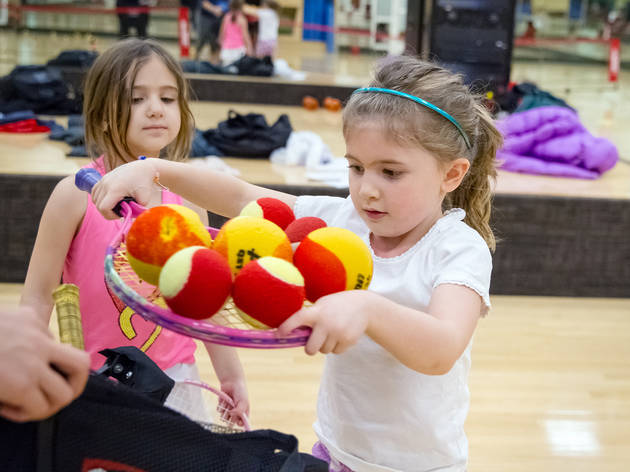 2/10
Photograph: Luciana Golcman
Best name-brand classes Reebok Sports Club Why go: Reebok's For Kids Only program boasts partnerships with city favorites like Super Soccer Stars, Gotham Tennis, Lil Yogi's and more, as well as its own enrichment preschool, Stepping Stones. The gym also hosts Stay n' Play mommy-and-me classes and Play Getaways parent date nights. Every Sunday is family day, offering four hours of activities like rock climbing and swimming for the whole family. Ages 22 months to 15 years. Cost: Eight classes $320–­$520, members $280–$480; 17 classes $595–$1,200, members $510–­$960; Stepping Stones: 17 classes $1,625, members $1,480; 34 classes $4,100, members $3,700; Stay n' Play: $15, members $10; Play Getaway: one-hour class $17.50, members $15; four-hour class $75, members $65. Membership $225 per month. Worth it?: It's a splurge, but steep membership is balanced by good prices for its classes. 160 Columbus Ave at 67th St (212-362-6800, reeboksportsclubny.com).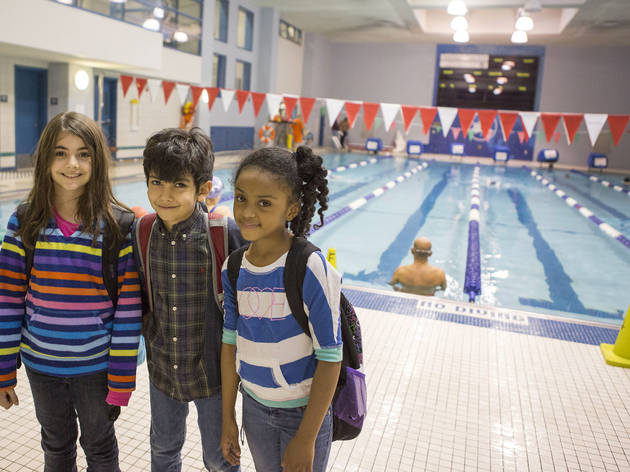 3/10
Photograph: Caroline Voagen Nelson
Best budget spot Chelsea Parks & Recreation Center Why go: This six-story municipal facility has a regulation-size basketball court, fitness rooms, a Ping-Pong table, two pool tables and a six-lane indoor pool decorated with an intricate dolphin mosaic. Kids can take after-school and weekend classes like Street Hockey, Instructional Basketball and Learn to Swim. The best part? Membership is free for kids under 18. (Note that children under 12 require parental supervision, and that children may not swim unsupervised.) All ages. Cost: Membership required. Adults $150 per year, $75 for six months; children free. Worth it?: Steal. With free membership for kids and adults paying a paltry $150 per year, you'd be hard-pressed to find a cheaper spot to work up a sweat. The price of membership will also give you access to any of the city's other recreation centers. 430 W 25th St between Ninth and Tenth Aves (212-255-3705, nycgovparks.org).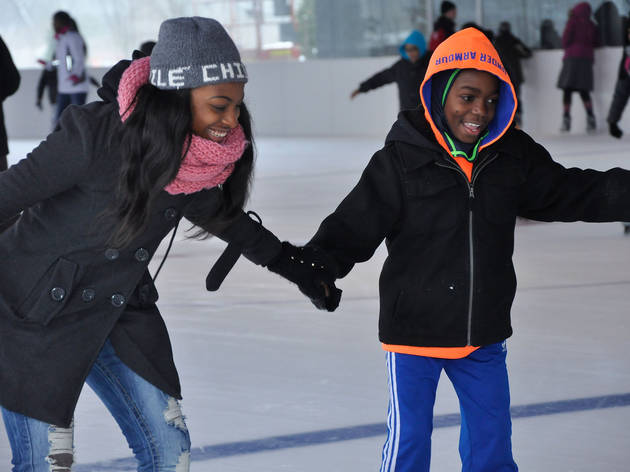 4/10
Photograph: Kate Hess
Best seasonal sports complex LeFrak Center at Lakeside, Prospect Park Why go: Prospect Park's brand-new skating complex took four-plus years to build, finally opening in December. It features two rinks that transform with the seasons for year-round fun‹ice skating and hockey in the winter, roller skating in the fall and water play in the summer. Kids can take learn-to-skate or hockey classes in the center¹s covered rink, while parents lace up for open skating or hockey. All ages. Cost: Weekdays $6, weekends $8 (Mondays 3–­6pm are free for children under 13). Skate rental $5, helmet rental $5, small locker rental $5. Worth it?: Pricing is pretty typical for a city ice-skating rink. The extras do add up, but free kids' hours on Monday even it out. Bonus: Explore Prospect Park afterward for a cheap family outing. Prospect Park (enter at Parkside and Ocean Ave) (212-661-6640, prospectpark.org/lakeside).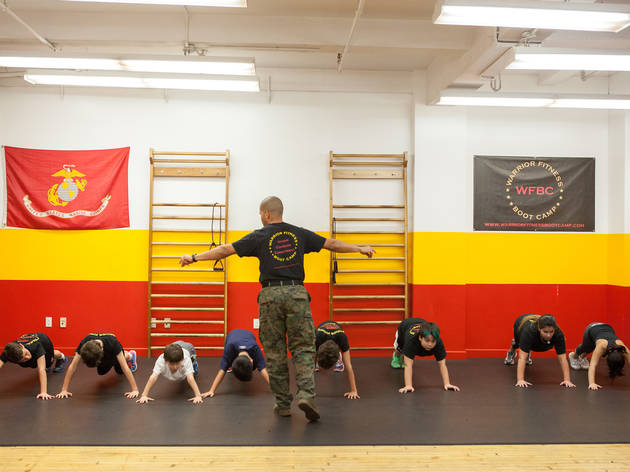 5/10
Photographer: Camilla Cerea
Best obstacle course Warrior Fitness Boot Camp Why go: This unique fitness program looks to the Marine Corps for inspiration, offering kid- and adult-friendly workouts modeled on a military boot camp. The 45-minute kids' sessions‹led by ex-Marines Alex Fell and Ruben Belliard‹are less intense than the grown-up sessions, and filled with fun group challenges on an indoor obstacle course. Both programs focus on cardiovascular strength and endurance. Ages 7 to 16. Cost: Children's single class $30, ten classes $250; adults' single class $50, six classes $255, 12 classes $444, one-month unlimited pass $500. Worth it?: While $30 to ­$50 for a single class isn't exactly a bargain, you'll save if you spring for the multiclass packs. And kids will feel powerful replicating Mom and Dad's workout. 49 W 35th St between Fifth and Sixth Aves, third floor (warriorfitnessbootcamp.com, 212-967-7977).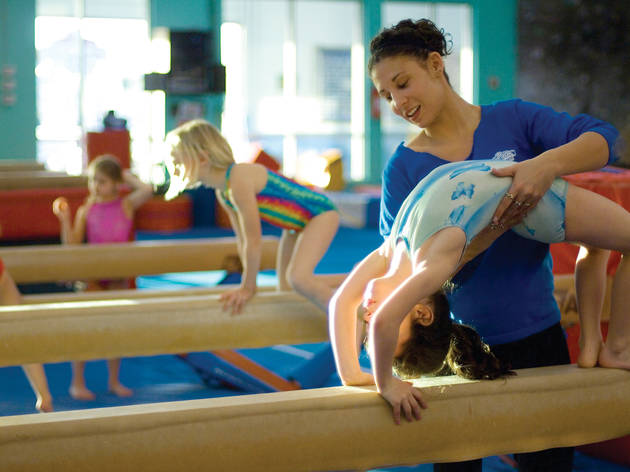 6/10
Photograph: Scott McDermott
Best variety Chelsea Piers Why go: There's an option for every kid at this massive sports hub, from classes and clubs at the Field House to specialized programs at the Golf Club and Sky Rink. Parents of tots should check out the center's preschool and day-care program, CP Kids. Adult classes are also offered, or parents can sign up for a membership to the Sports Center gym. Ages 3 months to 16 years. Cost: Single class $12­–$30, ten to eighteen classes $295–$750 (Field House); seven classes $365­–$399 (Golf Club); 12 classes $370–­650 (Sky Rink); Sports Center membership $110­–$170 per month. Worth it?: Worth the splurge. You can get a good deal on some drop-in programs, but most multiweek classes come out to over $30 per session. On the other hand, this is one of the largest and most well-establishedathletic centers in the city, so facilities and instructors are top-notch. W 23rd St at the Hudson River (212-336-6666, chelseapiers.com).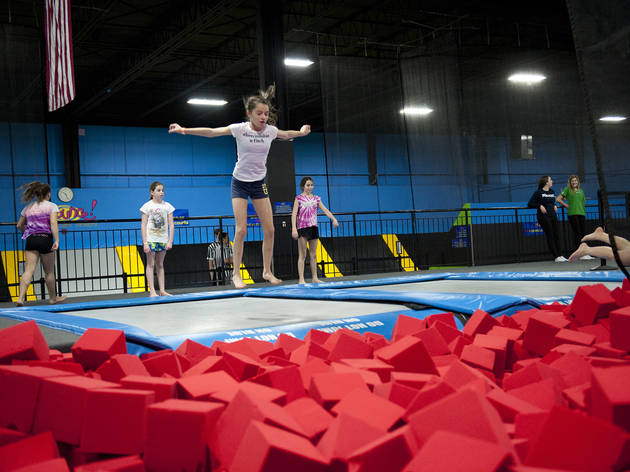 7/10
Photograph: Liz Clayman
Best fitness day trip Bounce Why go: This Long Island trampoline mecca may not be within city limits, but at just an hour's train ride from Penn Station, it makes an easy family outing. The 50,000-square-foot space boasts wall-to-wall trampoline courts, a Bounce, Jr. court for ages 1 to 6, bouncy basketball and dodgeball courts, foam pits, inflatables and more. It's all-ages, so kids and parents can bounce and play together for a family-friendly aerobic workout. Ages 1 and up. Cost: Trampolines only: one hour $16, two hours $28; inflatables only: one hour $11, two hours $17; all-access pass: one hour $22, two hours $32. Worth it?: Yes. If you factor in several hours of bouncing for each family member, plus the cost of the LIRR, the price tag easily hits three figures. But it's steal for a day trip, and you won't find anything like it in the five boroughs. 310 Michael Dr, Syosset, NY (516-762-1300, bounceonit.com).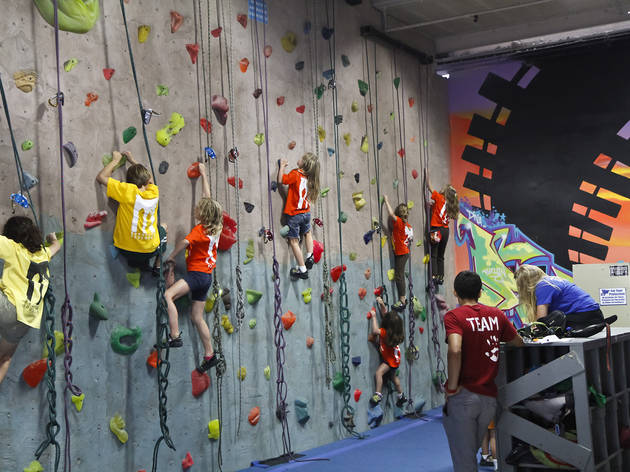 8/10
Photograph: Koji Ishibashi
Best family-friendly climbing gym Brooklyn Boulders Why go: Fit families can learn the ropes together at this niche gym's weekend family hours, where parents and kids can practice tying knots, belaying techniques and other climbing skills as a unit. Mini mountaineers can also attend their own programs, where instructors lead them in bouldering and rock-climbing basics. Ages 5 to 12. Cost: Kid's Academy single class $39, ten classes $375; Family Learn the Ropes single class $108. Worth it?: Great for the price. Equipment and a day pass to the climbing gym are included with most kids' classes, making them a pretty good deal. 575 DeGraw St between Third and Fourth Aves, Gowanus, Brooklyn (347-834-9066, brooklynboulders.com).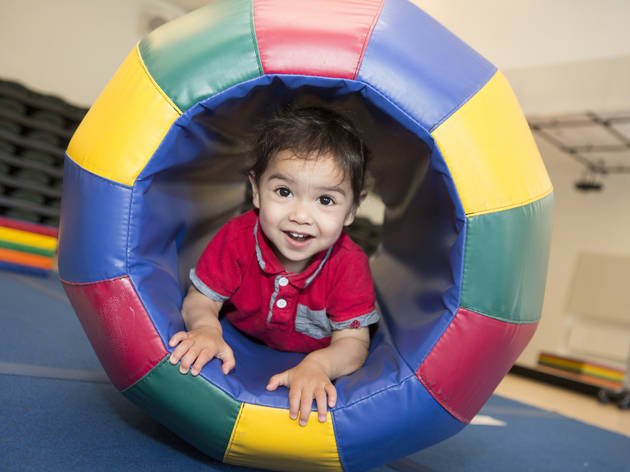 9/10
Photograph: David Nicholas
Best downtown sports hub Asphalt Green Battery Park City Why go: Shiny new facilities and unmatched class offerings come together at this kids' fitness mainstay. Children of all ages can choose from programs in swimming, soccer, hockey, volleyball, dance and more. What makes the downtown location unique is its family-friendly features, which include a full lineup of mommy-and-me classes, a small teaching pool for little ones, a family locker room and a drop-off babysitting service. Ages 4 months and up. Cost: Seven to ten classes $238­–$540, members $196­–$450. Membership $116­–$239 per month. Babysitting $17 per two-hour session. Worth it?: Brand-new facilities and quality classes make it a solid deal for members. 212 North End Ave between Murray and Warren Sts (212-298-2900, asphaltgreenbpc.org)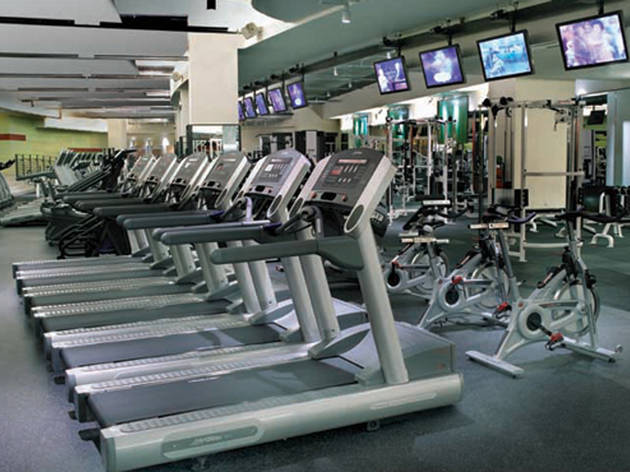 10/10
Best day care that's not just a day care Equinox Why go: This gym's child-care service, Kid's Club, combines movement activities (like tumbling, dancing and yoga), dramatic play and hands-on projects for kids to engage in while parents enjoy a worry-free workout. Ages 4 months to 7 years. Cost:  $10–$12 per two-hour session. Membership required: $195 per month plus $150 initiation fee (except Printing House location: $175 per month, no fee). Worth it? Kid's Club is an excellent deal if you're already an Equinox member. Membership is costly, but includes deluxe amenities like a steam room, eucalyptus towels and Kiehl's products in the locker rooms—not to mention unlimited access to all the gym's classes. Various locations in Manhattan and Brooklyn (212-677-0180, equinox.com).
Whether you've got a household full of natural athletes or your crew is making a New Year's resolution to adopt a healthier lifestyle, exercising as a family is always a good idea. It can be overwhelming to pick the right place for you and your little ones, so we've done the work for you, scouring the city for the top fitness centers, gyms, sports venues and specialty spots that will make this year your healthiest yet. Read on for our family-friendliest picks.