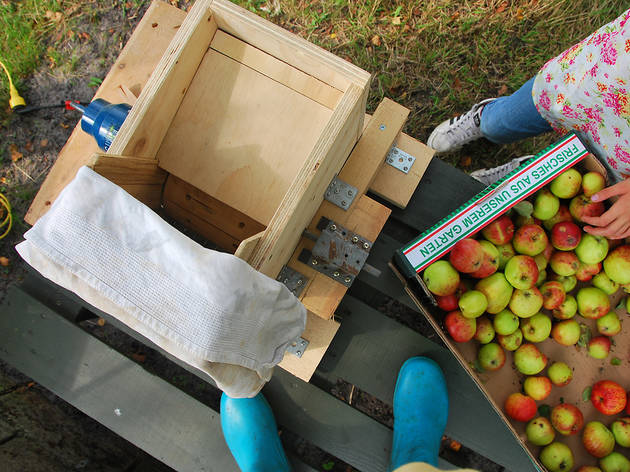 Five cider mills near New York City to visit with the kids
Fall isn't complete without a cup of warm, sweet cider. Give your kiddos the full experience with a visit to a super cool cider mill near NYC.
We love a good cider mill! And now that fall is upon us, bringing with it shorter days and the gnawing fear of interminable winter, we're even more motivated to visit one. Before you move into your nearest indoor play space, there's still time to get out of town and enjoy some folksy autumnal fun as your rosy-cheeked kids hit the farms to learn how rosy-cheeked apples are pressed into delicious fresh cider.
RECOMMENDED: Full guide to things to do in the fall with kids
Many spots are also located in the orchards themselves, so there's plenty of opportunity for apple picking. Be sure to check times and availability before you set out and also browse our list of the best things to do in the fall with kids and our pick your own guide.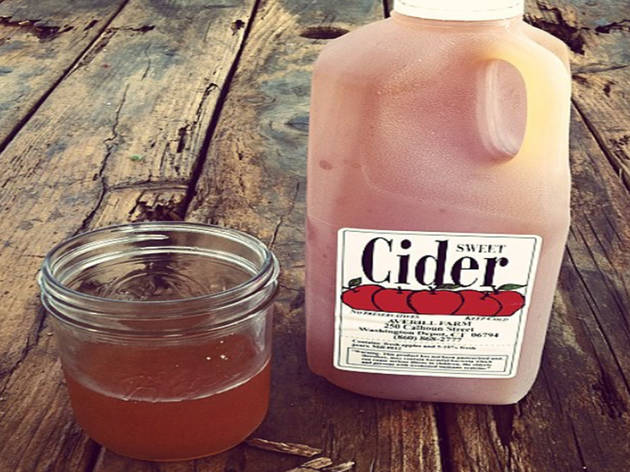 Averill Farm Cider Mill
Drive: 2hrs
This postcard-pretty homestead (and former dairy) has been growing crops since 1746. Depending on the season you can pick your own apples, flowers, vegetables, berries and even Christmas trees. At the onsite Cidery, baskets of Averill-grown apples are pressed into hard cider for the grownups (and normal hot and cold cider for the little ones, too). Though the pressing room is staff only, kids can feast on apple donuts, wood-fired pizza fresh from the visiting foodtruck, or chomp into the delicious pommes they just picked from the orchard. Washington, CT is a doable daytrip, but the nearby Institute for American Indian Studies (38 Curtis Rd, Washington, CT) will make you want to spend the weekend. The institute has an immersive children's discovery room, nature trail and a replica Algonkian Village, complete with wigwams and a farm growing corn, beans and squash—a traditional crop known as The Three Sisters because the plants support one another as they grow. 250 Calhoun St, Washington, CT (860-868-2777, averillfarm.com).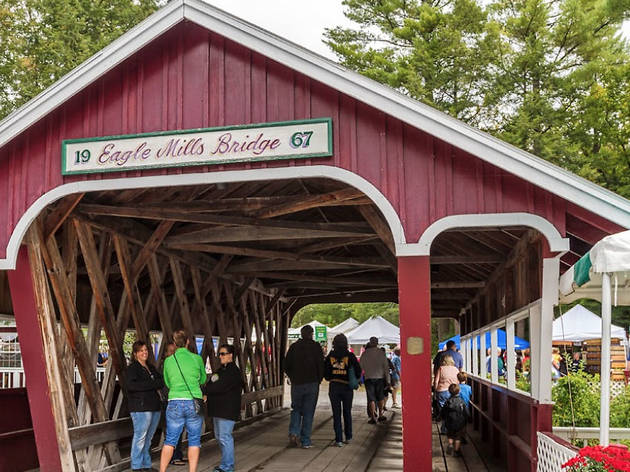 Photograph: Eagle Mills Cider Company
Eagle Mills
Drive: 3.5hrs
On Saturdays at noon, a 100-year-old waterwheel powers an antique knuckle-joint press as it squashes up to 50 bushels of juicy apples into sweet, sweet cider. Want to see how it's made? Staff demonstrate their cider-making process during Saturday pressing demos (noon). There's plenty more to do here, too. After walking across the old-timey covered bridge that sits atop pretty Kennyetto Creek, kids can take a ride around the grounds on a little train, or use water from the creek to search for semi-precious stones such as garnet and amethyst by panning through a bag of "mining rough"—a.k.a. a $7 bag of grit with some gems mixed in. A $10 wristband buys entrance to the onsite fun park that has bouncy castles, a trike track, pedal go-carts and such hokey fun as a Rubber Ducky Derby and milk can ring toss. Oh, the fine array of apple treats for sale—turnovers, pies, streudels, dumplings and donuts—guarantees a blissful food coma that will have your kids sleeping all the way home. 383 County Hwy 138, Broadalbin, NY (518-883-8700, eaglemillsfun.com)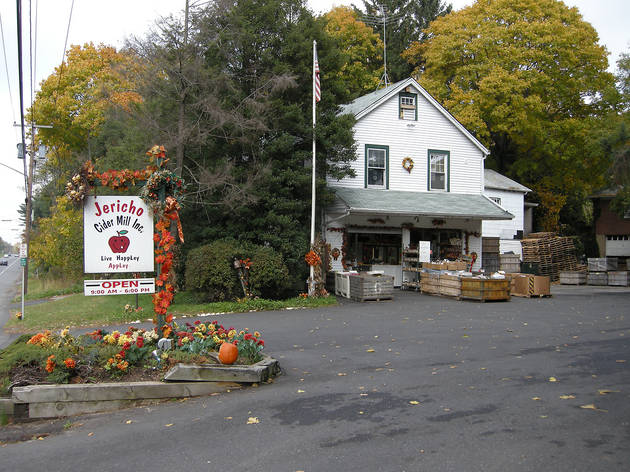 Photograph: Bluesguy from NY
Jericho Cider Mill
Drive: 1.15hrs
Follow the line of cars parked on Route 106 and you'll know you've reached one of Long Island's best-loved fall traditions: fresh-pressed cider from the 150-year-old Jericho Cider Mill. Besides the much-loved preservative-free apple elixir, the mill serves Frapples, a frozen apple slushy. No cider donuts, but no matter. If you're making a day of it, you can pick up fresh-baked pies and crumbly apple turnovers and enjoy an impromptu picnic at nearby Oyster Bay. The historic hamlet is home to the Theordore Roosevelt Memorial Park, a gorgeous greenspace that leads down to the calm waters of the Long Island Sound. 213 Jericho Oyster Bay Rd, Jericho, NY (516-433-3360, jerichocider.com)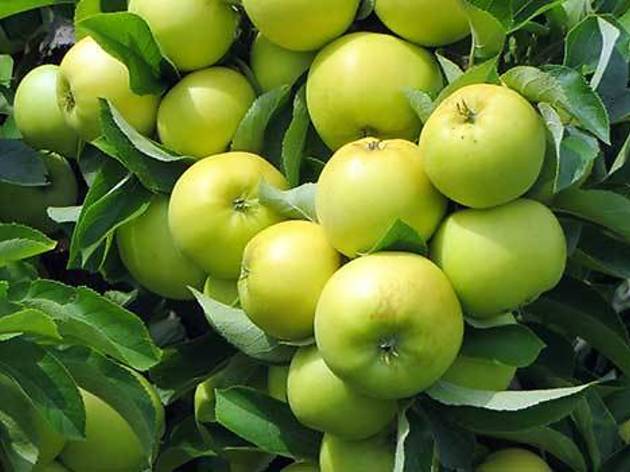 Photograph: Melick's Town Farm Cider Mill
Melick's Town Farm Cider Mill
Drive: 1hr
Warm weekends bring the crowds to local pick-your-own fruit orchards, but somehow this 50-acre farm seems to escape the throngs and keeps fruit on the trees and has shorter lines at the donut stand. Still, the apple press is constantly whirring, churning out pure cold pasteurized cider to sell at the farmstand and distribute to local stores. The air is scented with the tang of apple juice and the tummy-rumbling aroma of roasting corn and hot fried donuts. At the orchard, kids can reach up and pluck their own honeycrisp, macoun and mackintosh apples from the easy-to-reach branches of Melick's dwarf trees and snack on their pickings as they take a hayride around the farm. 19 King St, Oldwick, NJ (908-439-2318, melickstownfarm.com)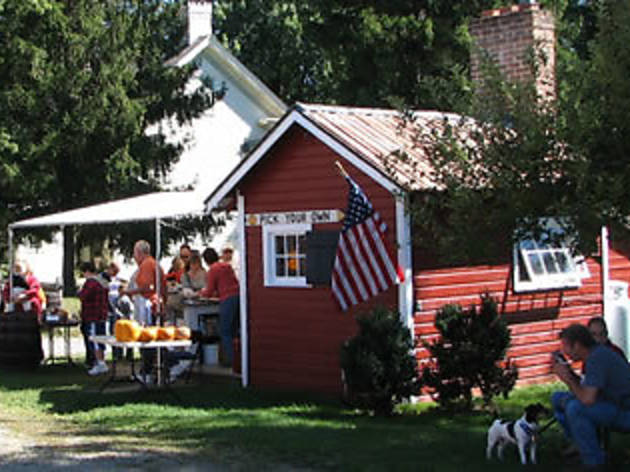 Photograph: Hacklebarney Farm
Hacklebarney Farm Cider Mill
Drive: 1.15hrs
If you are on your way to—or from—Hacklebarney State Park, with it's glorious waterfalls and abundant wildlife, you have to stop at Hacklebarney Farm Cider Mill. We're pretty sure it's the law in New Jersey. Locals arrive early to get in line for the farm bakery that is famous for its pies, apple logs and dumplings. Newbies watch the cider being pressed at about noon on Saturdays, then visit the corn maze and then head to the bakery—which is probably sold out by then! Not to worry, kids will wolf down the cider hot dogs that are cooked in cider and served with…cider kraut. 104 State Park Rd, Chester, NJ (908-879-6593, njcidermill.com)
Best selling Time Out Offers