Gramercy-Flatiron
College students, scrub-wearing doctors and families come together in this park-centric part of Manhattan.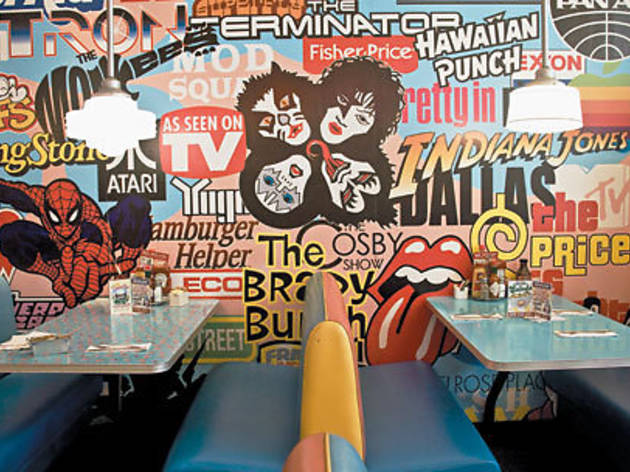 Today, the Gramercy and Flatiron districts embrace everything from elegant brownstones and upscale emporiums to high-rise condos and medical buildings. Roughly bordered by 14th Street to the south, 30th Street to the north, Fifth Avenue to the west, and the East River, the area is anchored by three popular green spaces: Gramercy, Madison Square Park and Union Square parks. Gramercy Park is the oldest private commons in the United States; its neighbors pay extra for access. Among those who've lived near its retail-free perimeter are novelist Edith Wharton and architect Stanford White. (Fun fact: The home where White resided in the 1800s is now the Gramercy Park Hotel.) In the spring of 1847, Madison Square Park's 6.8 public acres debuted in honor of James Madison, the fourth U.S. President. Today, families enjoy the park's children's programming and the Exploration Station, an educational activity booth. Union Square Park—so named because it connected Broadway and the Bowery (Fourth Avenue), not as a nod to labor unions or its history as a protest site—is bordered by a Barnes & Noble and a Babies "R" Us. Don't miss the Greenmarket (Monday, Wednesday, Friday and Saturday, 8am--6pm). Space is tight at the park's north end because of ongoing renovations, but the apple-cider doughnuts are worth a charge into the pedestrian gridlock.
Top hangouts
* Area kids flip for Madison Square Park—especially its free live concerts and storytelling sessions for tots on Tuesdays and Thursdays at 10:30am through mid-August (enter from Madison Ave at 25th or 26th St). Parent perk: Shake Shack now features "Shackmeister Ale," created for the joint by brewmaster Garrett Oliver of Brooklyn Brewery.
* At the Theodore Roosevelt Birthplace Historic Site(28 E 20th St, 212-260-1616), future Commanders-in-Chief can tour the restored brownstone where the 26th President (the only one born in NYC) lived with his family from 1858 to 1872, ponder the teddy bear's origins and complete a TR-related activity book—all for $3 admission.
* In good weather, stroll along the East River Esplanade near Stuyvesant Cove Park(at the East River; enter from E 18th or E 23rd St), where you'll find native flora, walking paths, and views of Brooklyn and beyond. Solar One, a sun-powered "green energy, arts and education center," hosts film and dance series for families.
* Open to the public, the School of Visual Arts Gallery(209 E 23rd St, 212-592-2146; closed Sundays) is sure to inspire your Basquiat-to-be with its student paintings plus photography, video and installations.
* On Sundays from June through November, visit the farmers' market at the Stuyvesant Oval in Stuyvesant Town (enter from First Ave at 16th St), the residential development that opened in 1947 on the site of Peter Stuyvesant's 17th-century farm. Tykes can play on the lawn surrounding the enormous oval fountain while parents snap photos.
* Enjoy an all-ages musical comedy at the 99-seat DR2 Theatre(103 E 15th St, 212-375-1110), or book the entire place—plus a party room—for your kiddo's next birthday bash.
Where to eat...
French eatery L'Express(249 Park Ave South, 212-254-5858) attracts a late-night crowd, but it also welcomes young pommes frites lovers with booster seats and stroller space.
Cookie-dough pancakes, s'mores sundaes and the joint's famous Tater Tots are on the menu at popular Big Daddy's Diner(239 Park Ave South, 212-477-1500). You'll nosh among displays of retro cereal boxes and bop to upbeat tunes.
Health-conscious moms and pops order raw, vegan and organic to-go snacks like oatmeal blueberry cookies for their offspring from One Lucky Duck's takeout counter (125 E 17th St, 212-477-7151, oneluckyduck.com).
Old-school La Delice Pastry Shop(372 Third Ave, 212-532-4409) has been a go-to bakery for the past 74 years; kids will want to hop home with one of the huge frog-shaped cupcakes.
And shop...
Staghorn Ltd.(362 Third Ave, 212-689-0858) looks like a fancy card shop, but it also stocks games, toys, puzzles, stickers, infant bodysuits and tiny tees.
Though Zara(101 Fifth Ave, 212-741-0555, zara.com) is no indie clothier, local moms love the kids' section upstairs, which also carries shoes, socks, hats and other accessories.
Want an adventure? To reach the playthings at the 2,000-square-foot Play Fair Kids(202 E 29th St, 212-381-1966), little ones walk into Nuthouse Hardware and take a freight elevator to the third floor.
Secret spot
Okay, the name and location might not entice, but the Bellevue Sobriety Garden(behind Bellevue Hospital Center, 26th St near the FDR) is a charming refuge. Take your brood on a walk through the well-tended landscapes and over an arched bridge. Afterward, your tot can discover the garden shed fit for a Keebler elf.