Places to visit with kids in NYC: Themed days out
From an outer-space-oriented outing to an international culinary adventure, we've chosen the best places to visit with kids in NYC for a themed day out.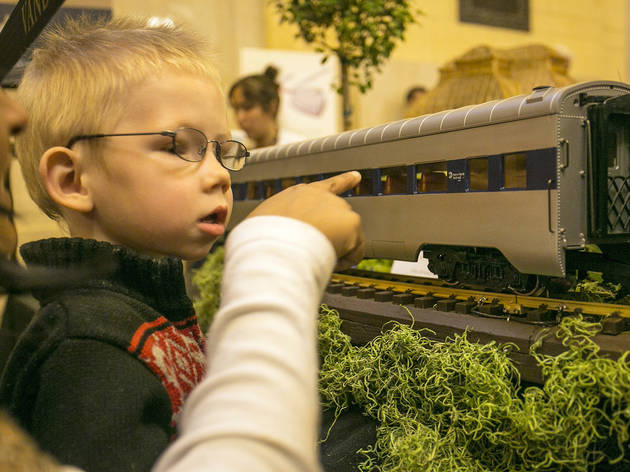 1/19
Photo: Caroline Voagen Nelson
Best places to visit: Train Day For a tyke who's obsessed with choo-choos, it doesn't get more magical than Grand Central Terminal(212-340-2583, grandcentralterminal.com). Aside from the real trains pulling in around the clock, the New York Transit Museum's gallery annex (212-878-0106, mta.info/museum) is home to rotating exhibitions about train travel and a store for stocking up on gifts and toys (we love the NYC-themed train sets). During the holidays, the station's free train show—complete with mini versions of city landmarks—is a must. You'll also want to visit the Transit Museum's main space in Brooklyn Heights (718-694-1600, mta.info/museum) for transit-inspired programs, vintage subway cars and other memorabilia. At the High Line (212-206-9922, thehighline.org), an elevated railbed-turned-park in Chelsea, little ones will get a kick out of walking across the original tracks incorporated into the design. When your train fan gets hungry, chug on over to Diner (718-486-3077, dinernyc.com)—a South Williamsburg eatery inside a vintage train car—to munch on a grass-fed burger or indulge in cheesecake with blueberries.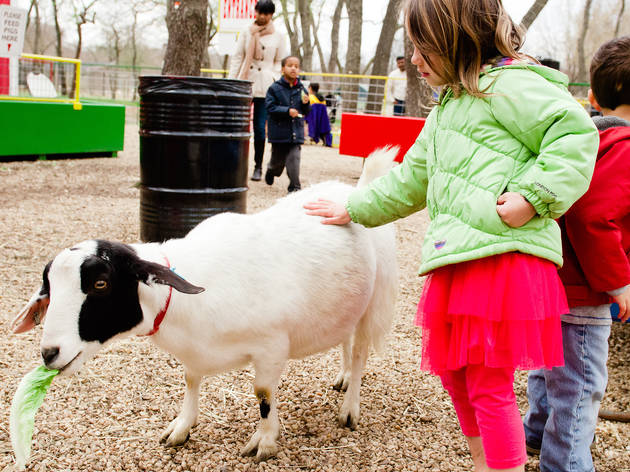 2/19
Photograph: Marielle Solan
Best places to visit: Animal Day Some city apartments don't even allow pets, so an animal-loving kid's got to search beyond his front door. At the Bronx Zoo (718-220-5100, bronxzoo.org), interact with live animals, pretend to be a prairie dog or take a spin on a carousel with bugs instead of horses. The Central Park Zoo(212-439-6500, centralparkzoo.com) and Staten Island Zoo(718-442-3100, statenislandzoo.org) also have special sections tailored to younger visitors, though we guarantee your kids will want to explore every nook and cranny. For a true rural experience, hop on a bus to the Queens County Farm Museum(718-347-3276, queensfarm.org), where year-round residents include Cotswold sheep and heritage pigs. You can also visit animals in statue form throughout city parks. We think two of the most aw-worthy are Balto the dog (Central Park, midpark at 67th St) and a trio of bears at the Pat Hoffman Friedman Playground (Central Park, east side at 79th St). At first glance, Art Farm in the City(212-410-3117, theartfarms.org) is a place for children to hone their baking chops, create art and make music. But then there are the live animals, taking playtime to a new level. After all, where else can you whip up a batch of cupcakes, paint a picture and pet a bunny all under one roof?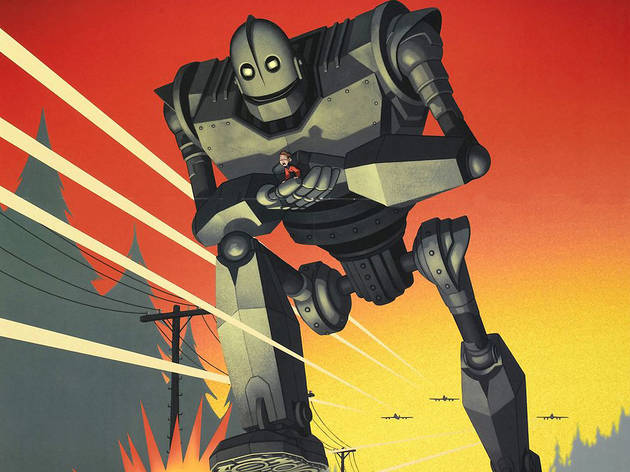 3/19
Photograph: courtesy Film Forum
Best places to visit: Cinephile Day If you've got the next Steven Spielberg on your hands, feed his silver-screen curiosity at the Museum of the Moving Image(718-777-6888, movingimage.us). The Queens institution's core exhibition, "Behind the Screen," shows kids what it takes to break into the biz—they'll get to sample post-production recording techniques and witness the dramatic impact of sound effects and music. Any aspiring filmmaker should also be well-versed in the classics. Treat little ones to a weekend afternoon at the new BAMkids Movie Matinees (718-636-4100, bam.org)—the series highlights films like the Red Balloon—or at Film Forum Jr.(212-727-8110, filmforum.org), which in its second year of programming offers titles like the Iron Giant. Serious cinephiles can also settle in for a screening or program at the Paley Center for Media (212-621-6600, paleycenter.org) year-round. Before leaving, sift through the center's impressive archive of nearly 150,000 radio and TV programs.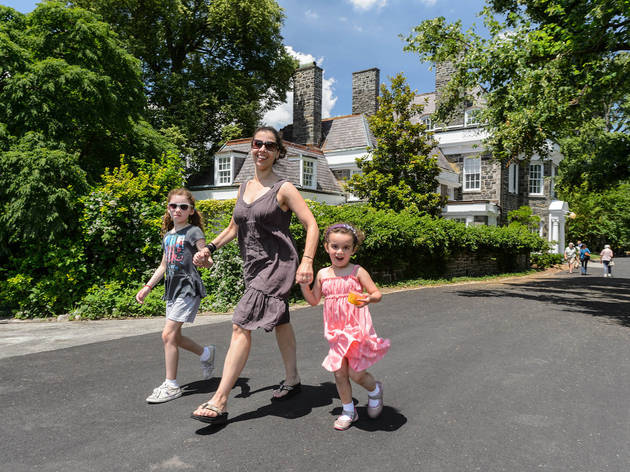 4/19
Photograph: Filip Wolak
Best places to visit: Historic Home Day At several spots around the city, kids can go "back to the future" without jumping in a DeLorean. The beloved mansion at Bronx's Wave Hill (718-549-3200, wavehill.org), once home to Teddy Roosevelt and Mark Twain, reopened this summer after being closed for an extensive two-year renovation-cum-reconfiguration. The fieldstone house, built in 1843 and expanded from 1866 to 1869, has a new space for the institution's beloved Family Art Projects, a refurbished café with easier access to the grounds, a theater and, most important, a fortified infrastructure with more windows, better lighting and new floors. Don't forget to explore the grounds—and get one of the best views ever of the Hudson River—while you're there. On tours of the Lefferts Historic House (718-789-2822, prospectpark.org) in Brooklyn, children get a taste of 18th-century life, and even explore a furnished bedroom from the 1820s. Farmers, shopkeepers, blacksmiths and shoemakers—er, costumed interpreters—lead demonstrations and show kids how Staten Islanders lived in the 17th and 18th centuries at Historic Richmond Town (718-351-1611, historicrichmondtown.org). On the Upper East Side, families can spend the afternoon at the Mount Vernon Museum and Garden (212-838-6878, mvhm.org). Built in 1799 as a carriage house for a 23-acre estate, this stone home became a short-lived country resort from 1826 to 1833 (the city ended at 14th Street back then). On the third Friday of every month, the space hosts special history-themed activities (think tours of period rooms) for kids.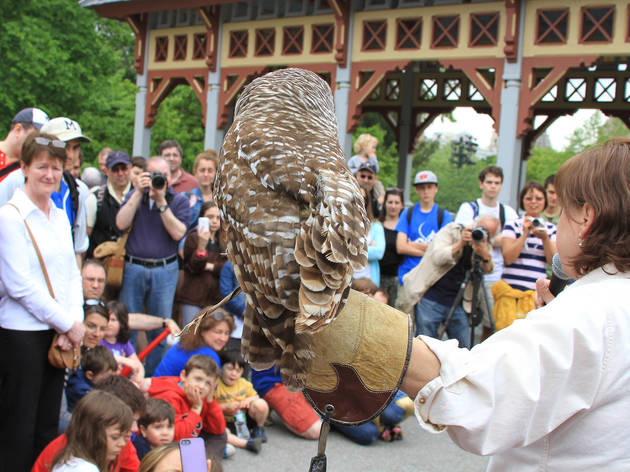 5/19
Photograph: Fiora Watts
Best places to visit: Bird-watching Day The city's biggest green spaces—Central Park, Wave Hill and Prospect Park—are, naturally, the best spots for bird-watching, especially in spring and fall, when migratory birds are passing through on their way down and up the Eastern Seaboard. Pick up nature kits (binoculars, guidebook and maps included; valid picture ID required) at Central Park's Belvedere Castle (212-772-0288, centralparknyc.org) or the Charles A. Dana Discovery Center (212-860-1370, centralparknyc.org) and explore nearby Turtle Pond and the North Woods, respectively. Diehard young birders will relish a trip to Jamaica Bay Wildlife Refuge (718-318-4340, nyharborparks.org/visit/jaba.html), a park with diverse environments (marshes, woods, fields and ponds) where more than 330 species have been spotted in the past 25 years. Ranger-led walks and kayak trips are offered regularly. Mark your calendar with fall's big birding events too, such as Prospect Park's Raptor Fest (Oct 13) and Wave Hill's Raptor Day (Oct 14), where kids can meet all kinds of avians and celebrate them with creative family projects. Naturalists in-training shouldn't miss New York Water Taxi's Audubon tours (212-742-1969, nywatertaxi.com/tours/audubon), which run in the summer and winter. A wildlife expert imparts the natural history of New York while going up to places like the East River's Brother Islands.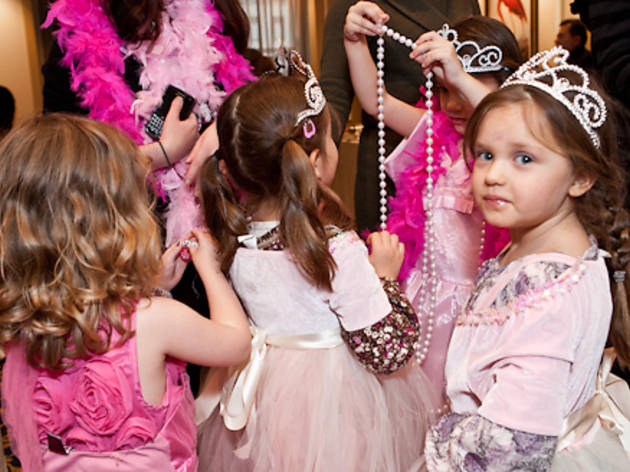 6/19
Photograph: Jakob N. Layman
Best places to visit: Dress-up Day Little princesses' dreams come true inside Let's Dress Up (212-879-0956, letsdressupct.com), an Upper East Side costume shop with open dress-up sessions. Kids will love getting glamorous in dresses, shoes and jewels, then relaxing with a manicure and tea. At the Eloise Shop at the Plaza(212-546-5460, theplazany.com), children can channel the hotel's signature young resident. Once inside the very pink store, they'll likely make a beeline for the fashion room, outfitted with a podium for showing off the Eloise-inspired clothing. Portia's Playhouse at the Staten Island Children's Museum (718-273-2060, statenislandkids.org) is packed with props and costumes, plus a real stage with sound effects for those wanting to unleash their inner theater star. Kids can test out firefighter garb—and sit in the driver's seat of a big red truck—at the Children's Museum of Manhattan (212-721-1234, cmom.org) or create an outfit for Carnaval at the Brooklyn Children's Museum (718-735-4400, brooklynkids.org).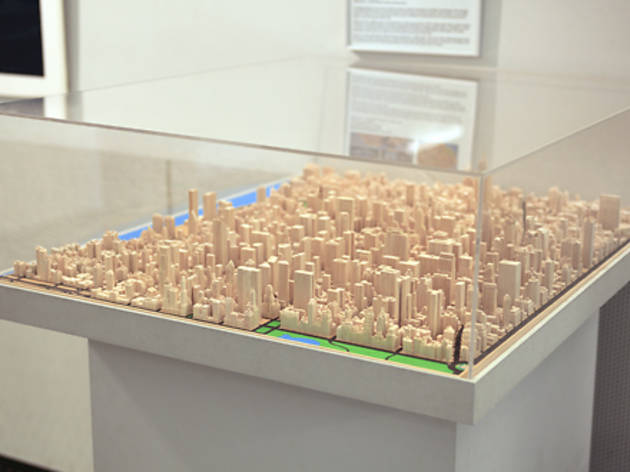 7/19
Photograph: Wendy Connett
Best places to visit: Architecture Day Somewhat older kids will especially enjoy jaunts to seek out and learn about the city's iconic architecture. Getting an aerial view is key, whether from the glass-enclosed Top of the Rock (212-698-2000, topoftherocknyc.com) or the Empire State Building observation deck (212-736-3100, esbnyc.com), but so is getting a look at building interiors. Head to Grand Central Terminal (grandcentralterminal.com) for a self-guided tour of the majestic building, which turned 100 in 2013. (During school vacations, you can join up with a free, expert-led architecture tour of the neighborhood instead; it leaves from the sculpture court at 120 Park Avenue every Friday at 12:30pm, visiting Grand Central's Whispering Gallery, the Chrysler Building and Pershing Square.) For an in-depth look at NYC skyscrapers, head to the Skyscraper Museum (212-968-1961, skyscraper.org) in Battery Park City, founded in 1996. The core exhibit features mini Manhattan models, maps and photos of lower Manhattan, a history-of-height time line of skyscraper development and a showcase of the three tallest buildings in the world; there are also exhibits on the erstwhile Twin Towers and the Freedom Tower. Weekend workshops there and at the Center for Architecture Foundation (212-683-0023, aiany.org) let kids put their imagination to work on architecture projects of their own.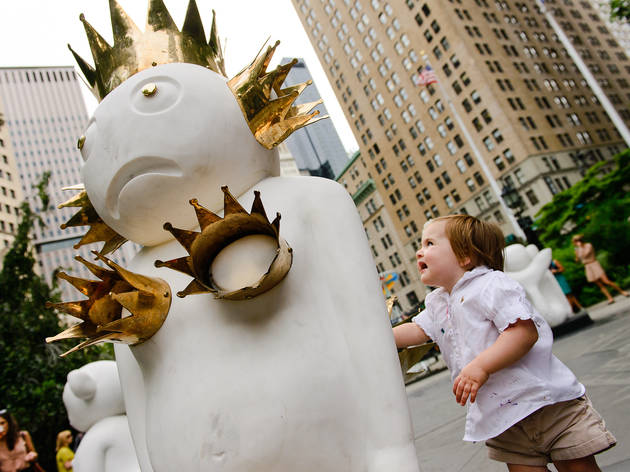 8/19
Photograph: Marielle Solan
Best places to visit: Outdoor Art Day Among the city's finest assets are its abundant public art installations, and several worthwhile new shows will likely take families off the beaten path. "Lightness of Being" in City Hall Park (through Dec 13), the latest offering from the Public Art Fund, features 11 delightful if also enigmatic sculptures, from a circular bicycle and a sextet of marble creatures to a totemic stack of giant, painterly blobs. Governors Island is the site of Head in the Clouds by Lesley Chang and Jason Klimoski (this year's City of Dreams Pavilion winner; through Sept 22), a cocoon-like, ethereal structure made of recycled plastic water bottles that you can walk into, while Randall's Island hosts Flow.13 (through Oct 31), an installation of five site-specific works bound to capture the imagination of little ones, especially Anne Percoco's New Growth, a series of eight cutout trees the artist made by blowing up images she found in the Yellow Pages. Madison Square Park's "Ideas of Stone" (Sept 26 to Feb 9, 2014) showcases another set of trees, these by the Italian artist Giuseppe Penone; each of the three 40-foot bronze trees holds within it one or more mammoth rocks, which seem to sit precariously amid the arbor's airy branches.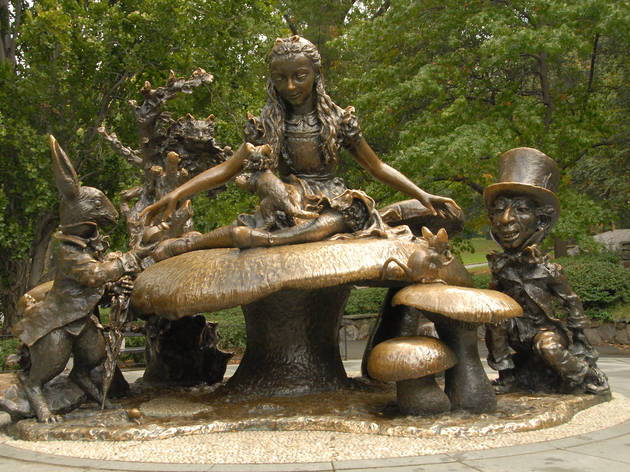 9/19
Photograph: Central Park Conservanc
Best places to visit: Alice in Wonderland Day For a day filled with whimsy, fall down the rabbit hole and explore the city through the eyes of one of Lewis Carroll's most enchanting characters. Alice fans will go mad over the José de Creeft statue in Central Park (centralparknyc.org), on the northern edge of Conservatory Water. As they get curiouser and curiouser, kids can climb the bronze creation, which portrays Alice perched atop a mushroom, trying to snatch a watch from the White Rabbit. Also nearby are the Cheshire Cat, the Dormouse and the Mad Hatter. Continue the magic in transit by taking the 1 train to 50th Street to see Liliana Porter's Alice: The Way Out (mta.info/art), a mosaic featuring a shadowed Alice and other characters. After a day of exploring, settle in for a sweet reward at Alice's Tea Cup (go to alicesteacup.com for city locations), where enchanting decorations, pots of tea and treats like the Queen of Hearts lemon tart polish off your adventure.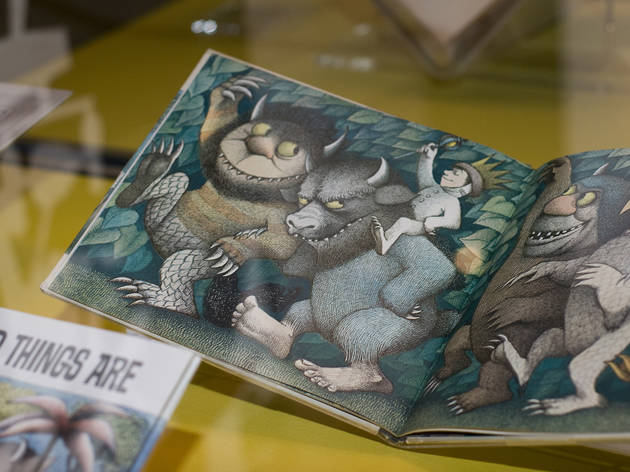 10/19
Photograph: Alex Strada
Best places to visit: Literary Day To feed your bookworm's appetite beyond the local Barnes & Noble (though we are huge fans of the superstore's children's section!), head to one of the city's indie bookshops. Many, including Books of Wonder (212-989-3270, booksofwonder.com), Greenlight Bookstore (718-246-0200, greenlightbookstore.com) and McNally Jackson Books (212-274-1160, mcnallyjackson.com), feature carefully curated selections and themed storytimes throughout the week. Another way to inspire your little bibliophile? Plan a day trip to a city library—a good number of them are destinations in their own right. The main branch of the New York Public Library on 42nd Street (917-275-6975, nypl.org) often hosts special family-friendly exhibits. Their latest show, "The ABC of It: Why Children's Books Matter" (through Mar 23, 2014), pays homage to children's lit with 200-plus items on display, ranging from Hans Christian Andersen works to drawings for The Wizard of Oz. Kids can even stand inside a 3-D replica of the room depicted in Goodnight Moon.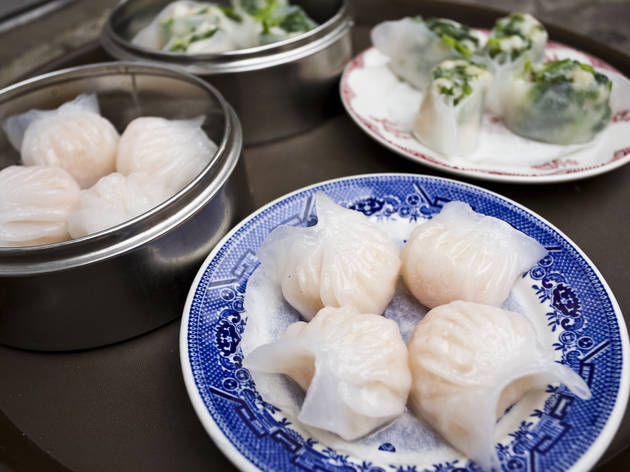 11/19
Photograph: Beth Levendis
Best places to visit: Cultural Day Our city may be one of the most international spots on earth, but immersing yourself in its most authentic nabes sometimes requires advance planning. For a primer on Manhattan's Chinatown, take the walking tour Chinatown: A Walk Through History, led by the Museum of Chinese in America(212-619-4785, mocanyc.org)—itself a must-visit spot that illuminates the history of Chinese immigrants and their offspring in the United States. Or just wander through the neighborhood (on Mott, Pell and Bayard streets), making your way to Nom Wah Tea Parlor(212-962-6047, nomwah.com) for excellent dim sum; it's been in business since 1920. For a taste of India, hop the E or the F express train to Roosevelt Avenue in Jackson Heights, Queens. It's a buzzing shopping area filled with Bangladeshi, Indian and Pakistani stores and restaurants—and a great place to spend an afternoon. Have lunch at the legendary Jackson Diner (718-672-1232, jacksondiner.com), then head to Shaheen's (800-648-4233, shaheensweets.com) to introduce the kids to traditional Bengali sweets. For a taste of Japan, see the show "three is a magic number 7" (through Oct 13) at Japan Society (212-832-1155, japansociety.org) in midtown, followed by a visit to Little Tokyo in the East Village. Have lunch at Kotobuki (212-353-5088, kotobukinewyork.com), where you can choose from classic Japanese small plates like agedashi tofu and shrimp shumai or just order up some sushi rolls. Before heading home, stop by Toy Tokyo (212-673-5424, toytokyo.com), stocked with plush animal coin purses, Totoro figurines and other pop culture ephemera.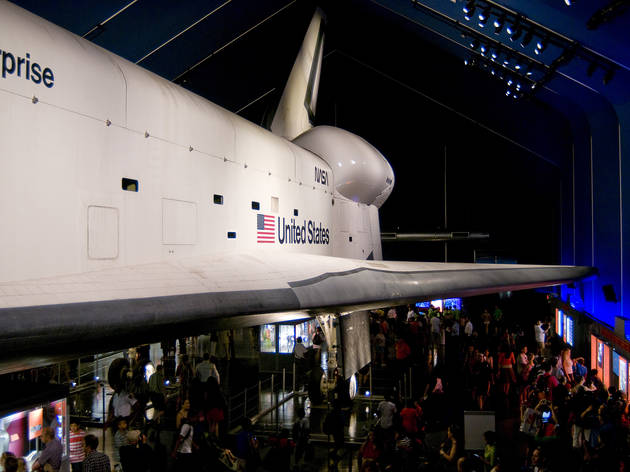 12/19
Photograph: Alex Strada
Best places to visit: Space Day Budding astronauts have plenty of ways to fuel their curiosity. At the Intrepid Sea, Air and Space Museum's Space Shuttle Pavilion (212-245-0072, intrepidmuseum.org), kids can see the space shuttle Enterprise up close—little ones jaws are sure to drop when they look up and see the 75-ton space shuttle defying gravity over their heads. (Be sure to climb the stairs to the picture platform in front of the nose of the shuttle.) For a more interactive planetary experience, jet over to Queens' New York Hall of Science (718-699-0005, nysci.org) for a visit to Rocket Park, home to vehicles that helped launch the space age and a mini-golf course where families face high-tech gravitational challenges. Continue the fun after sunset with a little help from the Amateur Astronomers Association (aaa.org), which sets up telescopes for stargazing newbies at Brooklyn Bridge Park, the High Line and other city spots. Of course, the skies are always clear inside the American Museum of Natural History's Hayden Planetarium (212-769-5100, amnh.org)—the center's newest addition, Space Show (opening this fall), takes kids on an astronomical adventure, from Jupiter's atmosphere to California's Mt. Wilson Observatory, the site of Edwin Hubble's discovery of galaxies.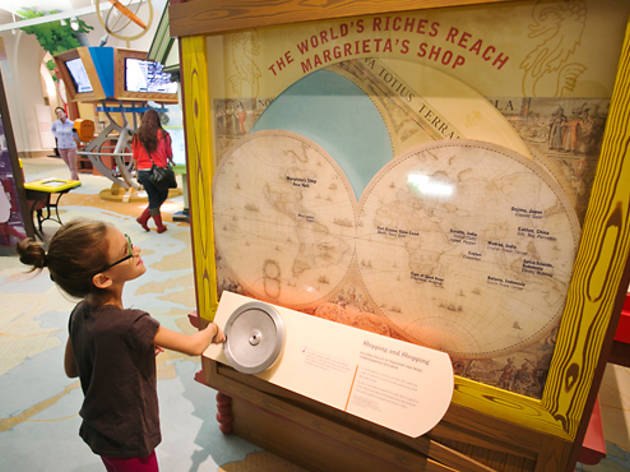 13/19
Photograph: Caroline Voagen Nelson
Best places to visit: NYC History Day The ideal spot for kids to learn about the city they live in is the DiMenna Children's History Museum inside the New-York Historical Society (212-873-3400, nyhistory.org/childrens-museum), which opened in 2011. It puts the focus on famous New Yorkers, from Alexander Hamilton to Mariano Rivera, when they were children, and lets kids discover moments in history by handling artifacts and engaging with interactive stations. Children learn about how tough some kids had it in the Newsies pavilion, which looks at young newspaper sellers before child labor laws, and can also sit in the Orphan Train to hear stories about the thousands of NYC youngsters sent out West to live with adoptive families. They'll have a chance to reflect on their own lives in the American Dreamer pavilion, where they'll get their photo taken and see it placed alongside such famous city denziens as Derek Jeter and Sonia Sotomayor. Storytimes featuring history-minded children's books are offered each Sunday morning. The Museum of the City of New York (212-534-1672, mcny.org) is another worthy spot for a history lesson. The toy collection, full of New Yorkers' playthings dating from the colonial era to the present, is especially well loved. Toy trains, lead soldiers and battered teddy bears share shelf space with exquisite bisque dolls and lavishly appointed dollhouses. Make sure to also catch "Timescapes," a film that traces the growth of New York City from the settlement of a few hundred Europeans, Africans and American Indians into the thriving metropolis it is today.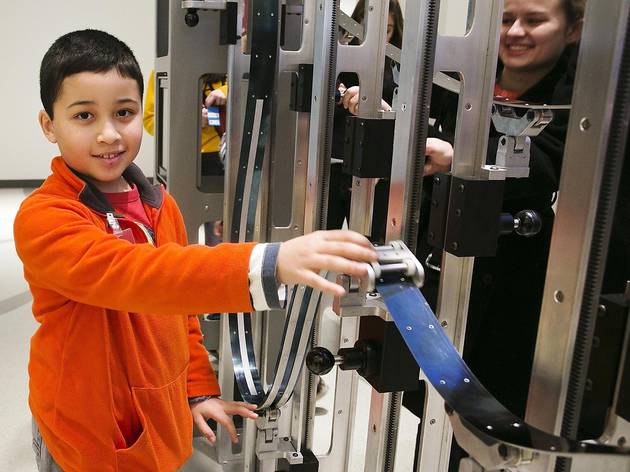 14/19
Photograph: Caroline Voagen Nelson
Best places to visit: STEM Day Science, technology, engineering and math are no longer just the stuff of classroom lessons. At the Museum of Mathematics(212-542-0566, momath.org), kids get to see all the remarkable things math makes possible. (Over 30 exhibits have them marveling at a square-wheeled bike and tinkering with 3-D puzzles.) Continue the fun at New Jersey's Liberty Science Center(201-200-1000, lsc.org), where young visitors challenge their senses in a pitch-dark Touch Tunnel. They can also experience what it's like to perform open heart surgery in the Virtual Surgery area at Sony Wonder Technology Lab (212-833-8100, sonywondertechlab.com). For even more inquiry-based science, head to Storefront Science(646-833-7195, storefrontscience.com), a hub for learning about electricity, physics and biology, in Washington Heights. Check the schedule for Open Exploration sessions—they run just $10 an hour.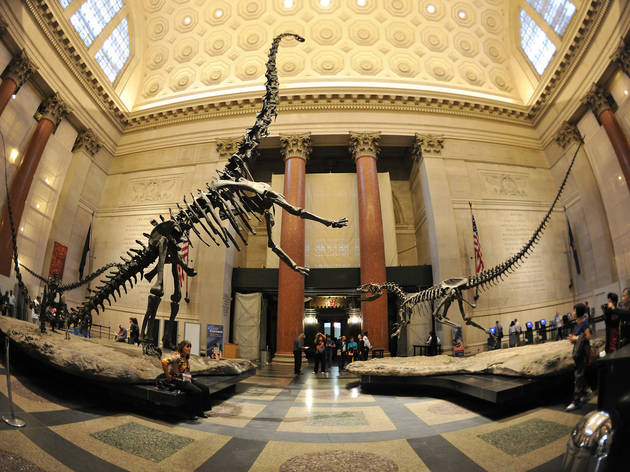 15/19
Photograph: Denis Finnin
Best places to visit: Dinosaur Day If your kid is all about dinos, you'll want plenty of time to explore the prehistoric halls on the fourth floor of the American Museum of Natural History (212-769-5100, amnh.org), filled to the brim with fossils, photos and one enormous T.rex. When everyone's stomachs start roaring, refuel at the aptly named Dinosaur Barbecue—the original New York City location in Harlem (212-694-1777, dinosaurbarbque.com) now has a new sibling in Brooklyn (347-429-7030). While the only bones you'll find there are the kinds in your chicken wings and ribs, the children's menu is packed with comfort food favorites like pulled pork and beef brisket sliders and mac and cheese. If your crew would rather mingle with dinosaurs of the animatronic variety, head across the river to Secaucus, New Jersey's Field Station: Dinosaurs (855-999-9010, fieldstationdinosaurs.com). Thirty-plus creatures are interspersed along trails, paths and woods—and all sights, sounds and activities have a scientist's seal of approval. Kids can unwind from all the adventure with Dinosaurs Alive! 3D, a big-screen movie packed with life-like creatures.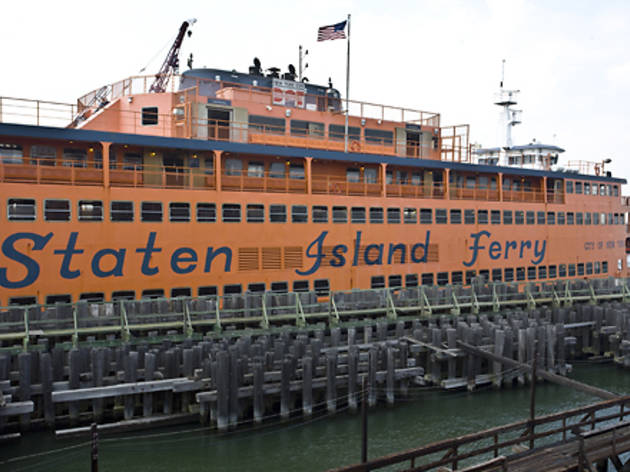 16/19
Photograph: Beth Levendis
Best places to visit: Water Day Given that two of our city's boroughs are islands and that all have shorelines, it makes sense to experience the city from the unique perspective of the water. The Circle Line's (212-627-1825, circleline42.com) circumnavigation of Manhattan is touristy, but it's also lots of fun and doesn't break the bank. For a more intimate experience, book brunch on the Manhattan, an electric yacht (212-913-9991, sail-nyc.com) that takes the clockwise route. You'll be closer to the water and have the option of chilling in the cabin to enjoy your buffet-style brunch—and, for parents, mimosas—or sitting on deck and letting the wind blow through your hair. One of the best city freebies is a ride on the iconic orange Staten Island Ferry (nyc.gov/dot), which takes you into New York Harbor and quite close to the Statue of Liberty in both directions; check out the aquarium at the St. George Terminal while waiting to board a boat back to South Ferry. For a more sporty experience, take advantage of the free weekend kayaking offered at all three Manhattan locations of the Downtown Boathouse (downtownboathouse.org) through mid-October.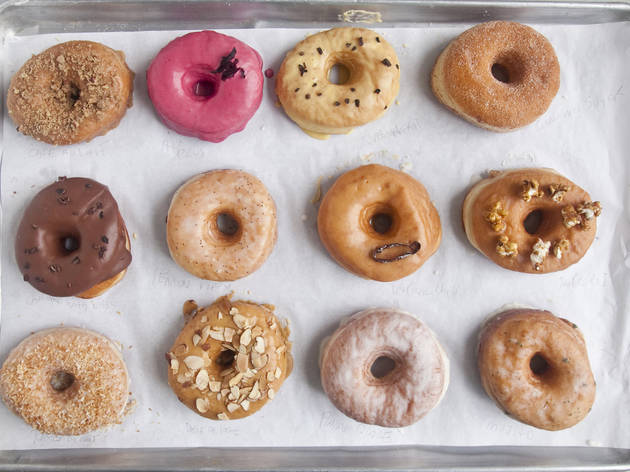 17/19
Photograph: Melissa Sinclair
Best places to visit: Artisanal Food Day We not only love spots with handcrafted delectables but also enjoy seeking them out, no matter how far-flung they may be. Retail and factory share one open space at the new location of Mast Brothers Chocolate (718-388-2625, mastbrothers.com), where visitors can taste three chocolates at a giant wood table anytime, check out some of the ingredients used in the spot's famed chocolate bars (like almonds, maple syrup and burlap bags of cocoa) and watch chocolate makers at work. Adorable je & jo (212-967-4856, jeandjo.com), on an industrial block in Hell's Kitchen, makes its ultra-creamy ice cream cups, all of which are layered with egg-free varieties of cookie dough chosen to complement the ice cream flavor, on the premises. The primary ingredients are Hudson Valley Fresh milk and cream, plus a short list of local and often organic wares that the team preps by hand (think pecan roasting, vanilla bean scraping and lemon zesting). Doughnuts do not get any fresher than those at Clinton Hill's Dough (347-533-7544). The colorful yeast rings are made throughout the day completely from scratch using seasonal ingredients (the staff even steeps the hibiscus it uses for its deep-pink hibiscus doughnut). In addition to eight varieties available daily—including chocolate with cacao nibs, salted caramel and dulce de leche—you're bound to come across one or more new varieties each week, based on new market finds like blackberries.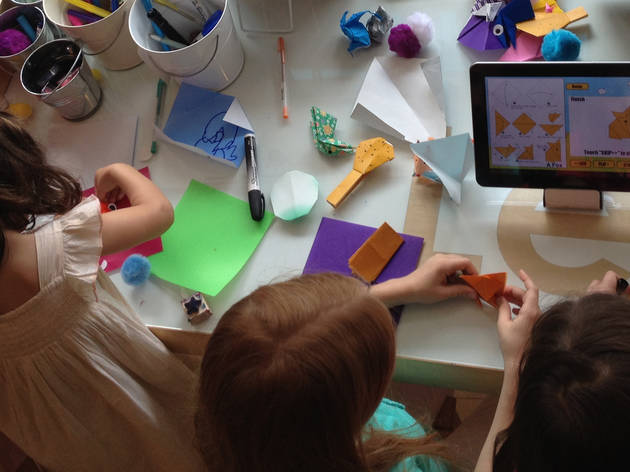 18/19
Best places to visit: Art Day Fridge-art aficionados will find ample outlets for their creativity at spots around the city. Future techies should feel right at home at the Makerbot Store on Mulberry Street (347-457-5758, makerbot.com), where photos, jewelry and other knickknacks made from 3D printers, and workshops for young ones are standard. If you've got more of an old-school crafter, dial it back to the basics and grab some paper to fold at Taro's Origami Studio (718-360-5435, torosorigami.com). Craft hub Make Meaning, which now has spaces on the Upper East and Upper West Sides (go to makemeaning.com for store locations), offers everything from jewelry-making to ceramics. The spot's soap-making station is a favorite with kids.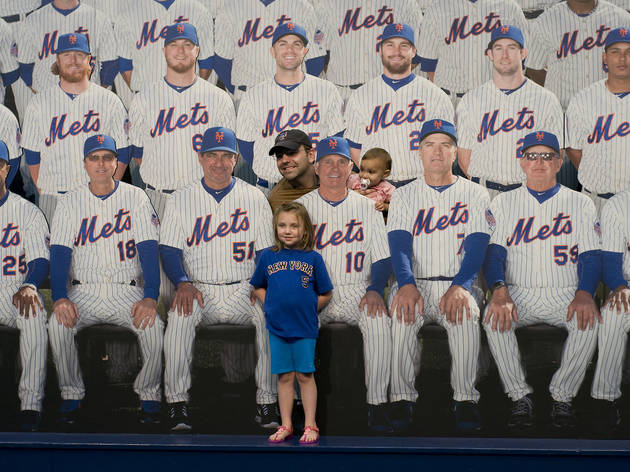 19/19
Photograph: Alex Strada
Best places to visit: Sports Day If your little one already has dreams of NBA stardom or running the bases, New York City is a haven for sports fans in training. Local pride runs deep when the Staten Island Yankees and Brooklyn Cyclones (milb.com) take the field. These minor league teams are a great way to introduce kids to baseball and you may even be able to catch fireworks after the innings. When they're ready for the big leagues, depending on loyalty, snag tickets (and don't forget those peanuts and Cracker Jacks!) to see the Mets (mets.com) or Yankees (yankees.com) battle it out. The energy is always high when the New York Knicks (nba.com/knicks) shoot hoops at Madison Square Garden and the Brooklyn Nets (nba.com/nets) dribble and dunk at Barclays Center. Over in Jersey, cheer on rising soccer stars at Red Bull Arena (redbullarena.us) and bundle up for New Jersey Devils (devils.nhl.com) hockey at the Prudential Center.
Have a train lover at home? Or perhaps a fan of dress-up? We've put together a guide to the best themed days out in New York City—everything from a dinosaur adventure (think the American Museum of Natural History and Dinosaur Barbecue) to a cultural tourthrough the boroughs (Chinatown, Jackson Heights, Little Tokyo and more). Scroll through our favorite places to visit, below, and then head out for a day of family fun with your little adventurer.