Sunset Park, Brooklyn
The sun hasn't set on the New York of your own childhood.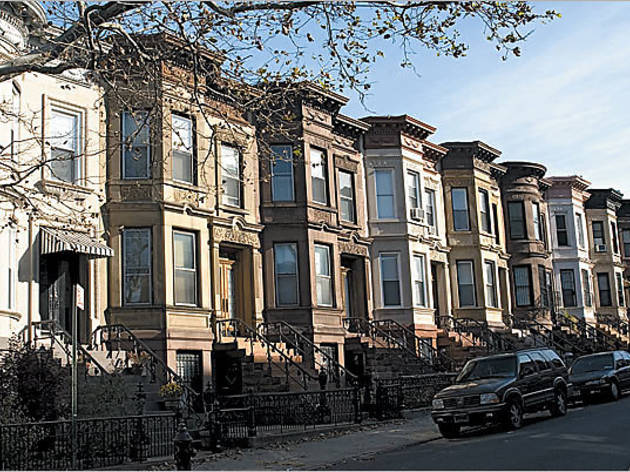 Priced out of Park Slope? Keep on riding south, into the Sunset. This large, culturally diverse nabe spans from the harbor east to Ninth Avenue, and from the Prospect Expressway down to 65th Street. You won't see masses of uppity yuppie mummies (yuppities? muppets?) or baby boutiques here—just quiet, hilly, tree-lined streets bordering green space, thriving ethnic enclaves and plentiful resources for families.
What you'll find
Victorian-era row housing dominates this residential area, with commercial strips on Fifth and Eighth Avenues. Along Eighth in the 40s and 50s is Chinatown's main drag. Here, Malaysian, Vietnamese and other Asian restaurants and groceries are also plentiful; dragons take to the street February 12 and 13 for Chinese New Year, and the famous Hong Kong Supermarket (Eighth Ave between 60th and 61st Sts) sells kimchi and live frogs. Bulk-shopping mecca Costco is nearby (Third Ave between 37th and 38th Sts), which means Sunset residents never, ever run out of TP.
Sprawling, stroller-friendly Green-Wood Cemetery (25th St at Fifth Ave) quickly relieves visitors of any squeamishness with its 478 acres of paths and parkland; you may even be tempted to visit the graves of famous New Yorkers like Jean-Michel Basquiat and F.A.O. Schwarz. The Brooklyn Waterfront Greenway project plans to extend its bike paths along the nabe's harbor access—just not anytime soon.
What you'll pay
The hot properties surround Sunset Park itself (Seventh Ave at 43rd St), especially from Fourth to Sixth Avenues, and just south of it to around 50th Street. There, expect to pay about $1 million for a three-family brownstone that would have listed for $600,000 or so a few years ago. "I'm seeing a lot of young professionals starting their families in these homes," says Mayra Ortiz, a Corcoran Group agent who specializes in the area and has owned a home there for 15 years. "They live on one or two floors and rent the rest." Attractive two- and three-family frame houses built to resemble brownstones begin at around $800,000. Two-bedroom condos near the park range from the mid- $300s into the $500s. A two-bedroom co-op on 44th Street across from the park recently listed for about $350,000. "My wife and I looked all over Brooklyn for six months in 2005, but everything was out of our price range," says Sang Jin Park, a teacher whose family lives in a 16-unit co-op on 47th Street near Seventh Avenue. "Our jaws dropped when we found our small two-bedroom with living and dining rooms for under $200,000."
Where to hang out
First stop: Sunset Park, where kids can view Lady Liberty and the Manhattan skyline from the swing set. The 25-acre area also houses an Olympic-size pool, tennis and basketball courts, and an active community center with year-round children's programs. Throw a birthday bowl-a-thon at Melody Lanes (37th St at Fifth Ave), where tykes can play DJ at the juke box between throwing gutter balls in one of the 26 lanes. In addition to top-notch Asian fare, diners can now find casual restaurants and bars of all stripes, from Bar BQ (689 Sixth Ave at 20th St) to the Living Room Lounge (245 23rd St at Fifth Ave).
What the locals love
Top picks, says Park, include "testing out the half-dozen playgrounds and parks just in our area, and eating the best home-style Puerto Rican and Dominican food on Fifth Avenue."
Report card on the schools
Two elementary schools—P.S. 172 Beacon School of Excellence (Fourth Ave between 29th and 30th Sts) and P.S. 94 The Henry Longfellow (5010 Sixth Ave at 50th St)—received A's on the Department of Education's 2006–7 report card. Students at P.S. 172 rank especially high in both math and language arts, and have many arts and recreational sports programs to choose from.
What we'd change
Residents say a movie theater, a big bookstore and, yes, a Gap would be nice.
Distance from midtown
It takes 45 minutes to an hour to reach midtown on the D, N or R train.