Teach your kids how to ride a bike in NYC
Teach your kids how to ride a bike this summer with these free Bike New York programs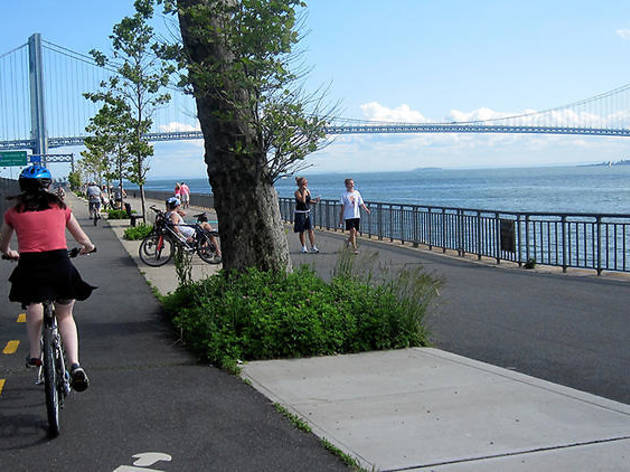 Learning how to ride a bike in NYC can seem daunting, especially when it's your kids who are trying to learn and you can't find a quiet place to show them the ropes. Fortunately, Bike New York has made sure they have plenty of opportunity to kick off those training wheels and improve existing skills during the summer months in a safe, supervised environment. Once they've learned a need for speed (and they will...believe us...), they'll be begging to bike to their favorite summer activities for kids and outdoor activities for kids all season long!
When you sign 'em up for Learn to Ride - Kids, a free group class for eager kiddos, they'll learn to master the two-wheeler. There will be instructors on site to help kids figure out how to balance, pedal, start, stop and steer, and since parents are required to accompany their kids, Mom and Dad will walk away with useful tips for helping their children keep learning even after the workshop is over.
On average, Learn to Ride classes range from 30 to 50 pupils, and the instructor ratio is generally 1 to 8, so you're sure to get some individualized attention. Sign up for a cool two or three-hour class at bike.nyc. Participants must be between ages 5 and 13.
Here are the remaining dates for 2016:
Sunday, July 31 - 1:30–3:30pm, Park Slope Playground, Brooklyn - Lincoln or Berkeley Pl, between 5th & 6th Aves
Saturday, August 13 - 11am–2pm, NYC Parks, Manhattan; Poor Richards Playground - 3rd Ave at 108 St
Saturday, August 27 - 2pm–4pm, East New York, Brooklyn; Linden Park - Linden Blvd at Miller Ave, behind Gershwin School
Saturday, August 27 - 2pm–4pm, Manhattan, Harlem, Jackie Robinson Park; Bradhurst Ave at 152 St
Sunday, August 28 - 12–2pm, Prospect Park South, Brooklyn, Greenwood Playground - E 5th St at Ft Hamilton Pkwy
Saturday, Sept 17 - 11am–2pm, NYC Parks, Manhattan; Bloomingdale Playground - Amsterdam Ave at W 104 St
Saturday, October 8 - 11am–2pm, NYC Parks, Manhattan; Tompkins Square Park - Ave A at 10 St
*Parents must bring bikes and helmets for their kids, and bikes must be in working order with the seats appropriately adjusted before class begins.