Tennis programs for kids in NYC
Have a ball with your team at courts around the city.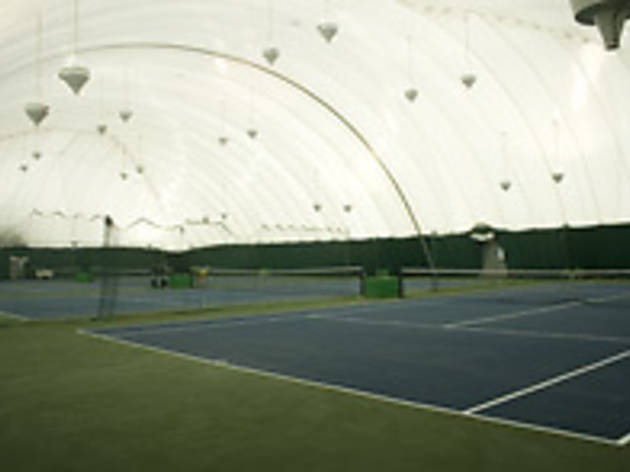 Since Gotham hosts the U.S. Open each summer, city babes are introduced to tennis—and the sport's great athletes—from an early age. If your youngsters were inspired and want in on the action, we've got you covered. Give them an introduction to the game at one of the many local centers where amateurs of all skill levels can perfect their serves and smashes.
Sportime at Randalls Island
Mon--Sun 7am--11pm. 1 Randalls Island (212-427-6150, sportimetfm.com). Travel: 4, 5, 6 to 125th St, then take the M35 bus to Randalls Island. $1,275 for a 17-week session.
Sportime, a chain of tennis and fitness clubs around New York, gave its Randalls Island location a $16 million face-lift this year. The brand-new facility opened in June, and its 20 courts make it one of the largest indoor tennis clubs in NYC. The Pee Wee program (for four- to six-year-olds) introduces the basics of tennis in a rotating, stationlike atmosphere where kids take part in different games and activities on every court. The Junior Tennis Kinetic program, divided into two groups (one for ages 6 to 8, the other for ages 8 and up), focuses more on technique; students hit hundreds of balls each week and participate in drills and games—like relay races and "King/Queen of the Court"—to prepare them for match-play. The center also offers a Junior Travel Team for players ages ten and up, in which individual Sportime sites compete against one another. If your schedule is tight, Sportime also offers pick-up and drop-off service in every borough.
Sutton East Tennis Club
Mon--Sun 6am--11pm. 488 E 60th St at Sutton Pl (212-751-3452, suttoneasttennis.com). Subway: N, R, W to 59th St--Lexington Ave; 4, 5, 6 to 59th St. $1,190 for a 17-week session.
Located near the Manhattan terminus of the 59th Street Bridge, Sutton East Tennis Club offers eight clay courts (which are easier on growing joints than asphalt or cement) and instruction that's modified for every age and skill level. Pee-Wee Tennis (for ages 3 to 6) provides free rackets and emphasizes a more laid-back approach to learning, with games designed to improve hand-eye coordination and basic tennis movements. As your children progress, they'll make the transition to the Pre-Junior Development Program (ages 6 to 8), which offers larger nets and court space for training. The Junior Development Program (ages 8 and up) refines basic skills while introducing kids to game-play in groups that are age- and level-appropriate. Many of the center's instructors have competed internationally, and their world-class coaching will have their students, blasting backhands in no time.
Alley Pond Tennis Center
May 1--mid-October: Mon--Fri 9am--7pm; Sat, Sun 8am--4pm. Mid-October--Apr 30: daily 6am--midnight. 79-20 Winchester Blvd near Union Tpke, Douglaston, Queens (718-264-2600, alleypondtenniscenter.com). Subway: E, F to Kew Gardens--Union Tpke. Call for various program rates.
Owned by Hemel Meghani Cosme, a world-ranked player in the 1970s, Alley Pond Tennis Club features the largest indoor bubble in North America. Juniors are placed in groups based on age and skill level, with heavy emphasis put on learning the basics and perfecting individual strengths. The club offers cool perks for young players: free walk-in court time on any of the 11 courts, regular video analysis and a customized progress report for each student. Sporadic Friday night match-plays bring together young tennis fanatics; if they hit it off, they've got partners for more practice and play.
Bridgeview Racquet and Fitness Center
Mon--Sun 7am--midnight. 9000 Bay Pkwy, Bensonhurst, Brooklyn (718-372-6878). Subway: D, M to Bay Parkway. $450 for a 12-week session.
With more than 400 kids enrolled in classes at its eight indoor hard courts, Bridgeview is one of the city's most popular youth centers. Bridgeview has also recently hired a footwork specialist to help players focus on proper court movement and foot speed. Youngsters ages 7 and up are placed in beginner, advanced beginner or tournament training classes. Friday afternoon match-play sessions give kids an opportunity to socialize while playing with someone of similar ability.
USTA Billie Jean King National Tennis Center
Mon--Sun 6am--midnight. Meridian Rd at Grand Central Pkwy, Flushing Meadows--Corona Park, Queens (718-760-6200, usta.com). Subway: 7 to Willets Point--Shea Stadium. Call for various program rates.
This center doesn't just host the U.S. Open; it's fully operational year-round with 33 outdoor and eight indoor courts. Although the space doesn't offer camps beyond the summer months, children can grab a few of their friends and take advantage of inexpensive group lessons ($25 per person for an hour). They'll learn the basics in small classes, and their parents can then choose what the little ones should focus on during lessons. The indoor facilities are also open for free on weekends from 6 to 8am.
Prospect Park Tennis Center50 Parkside Ave at Coney Island Ave, Brooklyn (718-436-2500, prospectpark.org/tennis). Subway: F to Fort Hamilton Pkwy, Q to Parkside Ave. Pee-Wee program (ages 5--6): $162 for six sessions; Junior Development program (all ages): $240--$480, depending on length of class selected; Special Aces program: $84 for seven sessions.
Aspiring tennis titans will learn the basics of the sport in the Pee-Wee and Junior Development programs, which focus on the sport's fundamentals. Special-needs kids can take to the court in the Special Aces program, which boasts a team of professionals trained to help your child gain confidence with a racket. Instructors will focus on skills such as hand-eye coordination, physical strength and attention span. In addition, Top End Transformer All Sport wheelchairs help athletes with specific challenges. Scholarships are available to select participants.
West Side Tennis Club
1 Tennis Pl near Dartmouth St, Forest Hills, Queens (718-268-2300, foresthillstennis.com). Subway: E, F, V, G, R to Forest Hills--71st Ave. One-hour session $320; 90-minute session $440.
This tennis oasis offers a range of options. The club's Excel program for tykes ages four and up is offered in 60- and 90-minute sessions. Youngsters will receive plenty of individualized attention, as the club maintains a maximum 5:1 student-to-teacher ratio. Seasonal and year-round offerings are available.
New York Junior Tennis League
Saturdays and Sundays through March (347-417-8126, nyjtl.org). See website for hours and locations. Free.
NYJTL's Early Morning Winter Tennis program offers a weekend option during the cold season—and the best part is, it's completely free. With locations in each borough, you can find a spot that works for your player without having to trek to a faraway court. The sessions cater to kids ages six and up, and work on technique while still giving youngsters plenty of opportunity for free play. The program runs from November through March but there's no registration deadline, so families can join in at any point during the season.