New York Restaurant Week picks for families
New York Restaurant Week isn't just for adults! These cool prix fixe menus will please the kiddos, too.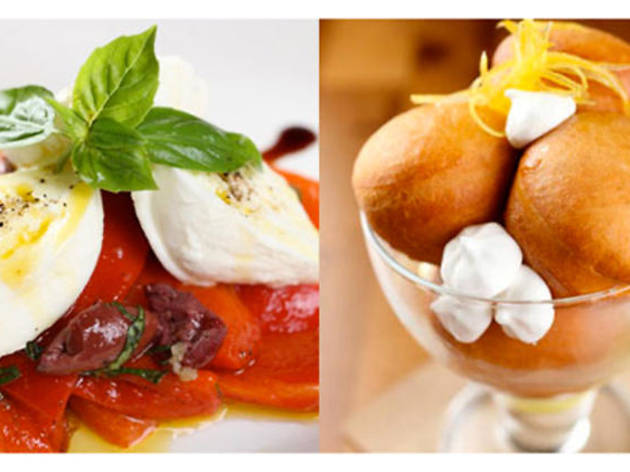 If you'd like to give your well-behaved littles a taste of fine dining (without the ultra hefty price tag), here's your opportunity: Restaurant Week offers prix fixe $25 and $38 three-course lunch and dinner options from Jan 18–Feb 5, 2016! While not all Restaurant Week picks are appropriate for kids, we found a few the whole family will love.
Casa Nonna (Italian, Midtown West)
During lunchtime, feast on housemade sausage (Salciccia E Uova) with polenta and parmeson fonduetta, a pile of Spaghetti Pomodoro with tomato, basil and parm plus a dessert of Tiramasu (though you may want to avoid giving super little ones any caffeine) for $25 per person. Click here to see the full menu or book a table.
Miss Lily's 7A (Caribbean, East Village)
If the kids love a flavorful meal, head to dinner at Miss Lily's ($38 prix fixe). Start with Jerk Spare Ribs (slow-roasted pork ribs char grilled with jerk sauce), Brown Stew Chicken (chicken thighs steamed with jasmine rice) and top it off with a pile of banana or sticky toffee pudding with caramel sauce. Click here to see the full menu or book a table.
All'onda (Italian, Union Square)
The kids are sure to love this amazing Venetian cuisine! Stop by for lunch during restaurant week ($25 prix fixe), and start with Tonkotsu ramen or Parmesan Dashi Ramen. After, grab a hearty Italian Combo or Veal Meatball Hero with tomato and mozzarella, and finish up with some chocolate mousse or classic gelato. Click here to see the full menu or book a table.
Carol's Café (Eclectic, Dongan Hills)
Stop by for Carol's Café's prix fixe lunch ($25)—kiddos can start with the Italian sausage-stuffed mushrooms, then move on to creamy Shells Alfredo with petit peas and lemon zest or Pork & Ricotta meatballs. End with a hunk of crumb cake, chocolate fudge cake or tiramisu. Click here to see the full menu or book a table.
Molyvos (Greek, Midtown West)
If your kiddos dig a good souvlaki, you've gotta visit Molyvos for their prix fixe ($25) restaurant week special. You'll probably end up eating your kid's entrée (lentil soup, saganaki and winter salad), but you won't be able to pry the Grilled Chicken Souvlaki entrée from their little fingers. Finish up with a warm chocolate baklava or Molyvos Sundae with caramel and baklava ice cream. Click here to see a full menu or book a table.