The best things to do in Prospect Park
This green space provides much more than a walk in the park! Hit up the Prospect Park zoo, carousel, playground and more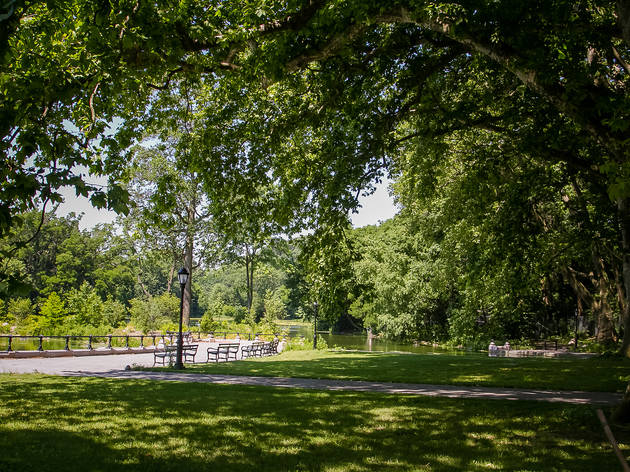 RECOMMENDED: Full guide to outdoor activities for kids in NYC
If Central Park has always been your family's go-to of the NYC parks, we suggest that you and the kids explore beyond the borders of Manhattan. Across the river lies Prospect Park, a sprawling expanse of green where the sky is unimpeded by skyscrapers. Aside from it's beauty, this place is packed with outdoor activities and plenty of family fun to keep your crew entertained all day long, whether visiting animals at the Prospect Park Zoo, getting in touch with nature at the Audubon Center or catching a concert at the Prospect Park Bandshell.
Things to do in Prospect Park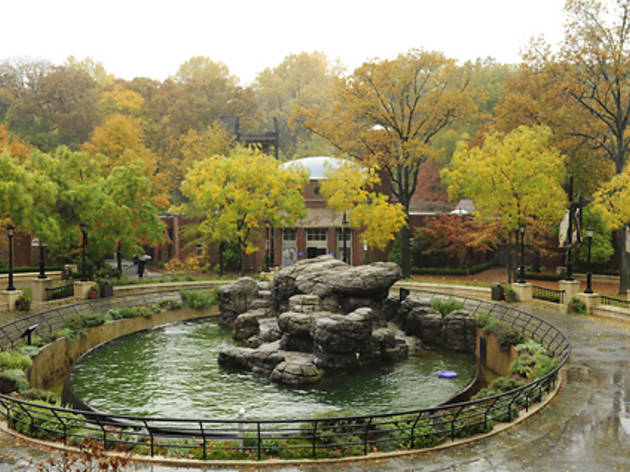 Attractions, Zoo and aquariums
At this interactive wildlife center, five major indoor exhibits keep visitors occupied year-round. Kids can walk along the Discovery Trail and come face-to-face with adorable North American river otters, red pandas and dingoes. In the Barn and Garden, kids can walk among alpacas and sheep; and in the Animal Lifestyles building, they'll trade grumpy faces with the nocturnal Pallas's cat and hoot and holler with the boisterous hamadryas baboons. The Hall of Animals allows aspiring zoologists to observe animals that adapt to their environment in diverse ways, including creatures that use their colors either to attract attention or deflect it. Have tots keep an eye out for the funny-to-watch meerkats and the big-eyed pygmy slow lorises. On warm days, you might also find a commotion at the sea lion court: the graceful swimmers like to entertain onlookers by diving, high-fiving their keepers and chowing down on fishy food (training sessions daily at 11:30am, 2pm and 4pm). $8, children 3–12 $5, under 3 free; open daily 10am4:30pm.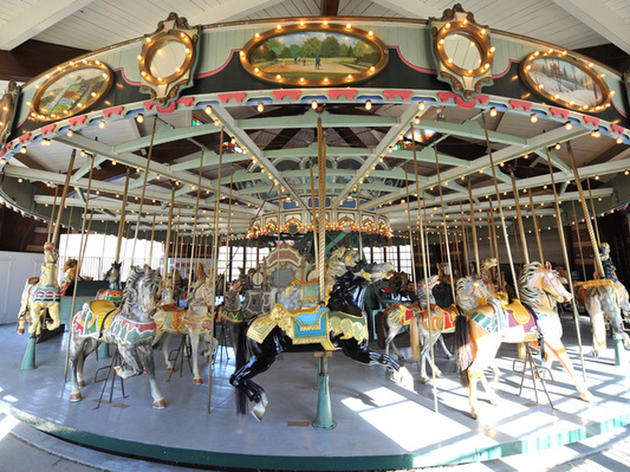 Attractions, Arcades and amusements
The Carousel in Prospect Park has been a popular attraction since 1952, and was first erected in Coney Island in 1915. Hand-carved three years earlier by renowned designer Charles Carmel, the ride is known for its expressive equestrian figures that seem to elegantly prance to the tunes of a Wurlitzer organ. By coincidence, Carmel drew inspiration from his many visits to the Prospect Park stables, which were located just a few blocks from his home. Among the 51 horses, the handsome Gray Ghost is a favorite. Brownie the lion, one of three menagerie animals, has many fans, too. Find them in the Children's Corner of the park, adjacent to Lefferts Historic House and the zoo. Visit the carousel in August and get free rides every Thursday. One ride $2, five rides $9; open 12–5pm daily.
Prospect Park Bandshell is to Brooklynites what Central Park SummerStage is to Manhattan residents—the place to hear great music in the great outdoors. The programming for the summer festival Celebrate Brooklyn! mirrors the borough's diversity: The music runs the gamut from folk to indie and, of course, kid-friendly fare. Even during ticketed events, you'll find countless families posted up on picnic blankets outside the enclosure, soaking in the gorgeous weather and enjoying the entertainment from afar. Be sure to attend the New York Philharmonic's free concert on June 19!
Attractions, Parks and gardens
A $74 million overhaul on 26 acres of the park's southeast corner resulted in tons of year-round fun for families. The LeFrak Center houses two huge, state-of-the-art rinks, one covered and one open-air, where kids can take hockey and skating lessons beside scenic Prospect Park Lake in winter months. The space doubles as a 16,000-square-foot roller-skating rink and water playground—complete with 41 sprinklers—in the spring and summer. There's also a boat dock and wading pools along the restored waterside. Hit up the lower-level Bluestone Café and Snack Bar when little tummies start to rumble and look out for special Toddler Tuesdays events.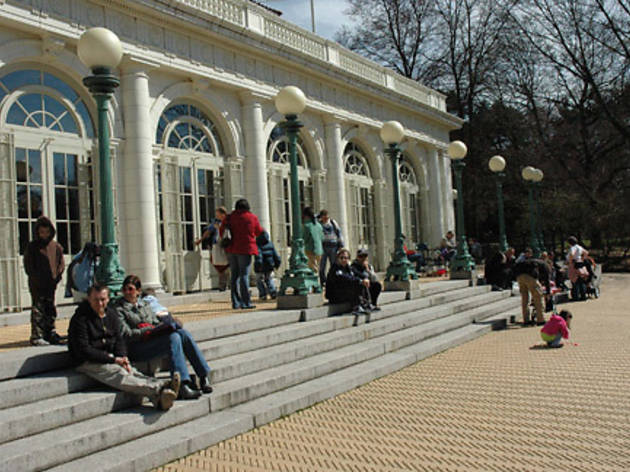 Attractions, Ships and boats
Located in Prospect Park's early-20th-century Boathouse, the Audubon Center is devoted to wildlife preservation and education and contains the park's visitor's center, a café and an exhibition area. Throughout the year, the nature haven mounts a slew of kids' programs. Don't miss out on nature exploration events including animal encounters, outdoor playtime, bird watching and Blooming Naturalist sessions. Youngsters can even pick up a Discovery Pack, filled with nature activities to tackle with the family. Pop-Up Audubon programs throughout the park invite kids to explore rotating themes like invertebrates and aquatic habitats through fishing clinics, adventure hikes. Enter at Lincoln Rd and Ocean Ave. Open Thurs through Fri 12–4pm, Sat and Sun 10am–1pm.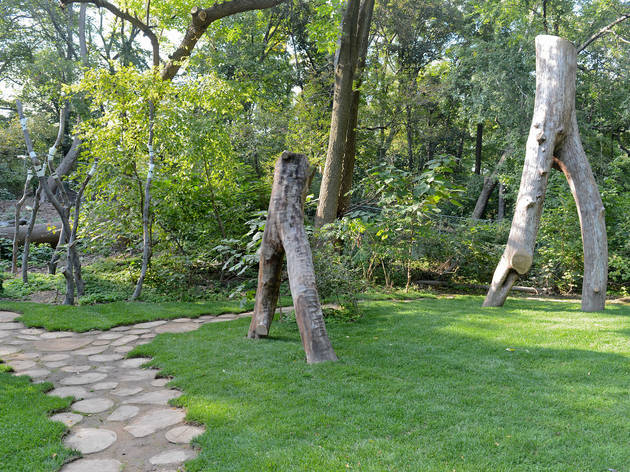 Photograph: Daniel Avila/NYC Parks
Zucker Natural Exploration Area
This ecologically friendly play space ditches typical jungle gyms, instead repurposing trees that have fallen during storms (many during Hurricane Sandy) into a natural, grassy playground for families. Situated in the northeast corner of Prospect Park, the trees and other recycled materials provide plenty for kids to climb on and are flanked by sand and water for an immersive natural habitat.
Attractions, Historic buildings and sites
Glimpse 19th-century NYC at this preserved Dutch farmhouse, depicting Brooklyn family life in the 1820s to the present. Throughout the month of June, kids can take part in a History In Your Hands workshop (Saturdays and Sundays, 2–4pm), where they'll use farm tools to process flax into linen. Mark your calendars for Historic Games days, when families can hop in a potato sack race and other old-timey games in the yard and Fun on the Farm, when families can pitch in on gardening and other hands-on tasks. Visits to the second floor of the historic house are also available through tours that run every half hour on weekends. Enter park at Flatbush Ave and Empire Blvd. $3 suggested donation; open Thurs through Sun 12–5pm, closed in January.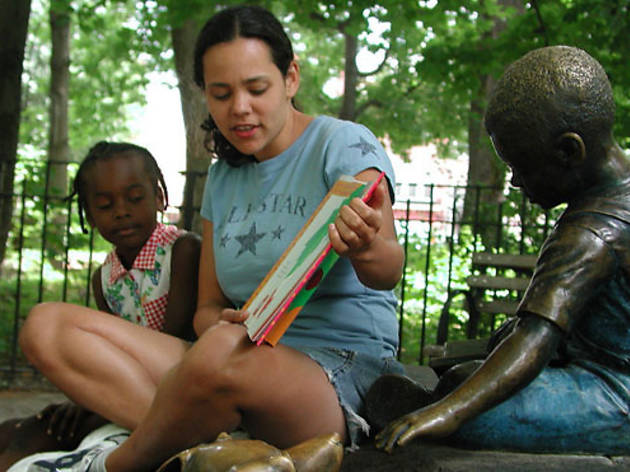 The name of this spacious playground refers not to the blue-block-filled kind of imagination but rather that of tall tales and storytelling. A bronze sculpture of a dragon that seems to pop right out of a book is the park's main water feature (water flows along the dragon's back). And in 1997 the Ezra Jack Keats Foundation commissioned a sculpture of Keats's beloved character Peter and the boy's dog Willy, a fixture that's now a popular spot for organized storytimes (Saturdays 2–3pm in July and Aug). There's also the Garfield Tot Lot, which features appropriately tiny equipment meant for the littlest climbers, as well as Harmony Playground near the bandshell.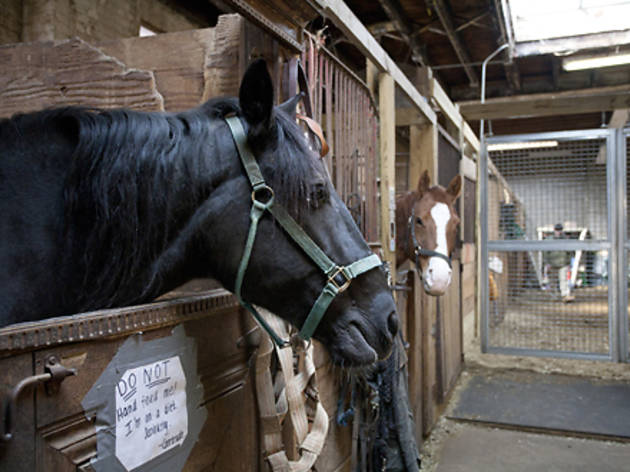 Photograph: Virginia Rollison
Located just a few blocks west of Prospect Park's southern corner, Kensington Stables houses friendly horses, safe for even the littlest of riders. Take a free tour of the stables and meet the horses, then get a one-hour lesson for the kids—ages 11 and up runs $37, while kids ages 6–11 require a handler to accompany them for $57. On a guided tour through Prospect Park, young riders will amble past landmarks like the Nethermead Arches along 3.5 miles of trails. Got a summer birthday? The Kensington Stable ponies are always on call for your child's birthday bash. Open daily 10am–sunset.