Heads up! We're working hard to be accurate – but these are unusual times, so please always check before heading out.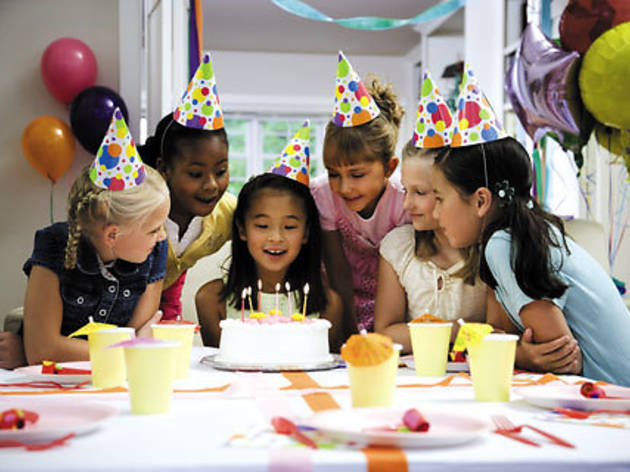 Venues
Your site selection will influence your choice of food and decor. Read on for sanity-saving ideas...wherever the party takes you.
RESTAURANT PARTY ROOMS
Inquire at your tot's favorite eatery about reserving space. Some places simply charge by the head for food, while others charge a room fee but let you order la carte. Often you can choose to arrange for the cake, favors or an activity yourself, or pay extra for the restaurant to handle it. Below, some of our fave party parlors.
Habana Outpost Its outdoor courtyard, opening mid-April, contains colorful picnic tables. Basic package includes beef or veggie hot dog, soda or juice, coloring book, gift bag and two rides on the motorized Batmobile, for $10/head; crafts and custom cake available for extra fee. 757 Fulton St, Fort Greene, Brooklyn (718-858-9500, ecoeatery.com)
Cowgirl This dude ranch of kitsch has two private party lounges. Basic package includes chicken fingers or quesadillas with fries; milk, lemonade or juice; and cake and ice cream, for $13.50/head (ages one to five) or $16.50/head (six and up). Minimum may apply. 519 Hudson St (212-633-1133, cowgirlnyc.com)
The Moxie Spot Rent the smaller of two upstairs party rooms, with storytime or art projects, for $100/two hours for up to ten kids (food not included), or take over the entire second floor for $200/two hours for up to 30 kids; 3--5pm on weekends, 3:30--5:30pm weekdays. 81 Atlantic Ave, Cobble Hill, Brooklyn (718-923-9710, themoxiespot.com)
THE HOME FRONT
Space in NYC is, naturally, at a premium. The full-service party palaces that have been all the rage for the past couple of years are still around, but their rates are no longer so easy to swallow. So where can you host your fiesta more feasibly? If you're blessed with a sweet piece of real estate, the obvious answer is: at home. After all, it's free! If your building (or a friend's) has a community space or party room, give yourself a high-five and book it ASAP; some charge a reasonable usage fee.
PREP
Take extra time to get a diminutive domicile party-ready. "To be worry-free and enjoy your child's special day, establish party boundaries," cautions children's event planner Linda Kaye of Partymakers. "Use streamers or balloons to separate the space, close doors to unused rooms, and protect or remove anything of value." Kaye also suggests getting all hands on deck—relatives, friends or babysitters who can help in any way: "You'll miss out on all the great moments if you try to do everything yourself." If you're planning on bringing in an entertainer or conducting a group activity, planner Marla Mase of Party Poopers recommends putting away extraneous toys and other distractions.
FOOD
Beyond the ever-popular pizza, finger foods are your best bet—quesadilla slices, mini meatballs, quartered sandwiches of cream cheese and cucumber, banana and honey, and grilled cheese. Sararose Anderson of Citibabes suggests kebabs of chicken or fruit: "Eating things off a stick is fun for kids." Grocery stores can provide platters of feast-ready fare: Whole Foods (fruit, $50; crudites, $50); Fresh Direct (mini brioche sandwiches, $45; chicken tenders, $40; franks-in-a-blanket, $14/40 pieces). "Pick a time that's not mealtime, such as 2 to 4pm, so cake and snacks are enough," says Mase.
DECOR
Get started with a color theme. "Buy all your paper goods in two different colors, then alternate napkin and plate colors on the table to pull the room together," advises Danielle Bobish, owner of Curtain Up Events planning service. "If you can afford only one thing," notes Anderson, "go for balloons. Kids love them, and they do double duty as decor and something to take home. Get at least two dozen and let the strings hang down from the ceiling. You can also blow up a couple dozen non-helium ones and let them float about the floor." A piata makes a cute table centerpiece. Most average $9--$15 and come in a wide range of shapes. For budget decor sources click here.
EXTRAS
Unsuspecting party guests can help create the decor. Roll out white butcher paper or brown kraft paper on the tables and set out cups of crayons so kids can color in their own place mats or place cards. If there is a theme—fireman, mermaid, etc.—guests can become the decor by arriving in costume. And don't forget music. "Familiar songs liven things up," says Anderson. To make the birthday boy or girl feel really special, create badges with his or her photo for kids to wear (badge maker set, $13 at hearthsong.com), or hang a banner (more kraft paper) near the entrance on which guests can draw or write messages.
THE GREAT OUTDOORS
Weather permitting, you can party in a public park for free (or almost). City and state rec areas are full of ball fields, skate parks, esplanades, picnic areas and playgrounds. Plan some old-fashioned activities like relay races, red rover, Simon says and kite flying. Be sure to pick a location with restrooms, and to enlist enough adults to help keep an eye on the kids and organize games. For decor, Kaye suggests using soccer cones to outline your alfresco party space; Anderson recommends buying cheap blankets (like Ikea's bright Polarvide throw, $4) in the same color to lay down on the grass, set off with balloons.
CITY PARKS
New York City generally requires a permit for groups of 20 or more or if you plan to set up tables or equipment. Fees start at $25; contact the Department of Parks and Recreation (212-360-1311, nycgovparks.org). In addition to mainstays like Central Park and Prospect Park, consider some of these green acres, many of which are serviced by their own nonprofit conservancies:
* Battery Park City (212-267-9700, bpcparks.org)
* Brooklyn Bridge Park Dumbo. (718-802-0603, brooklynbridgepark.org)
* East River Park Below 12th St.
* Flushing Meadows--Corona Park Queens. (718-760-6565, fmcpconservancy.org)
* Randalls Island (212-830-7722, risf.org)
* Riverside Park UWS. (212-408-0209, riversideparkfund.org)
STATE PARKS
Permits and fees vary; visit nysparks.com for details.
* Empire--Fulton Ferry Dumbo, Brooklyn. $25 permit fee for up to 25 people; $75 for 26--50; $125 for 51--100. (718-858-4708)
* Hudson River Park (212-627-2020, hudsonriverpark.org)
* Riverbank State Park Riverside Dr at 145th St. $25 permit fee per picnic table. (212-694-3654)
* Roberto Clemente State Park Bronx. $55 permit fee for up to 50 people.
ALFRESCO NOSHING
Make a picnic lunch, or pick up one from your grocer's catering department. Fresh Direct supplies boxed lunches of sandwiches, organic carrots, yogurt squeezes and juice boxes for $6 each. You can also "order in" to the park from an adjacent pizza joint or sandwich shop. Some options:
* Central Park Nanoosh (2012 Broadway between 68th and 69th Sts; 212-362-7922, nanoosh.com), Artie's Deli (2290 Broadway at 83rd St; 212-579-5959, arties.com/)
* Tompkins Square Park Life Cafe (343 E 10th St; 212-477-8791, lifecafe.com), San Loco(151 Ave A; 212-982-5653, sanloco.com)
* Washington Square Park Spice (60 University Pl; 212-982-3758), Peanut Butter and Co. (240 Sullivan St; 212-677-3995, ilovepeanutbutter.com), Johnny Rockets (42 E 8th St; 212-253-8175, johnnyrockets.com)
MINI MUSEUM OUTINGS
Many temples of culture host soup-to-nuts gigs, but with a group of ten kids or less, you can fly under the radar and create your own adventures for a fraction of the price. This method works best when you can rope in other parents as chaperones or when the kids are old enough to keep their cool without one-on-one supervision. Small, single-topic museums are ideal, but simple events at larger museums can work too. End with a trip to a nearby eatery for a bite and a "Happy Birthday" serenade.
American Museum of Natural History/Hayden Planetarium
See stars with tickets to the planetarium's space show "Cosmic Collisions" ($18/head; includes museum admission). Or take in a nature flick at the IMAX theater ($14/head; includes museum admission). Afterward, stroll over to Shake Shack (366 Columbus Ave at 77th St) for burgers ($3.75--$6.50) and double-dip sundaes ($4.75).
NYC Fire Museum
Kids with a fire truck fetish can drool over engines and equipment housed in a 100-year-old firehouse. Douse their fires with a hot cocoa ($3.50) or a cookie ($2.50) from Jacques Torres chocolatier (350 Hudson St; 718-875-9772). $5, kids under 12 $1. 278 Spring St (212-691-1303, nycfiremuseum.org)
NYC Police Museum
Go behind bars in an authentic jail cell and view weapons and photos of notorious criminals. You can calm little nerves at Adrienne's Pizza Bar (54 Stone St; 212-248-3838, adriennespizzabar.com) with margherita pies ($11) and nutella chocolate cake or gelato ($6). $7, ages 6--18 $5, under 6 free. 100 Old Slip at East River (212-480-3100, nycpolicemuseum.org)
South Street Seaport Museum
The museum holds a multitude of maritime wonders, but the real draw is on the water, where you can climb aboard the restored 1911 four-masted merchant vessel Peking. Then visit Pier 17 for a dog at Nathan's Famous ($3.60). $10, ages 5--12 $5, under 5 free. 12 Fulton St (212-748-8786, southstreetseaportmuseum.org)