Winter break camps 2013 for New York City kids
From chess workshops to cooking classes, we've rounded up 10 great holiday camps to keep your kids busy over this year's winter break.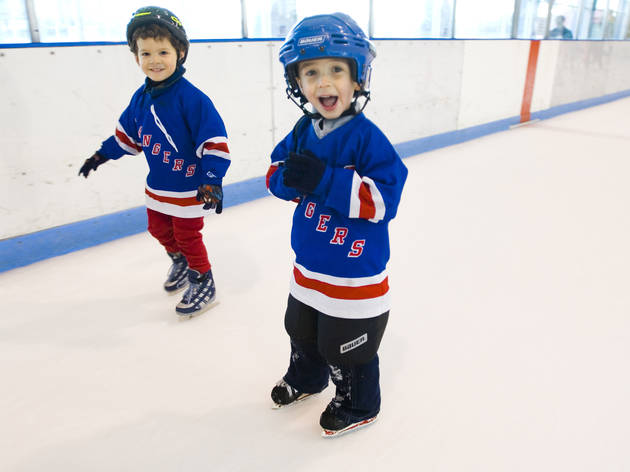 1/10
If your child wants to take part in winter sports, try the Holiday Hockey Mini-Camp at Chelsea Piers Whether you've got a kid with sights set on the Stanley Cup or a player-in-training working on being less wobbly, the team of coaches at the Sky Rink at Chelsea Piers are trained to give all levels an on-ice education. Each session includes four hours of practice (including the chance to step in front of the goal), with lunch halfway through so they can refuel and get back to the action. Chelsea Piers, W 23rd St at the Hudson River (212-336-6666, chelseapiers.com). Dec 23, Dec 26–30. $125 per day, $500 for six days. Ages 6 and up.
2/10
Photograph: Taste Buds Cook
If your child is into baking, try Taste Buds Kitchen's Food Network Favorites Camp Any kid who loves cooking shows can start on the path to television fame during this weeklong series over winter break. Each session will have children whipping up dishes inspired by Food Network shows (think Iron Chef, Cupcake Wars and 30-Minute Meals). Little chefs ages 4 to 8 get introduced to taste testing, mixing and kitchen safety while more advanced cooks ages 9 to 13 put their skills to the test during a cupcake bake-off. Taste Buds Kitchen, 109 W 27th St between Sixth and Seventh Aves (212-242-2248, tastebudskitchen.com). Dec 30–Jan 3 9am–noon and 1–4pm. $100 per day, $415 for five days. Ages 4 to 13.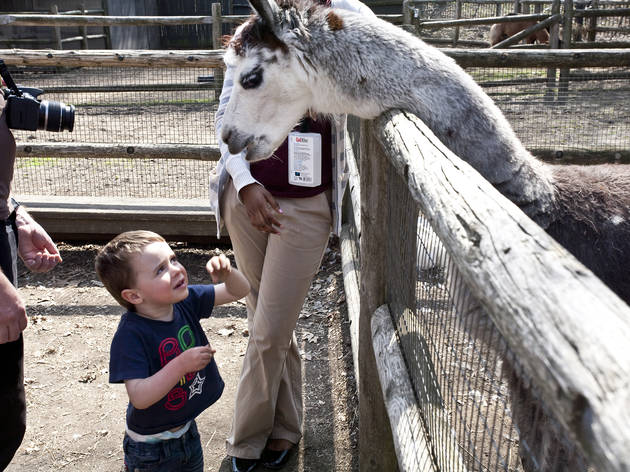 3/10
Photograph: Beth Levendis
If your child loves animals, try the Prospect Park Zoo Winter Mini-Camp Bundle up and discover what animals are up to when the temperature drops. Geared toward budding zoologists and standard zoo-goers alike this wild Brooklyn wintertime camp will have curious animal lovers getting an up-close look at the Prospect Park Zoo's inhabitants. Over the course of two days, kids will participate in craft activities and other hands-on projects and even interact with live critters guided by educators from the zoo. Prospect Park Zoo, 450 Flatbush Ave at Empire Blvd (718-339-7339, prospectparkzoo.com). Dec 30–31. $150 for two days. Ages 4 to 8.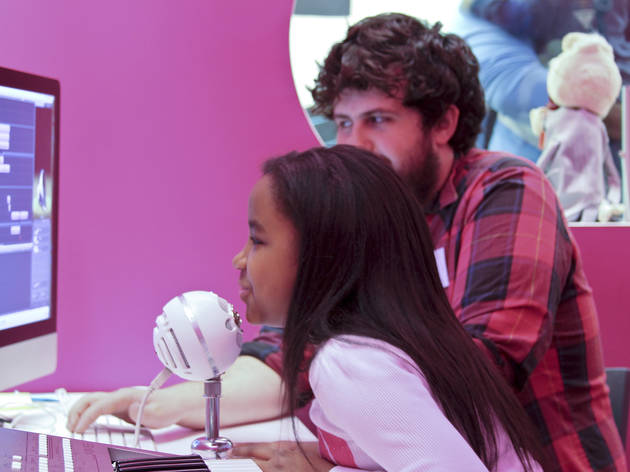 4/10
Photograph: Hannah Sawhney
If your child is a Wallace & Gromit fan, try CMA's Stop Motion Animation Package Instead of sitting at home, watching their favorite cartoons, kids can get off the coach and try their hand at animation with this three-part program. Little filmmakers will create a series of shorts inspired by the chilly weather; projects will then be uploaded do the CMA blog so they can bask in 15 minutes of artistic fame. The first day will focus on paper animation, while day two covers clay animation. The final session will be all about hand-drawn creations. Children's Museum of the Arts, 103 Charlton St between Greenwich and Hudson Sts (212-274-0986, cmany.org). Dec 23, Dec 26–27. $324 for three days. Ages 6 to 12.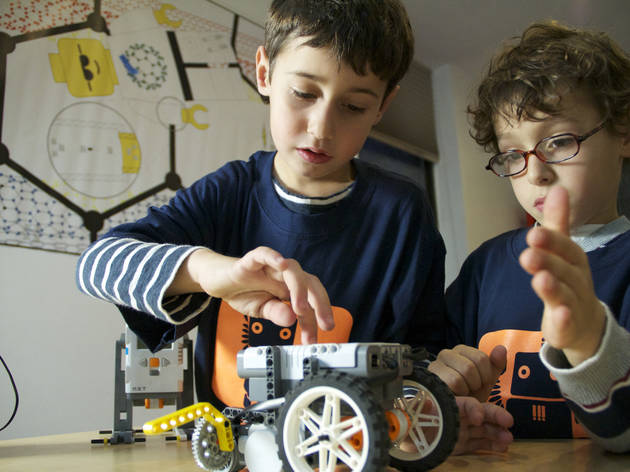 5/10
If your child is a tech guru, try RoboFun's Lego Robotics program For kids whose penchant for tech is no match for traditional holiday toys, Lego camps at Upper West Side gadget hub RoboFun are all about taking playtime to the next level. During a daylong session, computer-savvy minds work with motors, sensors, and special software to create projects like wing-flapping birds, chomping alligators, and whirling propeller planes. During the last class of the holiday break, parents can stop by to check out completed projects. RoboFun, 2672 Broadway between 101st and 102nd Sts (212-245-0444, robofun.org). Dec 23–24, Dec 26–27, Dec 30–31, Jan 2–3. $180 per day. Ages 6 to 9.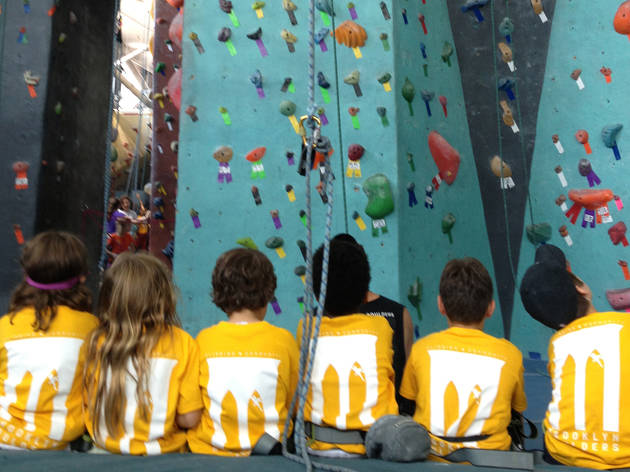 6/10
If your child wants to stay active, try Brooklyn Boulders' Winter Adventure Days Cooler weather may put outdoor activities on hold, but this camp brings rock climbing indoors for an experience that'll have kids scaling to new heights. With a 1:5 instructor-to-child ratio, climbers get individualized attention from experienced climbers as they top-rope, boulder, slackline and work in teams to make their way around a huge vertical playground. Each day, little arms and legs will get a break from the action with holiday arts and crafts like building festive gingerbread houses.Brooklyn Boulders, 575 DeGraw St between Third and Fourth Aves, Gowanus, Brooklyn (347-834-9066, brooklynboulders.com). Dec 23, 27 or 30. $109 per day. Ages 5 to 12.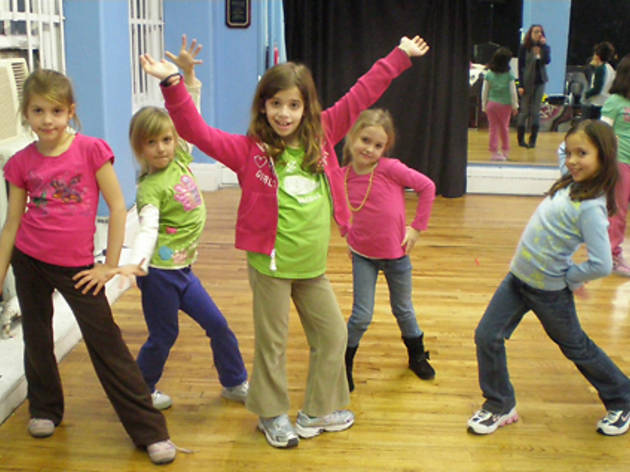 7/10
If your child is a ham, try TADA! Youth Theater's one-day camps Future Broadway babies get their time in the spotlight during these one-day theater programs that cover singing, dancing and acting. Lessons inspired by winter and the holidays help children discover what it takes to be a star through games, improve sketches, and dramatic acting, plus they'll get the chance to hone their vocal chords and learn new dance moves. At the end of each day, families can take a seat in the audience and see what their little thespians have been up to. TADA! Youth Theater, 15 W 28th between Fifth Ave and Broadway (212-252-1619, tadatheater.com). Dec 23, Dec 27. $110 per day. Ages 6 to 11.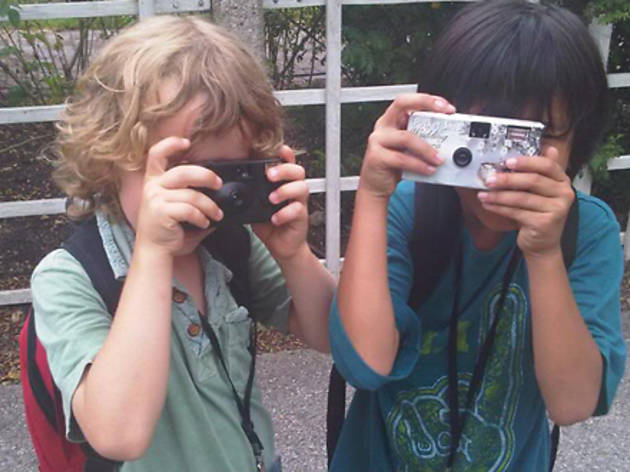 8/10
If your child enjoys sightseeing, try the Backpacks and Binoculars Camp at NY City Explorers Just because school is out, doesn't mean the field trips have to stop. For kids who are true city adventurers, this camp serves up a culture-packed good time. They'll spend the days exploring new museums and attractions—everything from the New York Aquarium to the  Museum of the City of New York. Each day brings a new outing, so there's absolutely no chance for kids to get bored. Various days and locations in December and January(backpacksandbinoculars.com). $125 per day, $495 per week. Ages 5 to 10.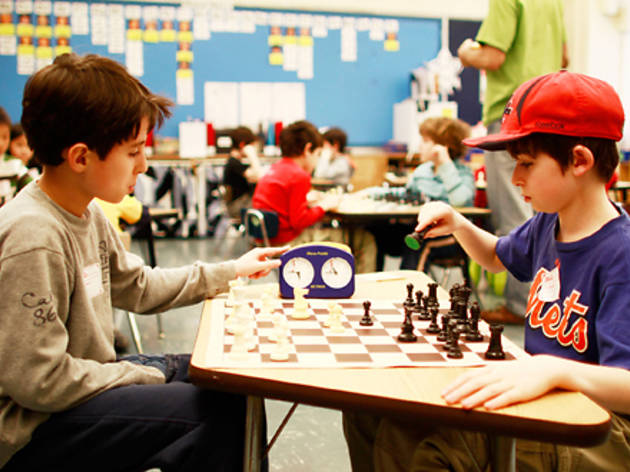 9/10
If your child is a strategic thinker, try a NYChessKids workshop Players of all levels will get better acquainted with that checkered game board as pros show them strategic moves, game-playing know-how and helpful tips for becoming a master competitor. When they're ready to put those skills to the test, open sessions let them battle it out against other players. NYChessKids, 191 Seventh Ave betwen 21st and 22nd Sts (212-414-4130, nychesskids.com). Dec 23–24, Dec 26–27. $85 per day, $320 per week. Ages 4 and up.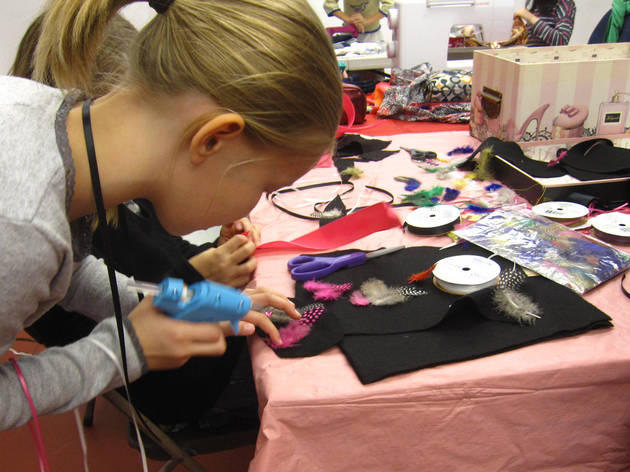 10/10
If your child never misses an episode of Project Runway, try the Fashion Class Holiday Break Mini-Camp For a kid growing up in New York City, fashion is everywhere. If roaming the stylish streets has them yearning to create runway-ready looks, this camp will provide the skills they need to work with patterns, sketch and sew custom looks. They'll also get the chance to meet designers and venture out of the studio to explore museum exhibits. Each session brings a fresh project and a new outing. Various locations in Manhattan and Brooklyn (646-329-6663, thefashionclass.com). Dec 23, Dec 27, Dec 30, Jan 2–3. $130 per day. Ages 6 to 12.
Winter break is almost here (this year, public school students have off from Saturday, December 21 through Wednesday, January 1) and the city is full of holiday mini-camp options. We've found a great program for your little one, whether you have a young fashion designer or a wanna-be chef on your hands. Scroll through our slide show to read more about these ten outstanding programs.

RECOMMENDED: All winter break activities for New York City kids