Winter break camps in New York
These winter break camps keep children busy-—and give you a break!—during this year's holiday recess.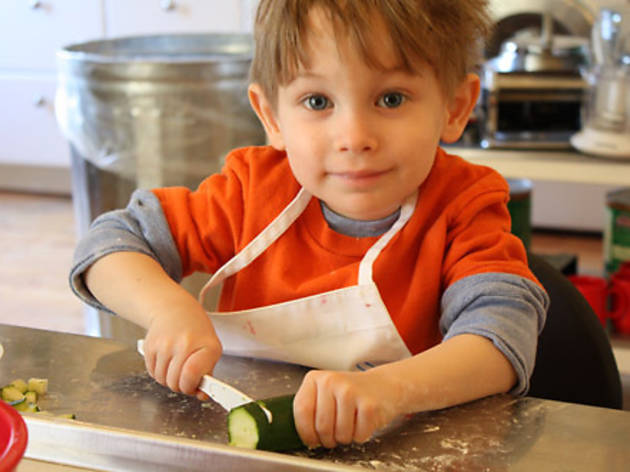 1/7
Photograph: Courtesy Taste Buds
Taste Buds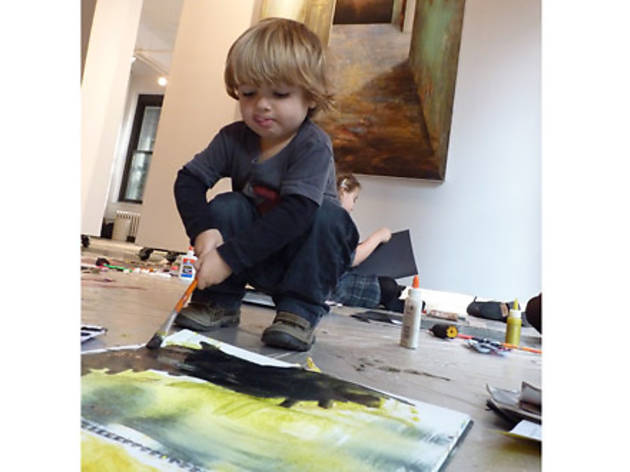 2/7
Photograph: Courtesy HiArt
HiArt!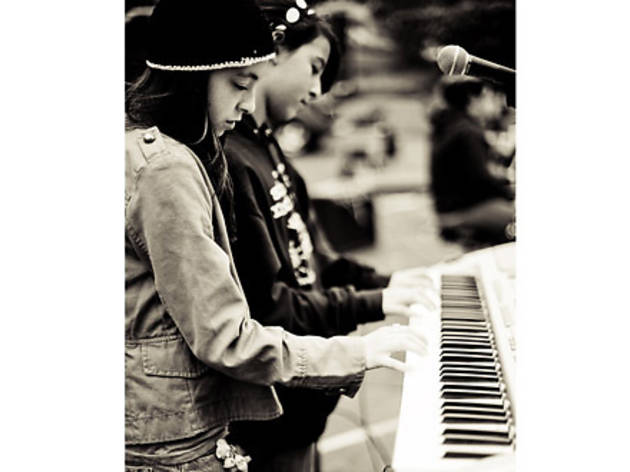 3/7
Photograph: Courtesy School of Rock
School of Rock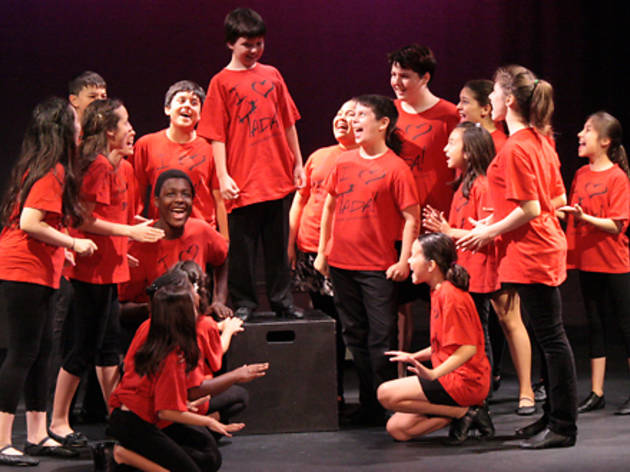 4/7
Photograph: Tada! Youth Theater
Tada!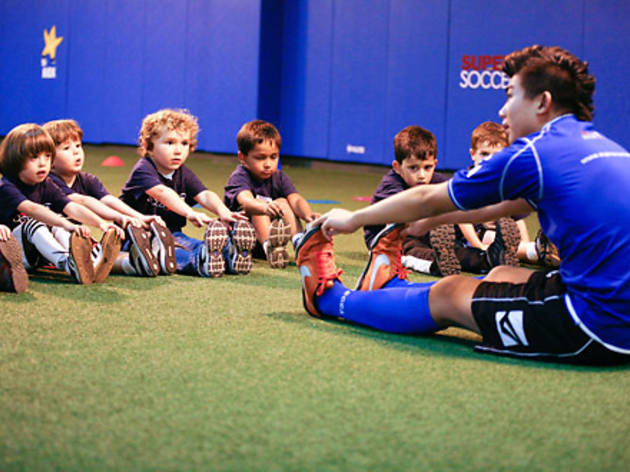 5/7
Photograph: Javier Agostinelli/ Super Soccer Stars
Super Soccer Stars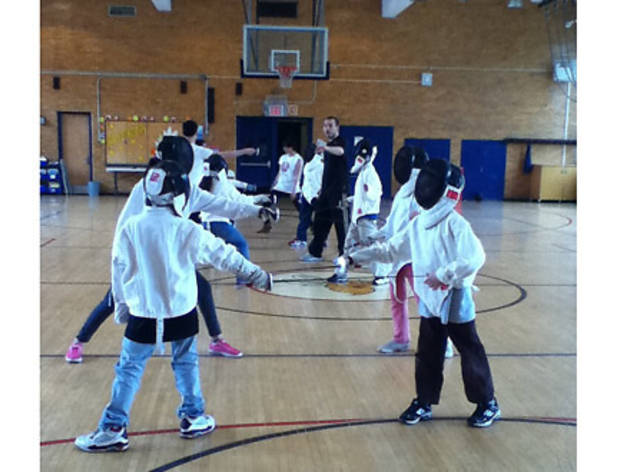 6/7
Photograph: Courtesy WorldPlay
World Play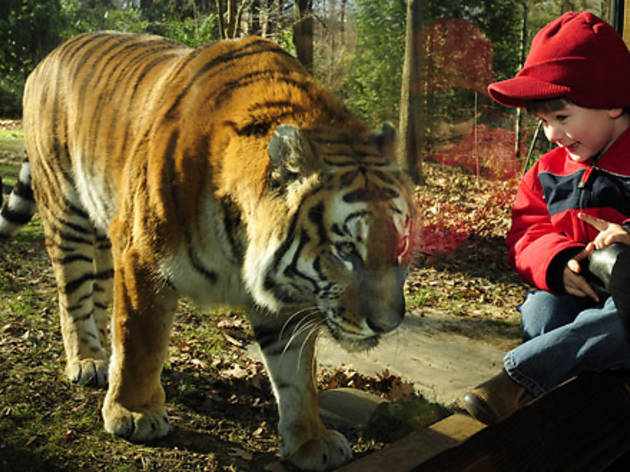 7/7
Photograph: Julie Larsen Maher WCS
Winter Wildlife Camp at the Bronx Zoo
By

Mary Squillace and Lindsey Garland
|
At these winter break camps, city kids can rock out, make art, take to the stage or learn to cook. Most off all, though, they'll have a blast during this year's holiday recess.
RECOMMENDED: ALL WINTER BREAK ACTIVITIES FOR KIDS
Art
CMA Winter Art Colony
At Fine Arts Studio, campers study famous artists and learn techniques of drawing and painting, printmaking and sculpture. When they've learned the fundamentals of each, they can pick their favorite medium to pursue an independent art project. At the Winter Animation camp, future filmmakers work together to produce a film medley using stop motion animation. The final product will be posted online on the CMA Blog so the young directors can show off their work to friends and family. Dec 26–28 9am–5pm. Children's Museum of the Arts, 103 Charlton St between Greenwich and Hudson Sts (212-274-0986, cmany.org). $400. Ages 6 to 12.
HIART! HOLIDAY ART CAMP
In each of these three winter sessions, kids explore a variety of art forms including manga drawing, sculpture, painting, paper-making, and bookmaking, each introduced by a teaching artist expert. Campers also go on gallery hops to view other artists' work. The half day for younger campers requires an adult companion, and the full day session includes free lunch. Dec 17—21, Dec 26–28, Jan 2–4 9:30am—noon (ages 3 to 5) or 9:30am–3pm (ages 5 to 15). 227 W 29th St between Seventh and Eighth Aves (212-209-1552, hiartkids.com). Full day $175 per day, $800 full week. Half day $95 per day, $450 full week. Ages 3 to 15.
SCHOOL OF ROCK WINTER CAMP
If your kid was born to rock—and has a basic grasp of chords and scales—she'll feel right at home in this weeklong program. The camp's Led Zeppelin theme gets kids familiar with classic rock as they learn to play Zep tunes like "Whole Lotta Love" and "Stairway to Heaven." Dec 26–29 10am–3pm. 630 Ninth Ave between 44th and 45th Sts, suite 602 (917-338-4939, schoolofrock.com). $400. Ages 9 and up.
TADA! MUSICAL THEATER CAMP
Your Broadway baby will work with teaching artists to study acting, singing and dancing. This year's themes include Winter Wonderland and Ring in the Year. Parents are invited to stop by during the last 20 minutes of the day to see what their little ones have learned. Dec 27, 28 9:30–5:30. TADA! Youth Theater, 15 W 28th St between Fifth Ave and Broadway (212-252-1619, tadatheater.com). $100 per day. Ages 6 to 10.
Cooking
CAMP CAN-I-COOK PRESENTS RING IN THE NEW YEAR
Each day of this festive cooking camp teaches young chefs a different party menu for their New Year's celebration. They'll whip up meatball party pockets and yummy dip for a kid-friendly bash, BBQ and cornbread for a casual get-together, and hors d'oeuvres and fondue for an elegant soiree. When they're not getting their hands dirty in the kitchen, campers will also learn about New Year's celebration customs, good-luck New Year's foods, and how to propose a proper toast. Dec 26–28 10am–1pm or 2–5pm. Young Chefs Academy, 108-10 72nd Ave between Austin St and Queens Blvd, second floor, Forest Hills, Queens (718-268-0343, youngchefsacademy.com/foresthills). $199 for three days, $75 per day. Ages 6 and up.
TASTE BUDS HOLIDAY COOKIE CAMP AND WARM & COZY CAMP
This culinary hot spot for kids offers two holiday camps. During the first week, young sugar fiends indulge their sweet tooths by making cookies. In the second week, pint-size cooks tackle classic comfort food dishes (mac and cheese and cinnamon buns). Dec 26–28, Jan 2–4 noon–3pm. 109 W 27th St at Sixth Ave (212-242-2248, tastebudscook.com). $240 for three days; $85 per day. Ages 4 to 10.
Culture
WORLD PLAY
This multicultural center whisks kids to a different country each day, teaching them about native customs, languages and foods. Depending on the nationality studied, children might practice karate, craft Egyptian-style pottery or try their hand at fencing. A field trip to a local cultural show is also included. Dec 24, 26, 27, 28, 31 8am–6pm. 7734 Austin St between 77th Rd and 78th Ave, Forest Hills, Queens (718-520-5444, world-play.org). $65 per day, $300 per week. Ages 5 to 12.
General Interest
A.C.T. HOLIDAY CAMP
At this neighborhood program, campers enjoy a new theme every day, including a Mardi Gras parade on Friday, for which kids are encouraged to come in costume. On "Winter Welcome" day, older kids bake apple pie and visit Central Park for ice-skating, while younger children climb a "glacier" rock wall and play Will snowboard and bobsled.Dec 24–31 (no camp on Dec 25), Jan 2–4 9:30am–4:30pm. 1047 Amsterdam Ave at 112th St (212-316-7530, actprograms.org). $40 per day, plus additional fees for materials and field trips. Ages 5 to 13.
CENTRAL QUEENS YMCA WINTER BREAK PROGRAM
In addition to taking advantage of the Y's regular "swim and gym time," kids have their pick of small-group activities like cooking and clay workshops. Campers frequently venture off-site on field trips. Dec 24, 26–28, 31 9am–5pm. 67-09 108th St between 67th Ave and 67th Rd, Forest Hills, Queens (718-268-5011, ext 203; cqyjcc.org). $60 per day. Ages 5 to 12.
NEW YORK CITY EXPLORERS: BACKPACKS AND BINOCULARS
Explore is definitely the operative word at this camp, where kids venture to cultural institutions around the city each day. Destinations include the Hayden Planetarium, the American Folk Art Museum and the Prospect Park Audobon Society. Dec 26–28, 31, Jan 2, 3, 4 8am–3:30pm. Call for drop-off schedule (718-797-3707, backpacksandbinoculars.com). $100 per day, $495 per week. Ages 5 to 10.
Nature
THE ART FARM IN THE CITY
Campers cozy up to a number of creatures at this urban animal kingdom—think bunnies and guinea pigs—while also participating in art projects, cooking activities and games.Dec 17–21, Dec 27, 28 9:30am–12:30pm (ages 3 to 4) or 9:30am–3:30pm (ages 5 to 8). Art Farm in the City, 419 E 91st St between First and York Aves (212-410-3117, theartfarms.org). $65–$75 per day (ages 3 to 4); $90–$125 per day (ages 5 to 8). Ages 3 to 8.
WINTER WILDLIFE CAMP AT THE BRONX ZOO
Pint-size animal lovers visit, observe and learn about cold-weather critters (red pandas and Siberian tigers) at the legendary Bronx spot's two-day experience. Younger children also get to see a performance from the zoo's own puppet players, while older campers engage in adventurous activities that teach them about different habitats. Dec 27, 28 10:30am–3:30pm. Bronx Zoo, 2300 Southern Blvd at Fordham Rd, Bronx (718-220-5100, wcs.org). $140. Ages 5 to 12.
Sports
AVIATOR SPORTS
Campers ice-skate on the center's two rinks, scale Aviator Rock (a 35-foot climbing wall), practice gymnastics, and hit the basketball court and artificial turf for other indoor winter sports. Dec 26–28, Dec 31 9am–4pm. Aviator Sports, Floyd Bennett Field, 3159 Flatbush Ave at the Belt Pkwy, Sheepshead Bay, Brooklyn (aviatorsports.com, 718-758-7500). $88 per day, $320 for all five days. Ages 3 to 15.
SUPER SOCCER STARS MINI CAMP AND KICK IT! CAMP
Hope Solo wanna-bes work with coaches to hone their soccer skills. Little ones (ages 2 to 5) participate in soccer-themed games, as well as daily arts-and-crafts sessions at the camp. Older kids (6 to 12) get four hours of soccer-technique instruction each day.Dec 26–28, Dec 29–31 9:30am–noon (ages 2 to 5) or 9:30am–1pm (ages 6 to 12). Various locations in Manhattan, Brooklyn and New Jersey (212-877-7171, supersoccerstars.com). Three-day session: $149–$210; five-day session: $300–$350. Ages 2 to 12.