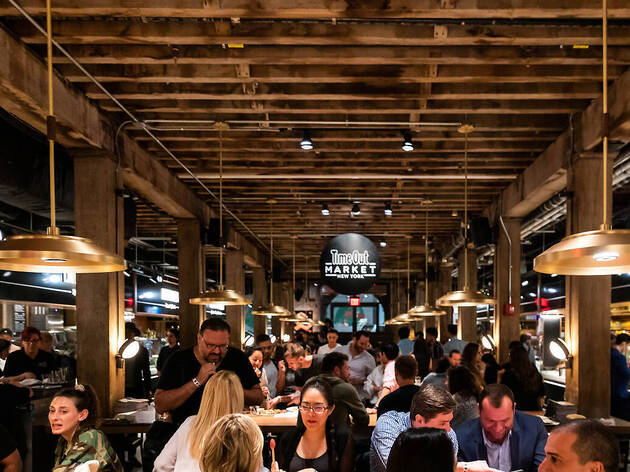 Your guide to kid-friendly dishes at Time Out Market New York
Visiting our new waterfront destination with pint-sized foodies? Here are the vendors you need to hit!
UPDATE: Events, venues, shops and restaurants in NYC have been cancelled or closed due to coronavirus. Some offerings here might be affected—if you're unsure, please call to confirm.
If you only have a New York minute to spare, let Time Out help you discover the best of the city. We promise it's easier than ever. May 31 at 8am marks the grand opening of Time Out Market New York, where hungry visitors—big and lil'—can indulge in the city's tastiest dishes in one location.
"Our Time Out editors have carefully selected the city's most outstanding chefs, mixologists and local talent and now we bring this curated mix together in one unique space," says Time Out Market CEO Didier Souillat.
The 21,000 square-foot-eatery and cultural center lies in the heart of Dumbo at 55 Water St, amidst the Brooklyn waterfront. If you're traveling with your tiny foodies in tow, here's a guide to kid-approved dishes from a handful of our vendors. From hearty breakfast dishes at Clinton St. Baking Co to a margherita pizza at Juliana's and mac and cheese from Jacob's Pickles, we've got you covered.
Learn more about the Market at timeout.com.
Kid-friendly dishes at Time Out Market New York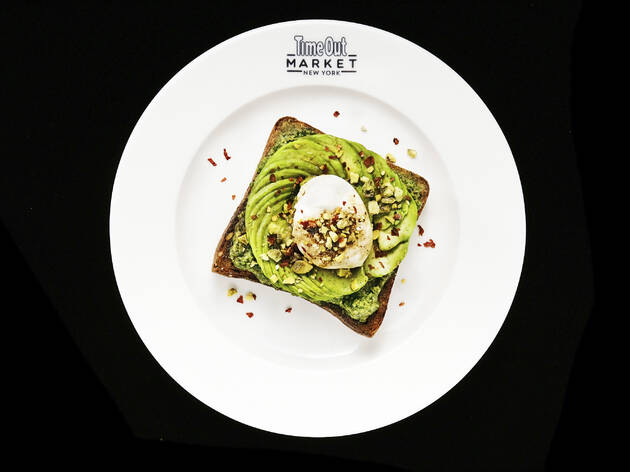 Photograph: Courtesy Tatsuro Nishimura
Chill Out ($7.95)
*ask for no chili oil, flake or black pepper
Multigrain bread, avocado mash, chili oil, lime citronette, chili flakes, hemp seeds, black pepper, lime wedge
Guac & Chips ($7.95)
Avocado mash, pico de gallo, cilantro, lime served with tortilla chips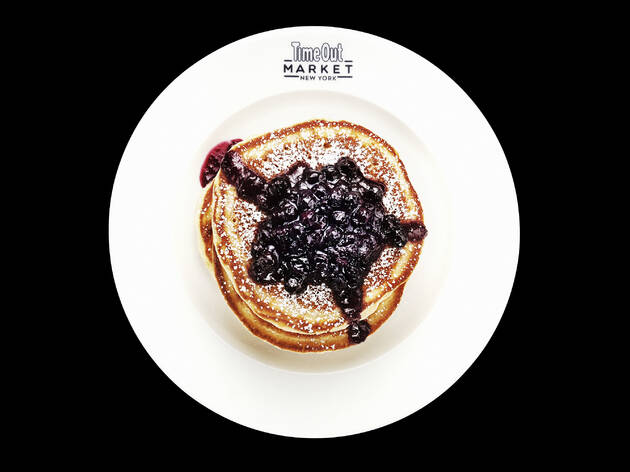 Photograph: Courtesy Tatsuro Nishimura
Clinton St Baking Company & Restaurant
Country Breakfast ($16)
Two cage-free eggs any style, maple cured ham, hash browns and a buttermilk biscuit
Pancakes with Warm Maple Butter ($15)
Wild Maine blueberry, banana walnut or chocolate chunk
Buttermilk Waffle ($16)
Crispy vanilla Belgian waffle, seasonal toppings, warm maple butter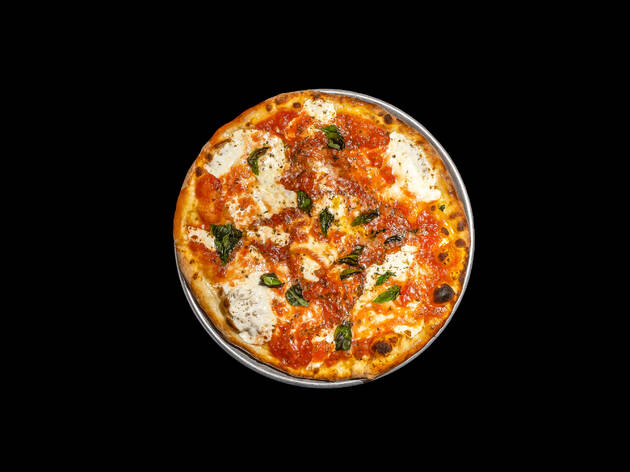 Photograph: Courtesy Noah Fecks
Meatballs ($14)
Housemade meatballs with tomato sauce
Margherita Pizza ($12–$20)
Tomato, mozzarella and basil
White Pizza ($11–$19)
Mozzarella and garlic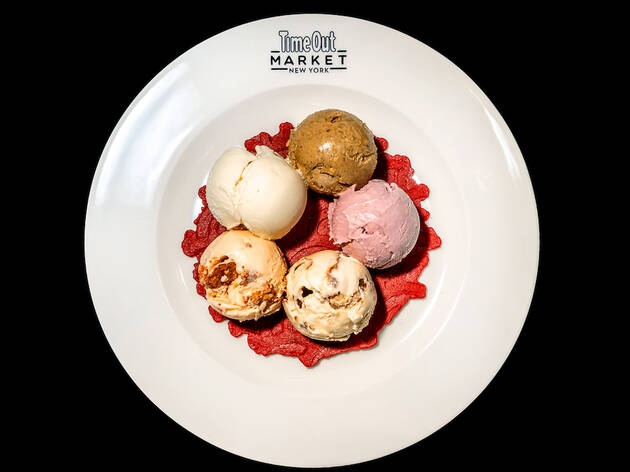 Photograph: Courtesy Noah Fecks
Ice & Vice Craft Ice Cream
Sampler Sets ($12)
Five mini scoops of different flavors
After School Sandwich ($6)
Malted vanilla ice cream, Mexican chocolate brownies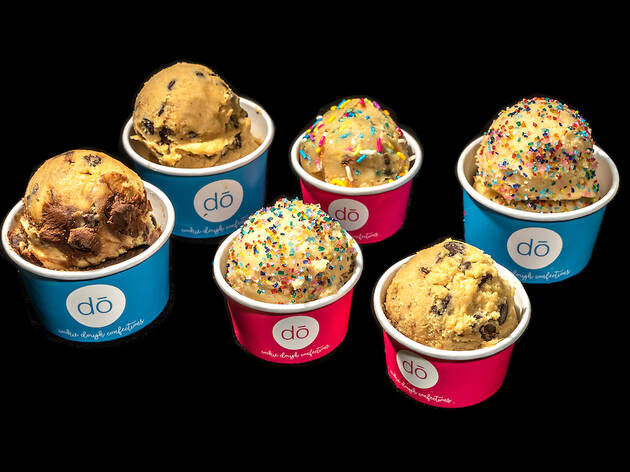 Photograph: Courtesy Noah Fecks
DŌ Cookie Dough Confections
Cookie Dough Scoops ($5–$8)
Chocolate chip, cake batter, sugar cookie, brookie dough, snickerdoodle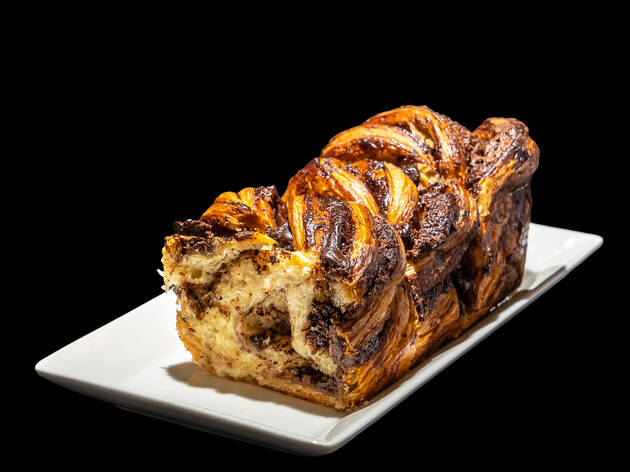 Photograph: Courtesy Noah Fecks
Chocolate Chip Cookies ($3.75)
Chocolate Babka ($14.95)
Pizza Bagel ($12)
Matbucha tomato sauce, gouda and black olives. Served with house marinated olives.
Strudel ($18)
Apple, poppy and seasonal flavors
Cheese Straw Bites ($11)
25 pieces served with two dips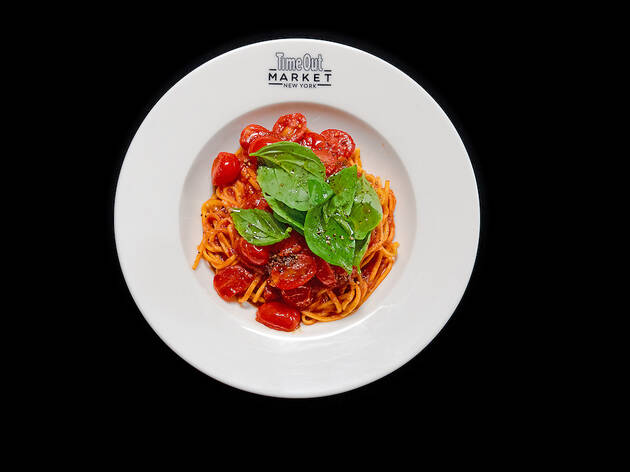 Photograph: Courtesy Gabi Porter
Spaghetti al Pomodoro e Basilico ($15)
Slow-cooked San Marzano tomatos, basil
Maccheroni Cacio e Pepe ($16)
Pecorino Romano, Parmigano-Reggiano, butter, freshly ground black pepper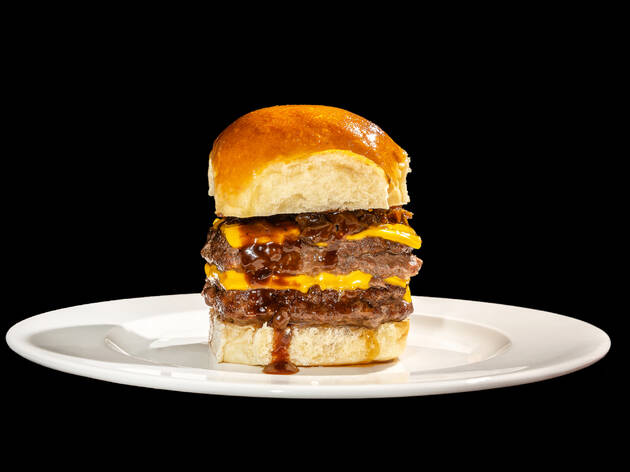 Photograph: Courtesy Noah Fecks
Pat LaFrieda Meat Purveyors
Sliders ($12)
LaFrieda blend mini burgers, American cheese, pickles
The World's Greatest Hot Dog ($7)
Caramelized onions, sweet and spicy peppers (or get without), honey mustard (not too spicy)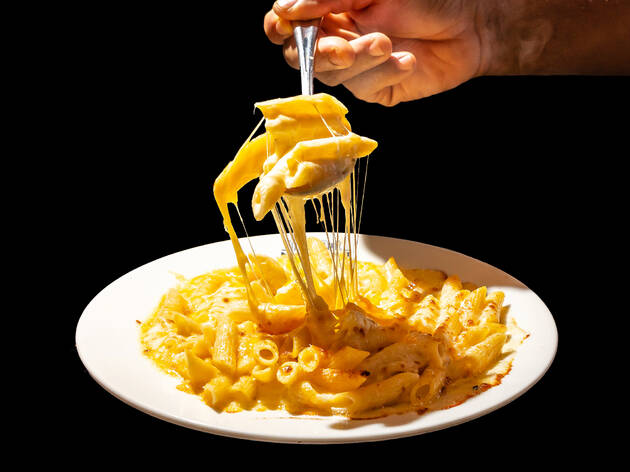 Photograph: Courtesy Noah Fecks
Jacob's Handmade Pickles ($4–$15)
Fried Pickles ($10)
Jacob's Famous Mac & Cheese ($12)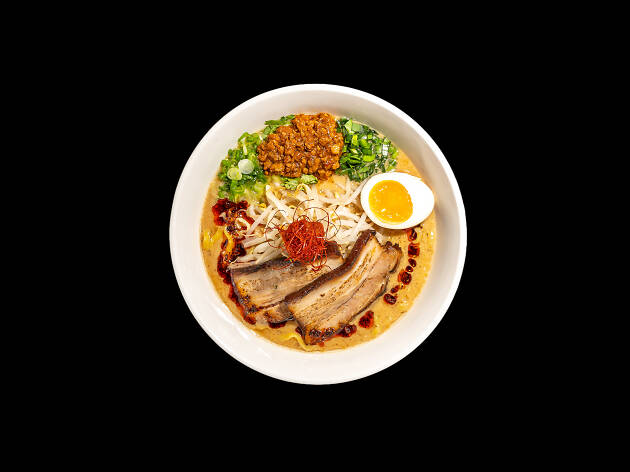 Photograph: Courtesy Noah Fecks
Yuzu Salt Edamame ($6)
Steamed whole edamame and yuzu salt
Fried Pork Gyoza ($8)
Fried dumplings filled with ground pork, cabbage and chives
Tonkotsu Ramen ($15)
Pork broth, thin noodles, sliced pork belly, scallion, bean sprouts, kikurage mushrooms, shredded red ginger, sesame seeds, black fried garlic oil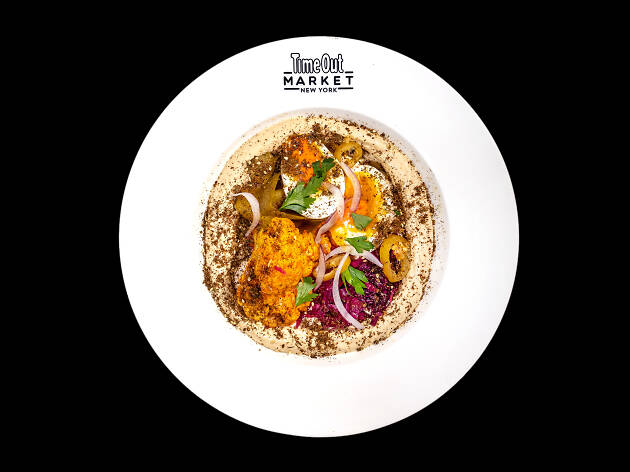 Photograph: Courtesy Noah Fecks
Classic Hummus ($10)
Pita and hummus (hummus, tahini schug or sweet potato, creme fraiche, smoked paprika)