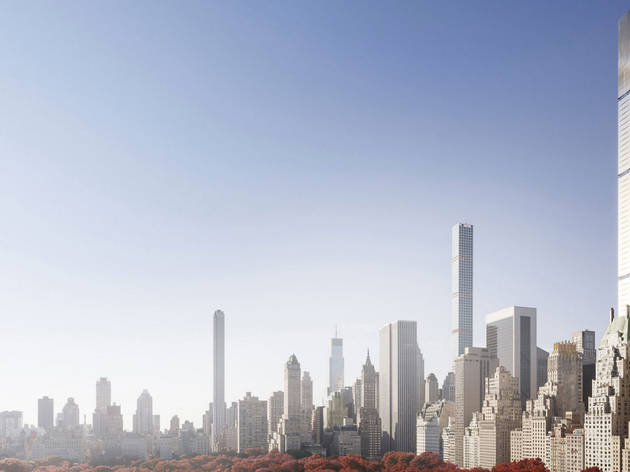 10 buildings that will change New York's skyline by 2021
Check out the super tall towers that will alter the look of New York City's skyline within five years
Since its very beginnings, New York City has been reaching for the sky. For much of its early history, the tallest structures here were church steeples and City Hall, but that all of changed in 1883, when the Brooklyn Bridge opened. By the turn of the 20th-century, the Flatiron Building and the Woolworth Building achieved new records for height until the Chrysler Building and Empire State Building set the gold standard for skyscrapers. Building tall is the defining feature of New York, and while the scale of construction has had ups and downs along with the economy, buildings have always grown higher and higher. In the past several years, the trend has accelerated almost beyond imagining with a pipeline full of super-tall towers. Many are super-luxury NYC apartments for the mega-rich, but even so, they will drastically alter the skyline by 2021. Here are 10 that should become some of the future's most prominent New York attractions.
Buildings that will change NYC's skyline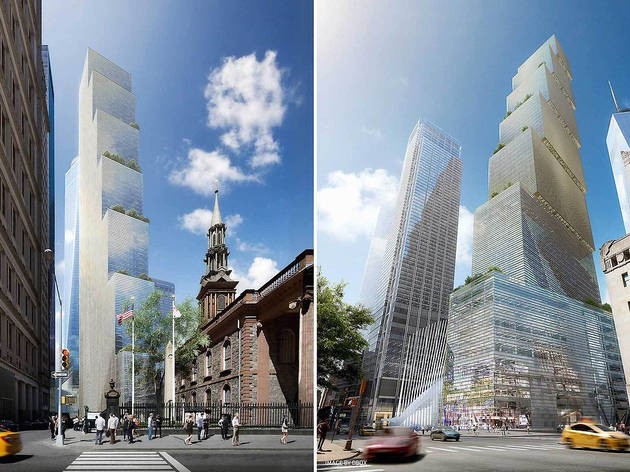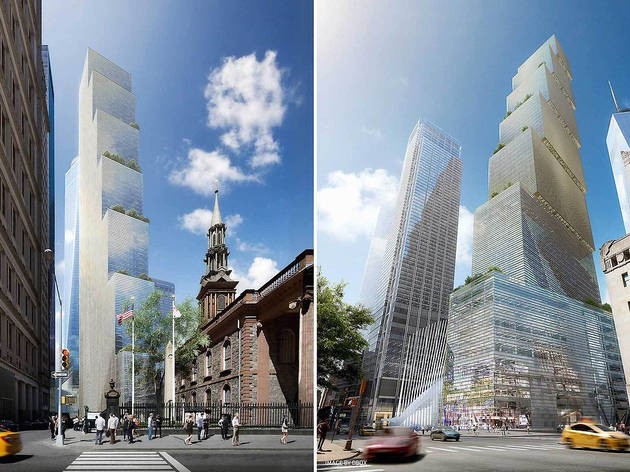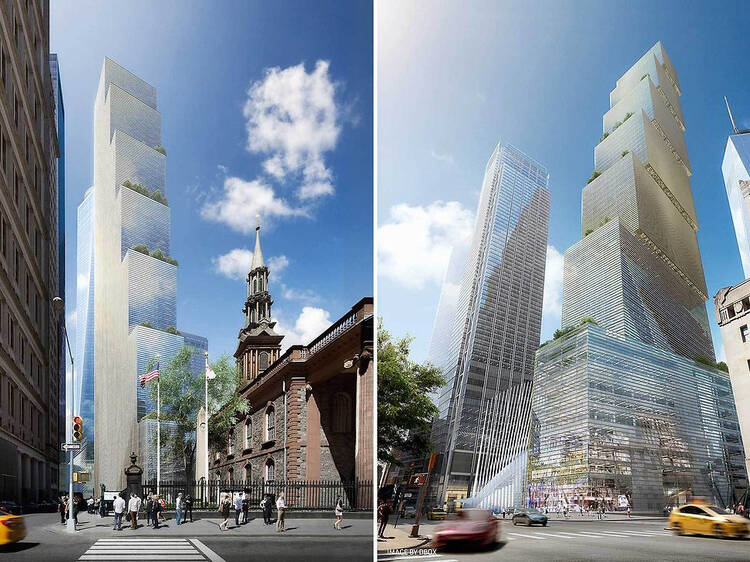 Photograph: Dbox
It's been a long slog rebuilding the World Trade Center since the devastating events of 9-11. Much of what's been built since then has already redefined the look of the city, but 2 World Trade Center will be final—and perhaps most interesting—piece of the master plan for the site. Designed for developer Larry Silverstein by Bjarke Ingels as an ascending set of boxes set slightly off-center, 2 World Trade Center will feature sky gardens among other amenities. Construction suffered a set-back when media giant New Corp backed out of a deal to be the principle tenant, but Silverstein has vowed to get it done.

Photograph: Dbox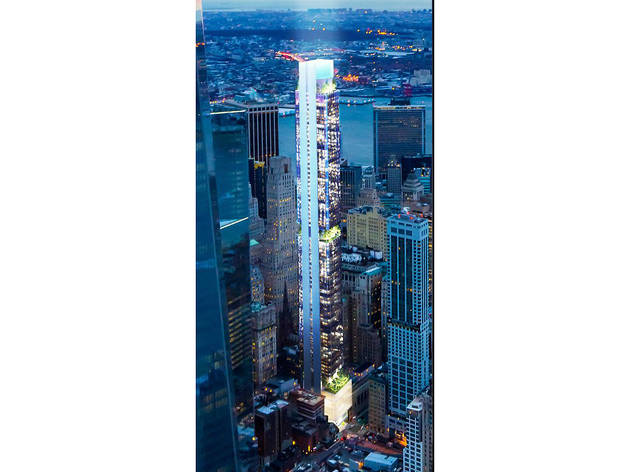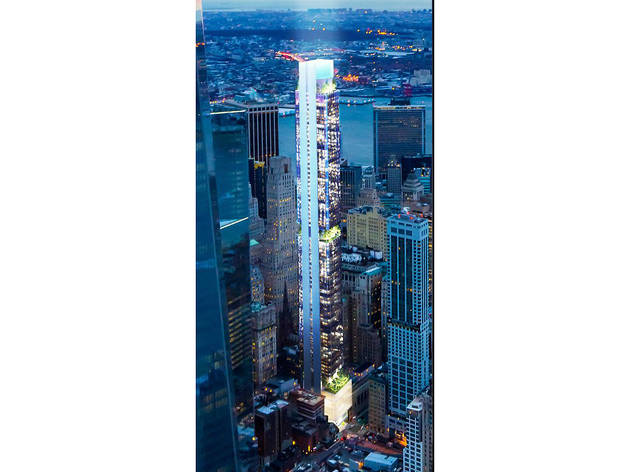 Photograph: Rafael Viñoly
Set just two blocks south of the WTC, this luxury residence is designed by Rafael Viñoly, whose 1,396-foot-tall 432 Park Avenue tower already lords over midtown. His 900-foot design for this FiDi address isn't quite so high and mighty, but at 88 storeys, it will be hard to miss.

Photograph: Rafael Viñoly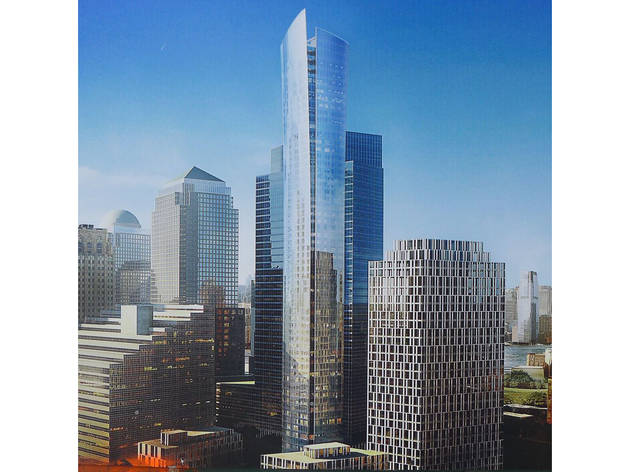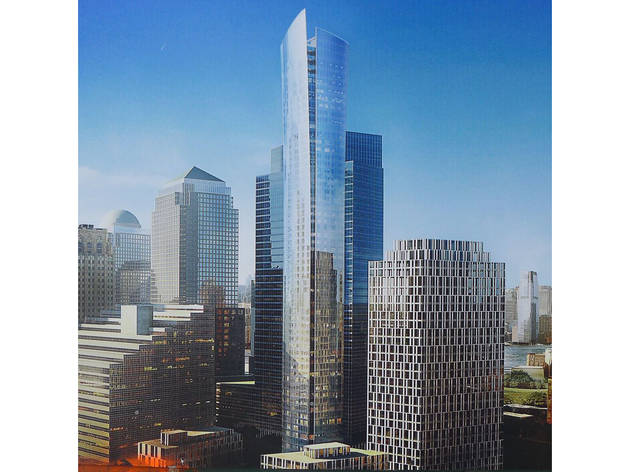 Photograph: Kohn Pedersen Fox
This Tribeca tower will undoubtedly stand out on the Lower Manhattan skyline thanks to an elegant, wrap-around glass configuration that curls skyward like a scroll set on end. The work of architects Kohn Pedersen Fox, the building features interiors created by uber-designer David Rockwell.

Photograph: Kohn Pedersen Fox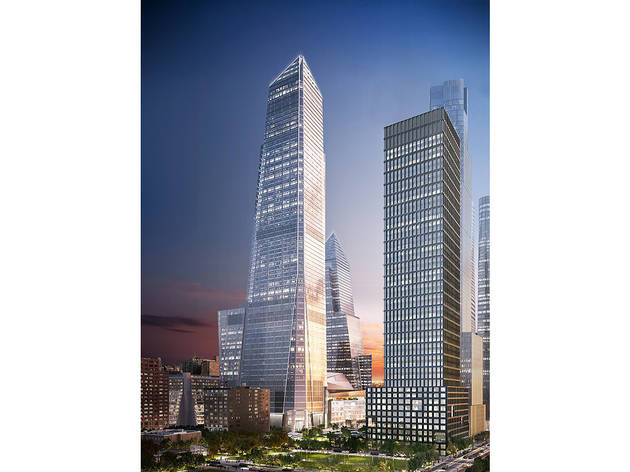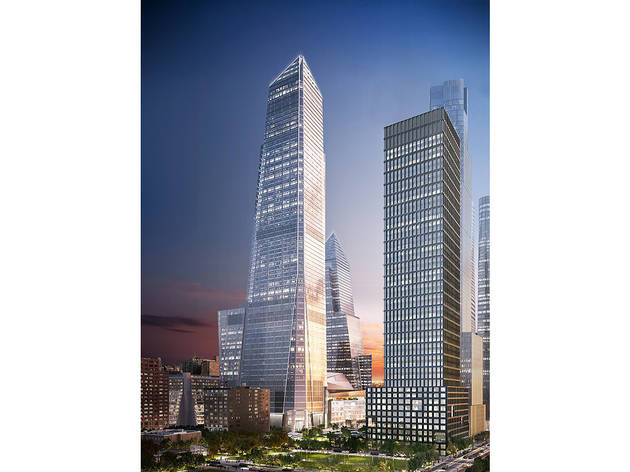 Photograph: Kohn Pedersen Fox
Probably the single largest and most important development underway, the Hudson Yards project is basically a city within a city extending the high-rise character of Midtown to the Far West Side. This crystalline office tower will be the largest, measuring in at 1,296 feet, which exceeds the height of the Empire State Building if you subtract the ESB's 200-foot spire. Like the ESB and WTC 1, 30 Hudson Yards will feature a sky-high observation deck.

Photograph: Kohn Pedersen Fox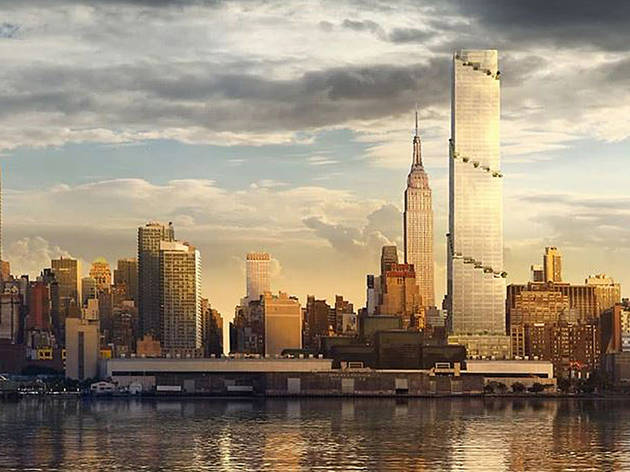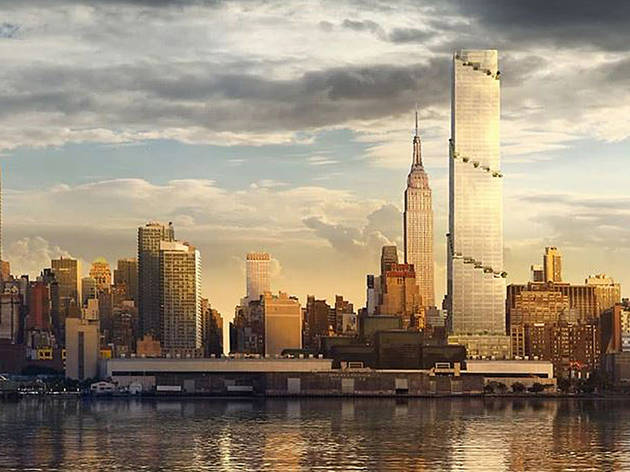 Photograph: Bjarke Ingels Group
Given the immensity of Hudson Yards' redevelopment, it's no surprise that the area around it is also attracting huge construction projects. Prime among them is this show-stopping ziggurat tower by 2 World Trade Center designer—and starchitect of the moment—Bjarke Ingels. Covering a full block along Tenth Avenue between West 34th and West 35th Streets, The Spiral gets its name from the necklace of landscaped terraces that wind up and around its sides.

Photograph: Bjarke Ingels Group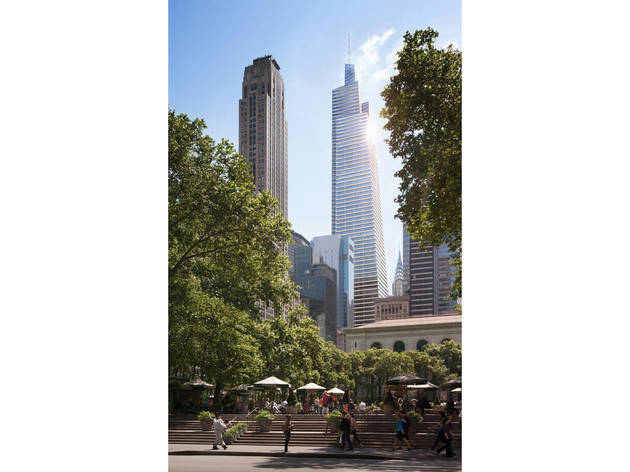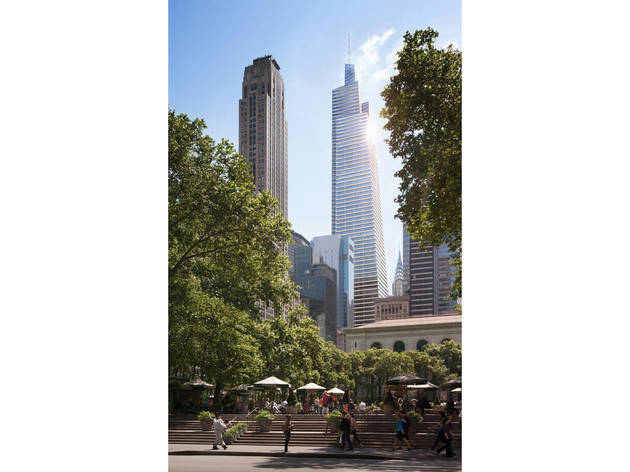 Photograph: SL Green
Compared to other parts of Manhattan, development in area right around Grand Central has been sleepy over the past 50 years. Though preservationists are already objecting, those doldrums will end thanks to a change in zoning laws that permit tall buildings like this one. With a roof height exceeding that of WTC 1 (minus it spire), One Vanderbilt will tower over the neighboring Chrysler Building and will be visible from all five boroughs.

Photograph: SL Green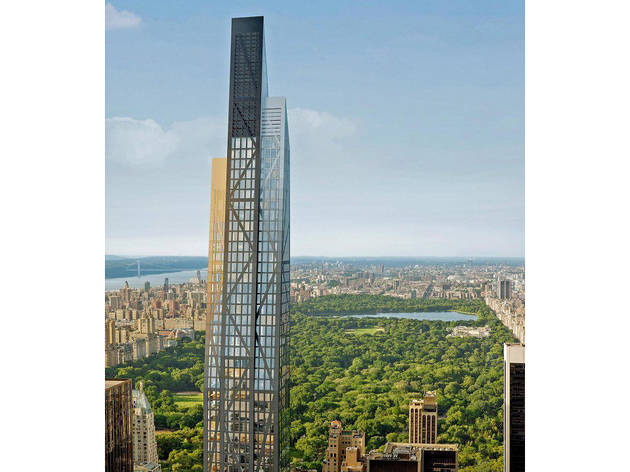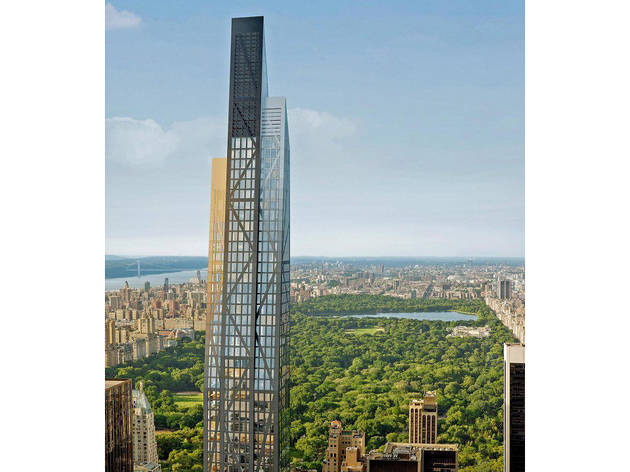 Photograph: Hayes Davidson
Designed by French starchitect Jean Nouvel, this 1,050 feet supertall tower is another luxury residence, but one distinguished by the fact that it will house an expansion of the Museum of Modern Art next door. The building would have been completed by now were it not for opposition from the community board which forced several hundred feet to be chopped from the original plans. Now underway, the building will still impress once it's finished.

Photograph: Hayes Davidson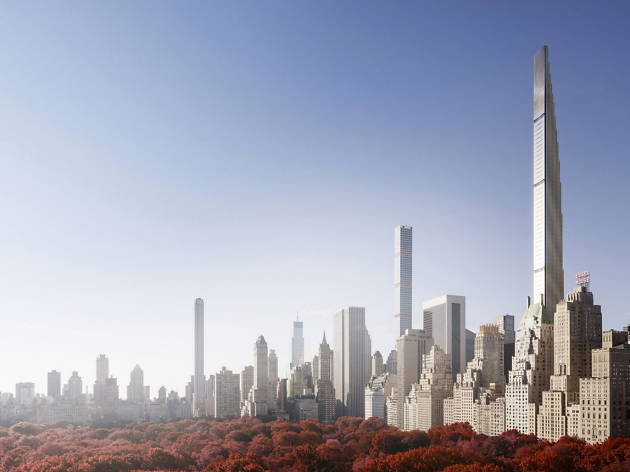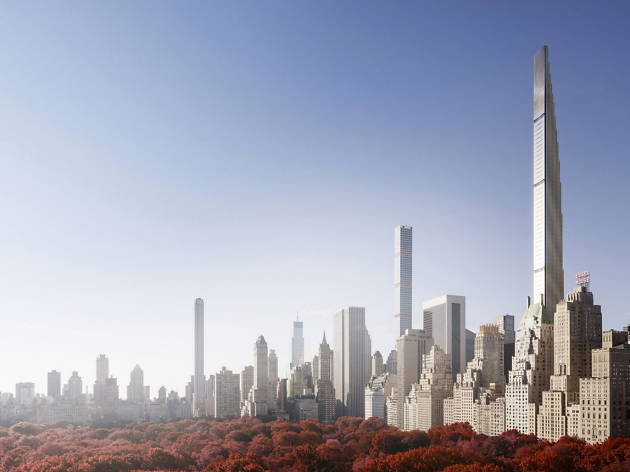 Photograph: Property Markets Group /JDS Development
This super-slim super-tall tower designed by ShoP architects (the same team behind Brooklyn's Barclays Center), rises above the old Steinway piano showroom building, which is being retained as the tower's entrance. Its shape is distinguished by a series of setbacks that narrow dramatically as they ascend, tapering to a point that makes it appear as if the building's crown is disappearing into thin air. In a nod to New York's Art Deco past, the facade will be clad in terra cotta and wrapped in ribbons of bronze.

Photograph: Property Markets Group/JDS Development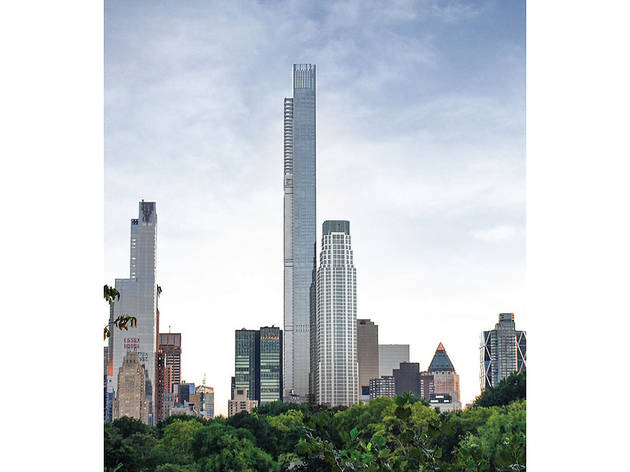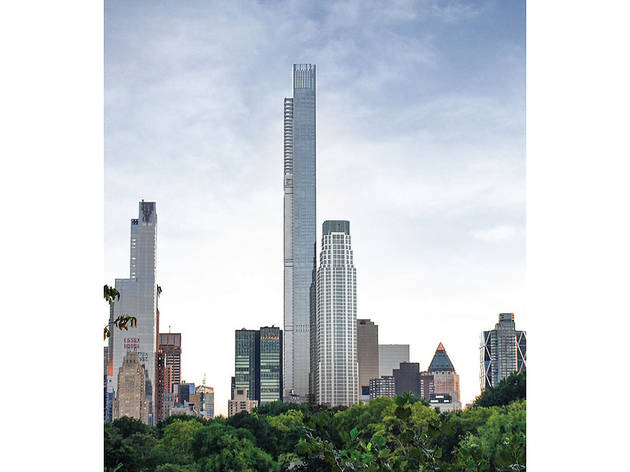 Also known as the Nordstrom Tower, this building will be the tallest along "billionaires row" lining 57th Street. But it was almost going to be the tallest building in the entire country—in fact, there's reason to think that might still be the case. As is, the Central Park Tower's roof height will reach 1,522 feet—taller than Chicago's Willis Tower, the current record-holder at 1,451 feet, and much taller than the WTC 1's 1,368 feet. The rub is the latter's spire, which brings its full height to 1,776 feet. There was some worry that with a spire, Central Park Tower could exceed WTC 1 in total height, but its most recent renderings have omitted the inclusion of one. So WTC seems safe for now.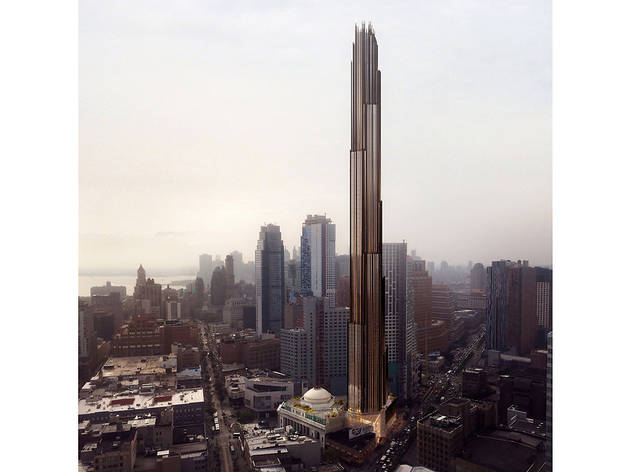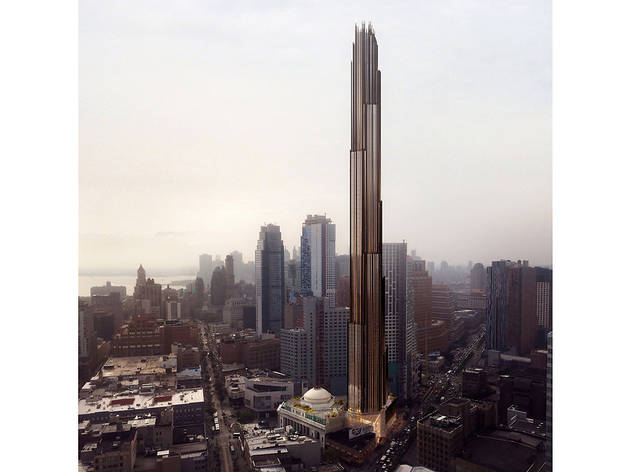 Photograph: SHoP Architects
Another SHoP design, this time for Brooklyn, 9 DeKalb Avenue will rise behind the 1906-vintage Dime Savings Bank just off Downtown Brooklyn's Fulton Mall. The latter, whose hexagonal floor plan will be echoed by the new building, will serve as a retail podium for its neighbor, which will rise more than 1,000 feet, making it New York's largest building outside of Manhattan.

Photograph: SHoP Architects
Check out more stunning NYC photos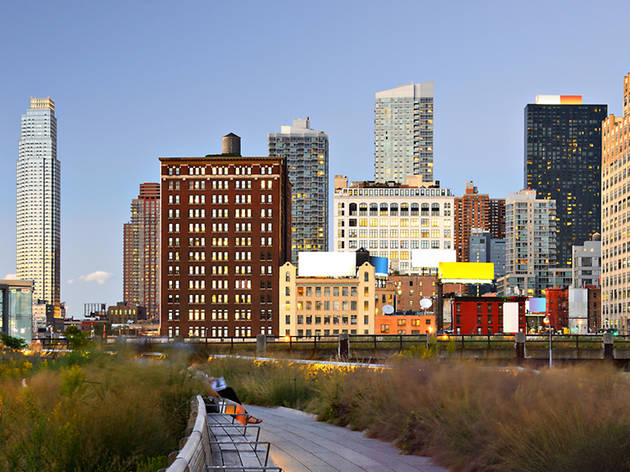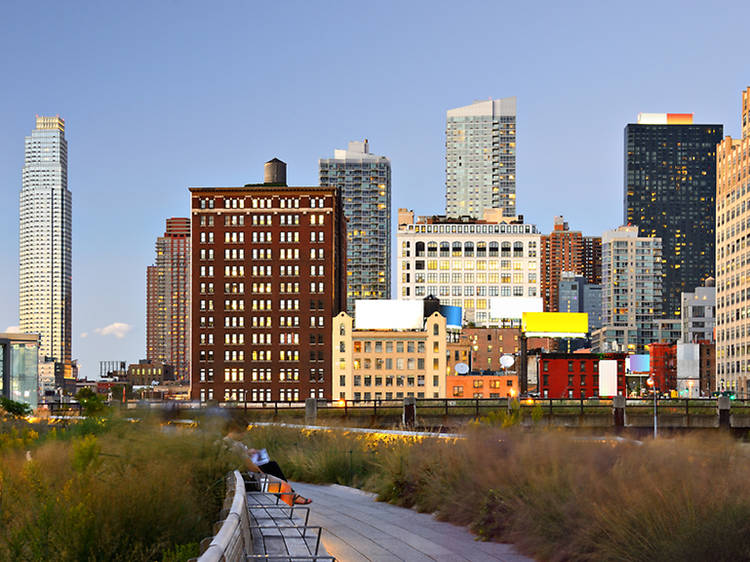 Visit these rooftops, parks, observation decks and cemeteries for stunning views of New York City