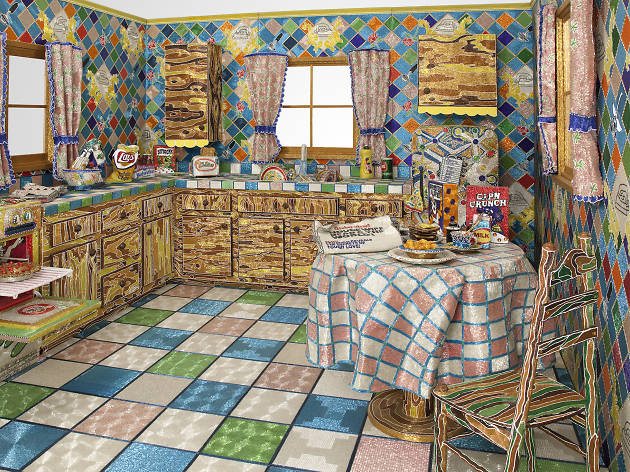 Current exhibits at the Whitney Museum of American Art
See what exhibitions are currently on view this year at the Whitney Museum of American Art in New York City
When Gilded Age heiress Gertrude Vanderbilt Whitney established the museum bearing her name in 1931, America was a cultural backwater, making her stated mission of promoting American artists something of quixotic undertaking. It proved prescient, however, when America emerged as a superpower after World War II and altered the direction of art history with such made-in-the-U.S.A. movements as Abstract Expressionism, Pop Art and Minimalism. Though the Whitney was hardly alone in championing that work (MoMA, the Guggenheim, and, to a lesser extent, the Met, did, too), it was uniquely positioned to contextualize it within the wider frame of 20th-century art in America. The Whitney was also the first NYC institution to mount a regularly scheduled survey dedicated to taking the temperature of contemporary art: The Whitney Biennial, a show that became crucial in setting the latest trends. Many memorable Biennials took place on Madison Avenue, in a landmark building designed by Marcel Breuer (now home to the Met Breuer), but in 2015, the Whitney decamped to a much larger quarters, designed by Renzon Piano, in the Meatpacking District,. You can find everything on view there in our complete guide to the best current and upcoming shows at the Whitney Museum.
RECOMMENDED: Check out our full guide to the Whitney Museum, NYC
Current and upcoming Whitney exhibits
Photograph: Courtesy Whitney Museum of American Art
1. "Where We Are: Selections from the Whitney's Collection, 1900–1960"
For its latest installation of its permanent collection, the Whitney choses artworks from the first half of the 20th century, a period which saw the rise of the United States as a superpower, and organizes them around five themes: Family and community, work, home, the spiritual and the nation.
Ongoing
Looking for more great art exhibits?
Check out the must-see shows at MoMA