Heads up! We're working hard to be accurate – but these are unusual times, so please always check before heading out.
The best karaoke bars in nyc
Calling all wanna-be rockers, Broadway babies and crooners: Check out a top-rated karaoke bar and sing your heart out
Birthday parties, after-work hangs, solitary dark nights of the soul—they all have one thing in common: Karaoke can brighten up every one of these occasions. Lucky for you, NYC is an amateur singer's playground with a karaoke bar for everyone—whether you're the type who likes to belt out show tunes in one of the city's beer bars or croon the best '80s songs in a private room full of your 15 closest friends. Check out our list of the best karaoke songs ever, rest those vocal cords, and get ready for your next star turn at one of the best karaoke bars in NYC.
RECOMMENDED: More of the best bars in NYC
Find a karaoke bar in NYC
This spacious restaurant-karaoke combo is perfect for those who feel like singing after getting their buzz on, and don't want to head to K-Town for dinner. Wash down the bibimbap, pork belly and short ribs with a Tiger's Whisker (tequila, agave, green salt, pineapple and citrus). While you're waiting for a room, check to see if they have your go-to song by downloading the KJ Touch R app which lists tracks by name...then get psyched to belt out your favorites.
Photograph: Collier Sutter
From the team behind Bushwick's beloved Mood Ring, comes a new nostalgic-feeling karaoke bar named after a hit by Scottish alt-rock band Cocteau Twins. To say that the main bar's interior is colorful is an understatement, there are fuzzy lamps hanging from the ceiling, an LED smiley face behind the bar and a large TV for karaoke in the middle. After you've successfully won over the crowd with your rendition of Whitney Houston's "I Will Always Love You" there are two other rooms to explore. Karaoke is going on Sunday through Wednesdays from 7pm to 2am, and on the weekend this new spot turns into a full-on dance club.
Sometimes you only want to be surrounded by your people when belting out Mariah Carey, not performing for a bar of strangers. If this is you, gather your crew and head to husband and wife Roberto Williams and Zaida Soler Williams's commercially zoned townhouse in Williamsburg which is also Lion's Roar Karaoke Lounge. The living room has an impressive karaoke set up that feels like your own apartment (except you don't have to spend the entire next day vacuuming popcorn off the floor). You'll pick from a hefty black book full of iconic songs and request them to Roberto, who is your personal DJ and announcer for the night. Don't forget to bring all the bubbly and snacks of your dreams— the equipped kitchen is all yours for the evening, too.
This Japanese-style karaoke bar isn't named for the diminutive piano (you won't find one here) but for its small size and proximity to Grand Street. There are no private rooms: The brave have to perform in front of everyone, but after a few drinks (beer, wine, sake, cocktails), it should be easy to get the nerve up. There's a second location in Greenpoint, as well.
This chic K-Town lounge is nearly impossible to find—look for the blink-and-you'll-miss-it sign out front. Ascend to the third-floor drinkery via a freight elevator that opens onto a spectacular bi-level space with soaring ceilings and modern banquettes in the tunnellike bar space. You can pick from a range of soundproof karaoke rooms that accommodate all party sizes and are equipped with flat-screen TVs. Back at the bar, bartenders shake upscale drinks like lychee martinis and mojitos, and Korean sojus are available in fruity flavors like mango.
After this staple Chinatown karaoke bar closed down four years ago due to a rent hike, hearts were broken. As of last year, Winnie's is back and better than ever. The old-school dive and raucous karaoke bar sits above the bustling stretch of East Broadway, and appeals to both Chinatown residents and fashionable visitors, all there to show off their singing chops. Inside the bar you'll find big red booths, their famous punch and chandeliers made from old karaoke laserdiscs.
Photograph: Courtesy K-One Karaoke
With its white leather banquettes and futuristic looking blue, purple and green neon decor, K-One is perfect for anyone who wants to feel like they've been transported to China for a night of singing. It's also great if you only kinda know the lyrics to the song you've chosen: The artist's voice comes in at a low volume halfway through, so you'll feel like you're doing a cool duet. The downside: It's cash only, so come prepared with a stack of bills. The upside: If you buy 12 beers, you get a dozen free--great if your group of friends is thirsty.
To get the most out of this divey pick, wear some bit of white: You'll glow against the blacklight and the zebra print couches. The neon bar is complete with friendly bartenders who will pour you a cocktail for as little as $8. This spot is great for those with stage fright: Wireless mics let you sing from wherever you're sitting.
After grabbing dinner at Kiki's or Scarr's Pizza hit up Up Stairs to top off the night. This dive is located up a narrow set of stairs (big shock) in Chinatown. This no-frills place is the great option for those on a budget, since you don't have to pay for a private room. Make friends with the usually supportive crowds and just let loose while sipping brews on tap like Yuengling.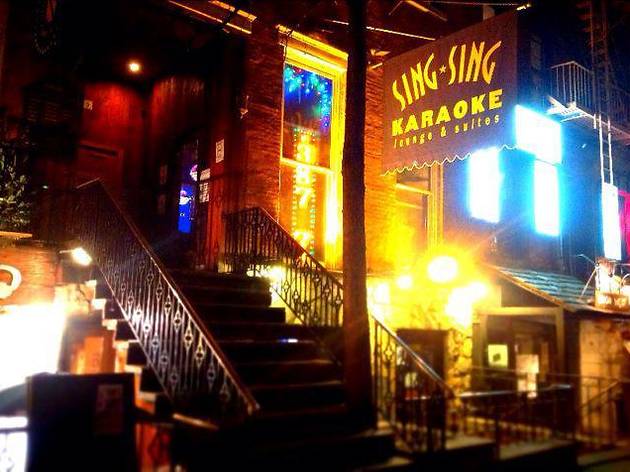 Karaoke fans can head to either of the two East Village locations of this sing-along bar and either sing a song for 2 bucks at the open bar lounge, or rent out one of the private rooms that'll cost you $8 per person per hour. Inside the rooms are multiple mics, a big flat-screen, and saran-wrapped song books.
A blue neon sign points karaoke-lovers to this basement lounge, where groups of young revelers take to the stage to shamelessly belt out Mandarin pop songs along with sing-along standards from Tina Turner and Billy Idol. Hesitant newcomers can loosen up with a specialty cocktail procured from the upstairs bar. Harness liquid courage via a Zen martini—Absolut Citron infused with green tea.
This BYOB pick takes pride in its serious collection of karaoke songs, it'll be tough to find a song they don't have for your spotlight moment. The whole place feels like a strobe-lit club, and the lovably tacky private rooms that you can rent by the hour, come complete with a spinning disco ball and disorienting geometric patterns on the walls.
Don't let this karaoke-scene staple's unassuming exterior fool you. You enter the Greenwich Village den by descending a flight of stairs in a restaurant. Once inside, order a drink and receive a ticket for a free song; picks are only a buck after that. There's no real stage—patrons simply go to the front of the spacious room and rock out. Choose from the massive songbook, featuring a diverse array of genres including show tunes, Top 40 hits and new-wave classics. Those with stage fright can retreat with two or three friends into a private room in the back.
Check out the best parties in NYC
Check out the best parties New York's nightlife has to offer, from club nights to globally renowned label takeovers