Heads up! We're working hard to be accurate – but these are unusual times, so please always check before heading out.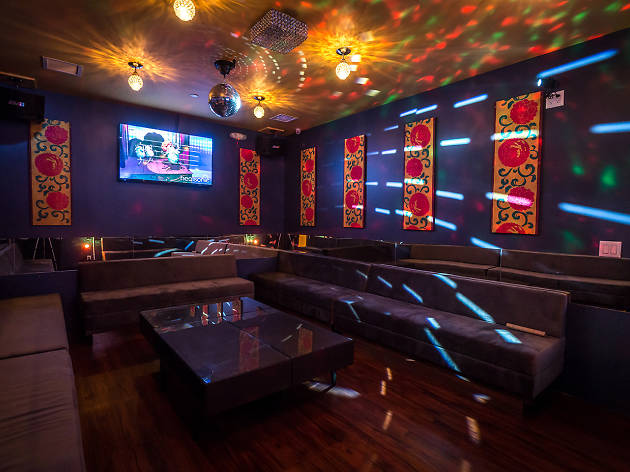 The best birthday party ideas in NYC as an adult
You're another year older and wiser, and you're ready to party. Do it right with these awesome NYC party ideas.
You've made it through another year, and that's worth celebrating. We've come up with a slew of creative birthday party ideas to get you stoked about your big day. From awesome karaoke bars and sprawling outdoor bars to the best pizza in the city, these are the top places for you and your friends to honor your existence—and get you pumped for the year to come.
Best birthday party ideas in NYC
Sweat-sessions allow stressed out people to chill out, detach from their phones and even fight off winter blues. Bring wellness into your birthday festivites by renting out this wood-burning sauna where you your crew can grab a seat on the bench inside the 180-degree cabin-like space, and in between rounds, take an outdoor shower, hang in a heated chill tent, mingle over beverages like tea, kombucha and beer in an indoor pop-up bar and even do karaoke. When The Hot Box Sauna isn't used for private parties, it's open for a fun night out and incorporates inclusivity in the process, especially for LGBTQ+ and marginalized folx.
Courtesy Lion's Roar Karaoke House
2. BYOB Karaoke in a couple's Brooklyn apartment
Sometimes on your birthday you only want to be surrounded by your people— not shoving through strangers to secure a booth at a bar. If this is you, gather your crew and head to husband and wife Roberto Williams and Zaida Soler Williams's commercially zoned townhouse in Williamsburg which is also Lion's Roar Karaoke Lounge. The living room has an impressive karaoke set up that feels like your own apartment (except you don't have to spend the entire next day vacuuming popcorn off the floor). You'll pick from a hefty black book full of iconic songs and request them to Roberto, who is your personal DJ and announcer for the night. Don't forget to bring all the bubbly and snacks of your dreams— the equipped kitchen is all yours for the evening, too.
Everyone knows your birthday is as much about you as it is about your friends having fun. So when you suggest a plan, why not shock them with something over-the-top that won't break the piggy bank. Head to this New Jersey spa by taking a free shuttle that they offer from Times Square area, for a day of pampering.Among the highlights at this full-service facility are an insane rooftop infinity pool with a view of the Manhattan skyline, a volcanic sand treatment using rare lava sand imported from Japan, and a scorching charcoal sauna. Daily admissions cost $55 per person on weekdays and $75 on weekends and holidays. That'll get you unlimited access for the day to all pools, baths and saunas. It's unlikely that you'll come close to covering the whopping eight floors of treatments that this relaxation arena offers, think: nine pools, six sauna rooms, a restaurant and adjoining hotel. But give it your best, this is sort of like Disneyland for everyone.
If you hate fussing about your birthday, but still want to rally together the folks that put up with you for a night out, Diamond Reef is the place to tell everyone to meet up. The bar on the edge of Bed-Stuy has a 1,300-square-foot indoor space with big green leather wraparound banquettes that are prime for mingling in groups. You can also slip outside to their massive yard at any point for a breather and there you'll find music playing from speakers, plenty of seating, and a food truck. If you don't want the night to end, walk five minutes to dance it out at Doris. The southwest vibe bar spins funky vinyl jams all night and there's also a backyard with a ping pong table and a variety of grilled cheese sandwiches made to order, courtesy of Morris Sandwich Shop.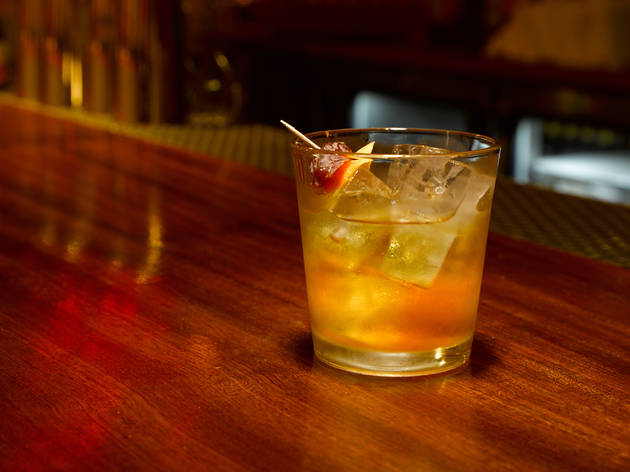 Insa—a Korean food and karaoke joint—is where folks go to celebrate. After sharing a spread of finger-lickin' Korean BBQ and a $40 scorpion bowl (serves four to six people), book a small karaoke room (up to 10 people, $60/hr) so you can have your birthday girl (or boy) diva moment.
Relive the glory days of shoving cheese slices in your tweenage piehole at the best pizza joint in Bushwick. The popular spot does not take reservations, but the za haven does offer group dining for parties of 10 to 16 people. You can also buyout the atrium for a 25 to 35-person rager.
Danny Meyer's Southern-twanged cocktail lounge is a great spot for some laidback boozing with your pals. You can rent out the joint's game room (fits 40 souls), which is chock-full of your favorite childhood board games including Life, Yahtzee and darts. For something a bit smaller, reserve the porch (fits 15) for some outdoor drinking.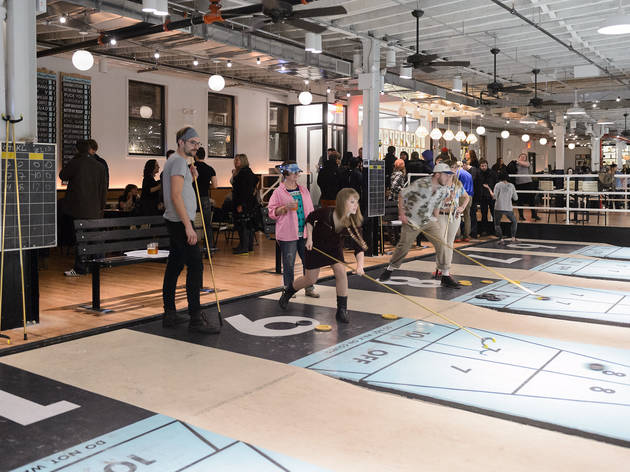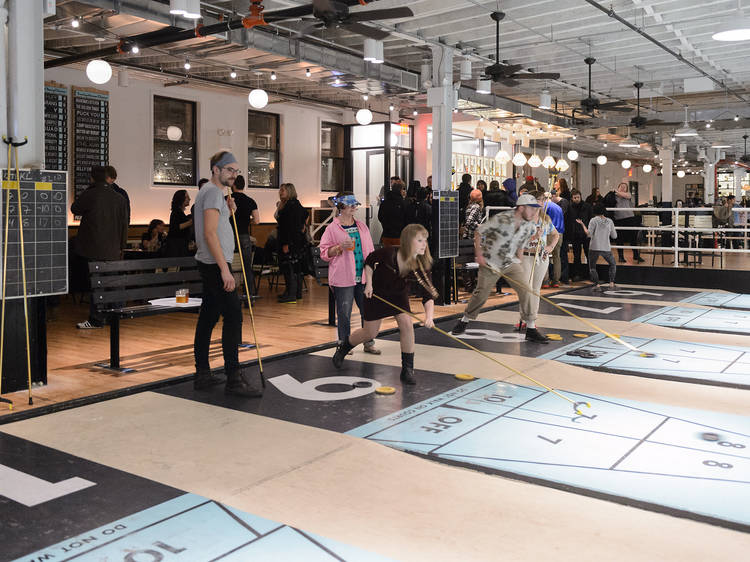 People love birthdays with bar activities to keep occupied. At this day-drinking spot, folks can sip on tiki drinks and play shuffleboard on one of the ten courts (that you can reserve) and even if they fill up, you won't mind. They have a bunch of tables you can sit at, courtside bites, and a variety of board games like giant Connect-4 to keep your group nice and preoccupied.
Take 10+ of your closest friends to Beauty Bar for an afternoon of martinis, manicures and dancing. Inside the Park Slope haunt, there's an entire dance room where you and your guests can boogie to the oldies as well as classic hits beneath a disco ball. Just go past the 1950s hairdryers to shake your groove thing.
This bowling alley and live-music venue takes its design cues from Coney Island with old freak-show posters and carnival-game relics, and all of the beer sold inside—by Sixpoint, Kelso and the Brooklyn Brewery—is made in the borough. This is a great place to entertain a big rowdy group: you can tackle a pitcher and the stoner-food menu from the Blue Ribbon team (delicious fatty brisket, Old Bay–fried chicken) laneside between frames. The plush tufted couches are the most luxurious alley seating we've ever seen.
11. Bring everyone (including your dog) to Mister Sundays
When the weather warms up and you have a crew happy to get out of bustling Manhattan, head to the beloved Nowadays for a Sunday afternoon bash. Bring everyone you know, including your dog to Mister Sundays and set up base at one of the picnic tables. While you wait for your moment to hit the outdoor dance floor, you can grab barbecue at one of the food trucks, sip on tiki drinks, enjoy the sunshine and praise the fact that you're surrounded actual trees and greenery while partying.
Looking for another party in NYC?
Check out the best parties New York's nightlife has to offer, from club nights to globally renowned label takeovers