10 non-douchey rooftop bars
Looking to sip sangria or a craft beer out in the sun? We've compiled a list of the top 10 non-douchey rooftop bars.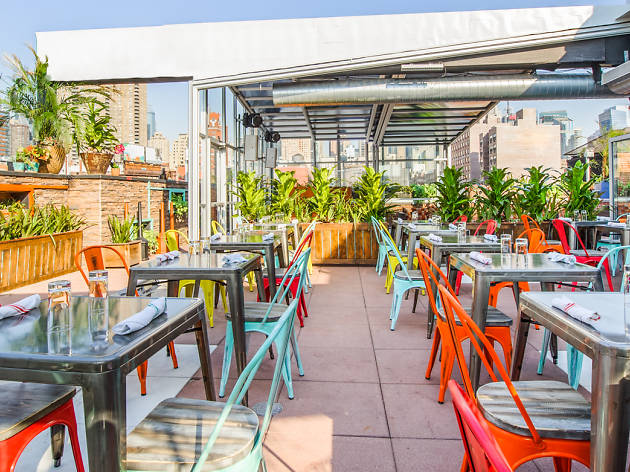 We all love a good rooftop bar, what with the breeze, the booze and that picture-perfect sunset glow that renders Instagram filters functionless. But nothing ruins a night out or a nice bit of rooftop day-drinking like an obnoxious crowd. You know the kind—the Beckys and Chads of the world. Lucky for us, non-douchey rooftop bars actually do exist. Here are 10 of the best outdoor drinking spots for you to check out, asshole-free™.
RECOMMENDED: Find more things to do on NYC rooftops
Non-douchey rooftop bars
1
Aussie-born co-owner Jamie Toll couldn't take all those kangaroo attacks (we kid) so he brought a little bit of Down Under to Brooklyn. There's Australian cuisine (meat pies, skewered shrimp on the barbie), plus authentic Oz-bred beers at this pub created by the same folks that brought you Berry Park.
Read more
2
A cocktail bar without a cocky 'tude. Along with the first-rate quaffs, this rooftop number from Tim and Nancy Cushman (the husband-and-wife team behind Boston critical darling O Ya) offers sublime views—you can see the lower Manhattan skyline from here.
Book now
Read more
3
You can pretend you're a successful business tycoon as you stare from the top of the Empire Hotel at all the little people below before marveling at the amazing sunset. Then you can buy me a drink because you can afford it.
Read more
4
Expect over-stuffed burritos and frozen margaritas at this friendly uptown bar. If you're not at least happily tipsy when you leave here, you're not doing it right.
Read more
5
This is the least ostentatious rooftop bar in all of Brooklyn, in that there's a small patio, an even smaller bar and...that's about it. But the lack of amenities means that there'll be room for you to get in the entire skyline, unobstructed, without fear of paying $15 for a mixed drink.
Read more
6
Don't let the bro-heavy nabe fool you—with terra cotta columns, Mexican-tiled tables and top-notch tacos from Salvation Taco, this is a festive, easygoing space to throw back some tequila.
Read more
7
Recently opened atop Stage 48 this year-round Mexican hang puts a premium on margaritas. Hoist a mezcal-spiked cup to the bright, cheerful digs and views that never get old.
Book now
Read more
9
Oh, joy! Here's a bar that straddles the line between divey and Victorian so well, you'll think you're relaxing in a modern-day version of an Oscar Wilde novel.
Read more
10
This place does chill the Italian way—food and drinks for days. Plus, there's pizza. On a rooftop. Heaven.
Read more
Sponsored listing
The Kings Beer Hall
Suds lovers will want to swing by this international beer hall in Park Slope. Whether you live in the neighborhood or stop by after a Brooklyn Nets game at the nearby Barclay Center, you'll surely find something you like on the menu of nearly 30 different beers. Old standbys like Krombacher Pilsner are listed alongside more unusual, seasonal finds like Harpoon Camp Wannamango. You can order several small beers to create your own tasting, or go all in with a larger size ($5 for 0.2 liter, $8 for a 0.5 liter, $15 for one liter, $20 for a boot and $65 for a five-liter stein). Some snacks might be nice—the jalapeno hush puppies ($7) or a beer-braised bratwurst ($6) ought to do the trick. If you need a full meal, order up some buffalo wings ($8) or a grass-fed burger ($12). Beer, bar snacks, jenga, pool tables—what more do you need?
Venue says: "CINCO DE MAYO AT THE KBH IN BROOKLYN! Tacos, Tequila & Beer Deals. Kick off your Fiesta with our Live Bands & a "Cerveza!""