We're on the cusp of prime ice cream season, folks, and New York is getting into the spirit with a fresh slate of festive ice cream sundaes. Forget tame toppings and ho-hum hot fudge—these next-level restaurant sundaes are anything but vanilla.

Sophia Loren for Two at Leuca
Like its siren namesake, this shareable sundae is a real looker, with elegance in spades and an intoxicating Italian accent. Chefs Andrew Carmellini and Jason Casey take cues from Italy's affogato tradition: A large coupe of espresso gelato is festooned with chocolate fudge, salted caramel powder, shards of house-made meringue, rum granita, whipped cream and, for an extra caffeinated kick, a tableside pouring of extra espresso. $15.
Vanilla Ice Cream "Blizzard" at Loring Place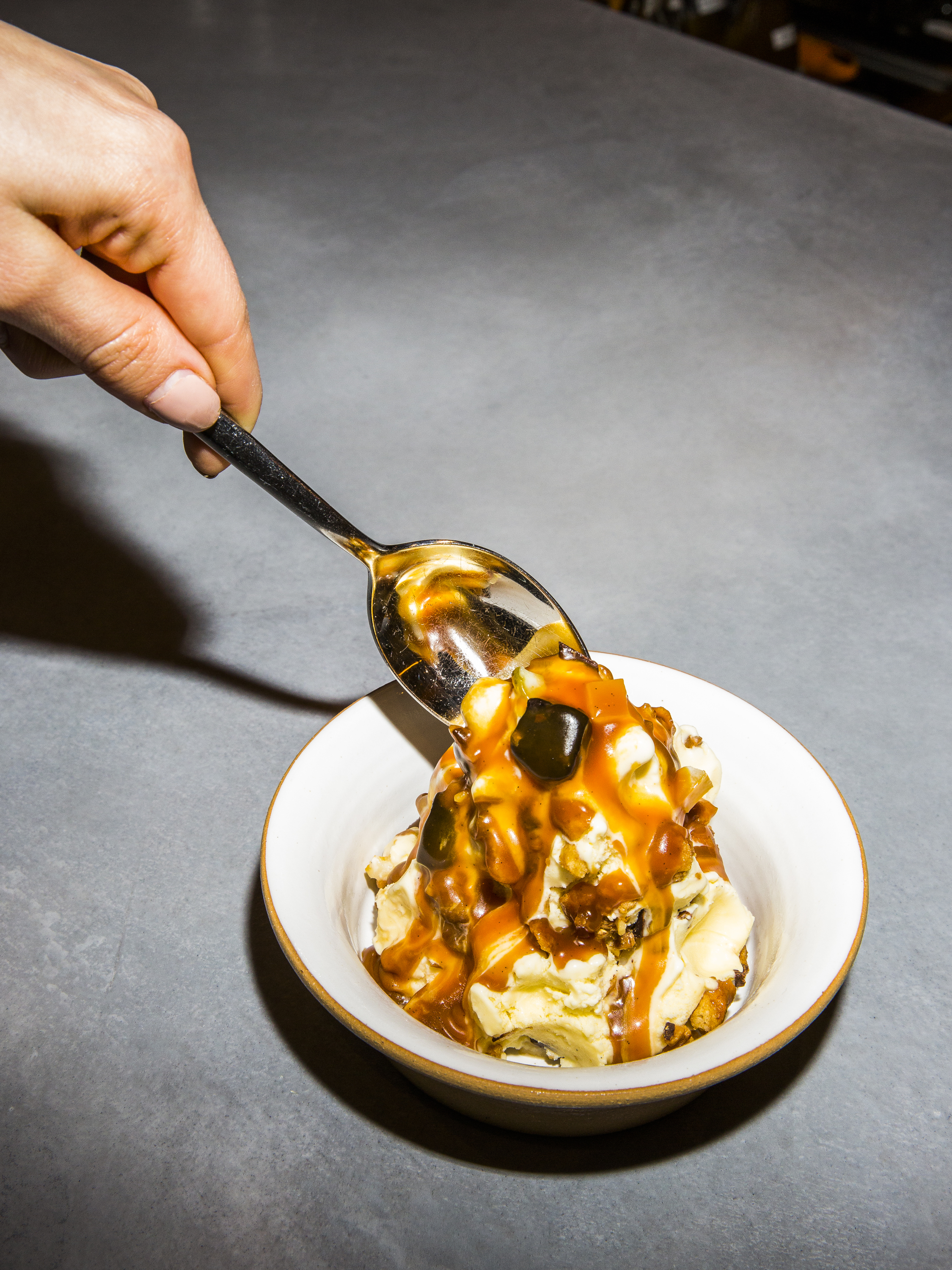 It's a high-minded ode to a fast-food classic: acclaimed chef Dan Kluger pays sweet tribute to the Dairy Queen Blizzard with this advanced, artisanal sundae. Vanilla ice cream faces a textural flurry of crunchy pretzels, house-made walnut toffee, cookie fudge and bright Meyer lemon. Your waistline is lucky the rest of Kluger's menu is so full of virtuous vegetable plates, because you're definitely going to want seconds of this one. $12.

Chè sundae at Hanoi House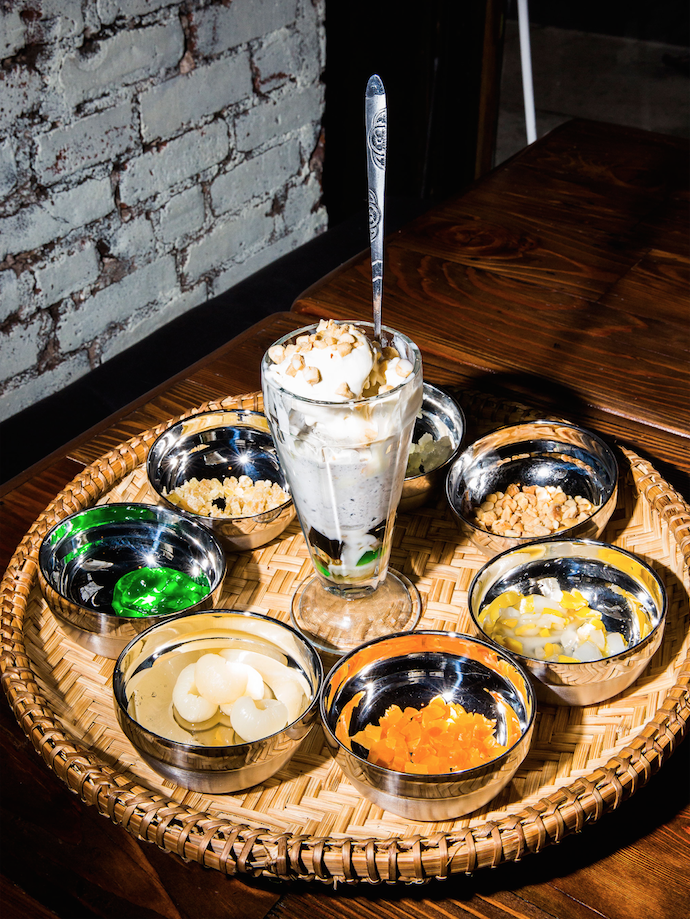 In Vietnam, chè is the umbrella term for dessert soups and sweet puddings dotted with everything from tapioca pearls to fruit jellies to mung beans. This East Village rookie draws inspiration from such treats for the kitchen's sundae–milk-shake hybrid: Thick enough to eat with a spoon but slightly liquified with coconut and condensed milks, the cooling dessert blankets Il Laboratorio del Gelato's black-sesame flavor with crushed peanuts, candied ginger, black grass jelly, banana and lychee fruit. $9.

Foie Gras at the Tapas Bar at La Sirena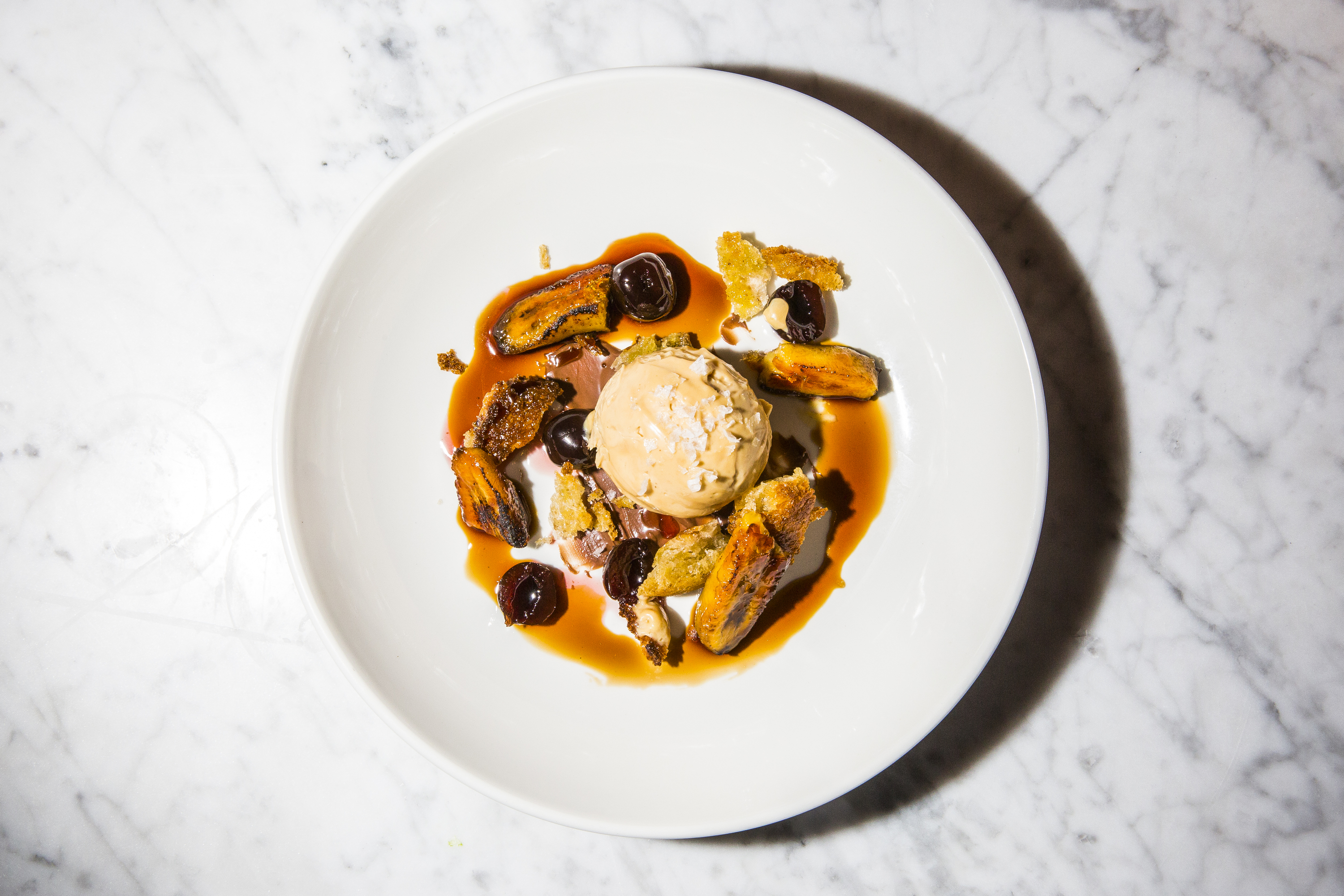 Don't let looks fool you: That's no ordinary scoop of ice cream. In fact, it's not ice cream at all. Rather, it's a chilled ball of rich foie gras, which is dressed as an ambitious sweet-and-savory sundae at the tapas bar inside Mario Batali and Joe Bastianich's restaurant in the Maritime Hotel. The all-American banana split tricks out the flambéed fruit with Italian trimmings in the form of Negroni syrup, candied Amarena cherries and creamy smudges of Nutella. $18.

Ice cream sundae at Gristmill

Chef-owner Jake Novick-Finder taps into his pastry-chef past (Boston's Ribelle, New York's Gramercy Tavern) for this pumped-up sundae: Hunks of moist, house-made chocolate cake and crunchy pie crumbles are layered with scoops of creamy coffee ice cream churned on premises using Kitten Coffee's whole-bean Alchemy blend. The dessert is finished with chocolate sprinkles and drizzles of Magic Shell because, really, what is a sundae without Magic Shell? $10.

Matcha sundae at Dinnertable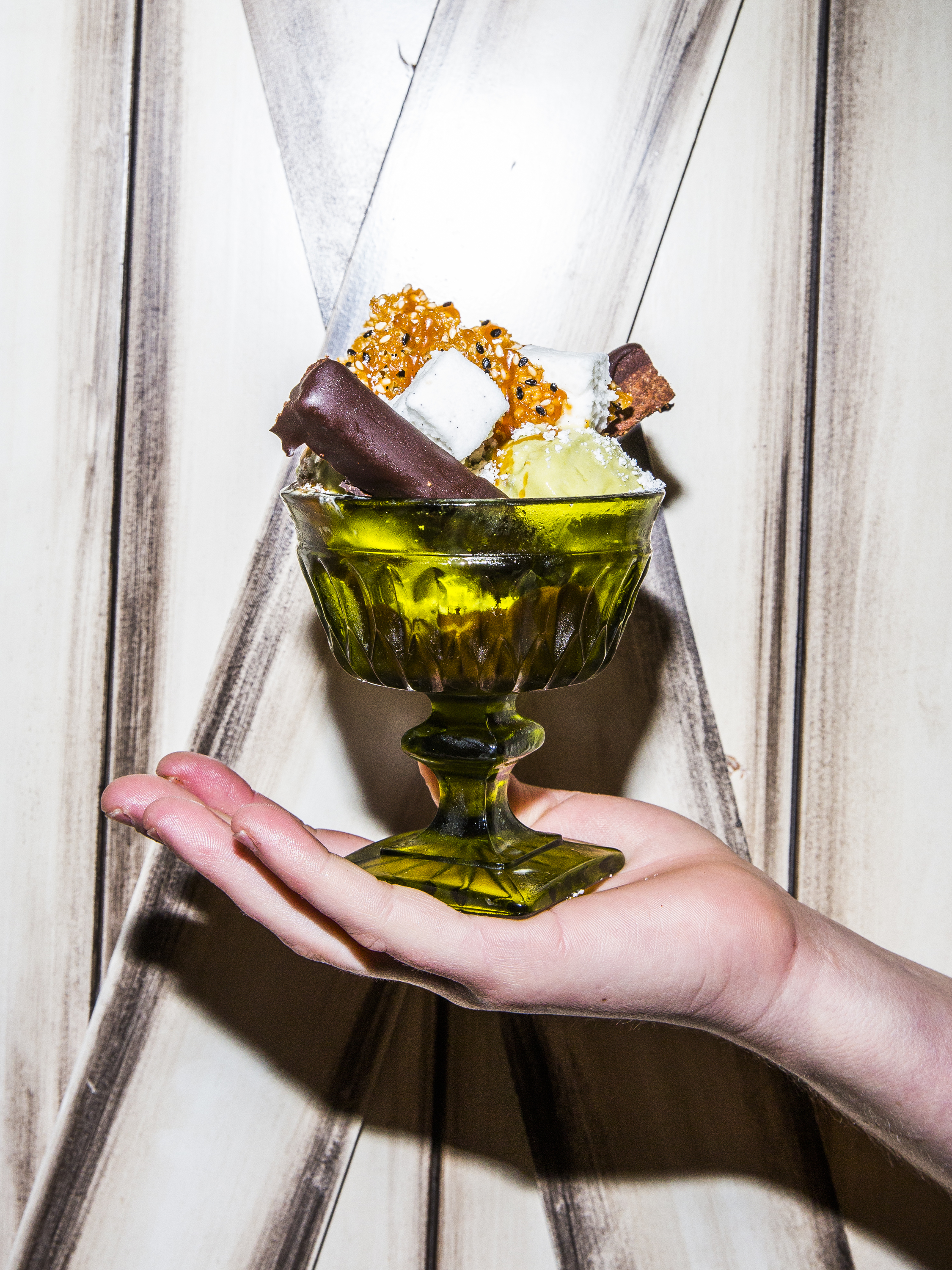 Two words: Nutella Kit Kats. If the promise of dark-chocolate–coated hazelnut wafers isn't enough to grab your attention, what's underneath will surely do the trick: Vibrant bulbs of earthy green-tea ice cream are drizzled with miso-caramel sauce and chocolate fudge and pierced with crunchy bits of black-sesame tuile. You'll be thankful Dinnertable is so well hidden—the restaurant is accessed via a doorbell inside the Garret East—as you're not going to want to share this frozen beaut with any passing friends. $11.