The best ice cream NYC has to offer
If you're looking for the city's best ice cream, NYC is packed with acclaimed newcomers and old frozen favorites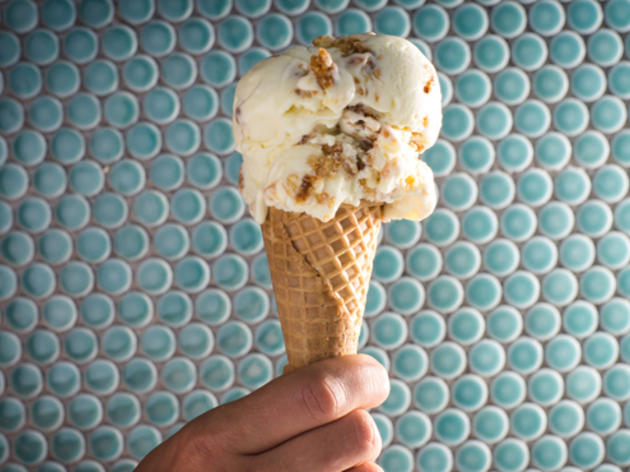 There are few ways to get our nostalgia-loving hearts racing quite like the best ice cream NYC has to offer. And luckily for frozen-treat lovers, you don't have to go Usain Bolt–ing after Mister Softee for a licking of summer's finest sweets. Instead, head to one of New York's top parlors or best food trucks, which turn out oddball flavors, gargantuan sundaes and whimsical ice cream sandwiches built atop the best donuts in NYC. Whether you want a classic cone or a sober spin on your favorite boozy milkshake, you'll find all that and more at these shops serving the best ice cream in NYC.
RECOMMENDED: Full guide to the best dessert in NYC
Best ice cream in NYC
1
Plain-Jane flavors get their due at this soda-shop throwback from pastry-bag-wielding restaurateur Nicholas Morgenstern (Goat Town, El Rey): Scoop purists have four creamy, extremely vanilla-y vanillas (bourbon, Madagascar, burnt honey, French and rum raisin) to choose from. Succumb to the gluttony and get them all in the colossal King Kong Banana Split.
Read more
2
The behemoth, two-story follow-up to husband-and-wife team Brian Smith and Jackie Cuscuna's Prospect Heights scoop shop churns out ever-changing, off-the-wall flavors that will please inner and actual kids alike. Snap Mallow Pop, an überrich, jet-puffed marshmallow number studded with crunchy, toasted rice-cereal nubs, is as comforting as a bake-sale Rice Krispies Treat.
Read more
3
There's no fear of sugar overkill at this pint-size, circus-striped East Village outpost of the Brooklyn crowd-pleaser. Chef-owner Sam Mason (wd~50) tempers his greatest hits with savory and salty notes: Custardy caramel comes with a cholesterol-quivering swirl of meaty chorizo, and sweet cherry gets an oddball hit of smooth miso.
Read more
4
If Vice magazine had an ice cream annex, this would be it. Modern, dark and edgy, this experimental ice cream shop touts a rotating menu of envelope-pushing flavors like Bath Salts (lavender and pine stracciatella), American Beauty (crème fraîche and rose petal jam) and Opium Den (white sesame, toasted poppy seed and lemon bread crouton).
Read more
5
In addition to its full range of scoop flavors (chocolate, honeycomb, Sicilian pistachio)—churned with hormone-free milk sourced from upstate cows and piped into all-natural cones—the environmentally conscious ice cream café serves Toby's Estate coffee (espresso and drip), and a rotating selection of fresh-baked pastries including Ovenly's vegan salted chocolate-chip cookies and Balthazar croissants.
Read more
6
Ice cream truckers Doug Quint and Bryan Petroff offer their quirky soft-serve creations in a small East Village shop, emblazoned with a giant rainbow-swirled cone. Find crowd favorites like the Salty Pimp (vanilla ice cream, dulce de leche, sea salt and a chocolate dip) and the Bea Arthur (vanilla ice cream, dulce de leche and crushed 'nilla wafers).
Read more
7
The modern, industrial tasting room offers 40 flavors at a time, plucked from a 200-strong repertoire that includes wasabi, vanilla-saffron, avocado and a range of chocolate flavors, plus dozens of fruit sorbets. Can't decide? See what's being made in the glass-walled production room, visible from the street.
Read more
8
Pastry whiz Christina Tosi made her name in extreme, compulsively craveable treats like Compost Cookies and Crack Pie. And Milk Bar's signature Cereal Milk soft serve gives us one more delectable reason to visit one of its six NYC locations. Made with milk, cornflakes, brown sugar and a hint of salt, this throwback treat is one part dessert, two parts nostalgia.
Read more
10
Inspired by Thai street food, these fresh made-to-order ice-cream rolls force you to rethink everything you thought you knew about ice cream. Choose one of eight rotating flavor combinations, then gaze in awe as your homemade liquid ice cream is poured onto a sub-zero cold plate where it gets mixed, flattened and scraped into five perfectly formed cylinders. Toppings are free and unlimited, so go ahead and add those Teddy Grahams to your heart's content.
Read more
Show more
More ice cream in NYC stories
See the best ice cream shops in America
Whether you like oddball flavors or your taste is more vanilla, get your frozen fix at these top ice cream shops, from classic parlors to new-wave purveyors
Read more
Related videos
First look at the Museum of Ice Cream in NYC
Watch what happens when kids try hipster ice cream flavors
Sponsored listing
Juanchi'€™s Burger
Juanchi's Burger started in a baseball stadium in Caracas, Venezuela, and as the line of hungry customers grew, so did the business. Founder Juan Carlos Aoun serves his signature half-pound burger in Aruba, Miami and Brooklyn these days. Head to the Williamsburg outpost for specialty burgers like the Juancheese with two patties and double American cheese ($15), the Sunny with American cheese, bacon, honey and a fried egg ($16) and the Spanish Queen with grilled chorizo, pepperjack, pico de gallo and avocado ($16). Can't decide? You can always order a few different kinds of sliders ($4.50 each). Don't forget the sides: sweet potato fries ($4), fried green plantains with cheese and green sauce ($7) and mini arepas with sour cream ($7). Wash it all down with a refreshing glass of papelón con limón with lemon ($3) or an ice-cold Goose Island IPA ($7).
Venue says: "IRRESISTIBLE HANDCRAFTED BURGERS IN THE HEART OF WILLIAMSBURG WHERE SAUCE IS BOSS"