The best ice cream in NYC
Here's the scoop on where to find the best ice cream in NYC, from acclaimed newcomers to old frozen favorites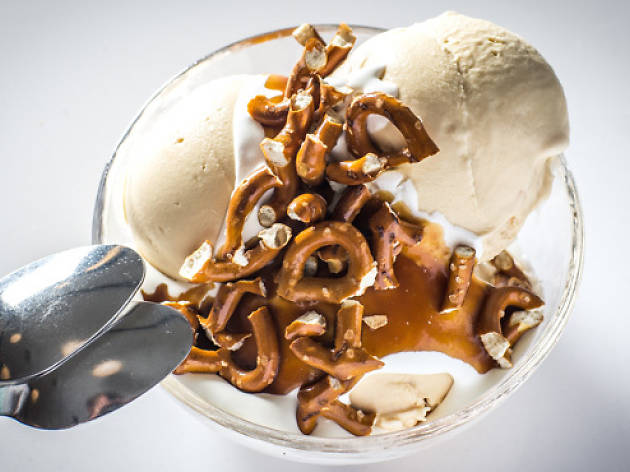 There are plenty of childhood foods that we love well into adulthood, but few get our nostalgic hearts racing quite like ice cream. And luckily for frozen-treat lovers, you don't have to go Usain Bolt–ing after Mister Softee for a licking of summer's best dessert—instead, head to one of New York's top parlors, doling out hopped-up scoops, gargantuan ice cream sundaes, food-truck favorites and a healthy dose of whimsy. Whether you're looking for an indulgent sundae to go with your iced coffee or a grab-and-go ice cream sandwich, we've got you covered with our guide to the best ice cream NYC has to offer.
More ice cream in NYC stories
See the best ice cream shops in America
Whether you like oddball flavors or your taste is more vanilla, get your frozen fix at these top ice cream shops, from classic parlors to new-wave purveyors
Read more
Related videos
First look at the Museum of Ice Cream in NYC
Watch what happens when kids try hipster ice cream flavors
Sponsored listing
Teresa's
For Polish cuisine and comfort food favorites, look no further than Teresa's in Brooklyn Heights. This restaurant serves up traditional Eastern European fare alongside diner staples like omelets, burgers and pancakes. You can order a veritable buffet of Old World favorites like pierogis (four for $5.50, seven for $8.50), cheese blintzes with blueberries ($9.95), broiled kielbasa ($11.50), stuffed cabbage in tomato sauce ($11.95), goulash ($14.95) and borscht ($4). Glasses of the house red or white wine go for just $5, as do most imported beers—domestic suds come in a touch lower, at $4.50. With a menu this extensive, you're sure to be able to find something that tickles your fancy.  
Venue says: "Teresa's Restaurant offers delicious dining, takeout and delivery to Brooklyn, NY."