"New York pizza"—what do you picture when you hear that phrase? Floppy, big-as-your-skull dollar slices? Coal-oven Neapolitan, all sooty blister and bubbling cheese? Whichever your preference, you're no doubt imagining a round pie, and for good reason: Since Gennaro Lombardi first started shelling out nickel pies more than a century ago, New York's most historic, elemental pizzas have traditionally been of the spherical variety.

But while it hasn't received the worldwide renown of its round brethren, square pizza isn't a total underdog. Look hard enough, and you'll find square specialists all across NYC: garlicky grandma slices at Nolita's Prince Street Pizza; the seemingly oxymoronic superthin Sicilians at six-decades-old Astoria parlor Rizzo's; and the thick-crust, air-pocked dough numbers at Bensonhurst landmark L&B Spumoni Gardens.

In fact, there's never been a better time to be a square-edge devotee. Year 2016 has welcomed a plethora of square-pizza newcomers:

Ops
The menu at this rustic Bushwick newbie predominantly features wood-fired, sourdough-based pies of the round persuasion, but requests from in-the-know diners has added a previously off-menu square ($26) to the official offerings from pizza pro Mike Fadem (Estela, Roman's). Equal parts crispy crust and chewy dough, the golden-baked square is minimally topped with tangy marinara and gooey mozzarella, but you can add pepperoni or peppers for $2 each.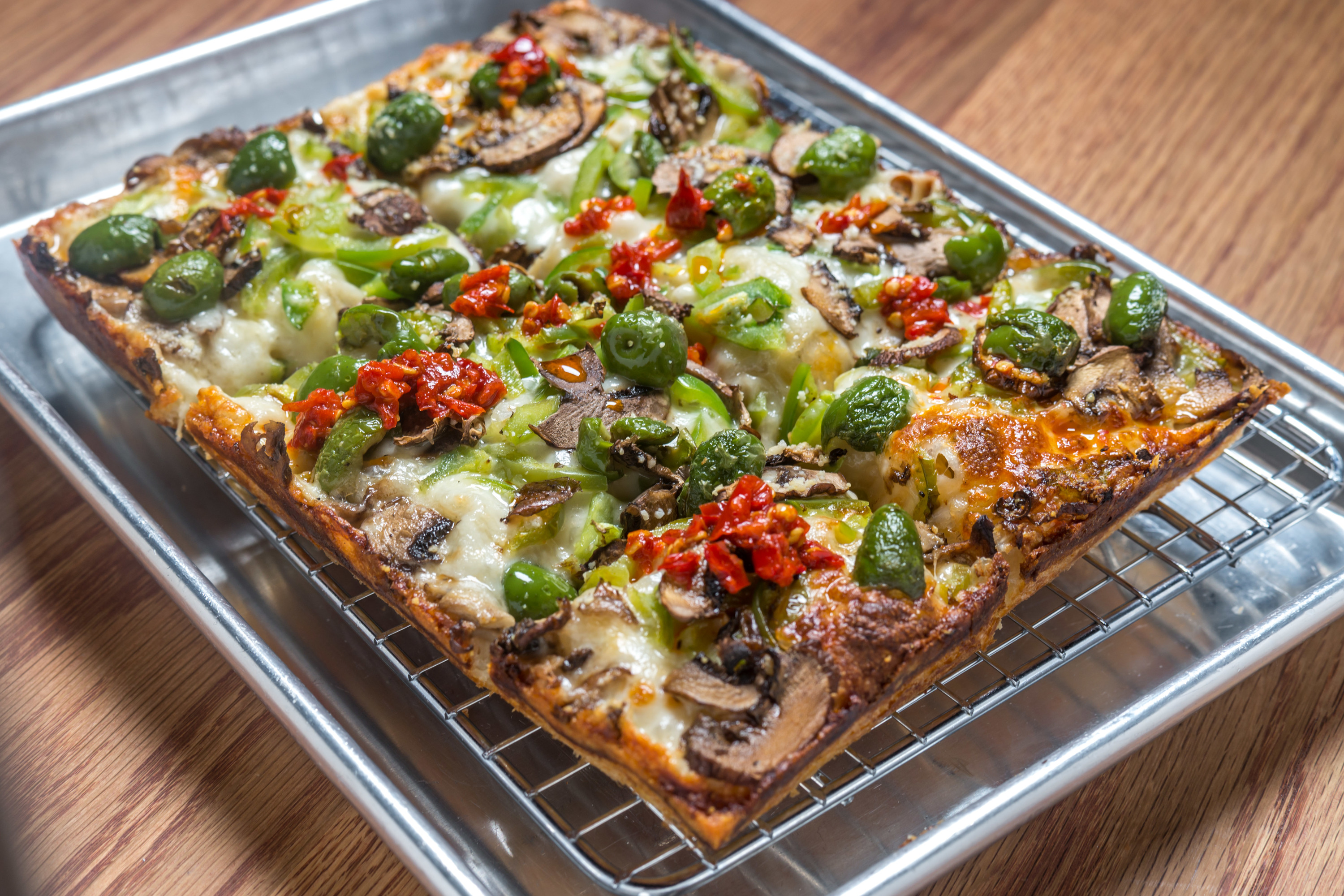 Emmy Squared
This Williamsburg critical darling from Matt and Emily Hyland, the married couple behind Clinton Hill za joint Emily, delves into the world of Detroit-style pan pizza. The Motown squares—thicker than New York but thinner than Chicago—boast great crunch along the edges thanks to frizzled cheese baked right into the crust, which frames toppings like pepperoni with Calabrian chilies ($19), three cheeses with caramelized onion ($16) and mozzarella with banana peppers and ranch dressing ($18).
Brooklyn Pizza Crew
Williamsburg Pizza owner Nino Coniglio looks to square pizza's past at his Crown Heights storefront, where he serves a tribute to L&B's upside-down specialty ($25), which spoons sweet marinara over the mozzarella but under the parmesan. Coniglio's oddball grandma pies, like apple-bacon with Gorgonzola and walnuts ($25), can be found here, but the real surprise is his rendition of Sicily's spongy sfincione, which Coniglio dresses with toasted bread crumbs, shallots, anchovies and dried tomatoes ($25).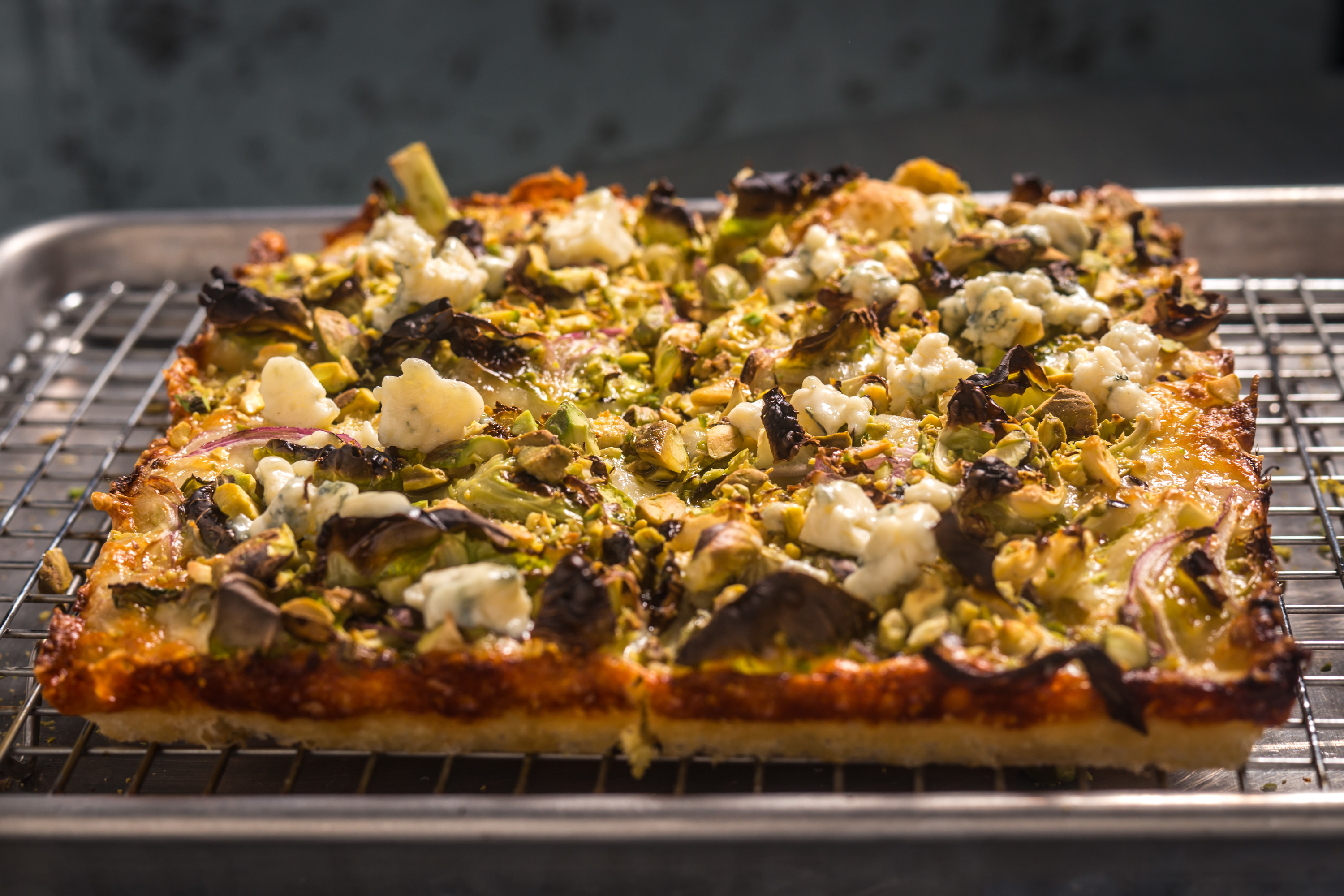 Massoni
Chef Dale Talde has dubbed the menu as "inauthentic Italian" at his Manhattan debut with partners David Massoni and John Bush at the Arlo NoMad, so it's no surprise that he would trick out his pan-baked square pizzas with less-than-traditional configurations like charred brussels sprouts with pistachio pesto and ricotta salata ($17), and clams with bacon, potato and parsley ($18). The crispy-rimmed squares are available in the dining room and also by the slice or whole pie from a grab-and-go stand in the hotel's lobby.