Heads up! We're working hard to be accurate – but these are unusual times, so please always check before heading out.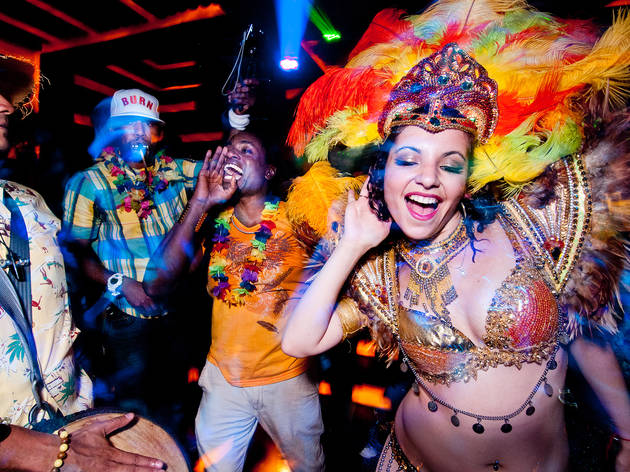 Nightlife photography: Cool New York photographers
Feast your eyes on some of NYC's best nightlife photography, and hear from the people behind the lens.
Without nightlife photography, the whirlwind of clubparties would be a blur to all but the least-indulgent imbibers. (And really, who among us is fully clearheaded when out and about?) Luckily, New York boasts a bevy of great nightlife shutterbugs to augment your fuzzy memories. View great shots from some of the current scene's best, and while you're at it, discover a few tricks of their trade.

RECOMMENDED: Our full guide to NYC nightlife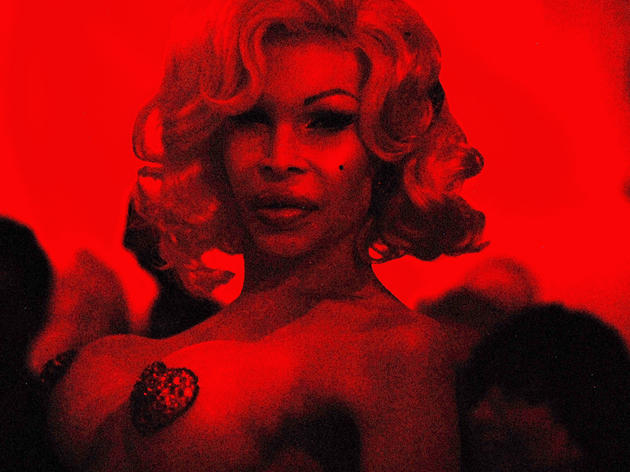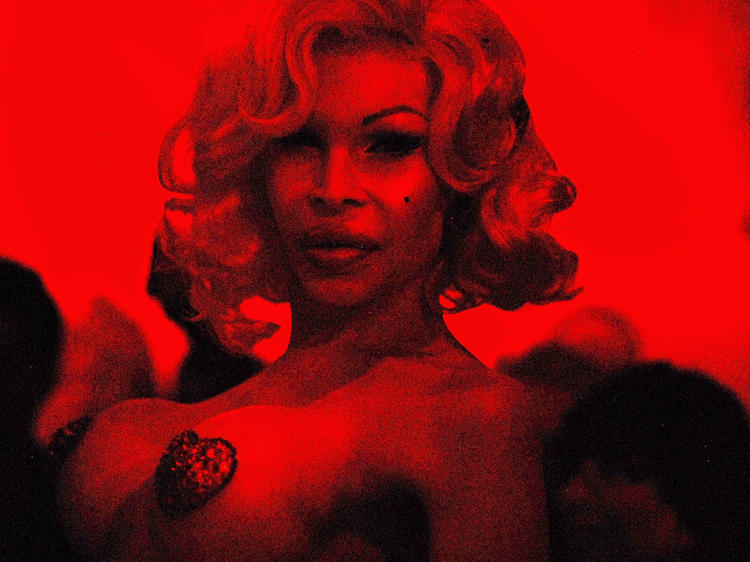 Photograph: Kenny Rodriguez
(kennyrodriguez.com)


As the official photographer for parties like the Rub and Tiki Disco, Rodriguez's goal when shooting is to, as he puts it, "capture that raw, sexy honesty that people have.

His approach
"I've made the flash mine—I'm not going to tell you because it's my secret. I do it in a way that it looks like there's a hole of light that just pierced into this night for a millisecond and captured everything really real, and then I fade back into the darkness."

His tips for shooting nightlife
"Learn your craft before you step out into the night. Photography is managing light and composing a shot. First, you gotta have an eye. Second, learn how to manage light. When you step into nightlife, that's an animal; it's dark and it's loud. It's a beast."

"You can't wear earplugs because then you don't feel the music. It's muffled."

His favorite parties to shoot
"The Rub is like a family. It's got the most diverse crowd, the best representation of what New York City is. Hip-hop, R&B, house, rock, everything; the crowd reflects that, and they're so happy. I've never seen a fight, I've never seen anything crazy like that, never."

"The crowd at Freedom is older but very diverse. They're lovers of hip-hop, '90s and '80s hip-hop, the real shit—not Drake or all that shit."

"I do events at Le Bain at the Standard. That place is the best place to shoot. All of the walls are black, the ceiling's black, it's ideal for a nightlife photographer. You can really shape your light and make it look really, really intimate."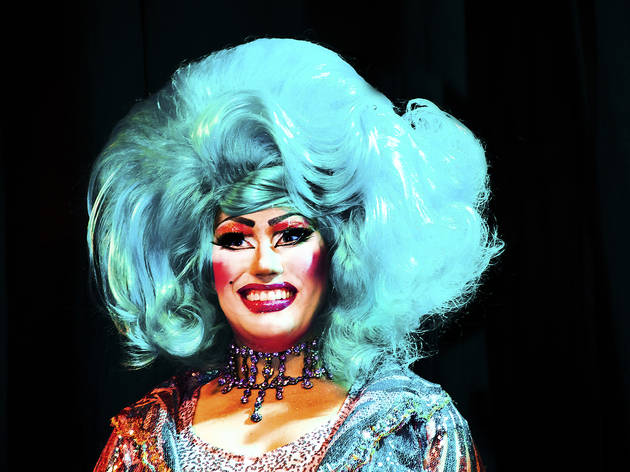 Photograph: Ves Pitts
(vespittsphotography.com)
A painter-turned-photographer, Pitts shoots burlesque and performance. Originally from Alabama, he moved to New York 18 years ago. He describes his photography as "documenting these performers at special stages of their lives."
His approach
"I like to go for the intense moment in the face or the body. That's an interesting thing for me because I don't know when it is, I can only feel it out. I try to pull it out as a portrait. It represents what the whole story's about."
His tips for shooting nightlife
"I like to go backstage and work with the people as they're getting ready. Just be flexible and be courteous to the performer and the audience. I cannot stand it when the camera's in between the audience and the performer. I think that's really insulting, as much to the performer as to the audience."
His favorite events to shoot
"I shoot a lot of Susanne Bartsch's parties at
the Standard Hotel
. I work with Jen Gapay and the New York Burlesque Festival. I shoot a lot at
the Slipper Room
, which is kind of a burlesque place."
"The Burlesque movement has changed a lot. It's more theatrical, more like performance art. A lot of things have come into play in the last 15 years: transgendered performers, people of color. It's very exciting to see people like Narcissister
(narcissister.com)
: She's more theatrical; she might perform in a burlesque scene, but I don't think she considers herself burlesque."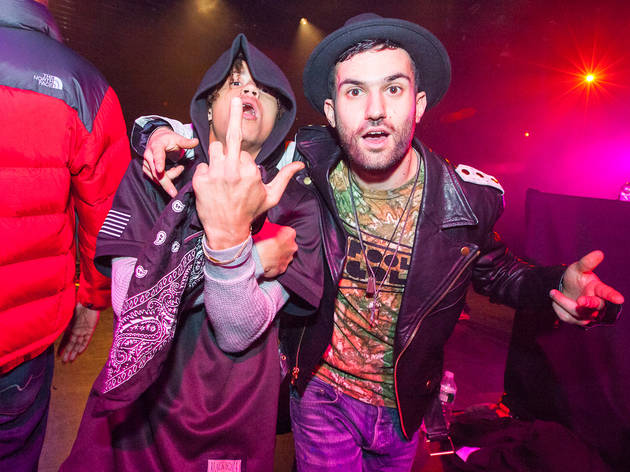 Photograph: Nicky Digital
(nickydigital.com)

Before completely adopting his professional persona (the nickname arose from being the new-media person in a dorm suite of writing majors), Nicky Digital was the art director at the now-defunct magazine Radar. His first shooting gig in New York was at the SoulPusher party at the Delancey in 2005, in exchange for three drink tickets. "Within a month, I was working every single night," he says.

His approach
"I have my camera with me, so just the gesture of lifting it up and making eye contact—there's already that initial conversation. I really try not to photograph the stuff you wouldn't want to remember."

On his website
"For me, my audience and the people who come to the site every day, they're my livelihood, and they're my friends, and they are the people who I've been documenting for years. I don't ever want anyone to feel alienated. I do make a living off it, but never off embarrassing someone. The living I make is because people enjoy it and come and see the photos. It is collaborative."

His tips for shooting nightlife
"There's two schools of thought: There are people who are involved in the event, and then there are people who are sent on assignment to go to the event. I like to think of myself as documenting the world that I live in. At the end of the day, you can tell what the difference in the photos is."

"Get in close and have conversations with people. I like to think of it as a really quick interview. You approach them. The most important part is to make sure that the people want to be photographed. And once you have that initial interaction, it should be a playful experience for everyone."

His favorite events to shoot
"I like shooting bands, especially when you can shoot a band a bunch of times, because it's almost like you become a member. [You think,] 'Oh, I know what he's about to do when he walks through the stage over there,' and you can get your money shot."

"Steve Aoki is really fun to shoot because he's crowd-surfing in a raft and throwing cakes at people."

"There are some people who have amazing light shows. Deadmau5 has an incredible light show. Boyz Noize too. I just shot him recently. His music and stage setup was huge and ridiculous, but there was something about it that was classy and well-thought-out. All of his samples were triggering the lighting on the stage. It's nice when the DJ is actually controlling the full experience."

"I love shooting festivals, too. I actually get more time with artists because everyone is usually staying overnight and hanging out backstage."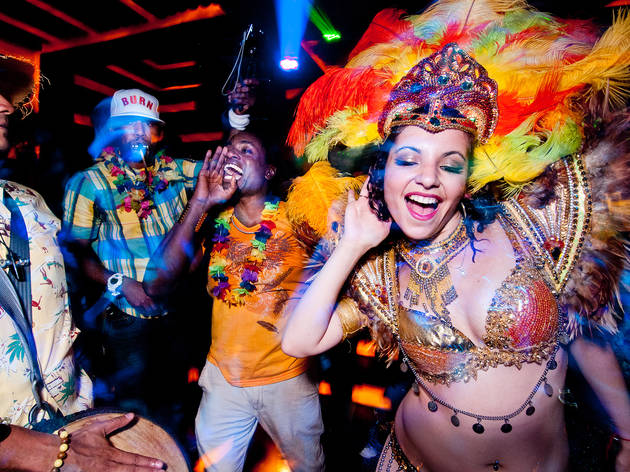 Photograph: Filip Wolak
(fotofilip.com)
Wolak (a
Time Out
contributor) started in nightlife as a music promoter in Poland in the mid-'90s. His first shoot was a Halloween loft party in Tribeca in 2007. He's also collaborated with Justin Toca and his themed Toca Cielo events.

His approach
"I am quite a shy person in real life. I never engage the people into my shots—I take them the way they are at that particular moment. I think nightlife is a combination of photojournalism and portrait photography—that's why I love it so much. I am not giving people the chance to become better looking than they actually are. In nightlife you are getting someone's personality."

His tips for shooting nightlife
"Experiment, be creative. Know your gear. Try unusual angles and approaches. Get yourself right into the action, close to the people. Read the people you are photographing and find what's special about them. Understand that hot chicks aren't the only topic that's worth shooting. Don't interfere, unless you think it's critical for the shot. Ask yourself, why are you doing this—to get social recognition or create art? This one is quite direct, but trust me, 90 percent do it for the recognition."

His favorite parties to shoot
"I love themed and costume parties. Toca Cielo, Kostume Kult, Love That Fever, Burner stuff. I love outdoor events at dawn, like Governors Island raves, because they bring crazy crowds, but I can only take a little bit of that. I am totally in love with all things Coney Island, as well as burlesque and variety shows."