Jazz Age Lawn Party 2017 guide
Give 'em the 'ol razzle dazzle at the Jazz Age Lawn Party 2017, a 1920s soiree that takes place on Governors Island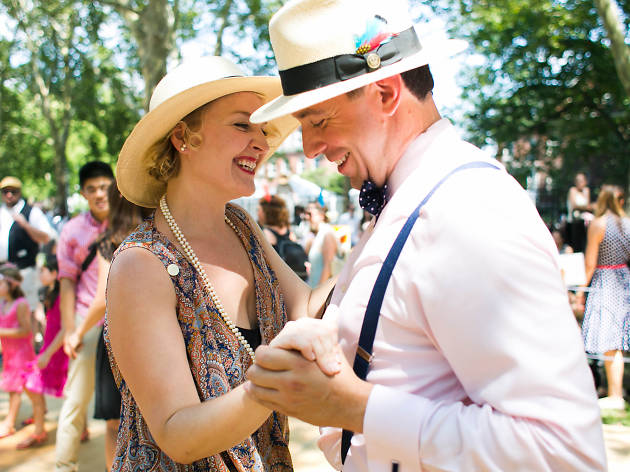 The Jazz Age Lawn Party 2017 is a spectacular summer tradition on gorgeous Governors Island. Step onto the ferry, and back in time, with thousands of others dressed to the 1920s nines and enjoy music from Michael Arenella and his Dreamland Orchestra, learn the Charleston and sip on cocktails in the sunshine. It's one of the best things to do outside (beside the best New York beaches and rooftop bars in NYC, of course).
RECOMMENDED: See the full guide to Governors Island
What is the the Jazz Age Lawn Party?
The Jazz Age Lawn Party is a 1920s-themed party where attendees are encouraged to wear period dress, try classic cocktails and dance along to live jazz!
When is the Jazz Age Lawn Party?
The Jazz Age Lawn Party takes places over two weekends in the summer. The first weekend is June 11 and June 12, 2016 and the second weekend is August 13 and August 14, 2016.
Where is the Jazz Age Lawn Party?
Each year the Jazz Age Lawn Party takes place at the Colonel's Row on Governors Island.
What can you drink at the Jazz Age Lawn Party?
The shindig is offering a drink by Flatiron Lounge co-owner Julie Reiner called Americano de Robert, which pays homage to the founder of St-Germain Robert Cooper. Other original cocktails include Strike Up the Band, a Collins-style cocktail with strawberries and gin, and Flapper's Delight, a summer fizz with elderflower and juniper.
What can you eat at the Jazz Age Lawn Party?
New food vendors Melt Bakery, Mom's Cooking and An Artistic Taste offer up tasty bites among usual mainstays.
What merchandise can you buy at the Jazz Age Lawn Party?
Lawngoers can shop exciting vintage merchants like Goddess Godette, which specializes in sustainable hats and dresses, and J. Press, a classic menswear brand started at Yale in 1902. Both are participating in the outdoor fest for the first time.
Who will be performing at the Jazz Age Lawn Party?
In addition to Arenella and his indispensable Jazz Age orchestra, this week's party features premiere performances from the Dreamland Follies and the Canarsie Wobblers, as well as jazz from Queen Esther and piano from Peter Mintun.
Jazz Age Lawn Party 2016 coverage
Jazz Age Lawn Party in photos
Archive Jazz Age Lawn Party coverage