Governors Island, NY guide
Ride the ferry to Governors Island, NY for fun things to do like zip lining, biking and outdoor drinking
If you crave an escape from the city that won't land you in debt, head to the ever-changing urban oasis of Governors Island, NY which combines park, concert venue, adult playground and outdoor art space into a single lovely haven for adventure. One of the best things to do in summer is ride the ferry and visit the car-free attraction, so use our handy guide to plan your trip. We'll also fill you in on the hottest events taking place on the island all summer long. And if you're looking for information on Governors Ball, you're in the wrong place, dude. The festival is actually on Randall's Island.
RECOMMENDED: See more of the best New York attractions
When does Governors Island open?
Governors Island is open to the public from May 1 until October 31, 2019. During weekdays, the Island is open from 10am to 6pm; weekends and holidays, the island is open from 10am to 7pm. Public hours are expanded with late nights (open until 10pm) every Friday and Saturday between Memorial Day (May 27, 2019) and Labor Day (Sept 2, 2019).
How do I get to Governors Island?
It costs only $3 to cruise to the car-free paradise, with ferries leaving every day from Manhattan's South Street Seaport (10 South Street) and, on weekends, Brooklyn's Pier 6. Manhattan ferries depart hourly from 10am to 6pm on weekdays and from 10am to 7pm on weekends, and Brooklyn ferries from 11am to 7pm. Be sure to catch a free ride between May 1 and May 5 or on Saturdays and Sundays before 11:30am. This year, a new ferry join the fleet that can fit up to 400 passengers. The new vessel makes trips between Lower Manhattan and Soissons Landing on weekends, and sets sail every 20 minutes. Starting Memorial Day weekend, there will be more ferry service connections to Governors Island's Yankee Pier via service from Wall Street/Pier 11. For more information, check ferry.nyc.
Is there a huge and hilly park on Governors Island?
You are correct! The answer to a man-made urban cityscape is a man-made outdoor park at the island's Hills, which rise 75 feet above sea level and offer some breathing space from the city. Zoom down the 75-foot-long slide at Slide Hill; view artist Rachel Whiteread's permanent installation Cabin at Discovery Hill; or chill at Hammock Grove.
What other outdoor activities does the Island offer?
After working your way through L-train crowds, fifth-floor walk-ups and the lines at Shake Shack, you'll be more than ready for the challenges of Adventures at Governors Island, which includes a 300-foot-long zip line with a killer view of Manhattan, a 3,600-foot maze, a rock-climbing wall and a mini golf court.
Aside from that, visitors can bring their or bike or rent a two-wheeler to use on the Island. Blazing Saddles has 500 bikes and 60 surreys for your use. On weekday mornings, you can ride for free for an hour. There are also Citi Bike kiosks at Soissons Landing, Yankee Pier and Picnic Point.
On beautiful weather days, there is free kayaking available at Pier 101 (the Island's kayak dock). The Downtown Boathouse also offers free kayaking on Saturdays from June 15 to September 14 (11am–4pm).
Need a spot to host a large family gathering or party? Make Governors Island your backyard and reserve a grill and picnic table and host the ultimate cookout. Reservations must be booked two weeks in advance.
You no longer have to trek hours to the Hudson Valley to sleep in a tent. The glamping hospitality group, Collective Retreats (which has locations in Yellowstone, Vail, Sonoma, Hill Country and Hudson Valley), has set up a permanent camp on the western side of Governors Island. But we know what you're thinking, "How the hell does this work?" Here's the breakdown.
Any other major events on Governors Island I should know about?
There are many! A few highlights: The ninth season of the classical-music festival Rite of Summer makes joyful noise on June 1, July 6, August 6 and September 7 at Nolan Park (1-3pm, free). Enjoy a brisk early-morning run at the New York Harbor Oyster Classic 5K on June 9 from 8 to 11am ($35–$50). Don't miss the 14th annual Jazz Age Lawn Party on either June 15 and 16 or August 24 and 25 ($40–$175). Later in the summer (August 31-Sept 1) check out the 10th Annual NYC Unicycle Festival at Colonels Row (noon–5pm). For more news and information, visit govisland.com/things-to-do.
Are there any places to eat and drink on Governors Island?
Oh, you betcha. New vendors join the fray at Liggett Terrace Food Court this year like Threes Brewing providing beer and wine for purchase. And Neapolitan Express becomes the Island's first pizza vendor. Additional nibbles include traditional Ethiopian and Eritrean food from Makina Café. (They also offer a range of vegan and vegetarian options.) Order some "Perros Calientes" (a.k.a. hot dogs) from Venezuelan merchant Perros Y Vainas. And folks with a sweet tooth can enjoy ice cream, desserts and pastries from vendors like Joe Coffee, Melt Bakery and People's Pops.
There are also two waterfront restaurants: Island Oyster, which hosts live music on the second and last Saturday of every month, and Taco Vista. These dining options are both located near Manhattan Ferry Landing and are open June through August.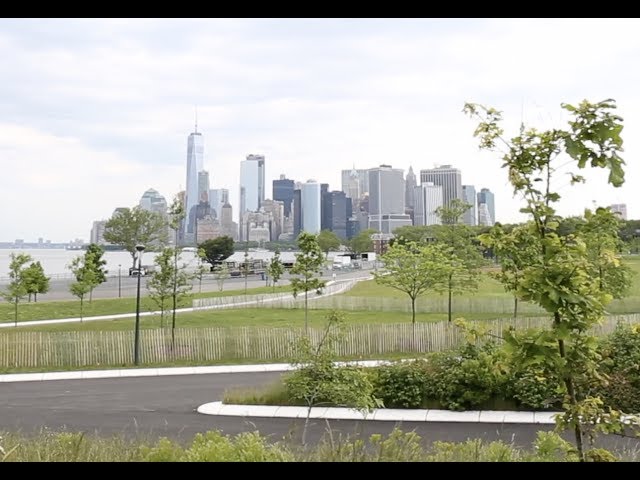 Things to do on Governors Island, NY
Governors Island, NY in pictures
Archive Governors Island, NY content