Governors Island, NY guide
Ride the ferry to Governors Island, New York for fun things to do like hiking, running, biking, picnicking and outdoor drinking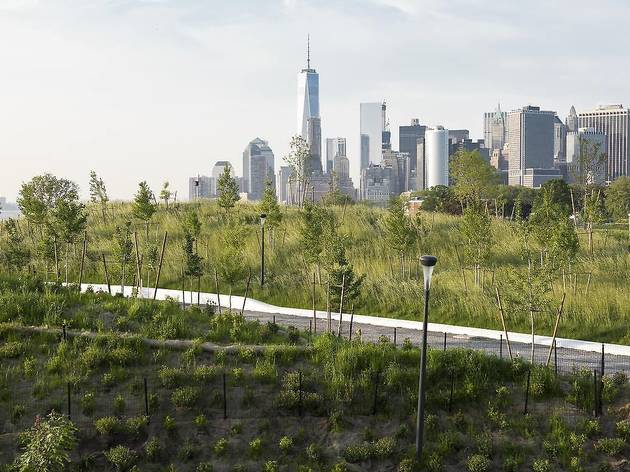 If you crave an escape from the city that won't land you in debt, head to the ever-changing urban oasis of Governors Island, NY which combines park, adult playground and outdoor art space into a single lovely haven for adventure. One of the best things to do in summer is ride the ferry and visit the car-free attraction, so use our handy guide to plan your trip. After months of extended closure, Governors Island is officially reopened to the public to roam, don't forget your mask!
RECOMMENDED: See more of the best New York attractions
When is Governors Island open?
The season is from May 1 to October 31. During weekdays, the Island is open from 10am to 6:15pm; weekends and holidays, the island is open from 10am to 7pm.
How do I get to Governors Island?
It costs only $3 to cruise to the car-free paradise, with ferries leaving every day from Manhattan's South Street Seaport (the Battery Maritime Building at 10 South Street) and on weekends, from Pier 6 at Brooklyn Bridge Park and from Atlantic Basin/Red Hook to increase access to the island from communities with less available green space.
As mentioned, round-trip ferry tickets will cost $3 for adults, but—if you get up early—ferries before noon on Saturdays and Sundays are free for everyone. Ferries are also free for New York City Housing Authority residents, military service members, seniors 65 and over, and riders under the age of 12. Manhattan ferries depart hourly from 10am to 6pm on weekdays and from 10am to 7pm on weekends, and Brooklyn ferries from 11am to 7pm. Be sure to lock in your reserved ferry tickets in advance through a new reservation system.
Is there a huge and hilly park on Governors Island?
You are correct! The answer to a man-made urban cityscape is a man-made outdoor park at the island's Hills, which rise 75 feet above sea level and offer some breathing space from the city. Zoom down the 75-foot-long slide at Slide Hill; view artist Rachel Whiteread's permanent installation Cabin at Discovery Hill; or chill at Hammock Grove.
What other outdoor activities does the Island offer?
Have you been cooped up for far too long and ready for some sun? New Yorkers can look forward to hiking, running, biking, picnicking and birding throughout the sprawling green space on the island.
Aside from that, visitors can bring their bike or rent a two-wheeler to use on the Island. On weekday mornings, you can ride for free for an hour. There are also Citi Bike kiosks at Soissons Landing, Yankee Pier and Picnic Point.
On beautiful weather days, there is free kayaking available at Pier 101 (the Island's kayak dock). The Downtown Boathouse also offers free kayaking on Saturdays from June 15 to September 14 (11am–4pm).
Need a spot to host a large family gathering or party? Make Governors Island your backyard and reserve a grill and picnic table and host the ultimate cookout. Reservations must be booked two weeks in advance.
You no longer have to trek hours to the Hudson Valley to sleep in a tent. The glamping hospitality group, Collective Retreats (which has locations in Yellowstone, Vail, Sonoma, Hill Country and Hudson Valley), has set up a permanent camp on the western side of Governors Island.
You can see a schedule of events and art exhibitions on the island here.
Are there any places to eat and drink on Governors Island?
Oh, you betcha. Threes Brewing, which typically runs a waterfront craft beer stand on the island, but this year will also be teaming up with popular Brooklyn butcher shop the Meat Hook to bring you good beer and meats like sausages. Taco Vista will be back offering up waterfront carnitas and Makina Café will be serving its popular Ethiopian and Eritrean food (They also offer a range of vegan and vegetarian options.) Fauzia's Heavenly Delights, an award-winning Jamaican-fusion establishment will be offering Caribbean classics. Other eateries include Kimchi Taco Truck, Little Eva's, Malai ice cream, Melt Bakery, People's Pops, and Terry & Yaki.
Plus, head to waterfront restaurants: Island Oyster, for tropical cocktails to lean into the whole "you're on an island" thing.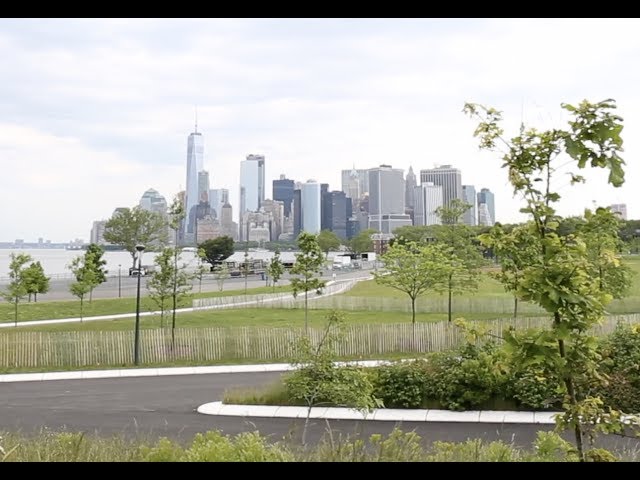 Things to do on Governors Island, NY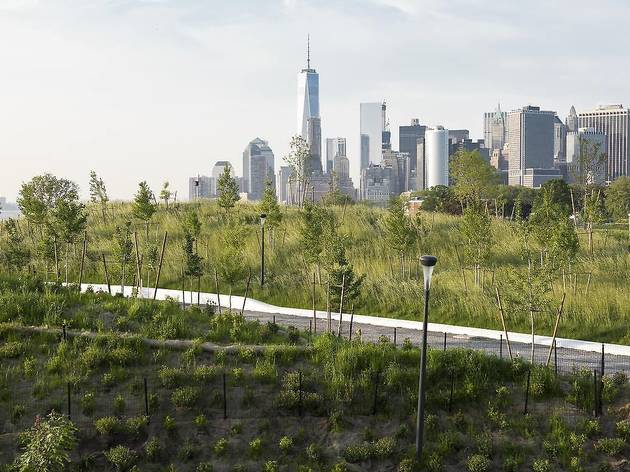 Governors Island is officially opening on May 1
The lush oasis that is Governors Island will open to the public on May 1, signaling the start of the fun outdoor season in NYC. On Thursday, Mayor Bill de Blasio announced the "on-time" opening, saying the "jewel of New York City" was delayed in opening last year because of the pandemic. New this year, there will be two stops in Brooklyn for weekend service—at Brooklyn Bridge Park and Red Hook—and ferry trips will be free to seniors, public housing residents, children and those with an ID NYC card. "This will not only provide free ferries for NYCHA residents—in Red Hook, one of the largest in the borough—but will also bring New Yorkers to Red Hook and support local businesses on the weekends. I believe that the Trust for Governors Island cares about serving all New Yorkers and look forward to the programming again this year," said Council Member Carlos Menchaca. On that note, here are some events on Governors Island this year: Starting May 1: Glamping with Collective Governors Island May 22: NYC Runs Summer Loving 5K & 10K June 12-13: The Jazz Age Lawn Party July 4: NYCRuns Firecracker 5K & 10K July 24-25: New York City Poetry Festival August 7: NYCRuns Governors Island 5K & 10K October 31: NYCRuns Haunted Island 5K & 10K Photograph: Courtesy Jazz Age Lawn Party And some ongoing happenings: New York Virtual Volcano Observatory: The New York Virtual Volcano Observatory recreates the experience of exploring a volcano within NYC. It'll host a pop-up art-science exhibition by the WetLab of NYU-Gallatin titled "PHREATIC!" from May 1-June 7. ArtCrawl Harlem: "Boundaries & Connections" will feature the completed artwork of our 2020 Artist in Residence, painter and photographer Ricky Day and painter/mixed media artists Demarcus McGaughey. Swale: Swale, a floating food forest built atop a 5,000 square foot barge, is currently building a public food forest on Governors Island that will open in late spring. West Harlem Art Fund: Two art exhibitions are planned for the spring and fall, including outdoor sculptures, in-person classes, literary reading and artist residency during the months of July and August. The spring show "We Are In Reach" features Dario Mohr, Kraig Blue and Jannette Jwahir Hawkins. Works on Water: In response to the pandemic, the focus of this year's exhibit by this artist-run experimental organization is on creating temporary, site-specific outdoor works that'll interact with the public. View this post on Instagram A post shared by Governors Island (@governorsisland) and art to check out: The May Room by Shantell Martin: Shantell Martin has created a labyrinthine installation spanning the floors and walls of the Our Lady Star of the Sea building and reimagined the interior of this former chapel built in 1942 with her signature black-and-white line drawings. She also designed custom-built furniture in the shape of letters that can be arranged to spell out words and will restore the building's nave, which has been closed to the public since 1996. Cabin by Rachel Whiteread: Located on the hillside of Discovery Hill, this concrete cast of the interior of a simple cabin suggests retreat and introspection as it overlooks New York Harbor. Yankee Hanger by Mark Handforth: As the name suggests, this whimsical sculpture invites visitors to sit on, walk through, and engage with it on Liggett Terrace. "This Year Made Clear how Critical Green Spaces Like Governors Island Are to The Health and Well-Being of Our City," said Merritt Birnbaum, the executive director of The Friends of Governors Island. "Everyone needs the ability to escape the concrete jungle and recharge after such a hard winter, and we can't wait to welcome new yorkers back to enjoy the spring blooms, fresh harbor breezes and plenty of room to bike, stroll, picnic and relax. We're especially grateful to our volunteers and supporters who stepped up in big ways over the past year to ensure governors island remains a beautiful and welcoming place for everyone." Fill out Our Excellent (and Extremely Quick) Time out Index Survey Right Now, and Have Your Voice Heard. Most Popular on Time Out - New York Launches the Nation's First-Ever Vaccine Passports- There's a Secret Speakeasy Hidden Inside the 28th Street Subway Station- The Best Things to Do in Nyc According to Experts- The Best Places to See Cherry Blossoms in Nyc- This New Williamsburg Pop-Up-Turned-Restaurant Is Serving Succulent Modern Takes on Jewish Staples Want to Know What's Cool in The City? Sign up To Our Newsletter for The Latest and greatest from NYC and beyond.
A herd of sheep will be grazing on Governors Island this summer
It's going to be a woolly fun summer on Governors Island! Five fluffy sheep have been added to the island's payroll to help control a sheep-ton of invasive plants this season and they'll be munching down in Hammock Grove, so you'll literally be able to count sheep while relaxing in a hammock. RECOMMENDED: Governors Island is officially opening on May 1 — here's what to expect The Trust for Governors Island officially announced the sheep residency on Monday, saying that the furry friends—Flour, Sam, Evening, Chad, and Philip Aries from Friends of Tivoli Lake Preserve and Farm in Albany—will be there for the next four to five months. Their prime target? Mugwort, phragmites and other invasive plant species will be on the menu. These plants have been crowding out other plants in the park. The sheep will help to break them down and weaken them and thus keeping them from flowering and spreading seeds, the Trust says. "The sheep are very happy to be joining us on Governors Island for the summer, and we are thrilled to have them here," said Clare Newman, President & CEO of the Trust for Governors Island. "This innovative, environmentally friendly landscaping program will protect our Island's plant life from invasive species while allowing our horticulture team to spend their time on more productive pursuits than weeding Hammock Grove. Our new sheep employees have arrived at the perfect time, and we welcome their contributions to help protect the natural landscapes of Governors Island." Other areas in the city, like Prospect Park and Riverside Park, have brought in goats to help cut mow away invasive plants, but Governors Island went with sheep because they will not eat tree bark. Instead, they will eat around younger trees instead of hurting them as a goat would do. The gardening staff has been pruning back these invasive species but it has taken a lot of time. By bringing in sheep, the time spent on this removal will be reduced to less than 30% and allow them to focus on trees and soil in Hammock Grove. Of course, for everyone else, the sheeps' presence will be a fun (and cute) addition to the island. They'll be fenced in where the invasive plants are, so you won't get to pet them, but admire them from a close distance. The Trust says it's an experiment this year and if all goes well, they'll be welcome back next year. View this post on Instagram A post shared by Governors Island (@governorsisland) Fill out our excellent (and extremely quick) Time Out Index survey right now, and have your voice heard. Want to know what's cool in the city? Sign up to our newsletter for the latest and greatest from NYC and beyond.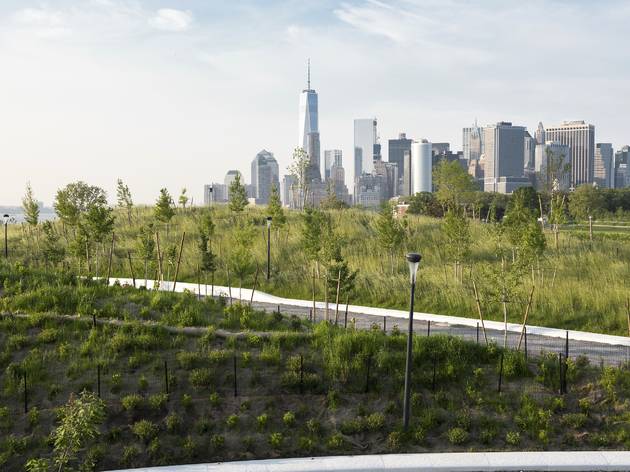 Here's how to experience Governors Island from home this summer
A day-trip to Governors Island is a quintessential part of any New York summer. And while we won't be hopping on the seven-minute ferry to the seasonal sanctuary anytime soon, that doesn't mean we can't take advantage of the cultural hub's arts programs, exhibitions and flourishing grounds. You can currently scroll through the island's weekly updated spring blooms digitally, so as not to miss any of the vivid colors on the grounds. "Governors Island being closed doesn't stop springtime from sweeping across the landscape," says the Things to Do page on their site. "Beautiful Blooms are appearing across the Island from Soissons Landing to Picnic Point! See more gorgeous spring flowers in this blog post." Courtesy Timothy Schenck/ Governors Island Miss live poetry? New Yorkers can enjoy streamed recorded poetry readings from inside Shantell Martin's immersive installation, The May Room. Last year, The May Room hosted a variety of public poetry reading events, several of which were put on by the Poetry Society of America, showcasing artists from diverse backgrounds. From home, you can watch Puerto Rican poets Raquel Salas Rivera and Ricardo Alberto Maldonado perform moving readings from a poetry collection called Puerto Rico en mi corazón. The collection came as a response to Hurricane Maria and the disaster's effect on the Puerto Rican population—while it also benefited hurricane relief efforts.
Governors Island, NY in pictures
Archive Governors Island, NY content