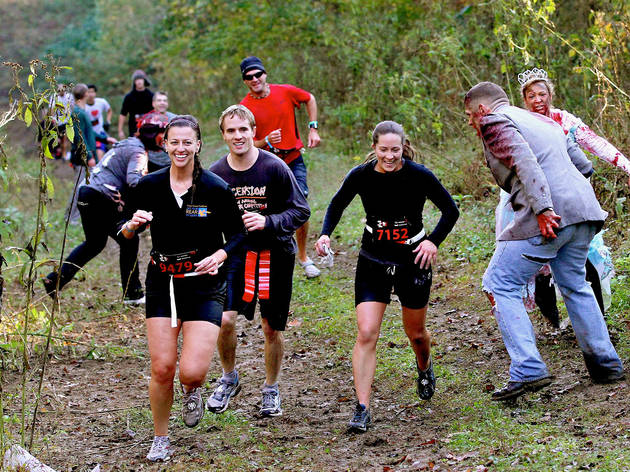 1/12
Photograph: Run For Your Lives
Run For Your Lives obstacle course race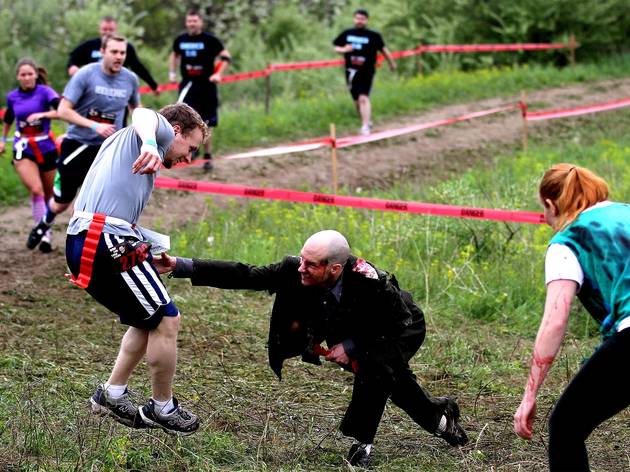 2/12
Photograph: Run For Your Lives
Run For Your Lives obstacle course race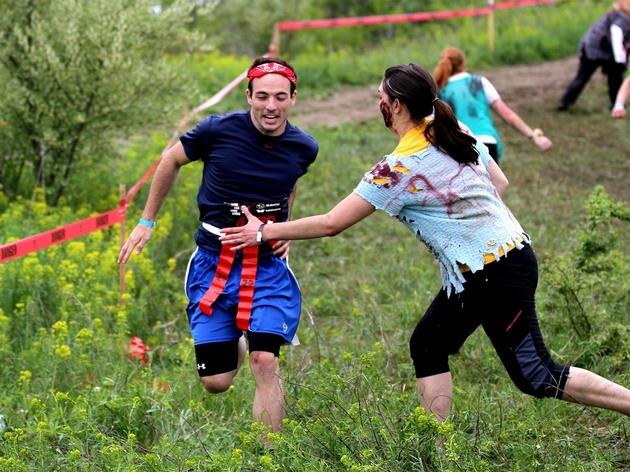 3/12
Photograph: Run For Your Lives
Run For Your Lives obstacle course race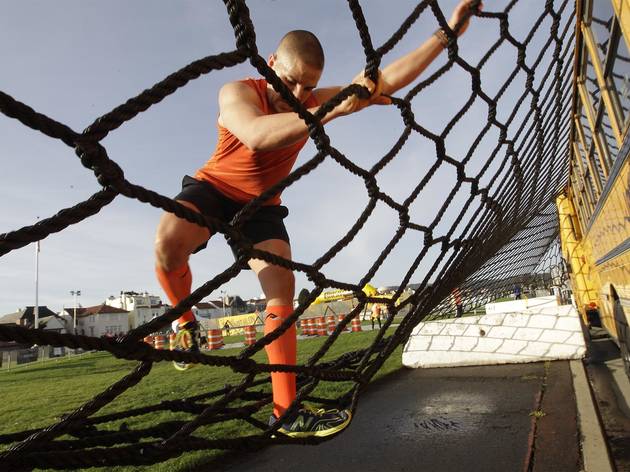 4/12
Photograph: Lewis Harrington
Men's Health Urbanathlon obstacle course race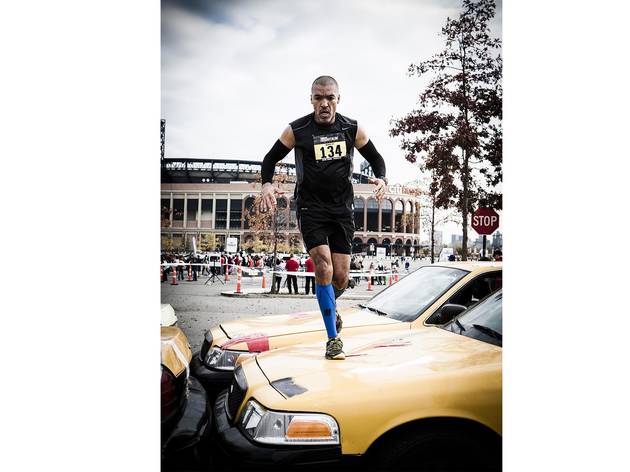 5/12
Photograph: Lewis Harrington
Men's Health Urbanathlon obstacle course race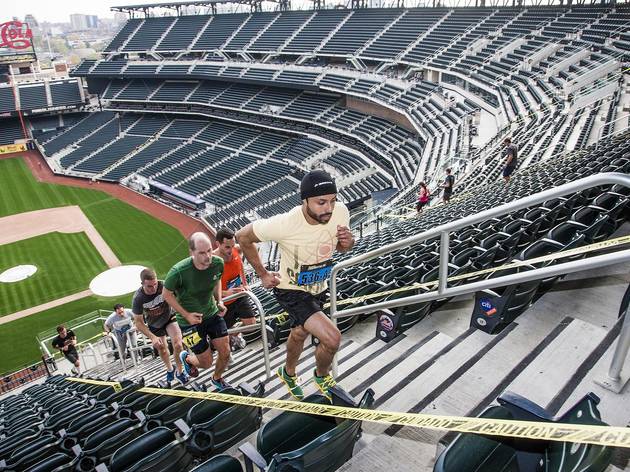 6/12
Photograph: Lewis Harrington
Men's Health Urbanathlon obstacle course race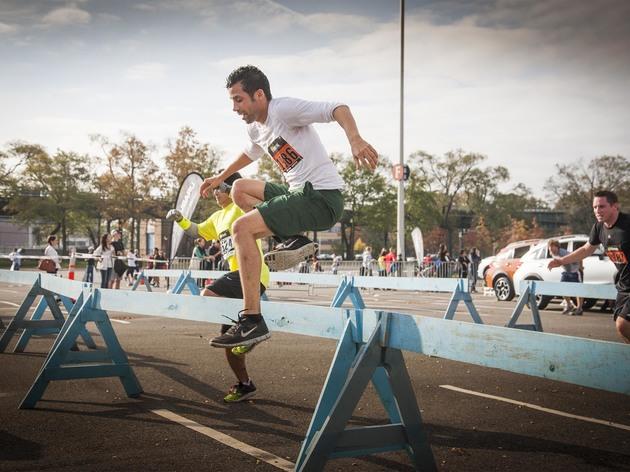 7/12
Photograph: Lewis Harrington
Men's Health Urbanathlon obstacle course race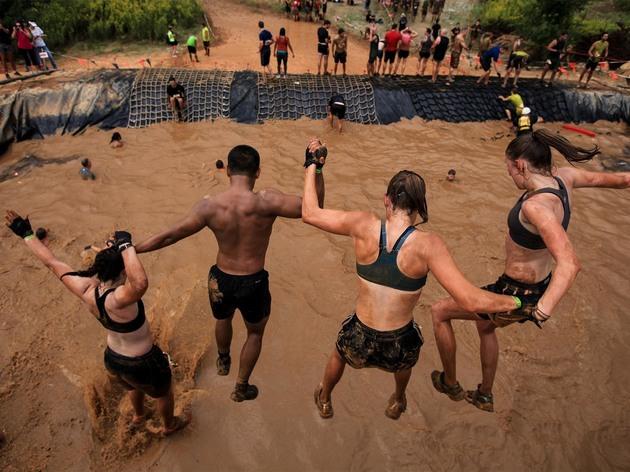 8/12
Tough Mudder obstacle course race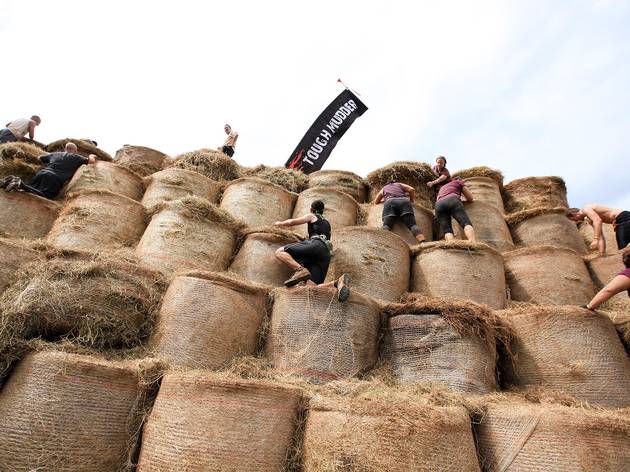 9/12
Tough Mudder obstacle course race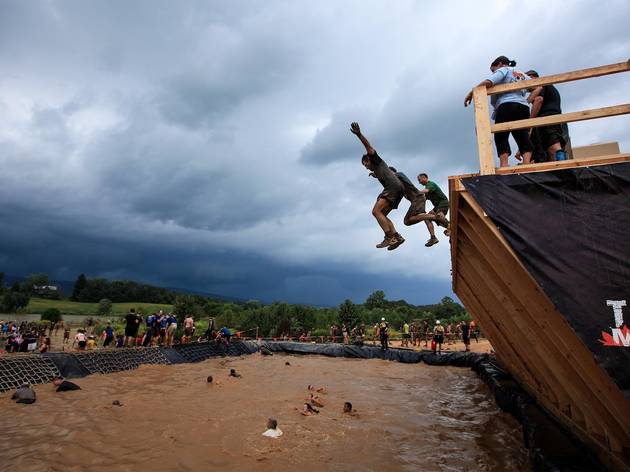 10/12
Tough Mudder obstacle course race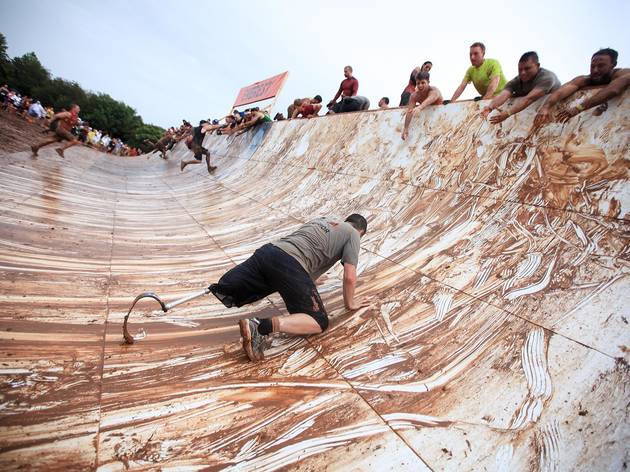 11/12
Tough Mudder obstacle course race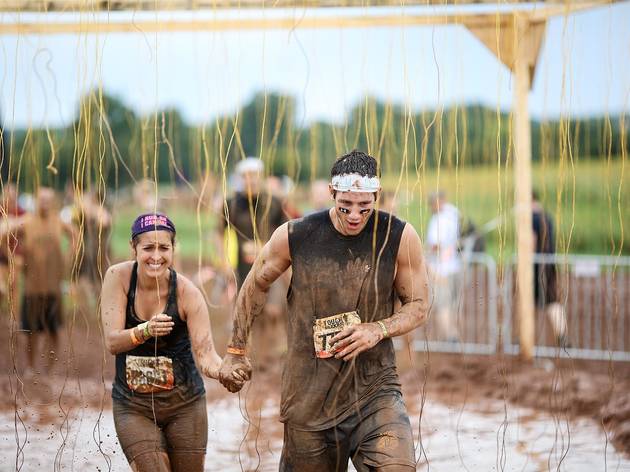 12/12
Tough Mudder obstacle course race
Obstacle course races coming to the New York area: Fall 2013
We analyze the latest fitness trend—obstacle course races like Tough Mudder—and recommend fitness classes to help you prepare.
If you're looking for a new fitness challenge, consider obstacle course races—an increasingly popular way to spend a day. The events tend to involve slogging through mud, climbing things, crawling under other things and generally making a run way more difficult—but hopefully rewarding—than it needs to be. But give it some careful thought before you sign up, the races can range from fun days out to gruelling exercises in having your ass handed to you. We've broken down three upcoming options in October so you know what to expect, and recommended fitness classes to help you prepare, or you could try these boot camps and CrossFit gyms.
RECOMMENDED: Find the best NYC fitness classes and gyms
Obstacle course races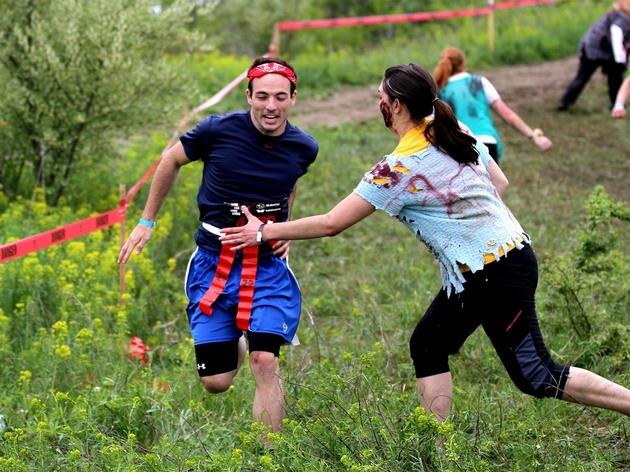 Photograph: Run For Your Lives
This 5K route tests your physical endurance like any other obstacle course, but while you're scaling walls and clambering through mud, you're also being chased by scores of brain-craving zombies. And if the race isn't your thing, you can also sign up to be one of the undead.

How long will it take? 30 to 45 minutes
What kind of obstacles are we talking about? You'll encounter 10 to 12, including a blood pit, a zombie maze and a smoke-filled house.
Level with me—what's the worst obstacle? Two surprise obstacles have, shall we say, a little "shock" to them.
How fit do I need to be? Not very—many runners claim Run for Your Lives is their first 5K.
I still need convincing: Postrace, you get to celebrate with your fellow survivors and the infected at the race's deejayed Apocalypse Party.
Floyd Bennett Field, 3159 Flatbush Ave between Aviation Rd and Belt Pkwy, Sheesphead Bay, Brooklyn (runforyourlives.com). Oct 26 at 8am; $70, zombies $35.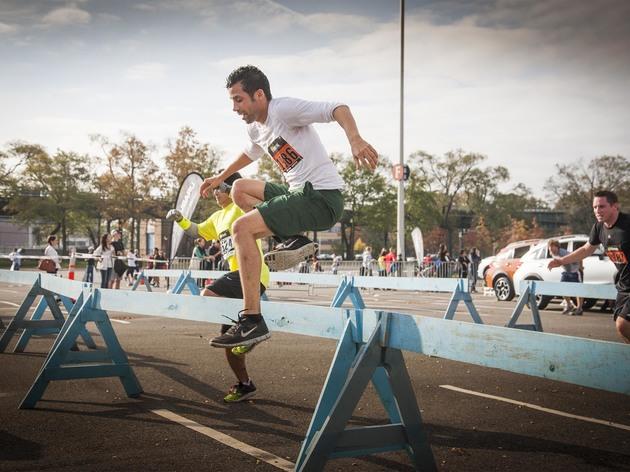 Photograph: Lewis Harrington
If wide-open countryside landscapes send shivers up your spine, opt for this ten-mile race that hurtles you through Flushing Meadows–Corona Park.

How long will it take? Most people finish in two to three hours, although the winners tend to complete the course in an hour to an hour and a half.
What kind of obstacles are we talking about? You'll be expected to jump over yellow cabs; crawl under cars and chain-link fences; traverse monkey bars; climb marine hurdles (linked metal structures raised high off the ground) and the stairs at Arthur Ashe Stadium and Citi Field; go over or under traffic barricade obstacles; and stutter-step through tires.
Level with me—what's the worst obstacle? The race culminates in scaling a bus and climbing an eight-foot-high wall.
How fit do I need to be? Organizers recommend you take part in a real training program before arriving at the start line.
I still need convincing: Its New York–centric nature is great practice for surviving a post-Armageddon city. And isn't that what we all want from our fitness programs?

Citi Field, Flushing Ave at 126th St, Flushing, Queens (menshealthurbanathlon.com). Oct 26 at 8am; $125.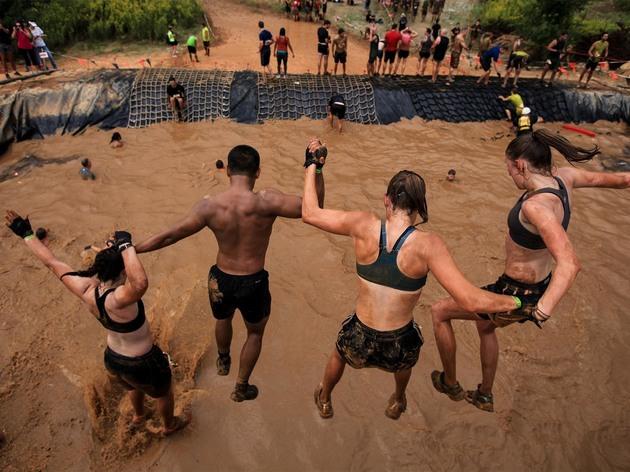 The mother of all adventure challenge series, Tough Mudder will take every ounce of drive from you and your fellow team members (participants usually join in groups of any size), with 10 to 12 grueling miles of obstacles designed by the British Special Forces.

How long will it take? More than three hours, on average, although only 78 percent of competitors finish.
What kind of obstacles are we talking about? There are dozens, but here are a few to expect: swimming through ice-filled water, climbing over haystacks, scaling 15-foot-tall wooden walls, crawling through tunnels, sprinting up a muddy cliff, passing through a tangled cargo net, leaping and crawling through mud pits and summiting "Everest," a ramp coated in grease and mud.
Level with me—what's the worst obstacle? They're all pretty bad, but sprinting through a field of live wires tends to elicit the most panic. The good news is that participants are able to skip an obstacle without penalty.
How fit do I need to be? At the very least, you should be working out five or six days a week and comfortable running five miles. Tough Mudder offers its own training program to help, or you can join a boot camp on your own.
I still need convincing: Just training for it could get you in the best shape of your life. Plus, get a tattoo of the Tough Mudder logo prerace and you get free entry. Yay?
Raceway Park, 230 Pension Rd, Englishtown, NJ (toughmudder.com). Oct 12, 13 at 8am; $90–$180.
Fitness classes to help you prepare for obstacle course races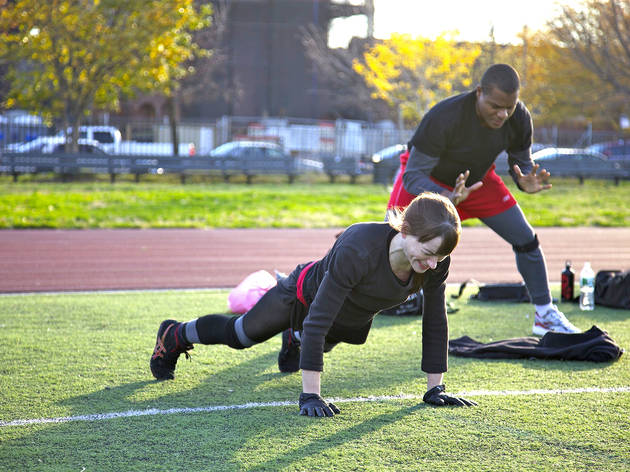 Photograph: Rodrigo de la Parra
Punk Rope creator Tim Haft's high-intensity workout builds stamina, strength and speed, along with other obstacle-conquering attributes like balance. During 12 sessions over six weeks, you'll perform short sets of sprints, jumps, squat thrusts and other power and agility moves, mixed with rest periods and cooldowns. The exercises at each one-hour workout get progressively harder (and you have to hold positions for longer)—expect to approach macho-man or -woman status by the end. If you can't commit to the whole regime, Haft also offers drop-in sessions at the Cobra Club (6 Wyckoff Ave between Jefferson and Troutman Sts, Bushwick, Brooklyn; Thu 7:30pm; $13), and virgin Beasts can get one free trial class at either session. McCarren Park soccer field, enter at Bayard St and Union Ave, Williamsburg, Brooklyn (beastanetics.com). Tue, Thu 6:45–7:45am, 8–9am; $144. Oct 15–Nov 21.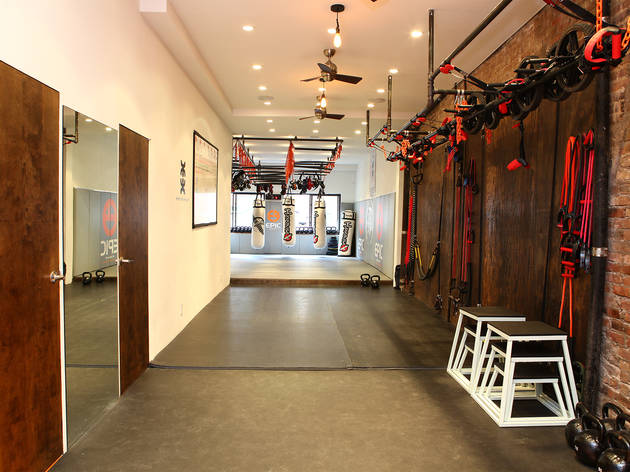 Photograph: Rachel Puchkoff
Spartan-inspired workout at Epic Hybrid Training
Submit your butt to a kicking with interval training that will get you ready to open a can of whup-ass on obstacle courses. Hour-long sessions will send you to a number of conditioning stations, where you'll climb ropes, swing on monkey bars, perform power jumpers, walk on a balance beam and do the dreaded burpee. But you're in experienced hands: This summer, Epic Hybrid owner Alexander Nicholas won a Spartan Race, another of the major endurance races, in Hawaii. Nicholas also co-leads two-hour runs along the East River for trainees looking for an extra workout outdoors. 230 E 53rd St between Second and Third Aves (646-450-2405, epichybridtraining.com). Schedule varies; monthly membership $199–$250.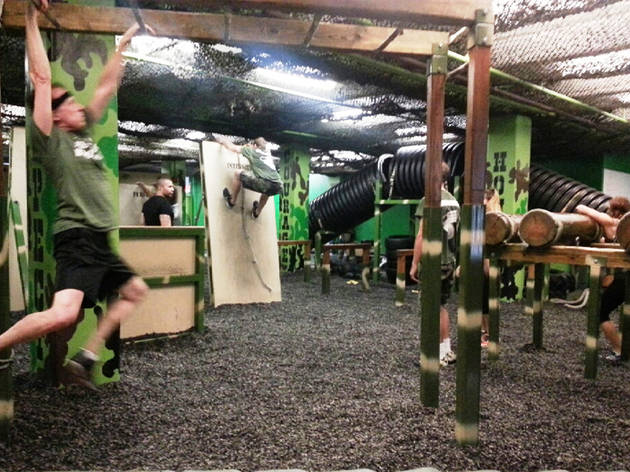 Tour of Duty at Pure Power Boot Camp
If you're serious about dominating these races, enlist in this hard-core program that's tailor-made to prepare you for punishing courses. Expect to make a commitment of four days a week for six weeks, or three days a week for eight weeks. The 60-minute sessions are packed with fast-paced cardio, plyometrics, resistance training and fat-burning exercises, and you'll learn how to tackle these types of obstacle courses without injury. Plus, former Marines guide you along an indoor obstacle course, where you'll climb through tunnels, traverse walls and jump hurdles. 38 E 32nd St between Madison and Park Aves, third floor (212-414-1886, purepowerbootcamp.com). Schedule varies; six weeks $929.