The Black Party in NYC guide
Here's everything you need to know about the Black Party—New York City's largest kink and fetish bash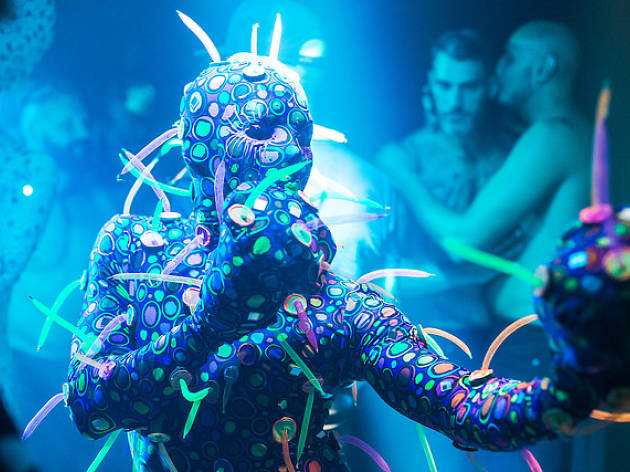 The Black Party in NYC is one of the best things to do in spring, and over 5,000 of the city's most daring men will bring their wildest, skimpiest, and kinkiest looks. The all-night and day blowout is also one of the best gay parties of the year. The 39th edition promises high-flying aerial sex stunts, "strange" performances and an endless supply of leather. Speaking of which, you can dress in full fetish gear or come as you are—so long as you feel sexy and don't make an ass of yourself. But if you're looking for a fresh harness, check out our guide of places to nab a costume including some of the best sex shops in NYC.
What is the Black Party in NYC?
The Black Party is one of the most well-known fetish parties in the world, with boundary-pushing fetish performances delighting a notoriously game crowd. Faithful attendees (in previous years more than 5,000 men—and some adventurous women—attended) stick to a hush-hush mentality. Count on this year's "Pigtopia: I Want to Break Free" edition to be one of the most deliciously filthy Rites ever.
When is the Black Party in NYC?
The Black Party is at 11pm on Saturday, April 21, 2018, and continues until 2pm on Sunday, April 22, 2017.
Where is the Black Party in NYC?
This year's party goes down at 7 52nd St in Brooklyn.
How do I get tickets for the Black Party in NYC?
Visit saintatlarge.com to nab tickets ($150).
The Black Party in NYC guide
Black Party NYC photos
Past Black Party NYC Weekend coverage