Heads up! We're working hard to be accurate – but these are unusual times, so please always check before heading out.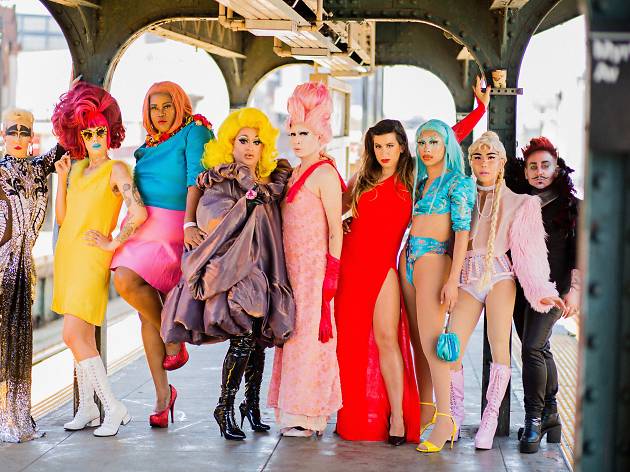 The drag stars of Bushwig 2018 have arrived
Meet the icons of the transgressive, totally outrageous Bushwig drag festival
On a sweltering Tuesday afternoon in July, nine of New York's most worshipped drag performers stomp onto the Myrtle/Broadway stop for Time Out's photoshoot. Naturally, they spark commentary and double takes from just about every commuter on the platform. But this sweaty stunt is rather common for the queens and kings of Bushwig, the drag music festival toasting Brooklyn's DIY, experimental queer art and party culture. The little day party that Horrorchata and Babes Trust co-founded in 2012 is now a globally-beloved underground holiday, with satellite celebrations in L.A., Mexico City, Berlin and beyond. This year's fest promises to celebrate its home borough with over 150 performers, including RuPaul's Drag Race alumni Sasha Velour and Alaska Thunderfuck. Before the party gets started, meet some of Bushwig's rising icons.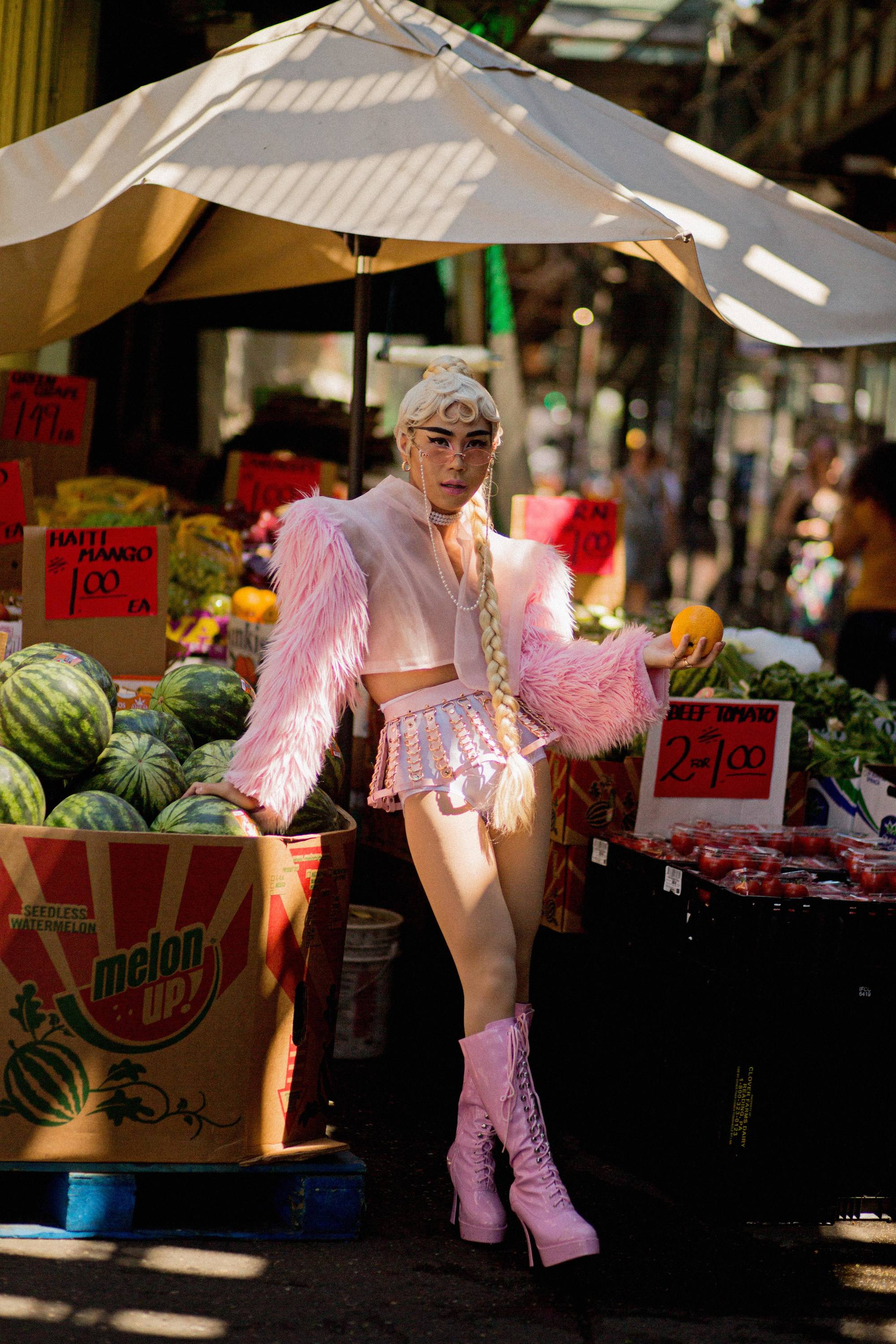 Photograph by Lia Clay
Dynasty

@reignofdynasty
See them at Bubble_T
She may share the name of the '80s' most outrageous TV series, but this Dynasty ain't no Alexis Carrington sideshow. Adorned in meticulously-curated runway looks, Dynasty proudly serves style and heritage, particularly at the throne of one of NYC's queer "Slaysian" parties, the triumphant Bubble_T.
"I'm inspired by my Vietnamese heritage," she says. "That's why I like to wear a lot of accessories, a lot of hardware, a lot of gold. Growing up, I would always see shrines of golden buddhas with incense in my grandparents' house, and now that I'm older it's important for me to draw upon that heritage. My name comes the amazing Vietnamese women who raised me: A literal dynasty of badass women. I'm drawing upon all that good energy."
That said, Miss Dynasty isn't totally averse to the decade of her soap opera namesake. "I do a lot of '80s pop and '80s new wave. The feeling is so strong—it's nostalgic almost—but it makes everybody feel like they're remembering something they haven't experienced, you know? I want to fill that memory with the image of me—Blondie, the Go Gos, Nancy Sinatra..."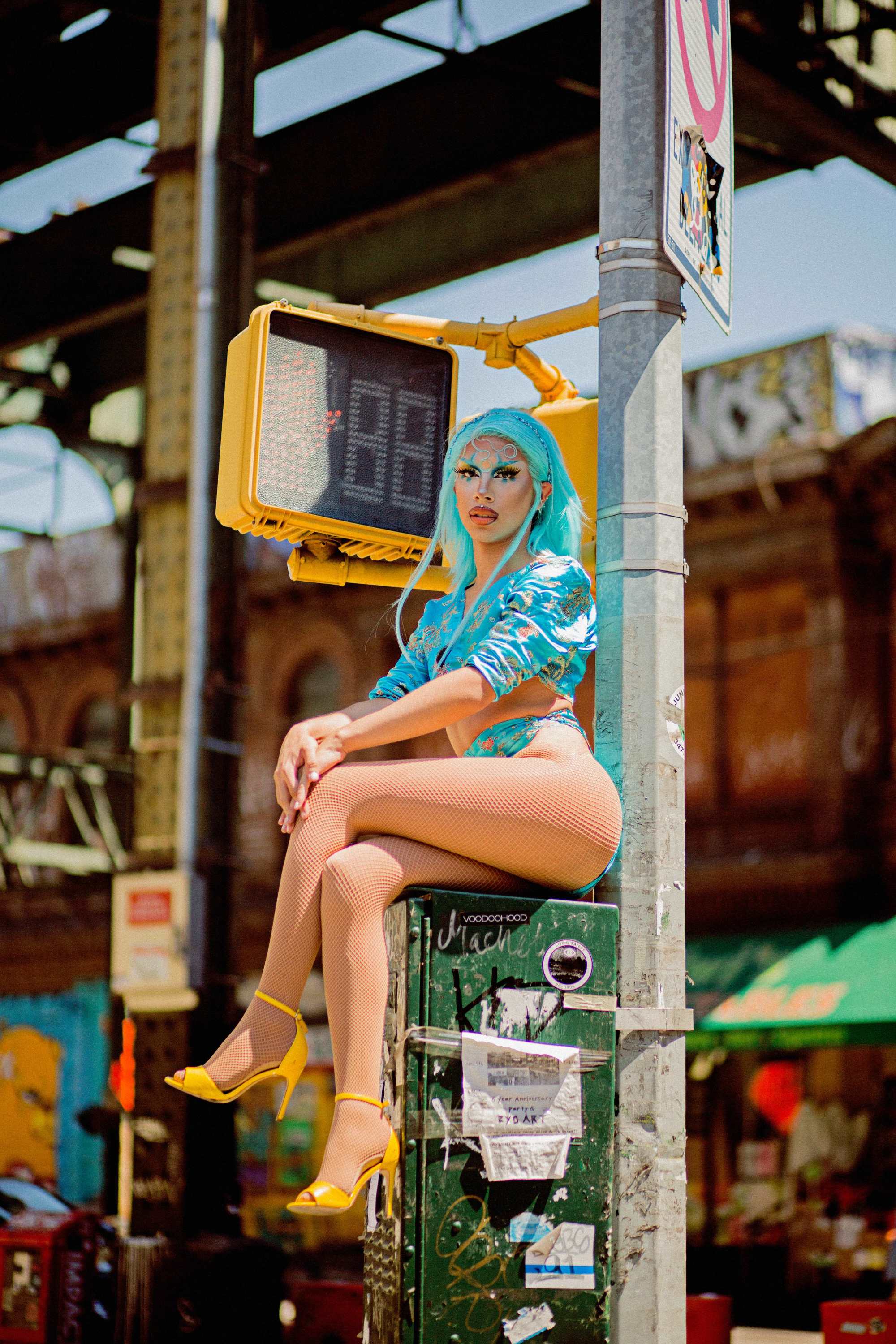 Photograph by Lia Clay
Harajuku

@harajuku.nyc
See them at OOPS Wednesdays at the Rosemont
"We don't look as good as those kids," reigning Miss Bushwig Charlene told me, when I asked about the new generation of drag. "You talk to Harajuku—she makes everything she wears. She looks like a goddamn fantasy everywhere she goes, every time she steps out of the house."
High praise, well-earned. The best of the borough's new queens must meld their predecessor's humor and spontenaity with TV-ready looks. And Harajuku's got it down.
"I felt like I had a lot to prove coming into a scene I was not familiar with at all," Harajuku says of her first Bushwig in 2017. "I always do my best now, out of instinct, to wow and get people thinking: There's a reason she's here."
A recent performance at Elsewhere for Pride, to "Cosmic Love" by Florence and the Machine," was indeed legendary. "My entire outfit was white—I made it—and I added packs of powdered dye everywhere in the outfit. My sisters West Dakota and Panthera came out with sponges filled with water and started padding me down, and the colors started appearing on the outfit."
"I like to consider myself pretty versatile. I can make you dance, I can make you laugh, I can make you cry. That's why I feel very at home here [in Brooklyn]. There's a little bit of everything."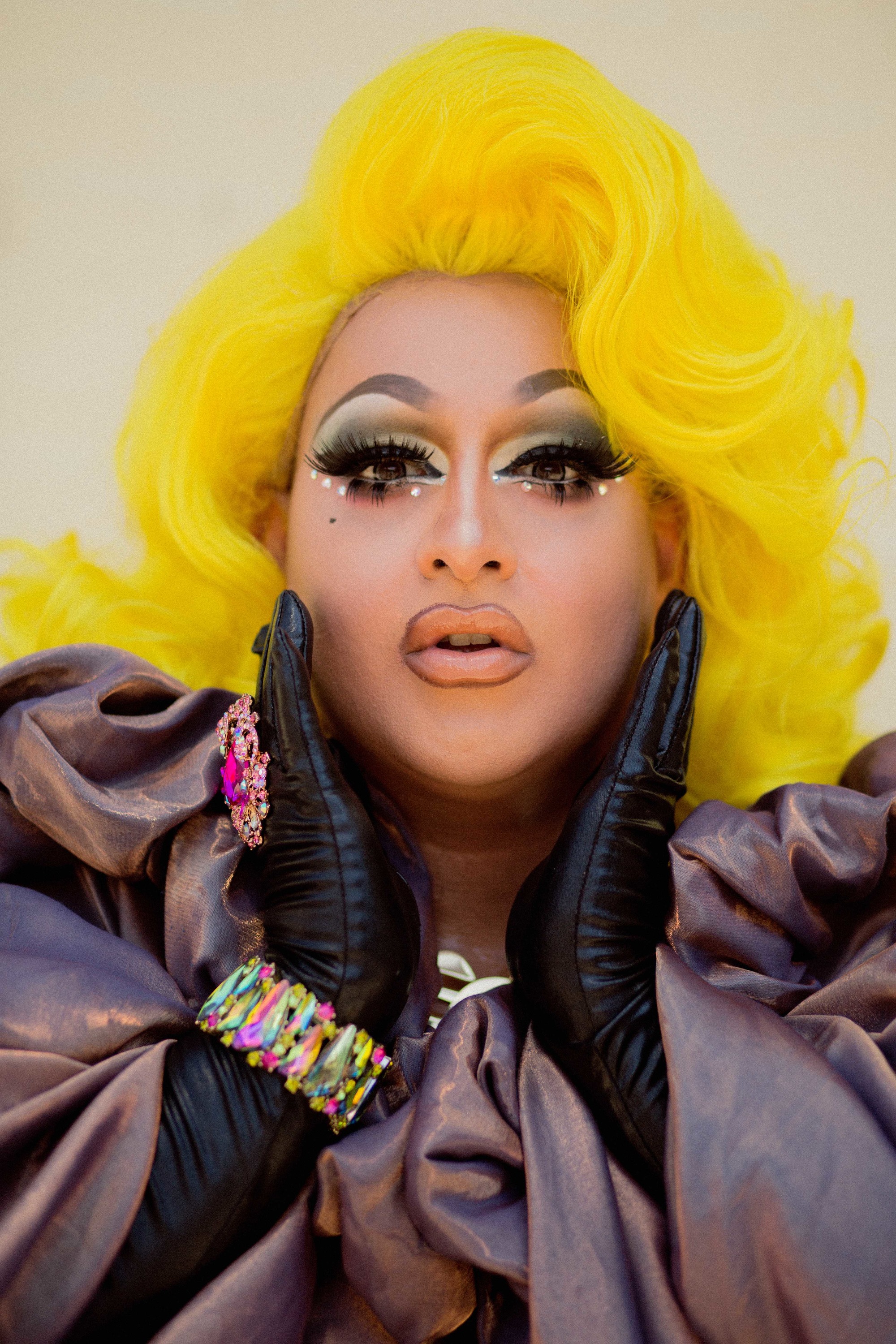 Photograph by Lia Clay
Horrorchata
Soft-spoken and unassuming, Horrorchata doesn't come off as the doyenne of a drag kingdom, but perhaps therein lies her charm: She's not here for the money. She's here for the party. Though Horrorchata keeps a busy schedule as a DJ and party producer at gigs like
Be Cute
, Yas Mama and Cakes, she's a keen power-player in her business. Along with Bushwig co-founder Babes Trust, 'Chata has turned the nascent drag festival into a global movement to support local queer art in cities like Berlin, London, New Orleans, Los Angeles and Mexico City.
And she tries to keep it personal, even though her empire has expanded faster than she can always manage. "A lot of people who have performed at Bushwig, I don't really know," she says, "because it's so huge now. They'll come up to me and say, 'Thank you for letting me perform!' And it's like, Oh, you performed? But d
rag is always changing and there's always new children coming in."
Though she's been in this industry full-time for six years, she hasn't lost sight of what's important—or where home is. "
This year is going to be Brooklyn fucking royalty," she says, "and family."
Photograph by Lia Clay
Merrie Cherry

@merrie_cherry
See them at Drag Queen Story Hour and DragNet at Metropolitan
"I usually plan my Bushwig performances four months in advance," Merrie Cherry says, and it shows. She's known for legendary numbers, like an emotional, Twin Towers-inspired rendition of Demi Lovato's "Skyscraper" that brought the crowd together; and an interpretation of "The Circle of Life" involving dashikis and cowboys. But this year's performance was in peril when Cherry suffered a stroke in June.
"Today is my first time getting in makeup since the stroke, actually. My friends did a GoFundMe and raised a lot of money, so I have enough to take a month and a half off, and do me. I'm still a nightlife girl, but I'm not in it like I used to be—and I don't have to be. I've created a name for myself where I can find more to do. I really want to do more day stuff, and I like the idea of doing more social, community-based things. My brand has always been giving back to the community."
But don't worry: She's still planning on burning the house down at this year's fest. "The second I was admitted to the hospital, I started planning my Bushwig performance." Ya'll better be ready for this comeback.
Photograph by Lia Clay
Miss Malice

@missmalice_switchnplay
See her at Switch N' Play every second and fourth Saturday at Branded Saloon
As the nexus of gender reinvention, Brooklyn can often come off as intimidating, or even esoteric. But sometimes you just need the right guide to show you the sights. Enter Miss Malice, the joyous and gorgeous femcee of the drag and burlesque revue Switch N' Play. "My style is inspired by lesbian and queer pulp novel covers, and B-movie femme villains," she says. "I've also been described by an audience member as 'Kristen Wiig meets the B-52s.'"
This year, Malice won "Best Femcee" at the Brooklyn Nightlife Awards, cementing her status as one of the borough's most engaging artists, helping drag move out of the shadows and into the sunlight. "I love Brooklyn drag because it's weird, wild and beautiful. There are no limits, and there's room for all queer people and folks of all gender presentations to participate and to see their art validated by the community."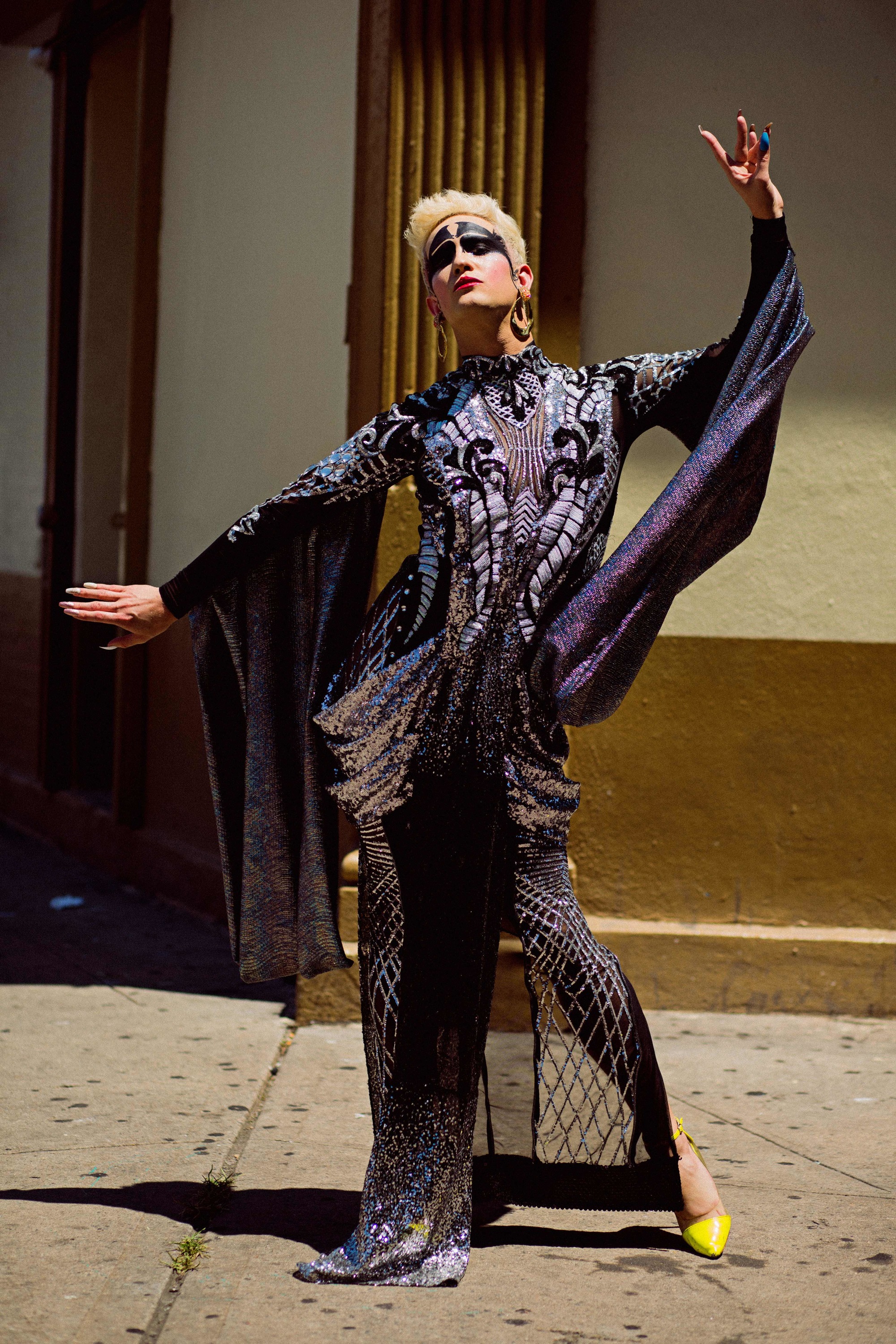 Photograph by Lia Clay
Tyler Ashley

@tylerjashley
See them at Mary every fourth Thursday at Club Cumming and at the monthly Baby Tea brunch at Bizarre Bushwick
As essential as they are to the scene, Tyler Ashley is just as indescribable. The masterful emcee melds together a background in dance and theater with high-camp self-awareness at their monthly shows, like the outrageous live music odyssey Mary at Club Cumming. To new fans, Ashley is a guide to brand new worlds, but in the neighborhood, they're known as the Dauphine of Bushwick.
"The title came from Marie Antoinette," they say. "There's a scene where Marie's mother is writing to her about how she hasn't gotten pregnant and produced an heir yet. I was watching it with a friend and drinking my sparkling rosé. I went: 'Gasp! I'm the Dauphine of Bushwick!' I have this pressure as a starving artist to produce something and establish myself in the same way."
Though they're fond of performing classics like Gloria Estefan and Celine Dion, Ashley always embraces a touch of the mysterious. "I like to push the energy onto the audience and have them push it back, and that lovely tension between audience and performer is a real electrifying experience. It's about making a world of the unknown for people and asking them to not be scared or judgmental; to come on the journey. Especially in our political climate, it's important for everybody's mental health to celebrate a more mysterious embrace of love, energy and good times."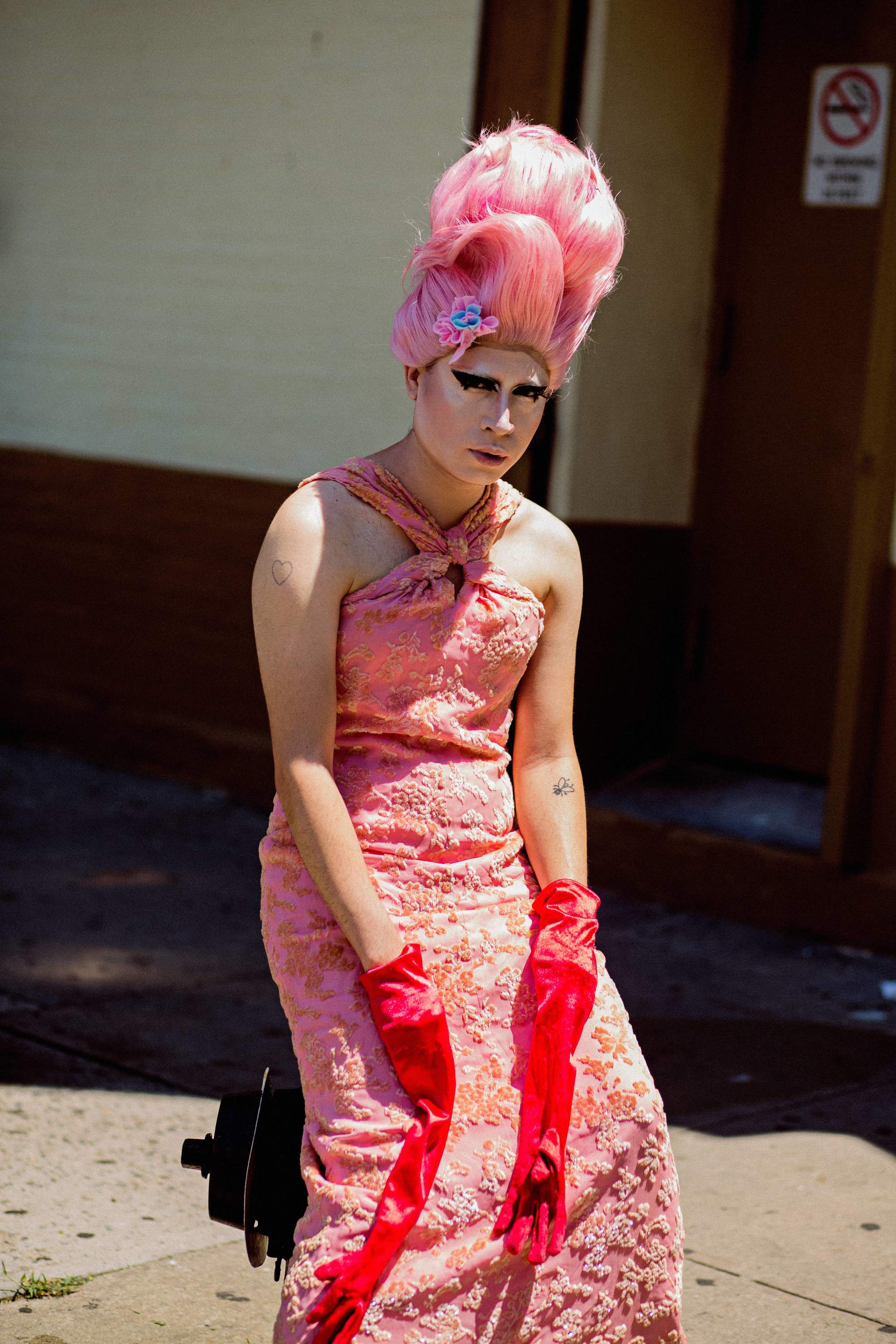 Photograph by Lia Clay
Untitled Queen

@untitledqueen
See them at Sasha Velour's Nightgowns at National Sawdust
They're something for every drag fan in NYC: High camp, horror shows, classic divas and absolute trash. But no performer captures the intelligence of the current milieu like the trippy, unforgettable Untitled Queen.
"I'm from a visual arts background," they say, "so I'm always making sculptures and found object art and now I'm working with industrial designers, so I can realize these ideas of sculptural pieces, making bigger ideas come true." Untitled's numbers run the spectrum from unsettling to luminous, surreal or silly, but they're always original, and certainly indelible. You'll only see this type of drag in Brooklyn."My performances are always truthful underneath a lot of construction. I'm a storyteller, so my song is the narrative and I'm the actor, director and the stage all in one."
Though Untitled is known for hyper-meticulous, Kabuki-style performances, the first-generation Bushwig veteran most cherishes the messier days of the scene. "When we did the first Bushwig, we didn't think it would be a phenomenon; we were just there having fun. There was an air of just doing it, without overanalyzing. Horrorchata had a vision to do a day party that has grown from our own backyard to this phenomenon, where everybody can see our local heroes. Now, everybody now doing drag wants to do it professionally. Back then we were doing it for fun, and trying it out as an art form. I just did it as an art practice and something that I could try out. I never thought it would lead to these other things. There's a lot more self-awareness now, a lot more calculation, and less letting it be."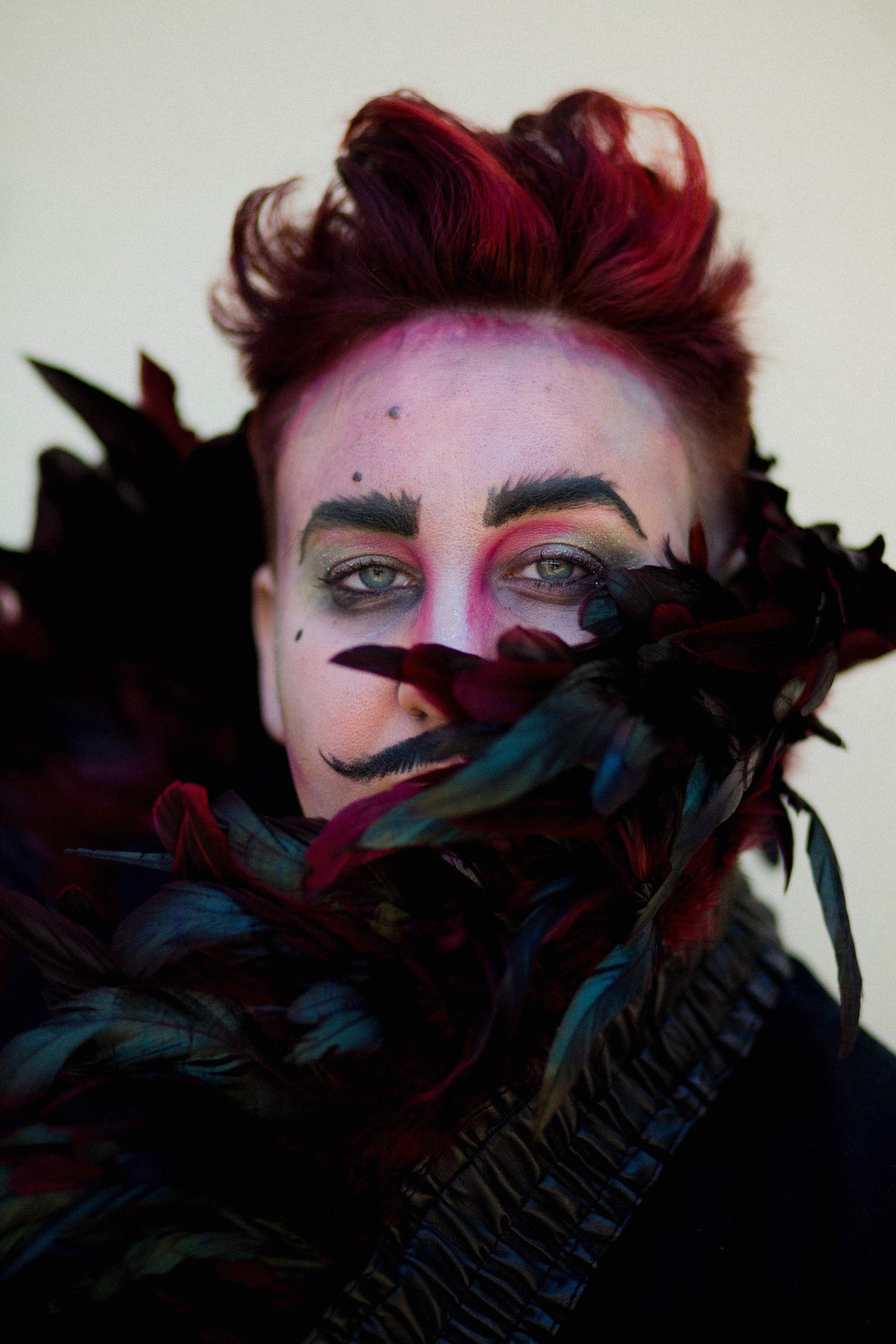 Photograph by Lia Clay
Vigor Mortis
@heyvigormortis
See them at Switch N' Play every second and fourth Saturday at Branded Saloon
Drag used to have a reputation of old-school showgirl theatrics and stagey ballgown numbers without much soul. Fortunately, performers like Vigor Mortis have come to fuck it up. The trans male powerhouse wows fans at his twice-monthly show Switch N' Play, with unexpected song choices and hyper-personal reveals.
"Drag is a method through which I can explore different characters and dismantle all kinds of bullshit that we see," he says, "like if you're transmasculine you should be a drag queen or you should do it any type of way. I just do whatever I want." That approach has led to a performance aesthetic that is punk-rock, visceral, political and always a little bit geeky.
"I'm very seat-of-my-pants with my style. Once I get the idea for a song, I can do it in two days to a week. But there was one that was really emotional to me that I sat on for a year before I did it. It was Mad World from the Donnie Darko soundtrack. That one was about the pain and the process of coming out as trans." Vigor never ends a song the way he started it, and the audience never forgets him.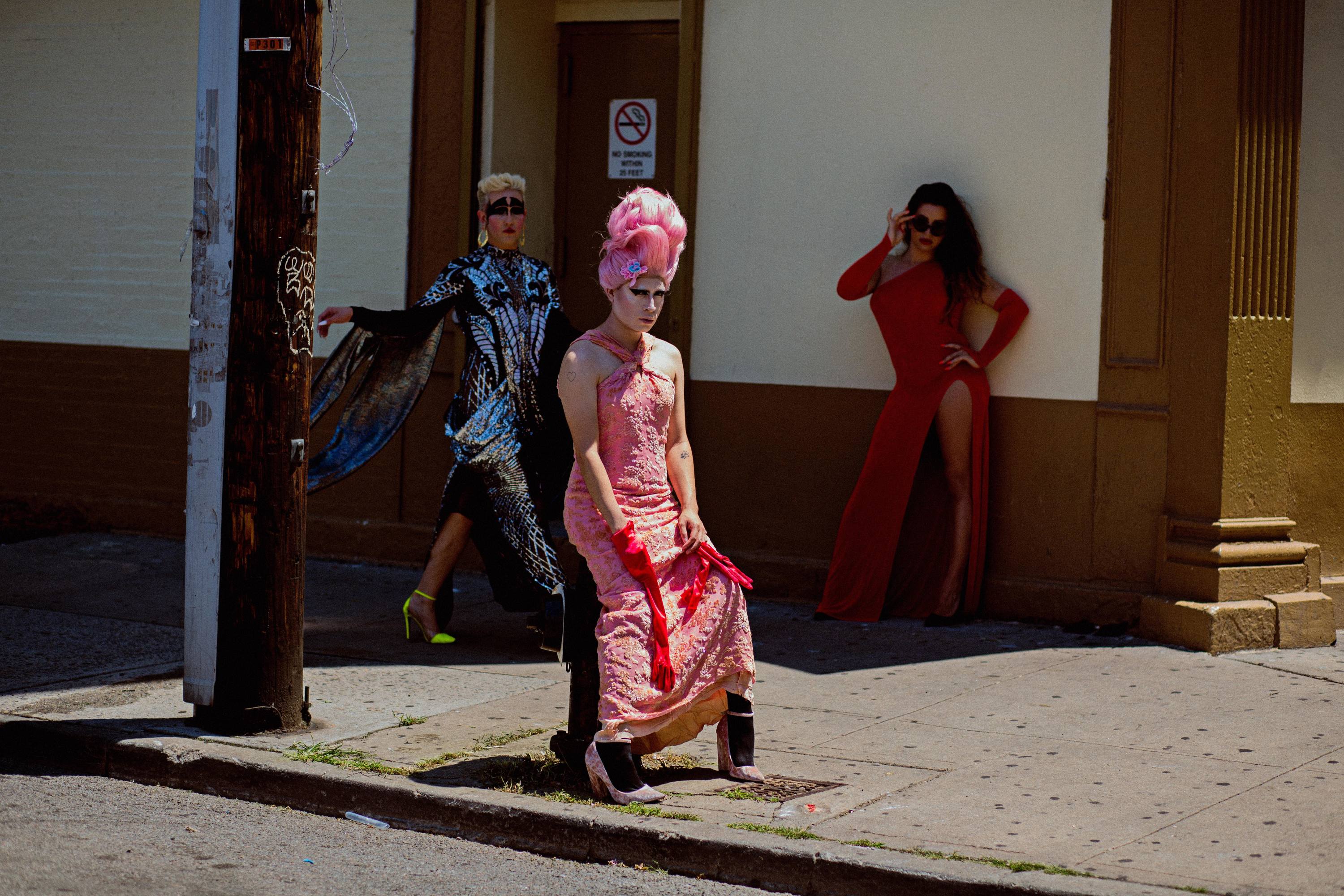 Photograph by Lia Clay
Ask any Brooklyn queer and they're likely to tell you: This is the most wonderful time of the year. Hundreds of drag performers flock to the Knockdown Center for two days of innovative performances, outrageous looks, nasty dancing and community love. A stellar mix of local queens and global superstars comes to play, with acts like Sasha Velour, Aja, Horrorchata, Charlene, Merrie Cherry, Untitled Queen and others hitting the stage. As always, count on excellent food vendors, jewelry and gown shopping and plenty of after-parties. Serve!
NYC's queer nightlife is more innovative and inclusive than ever. Whether you're looking to gag to fabulous drag queens, chill at the city's best gay bars, or belt out your favorite gay songs at parties, we've got the event for you. RECOMMENDED: Our full guide to NYC nightlife