"Live! Work! Pose!" cries Broadway mainstay Billy Porter in the opening-title sequence of Pose, evoking the magic words of the queer ballroom scene. For the cast of this FX show, which premieres on June 3, this three-word directive is a command—on and off camera—for an unprecedented assembly of gay men and trans women of color. They have been held back from opportunity in the entertainment industry for too long. Now, it's their time to shine.
Like American Crime Story or any Ryan Murphy pop spectacle, Pose covers a lot of ground. The show focuses on 1987 New York at the peak of Trump Tower hetero excess, the AIDS crisis and the rising black ballroom scene, most widely known from Madonna's "Vogue" music video, the documentary Paris Is Burning and RuPaul's Drag Race. But the show is about families, specifically those formed by black and Latinx trans women, drag queens and artists. In spotlighting the stories of five trans women of color—played by Dominique Jackson, Indya Moore, MJ Rodriguez, Hailie Sahar and Angelica Ross—Pose far surpasses its TV predecessors in sharing a multitude of stories about life at the intersection of race, class, sexuality and gender. And when the five women are gathered together, they waste no time in telling their stories.
In casting trans women, executive producers Murphy, Brad Falchuk and Steven Canals challenged the actors to bring their own experiences to the series. Many, like Jackson, have storied histories in the ballroom scene; Sahar is a seasoned pageant pro, and Moore worked as a model before she was an actress. They have struggled just like their characters—and too many trans POC women today—experiencing homelessness, harassment, abandonment and sex work in hostile environments.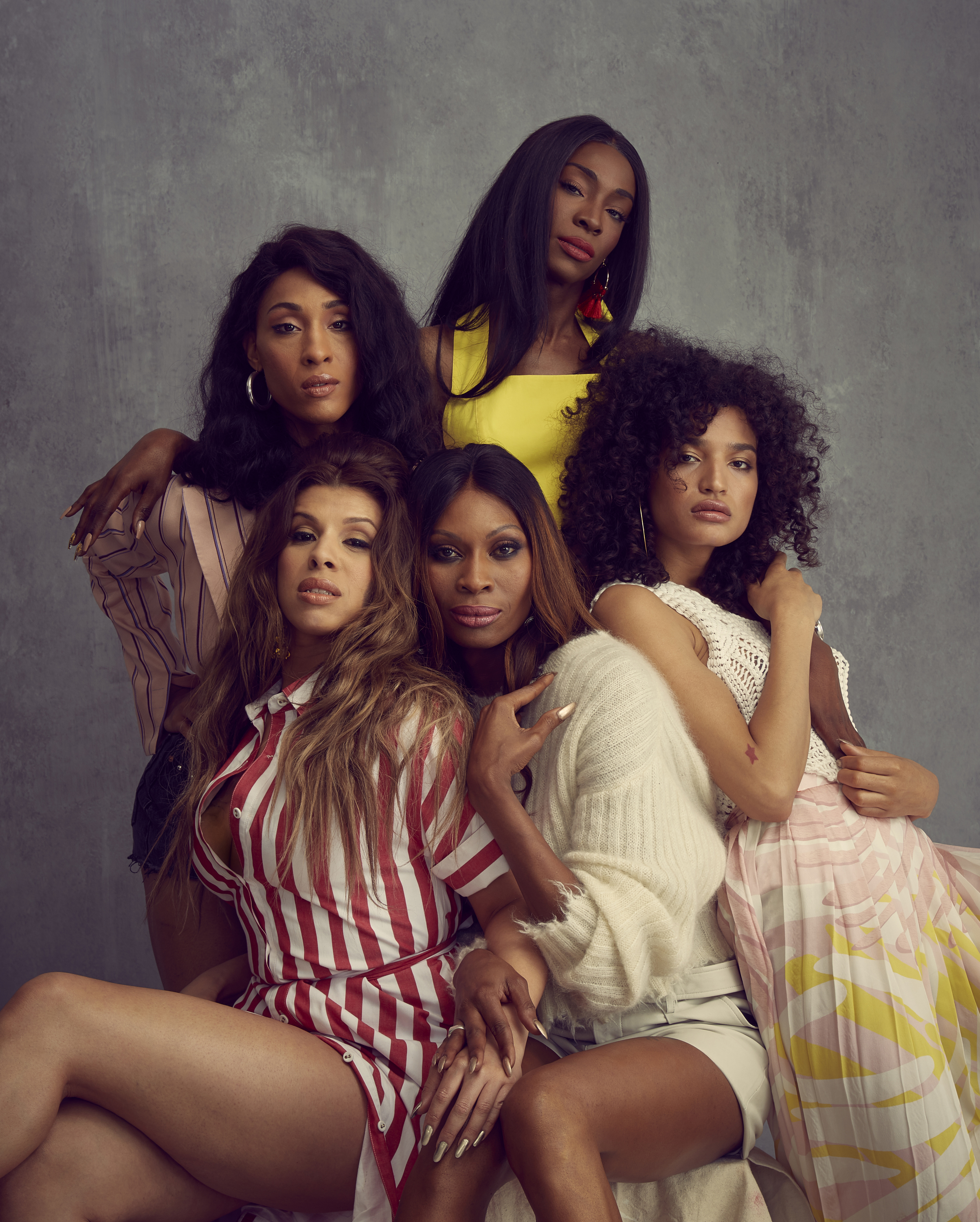 Photograph: Justin Bettman
"You can't pull this out in acting class," Indya Moore says of how her experiences with homelessness have informed her role as Angel, whose sex work leads to a tempestuous romance with a client (Evan Peters). "I don't have to feel like there's something wrong with me for not having the privileges that [other performers] have had in their lives, that kept them safe in the ways that I wasn't. I feel really fortunate to have gone through what I've gone through, to use my vessel to encompass the spirit of [this character] in a way that I probably otherwise wouldn't be able to. "
Angelica Ross, a seasoned TV actor who plays the opportunistic Candy, revisited painful memories to bring the character to life. "She's going through some things that definitely bumped up against my own traumas: dealing with body issues, beauty standards, being a dark-skinned black girl trying to find her beauty spotlight in the '80s, when they weren't lighting us right. The struggles that Candy has are things I face to this day."
With the cultural conquest of RuPaul's Drag Race and the mainstream fascination with Club Kids and black culture, Pose ran the risk of being just another exploitative product, telling the stories of starving artists in the Bronx via a soundstage in Glendale, California. But the producers chose to make this an NYC community affair, populating the writers' room, costume department and set with veterans from the most-beloved ballroom houses.
Further legitimizing the show in the community was the appointment of Janet Mock, the first trans woman of color to write, produce and direct episodes of a TV series, along with trans writers like Our Lady J and Silas Howard. "When I stepped into the ball scene on that first day and saw the team assembled on Connolly and 24th Street, I was moved to tears," Mock says. "You see these legends who were featured in documentaries like Paris Is Burning, who survived the 1980s, HIV and crack [cocaine], and all these ills and poverty, and you see them up there in full glam, on the stage—it's surreal."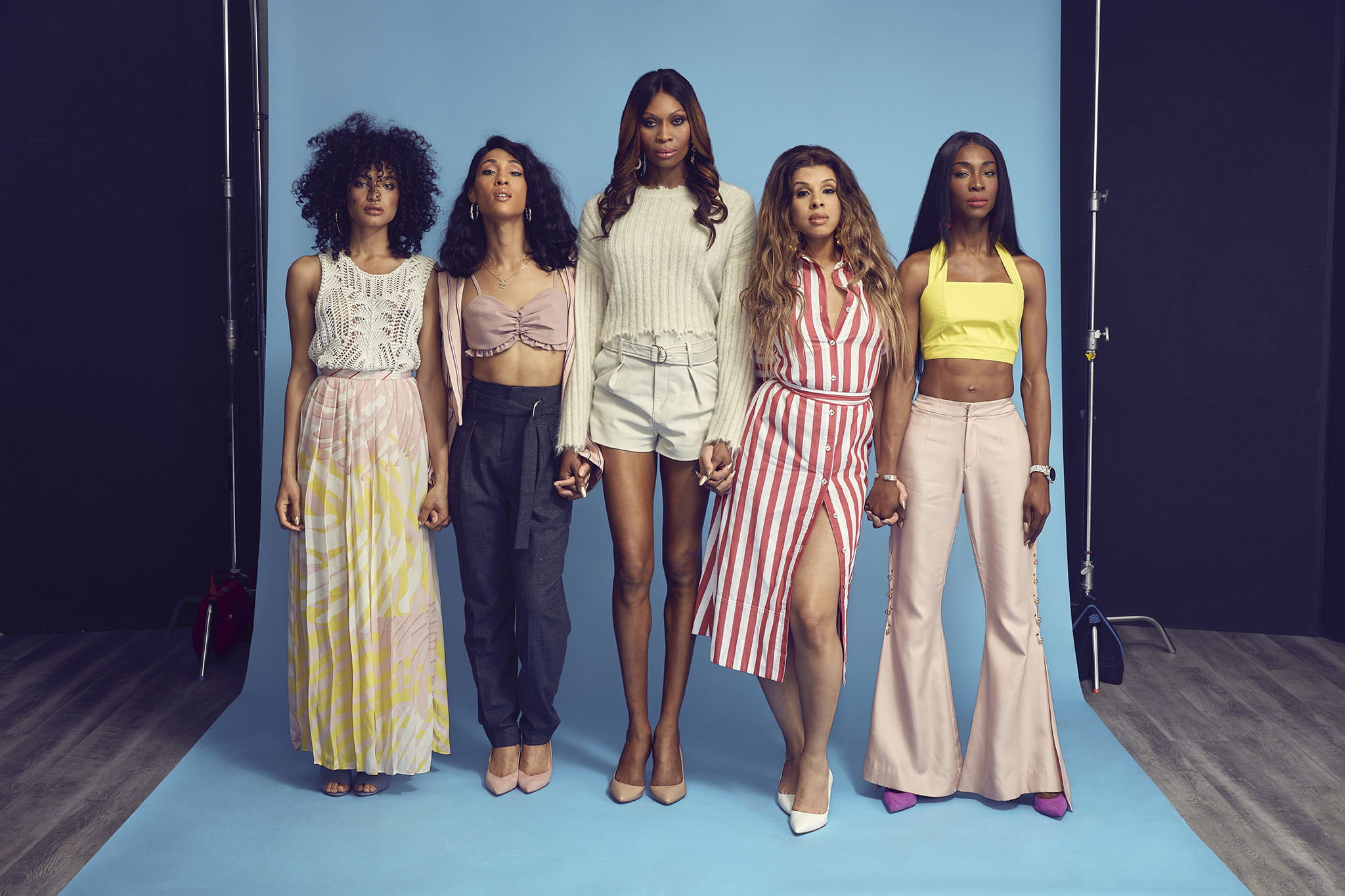 Photograph: Justin Bettman
"Even though it is fictional, Pose has really tapped into some realities that I know would come from someone who really took the time to investigate ballroom," Jackson says. And she should know: She's been hitting balls since 1993. "Some of the lines that I have to deliver as Elektra are lines that mothers of mine said to me. We're not masking it. We're giving you the truth."
FX is putting its money where it's mouth is, a rarity for queer productions, and can afford to deliver the fantasies of the vogue scene, with beglittered sequences set to the songs of Donna Summer and Gwen Guthrie. But the show must also confront the hard realities of what trans women faced in 1987 and how little has changed for the community since then, including its cast members. "Every day that I'm on set, I'm reminded of the struggles, the hardships, the deaths and the murders that all of my brothers and sisters have endured and are still enduring," Sahar told me.
As the five women huddle up for Time Out New York's photo shoot, SZA and Kendrick Lamar's "All the Stars" comes on Moore's playlist. A chilling silence falls over the room. "I can feel our ancestors," Moore says, as stylists and makeup artists who have worked in ballroom for years nod in agreement.
Regardless of how Pose is received by mainstream audiences, its cast and creators intend to honor their forebears—this time on a more spectacular stage than ever.
"This is an honor that I can pay to women who have paved the way," Jackson said. "They had to create something that would give the community of color a place to gather and have fun and compete. We are fabulous, so why not do what we do?"
Photographer: Justin Bettman
Styling: Israel Mejia
Location: Hudson Yards Loft
Special thanks: Aurelia, Onarin, Levi's, James Chan, IRO, Rachel Antonoff, Dolce & Gabbana, Joanna Lara Constantine, Christian Louboutin