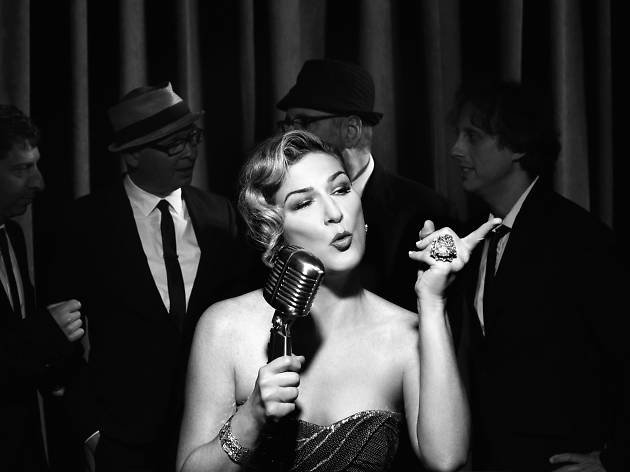 Ana Gasteyer on her residency at Café Carlyle
Saturday Night Live's Ana Gasteyer talks about Lady Dynamite, People of Earth and her jazz residency at Café Carlyle
Ana Gasteyer has made her name playing orderly women on the verge of breaking down, from Martha Stewart on Saturday Night Live to Hollywood agent Karen Grisham on Lady Dynamite. Outside of comedy, Gasteyer lets loose as a vocal phenom, with a resume that includes Elphaba in Wicked, and her recent album of jazz covers, I'm Hip. Before she begins a residency at Café Carlyle on Tue 25, the very funny New Yorker spoke to us about her new sitcom People of Earth, her musical approach and her ideal night out in NYC.
How are you?
I literally got home from work this morning at 5:30am. Amy Poehler and I produced a million dollar Hillary Clinton fundraiser on Sunday night. Then I flew to Canada [where People of Earth films] and went to work for 17 hours. I may as well be drunk.
I had a question about insanity in regards to you.
I opened the door!
One of the things that I've always liked about you—since SNL—Suburgatory and also Lady Dynamite—is that I feel like a lot of your characters—
Are mentally unstable?
Well, they're hyper-manicured and civilized. But there's a feeling that something's about to crack. Where does that come from?
I think that life is super chaotic, and really full and crazy, and I find it satisfying that people try to put a lid on it. I'm a little bit that way myself. But I find people who are trying to be in control to be one of my favorite brands of comedy. And on People of Earth, I play a thinly credentialed therapist–someone who is in control, but in a different way than I have been before.
I used to be a P.A. in Los Angeles, and Karen Grisham from Lady Dynamite brought up a lot of dark memories for me.
She does that for everybody. She's real, is she not? She's the most satisfying mashup of the worst people and the worst that Hollywood has to represent. She's such a weird phenomenon. I think part of it is born of this weird "like swimming with the sharks" sort of '80s or '90s feminism that required women to grow their own balls. But it's part of the culture. Being the biggest bitch in the room is somehow valid out there, and you see it all the time. And believe me, it's still around. It's not a culture in which kindness is a particularly valued virtue. She comes from all of that.
Would you say she's more of an L.A. phenomenon or does she exist in New York?
There are some pretty mean theater producers out there too. The whole show is a parody of Hollywood and TV, but I guess you could apply it to a lot of businesses. What do you think?
I think it's more L.A., but then you see people during Fashion Week who talk about it like it's the G8 summit.
Yeah. Think about the Devil Wears Prada. I think in certain industries where you're peddling humanity as a product (laughs), it's very quick that the value system for the buying and selling part goes out the window.
What's the vibe of your show at the Carlyle?
I never take life all that seriously, so that's the base note of the act. I am kind of old-fashioned in some ways, meaning that I like things to be refined, sophisticated and professional. I have an inner party girl, and not in a "hitting da club" kind of sense, but more in a "come to my house and have martinis" sense. This is my night out. I'm going to enjoy some music, have some cocktails, and not think about this goddamned election and this dumpster fire of a life we're all living.
It seems like your show is new-user friendly for people who don't know the cabaret scene.
That's the goal. Nobody wants to see me be earnest. What could be worse than a serious evening with a well-known comedian? [Elaine] Stritch did this room. Bridgett Everett, who is trying to bring back the word cabaret—and she's as bawdy and as funny as they get—is doing the room. It's about the intimacy of that type of room: it's less sanitized and more familiar. I always want people who come to my shows to feel like they just had a really fun evening in my living room, and I didn't have to clean up or get ready in my house.
What were your inspirations when putting the musical arrangements together?
All of the throwback performers were comedians and they were singers, and it wasn't considered so unusual to be both. Obviously, Betty Hutton and Danny Kaye. So the challenge is finding songs that feel musical in addition to finding songs that are.
Will you be performing your cover of Carrie Underwood's "Before He Cheats?"
I haven't decided yet. Half of my set will probably come from things that I love, old favorites. I have about eight new songs that I'm working on, and trying to figure out which of them will fit in well. It's about getting to know the set and how it plays out in terms of its energy, you know? Do you want me to bring Carrie Underwood?
I just think it would be the first time that Carrie Underwood gets played in the Carlyle.
And the last (laughs).
Ana Gastyer is at Café Carlyle Tue October 25 to Sat November 5 at various times. $85–$95.
See the show!
Best known for her six-year stint on Saturday Night Live, where she specialized in prisses, the versatile Gasteyer has also had a successful stage career on Broadway and elsewhere, including a run as Wicked's Elphaba. In her Carlyle debut, she performs tunes from her swinging 2014 album of neostandards, I'm Hip, along with some new selections.
Looking for more jazz?
We round up the best jazz clubs NYC has to offer including old standbys and cutting-edge jazz favorites