The Jazz Age Lawn Party 2019 guide
At the Jazz Age Lawn Party 2019, give 'em the 'ol razzle dazzle with a flashy 1920s getup for the Governors Island bash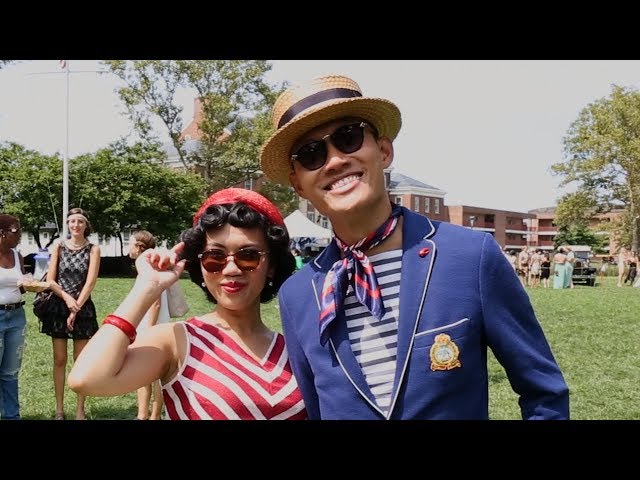 The Jazz Age Lawn Party 2019 is one of the most spectacualr things to do in summer on gorgeous Governors Island. Step onto the ferry—and back in time—with thousands of revelers dressed to the 1920s-nines. During the event, enjoy live music from Michael Arenella and his Dreamland Orchestra, learn the Charleston and sip cocktails and have a picnic in the sunshine. It's one of the best things to do outside (beside hitting the best New York beaches and rooftop bars in NYC, of course).
RECOMMENDED: See the full guide to Governors Island
What is the Jazz Age Lawn Party?
The Jazz Age Lawn Party is a 1920s-themed party where attendees are encouraged to wear period dress, try classic cocktails and dance along to live jazz!
When is the Jazz Age Lawn Party?
The Jazz Age Lawn Party takes places over two weekends in the summer. The dates for 2019 are TBA.
Where is the Jazz Age Lawn Party?
Each year the Jazz Age Lawn Party takes place at the Colonel's Row on Governors Island.
How do I get tickets to the Jazz Age Lawn Party?
Tickets for the event run the gamut from $35 for General Admission all the way up to $5,000 for a group (up to 15 guests) with access to a private tent. Purchase tickets—and review the options—here.
What can you drink at the Jazz Age Lawn Party?
The shindig offers VieVité Côtes de Provence Rosé as well as fresh summer cocktails like the Aperol Spritz—the event's official liquor sponsor. Ice cold beer, lemonade and other soft drinks are available for purchase whenever you need to wet your whistle.
What can you eat at the Jazz Age Lawn Party?
In case you prefer to travel light and forgo packing sustenance for the event, there are plenty of food vendors and food trucks serving tasty fare on-site. In fact, this will be the first year where guests can purchase a Dreamland Gourmet Picnic tote, comprising a custom-order, prepared meal as well as a chilled bottle of VieVité Rosé and more scrumptious bites. Best of all, your food will be delivered to you as soon as you arrive!
What merchandise can you buy at the Jazz Age Lawn Party?
Lawngoers can shop exciting vintage merchants, which specialize in old-timey hats and dresses. Hit the Dreamland General Store for more summer picnic essentials such as blankets, parasols, hand fans and more.
Who will be performing at the Jazz Age Lawn Party?
In addition to Arenella and his indispensable Jazz Age orchestra, this week's party features premiere performances from the Dreamland Follies and the Canarsie Wobblers, as well as jazz from Queen Esther and piano from Peter Mintun.
What else can you do at the Jazz Age Lawn Party?
Other event activities include croquet, The High Court Pie Contest, dance lessons and vintage portraits.
Jazz Age Lawn Party 2018 coverage
Jazz Age Lawn Party in photos
Archive Jazz Age Lawn Party coverage