The best fall concerts in NYC
Get over your post-summer woes and get ready for a busy fall season, with shows from arena heavy hitters to indie gems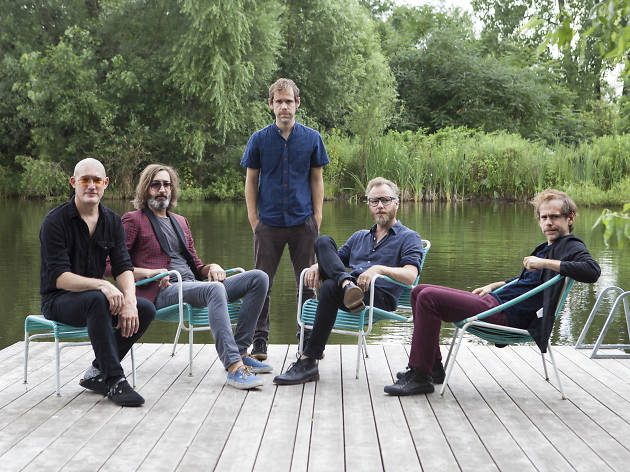 We love fall for plenty of reasons: sweater weather, gorgeous foliage, fewer children running amok. But our favorite part about the season is the insane number of shows that come through town. Concerts in NYC this fall feature some promising outdoor concerts, including the debut editions of the Meadows festival and Roots Picnic NYC, as well as plenty of other concerts featuring top indie-rock bands and hip-hop artists. Check out our list of not-to-miss concerts below.
RECOMMENDED: See our guide to concerts in NYC
Best fall concerts in NYC
The former Talking Head, active solo artist and avid bicyclist returns to Forest Hills for the first time since his erstwhile band visited in 1983 (he's also doing a two-night stint at Kings Theatre directly afterward). His new show is a choreographed spectacle that echoes his Stop Making Sense heyday. In the opening slot, Merrill Garbus and Co. supply Afrobeat-inspired pop with vocal gymnastics that never fail to impress.
It's been two years since Dev Hynes released his stunning 2016 effort, Freetown Sound. A complex, swirling affair, Freetown cemented his status as a multi-talented alt-pop visionary. Back in April, Hynes teased the release of a proper follow-up to that album, as well as a new mixtape and eight singles. Count on hearing from that treasure trove when he takes the stage for this Summerstage gig.
Brooklyn-via-Ohio alt-rock superstars the National present this two-day fest in Queens, featuring turns from Future Islands, Cat Power, Cigarettes After Sex, Phoebe Bridgers, Bully and more. The National headlines each night, so you'll have ample opportunity to savor singer Matt Berninger's microphone-stand-pounding, collar-tearing abandon on stage.
Music, Rap, hip-hop and R&B
Sitting at the intersection of R&B, classical and gospel, serpentwithfeet's Josiah Wise creates pop music that manages to be both cavernous and intimate, experimental and accessible. His stunning debut album, soil, appeared in June and excellently showcases Wise's otherworldly vibrato, giving it ample space to shiver against the potent, haunting textures of producers Clams Casino, mmph and Katie Gately. Expect to get some shivers of your own at this Elsewhere appearance.
Music, Dance and electronic
The industrial icons roll into town behind their latest, Bad Witch, which finds the band as vigorous and relevant as ever. The tour's supporting acts are nothing to sneeze at: shoegaze luminaries the Jesus and Mary Chain join Reznor and Co. for all dates, Savages bassist Ayse Hassan's Kite Base rounds out the lineup on Oct 13 and electronic maven Daniel Avery opens the last three shows. Get there early.
Clubs, House, disco and techno
The ambient house crew, which has been making sample-heavy, club-ready chill-out beats since the late '80s, hasn't lost a step since its acid-soaked heyday. The Orb continues its avant-electronic exploration this year with the appropriately titled No Sounds Are Out of Bounds.
Fucked Up has a remarkable knack for inciting indie-rock types to care about hardcore, probably because the Toronto outfit brings an operatic complexity to an often monochrome genre. The band returns to town to celebrate its latest ambitious album, Dose Your Dreams.
Clubs, House, disco and techno
This local producer melds house and hip-hop elements into a distinctive mix that's indisputably alluring—her singles "Drink I'm Sippin On" and "Raingurl" have upwards of two-million plays at this point. However, the singer is not one to hoard the spotlight. Previous shows have featured her collaborating with a Korean restaurant to make curry for the crowds, in attempt to recreate the familial, communal atmosphere of gathering for a home-cooked meal. This should also feel like a family affair, as the show is bill as an intimate "in the round."
Mitski Miyawaki has a talent for swift transformation. Over the past several years, she's rocketed from self-releasing her first two albums and playing DIY gigs to selling out New York's biggest rock venues months in advance. Her latest collection, Be The Cowboy, continues that hunger for growth, veering from her recent penchant for dreamily yearning indie rock in favor of a multi-faceted synth pop that recalls her early-career experimental tendencies.
Show more
Looking for more fun events?
Dig into the best parties New York's nightlife has to offer.