New Year's Eve is going to be a lot different in NYC this year
Make New Year's Eve 2020 worth remembering using our guide containing things to do and how to celebrate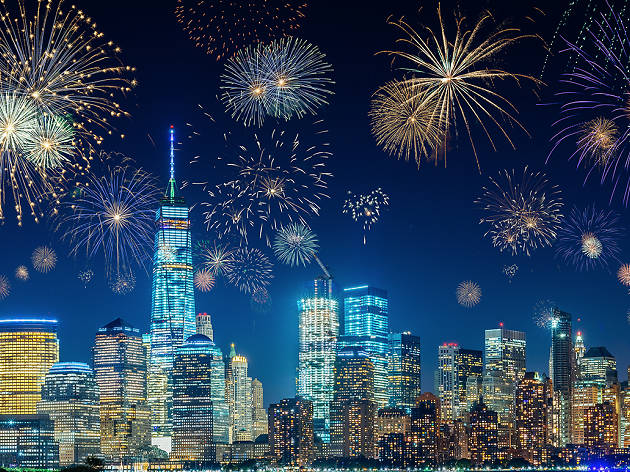 New Year's Eve 2020 couldn't come any sooner. We'll happily say "goodbye" and ring in 2021 this year with gusto. Of course, the biggest party in NYC in Times Square, will still go on, but as a massively scaled-down virtual event. It'll be a strange NYE, but there's much fun to be had as we kick 2020 to the curb. This is our essential guide to New Year's Eve 2020 in New York City
When is New Year's Eve?
New Year's Eve takes place on the last day of the year: Thursday, December 31, 2020.
Is the Times Square Eve Ball Drop still taking place?
Yes. This year, the party in Times Square will be limited to an "extremely limited" group of socially distanced in-person honorees, who will "reflect the themes, challenges and inspirations of 2020," according to the Times Square Alliance.
You'll have to tune in virtually.
When is the Times Square New Year's Eve celebration?
Thursday, December 31, starting at 6pm.


Who will be performing and what will I see during the Times Square New Year's Eve celebration?
The New Year's Eve Ball coverage begins at 6 p.m. and will include hourly countdowns, live musical performances from Gloria Gaynor, Pitbull, Anitta, Jennifer Lopez, Billy Porter, Cyndi Lauper, Jimmie Allen, Machine Gun Kelly, The Waffle Crew, and USO Show Troupe, and the pushing of the Waterford Crystal button that signals the Ball Drop at midnight.
Dick Clark's New Year's Rockin' Eve is hosted by Ryan Seacrest will be headlined by Jennifer Lopez, who will be joined by Billy Porter, Cyndi Lauper and Jimmie Allen. Ciara will oversee the Los Angeles festivities again for the fourth year.
NBC and Carson Daly will host their own show with performances across the country featuring AJR, Busta Rhymes, Doja Cat, Goo Goo Dolls, Kylie Minogue, Chloe x Halle, Jason Derulo, Pentatonix, Bebe Rexha, Blake Shelton, Gwen Stefani, Sting, Shirazee, Anderson Paak and CNCO.
How do I tune in to see the ball drop?
The Times Square Alliance and Countdown Entertainment are streaming a webcast of the 2021 New Year's Eve celebration starting at 6pm.
This year, VNYE (Virtual New Year's Eve) is bringing Times Square to our mobile devices and computers in an over-the-top way through a virtual reality- and augmented reality-based platform, where everyone can create and customize their own avatar and explore a vibrant virtual Times Square.
You can also watch the ball drop live at TimesSquareNYC.org, TimesSquareBall.net and livestream.com/2021
Or you can simply catch it on our Instagram Live.
Are parties still happening?
No, the new rule of having a maximum of 10 people in a gathering is putting the kibosh on parties this year. But below, we've come up with a number of ways you can still celebrate this year, from joining the Times Square celebration virtually to comedy shows and special hotel stays.
New Year's Eve 2020 in NYC
Past New Year's Eve in NYC coverage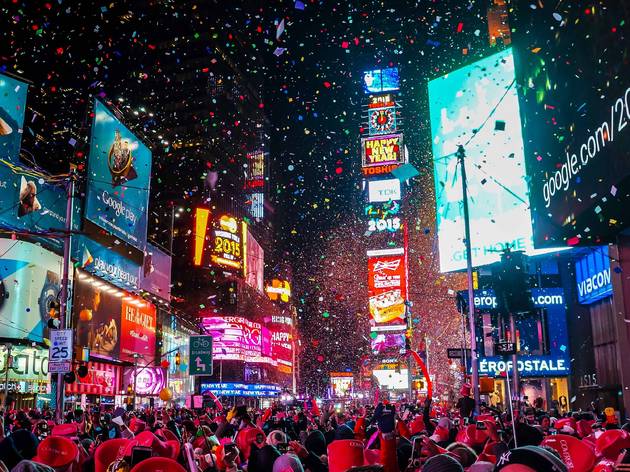 It's been a very long year and now we all have the opportunity to leave the bad of 2020 behind and start fresh, we need to start it off right with the best New Year's Eve possible. No matter how you're hoping to ring in 2021—sloppy, sober, laid-back or...