The best places for New Year's Day brunch in NYC
New Year's Day brunch in NYC is here to help you work off that champagne-fueled hangover with celebratory food and drink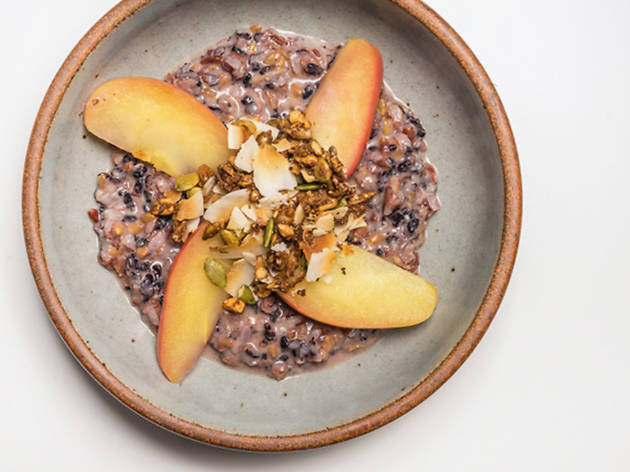 You've lived it up at the New Year's Eve parties, taken in the beautiful New Year's Eve fireworks and now have the ultimate New Year's Day hangover—what better way, then, to ring in the first day of the year with New Year's Day brunch in NYC? Whether you want yours with a side of shaved truffles or Southern comforts, here are great options for your first meal of 2018.
RECOMMENDED: Full guide to New Year's Eve in NYC
Best New Year's Day brunch
1
Both locations of the fun-loving Caribbean café will offer a la carte and an all-you-can-eat jerk chicken, pork and corn brunch on New Year's Day starting at 11am. Fill up on jerk pork-belly hash with sunny-side eggs, battered-fish sandwiches with Scotch-bonnet mayo and coconut pancakes with fresh berries.
Best way to start 2018: All-you-can-eat Jerkfest
Price: $25 for all-you-can-eat
Hours: 11am—4:30pm
2
This craft cocktail and beer gastropub in Murray Hill will be serving brunch all-day long on New Year's day with options like a French toast egg sandwich, a pulled-pork and polenta eggs benedict and a "hangover plate."
Best way to start 2018: Complimentary bloody Mary or juice
Price: A la carte
Hours: 11:30am—6pm
3
Venue says: "Blake Lane is a fun, casual restaurant serving an all-day menu of seasonal breakfast, lunch, and dinner using the best ingredients."
This California-inspired eatery on the Upper East Side will start your year off fresh with a New Year's Day brunch, offering hearty a la carte plates like egg tacos and pancakes with mascarpone. Wash it all down with a kimchi Bloody Mary, made with house-made kimchi brine, raw garlic, roasted tomato and house-made hot sauce.
Best way to start 2018: Brassica bowl with a fried egg
Price: A la carte
Hours: 8am—5pm
5
Strictly speaking, the mash-up of restaurant and retail food shop makes sense. You pop in to browse, and you stick around for a meal. Il Buco's casual offshoot—one part winecentric restaurant (Vineria), one part gourmet food pantry (Alimentari)—pulls off the combo elegantly. This New Year's the restaurant will serve its usual brunch menu, with ball-out specials like caviar, champagne and salmon.
Best way to start 2018: Caviar
Price: A la carte
Hours: 11am—3:30pm
6
All NYC locations of the trendy-yet-reliable Mexican eatery will be open for brunch on New Year's Day. Even better, they'll be serving hair of the dog specials of unlimited cocktails for two hours to cure your raging midnight hangover.
Best way to start 2018: Unlimited margaritas, bloody Marys and sangria
Price: $18 for two hours
Hours: 11:30am—4pm
7
Sometimes you just want a good cocktail and something wrapped in bacon on a toothpick. Clancey serves up upgraded versions of gastropub staples along with cleverly named cocktails in the Lower East Side. Brunch will be the usual with drink specials such as $7 bloody Marys and mimosas and $10 cocktails.
Best way to start 2018: $20 mimosa carafes
Price: Varies
Hours: 11am—6pm
8
The early food-blog hype machine dubbed Nishi—David Chang's first full-service entry to New York's Momofuku empire in a half decade—as an Italian-Korean hybrid...but that didn't quite work. After briefly shuttering this year, it recently re-opened as full-on Italian restaurant. The brunch menu from chef Joshua Pinsky includes Italian-ish dishes like pappardelle with spicy beef and mint and lumache with tomato, chili and breadcrumbs.
Best way to start 2018: Crispy garlic-knot-spiced potatoes
Price: A la carte
Hours: Noon—3pm
9
It's hard not to be taken with the many charms of La Pecora Bianca, a corner trattoria from Claudette owner Mark Barak in the historic St. James building. Like that leisurely Provençal bistro, Pecora's window-flanked dining room draws from the countryside, this time Italy's small-town farmhouses and rural kitchens: Mint-green chairs snuggle up to wood-plank tables and walls are garnished with hand-painted tiles, copper bundt pans and soft-hued sheep-patterned wallpaper.
Best way to start 2018: Truffles on eggs and franciacorta
Price: Three-course $60; four-course $85
Hours: 10am—4pm
10
Tavern 62 by David Burke is a modern American tavern, situated in New York City's Upper East Side offering an all-day menu with contemporary American plates.
Best way to start 2018: Pretzel-crusted crab cake benedict
Price: $49 three-course prix fixe
Hours: 11am—4pm
Show more
Need a New Year's Eve playlist?
Ring in the new year with this list of the best New Year's songs, from dance music classics to German punk rock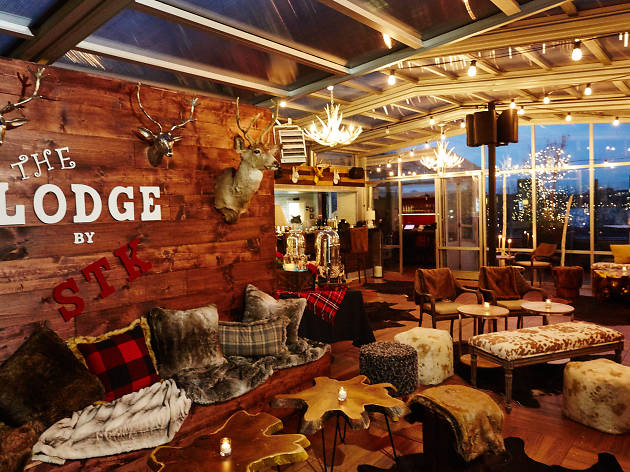 Eight rooftop bars you can go to for New Year's Eve in NYC
Ring in the new year at the best rooftop bars in New York City on New Year's Eve
Sponsored listing
Little Choc Apothecary
At first glance, you assume this cute little Brooklyn spot is just a café and bakery. After further inspection, you'll discover that Little Choc Apothecary is a full fledged restaurant with an even cuter dining area upstairs. Situated on a pleasant South Williamsburg block, Little Choc Apothecary is one of the reasons why crowds flock to this neighborhood. Boasting a complete vegan menu, Little Choc Apothecary is something you don't want to miss. Before ordering anything, make sure to request a bottle of The Wine Love, Gonzalo Gran Tempranillo ($39). This delicious red wine is made with red and dark berries and faint lavender. This tinto compliments any type of meal and sets the mood against Little Choc Apothecary's lighting which may or may not cause dream-like hallucinations. Dive head first to the savory crepes which is the real reason why you're there. If the word vegan normally scares you, try the Jacked Up ($14). Made with smoky pulled jackfruit, caramelized onion, roasted red pepper, kale and homemade BBQ sauce. This crepe will hide any hints of greenery and masquerade as a familiar meaty substitute. If the word meat causes an eye roll, try the Garden of Eatin ($12). Garnished with apple, avocado, fresh kale, mint-basil, pesto and lemon juice, the Garden of Eatin is as vegan as you can get. Resonating with mint, this crepe is light eat compared to its faux meaty cousin. Let's get to the apothecary part of Little Choc. Little Choc Apothecary is notorious for their tea
Venue says: "We've extended happy hour to weekends! Weekends 5PM-10PM, and weekdays 4PM-8PM! 2 for 1 all wine, beer, and cocktails."