Painter Marc Chagall's lusciously vibrant works of art come to life in a new immersive experience at Hall des Lumières. Titled "Chagall, Paris-New York," the exhibition explores the prolific painter who defied labels.
His works are projected in a larger-than-life scale, taking over walls, ceilings and even the floor of the ornate bank-turned-exhibition hall located at 49 Chambers Street in Lower Manhattan. "Chagall, Paris-New York" is now on view through 2024 with adult tickets starting at $30. In addition to the Chagall works, Hall des Lumières is also displaying works by Wassily Kandinsky.
RECOMMENDED: Incredible immersive experiences to do in NYC right now
For Marc Chagall (1887-1985), Paris and New York represented two crucial stages in his extensive career. The digital experience at Hall des Lumières showcases his entire oeuvre, exploring the artistic and cultural moments of the late 20th century. The Russian-born painter picked Paris as his chosen city, with its avant-garde movements of the 1910s inspiring his experimental works. Later during the 1940s, New York became an escape imbuing the artist with a creative burst until he returned to Paris in 1948.
In addition to his painting, Chagall also embraced theater, costumes, sculpture, ceramics, stained glass, mosaics and collage as part of his multidisciplinary palette. The immersive exhibition highlights all of these art forms, with the stained glass work as an especially dazzling display. His fantastic mythical creatures, circus characters and fable stories dance across the resplendent walls.
Classical music, klezmer and jazz, which were inspirations for the artist, play as the soundtrack during the exhibition.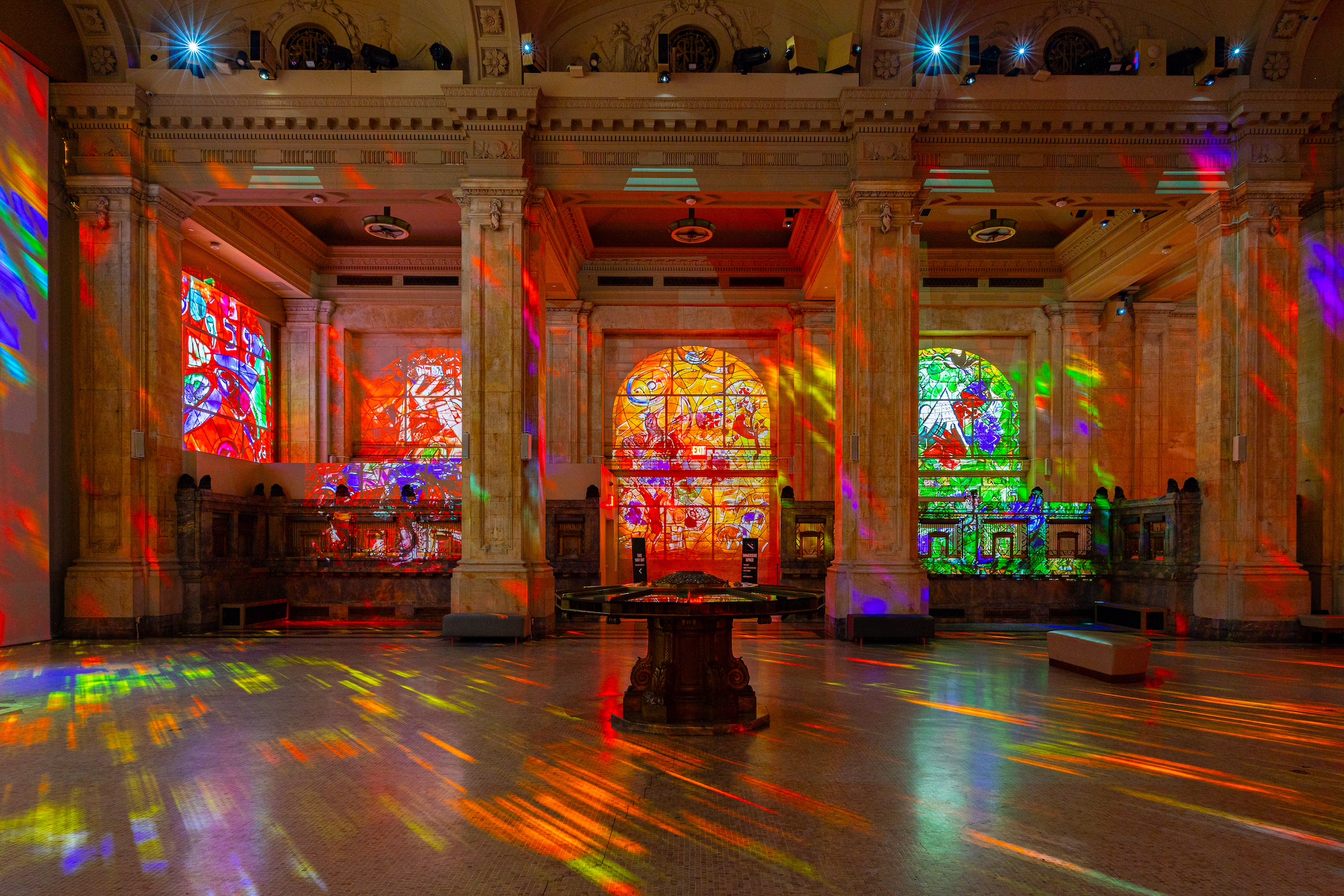 When Hall des Lumières first opened last fall, it transformed the former Emigrant Industrial Savings Bank into a permanent home for immersive experiences. It began with a stunning exhibition about Gustav Klimt designed by the artistic team Gianfranco Iannuzzi. That same skilled design team is behind the Chagall exhibit. In the past year, the immersive exhibition space has hosted a space exhibit at a tribute to hip-hop, but artwork truly shines here.
To accompany "Chagall, Paris-New York," Hall des Lumières is also presenting "Kandinsky, The Odyssey of Abstraction" as well as "Infinite Horizons," an artistic journey through landscape co-created by HKI-Hellohikimori."